BMW MOBILITY SERVICE.
With new BMW models, a free membership of 5-year BMW Mobility Service is included with your purchase. After themembership has expired, you can renew your membership statusby contacting our BMW Mobility Service Center. However, the service is available to anyone driving a BMW, both members and non-members.
HOTLINE NUMBERS :
1-800-999-000 (TOLL FREE NUMBER)

1-401-999-000 (MOBILE NUMBER)
These hotline numbers will always connect you quickly to the BMW Mobility Service Center. Please have your vehicle information such as model, license plate, chassis number available when you call. Our call center specialists are ready to help you with advice when you contact us. If you need help on the spot, the Emergency Roadside Assistance is dispatched immediately with the necessary equipment for professional breakdown assistance. Trained BMW Mobility Service technicians will do all they can to get your vehicle back on the road.
Read more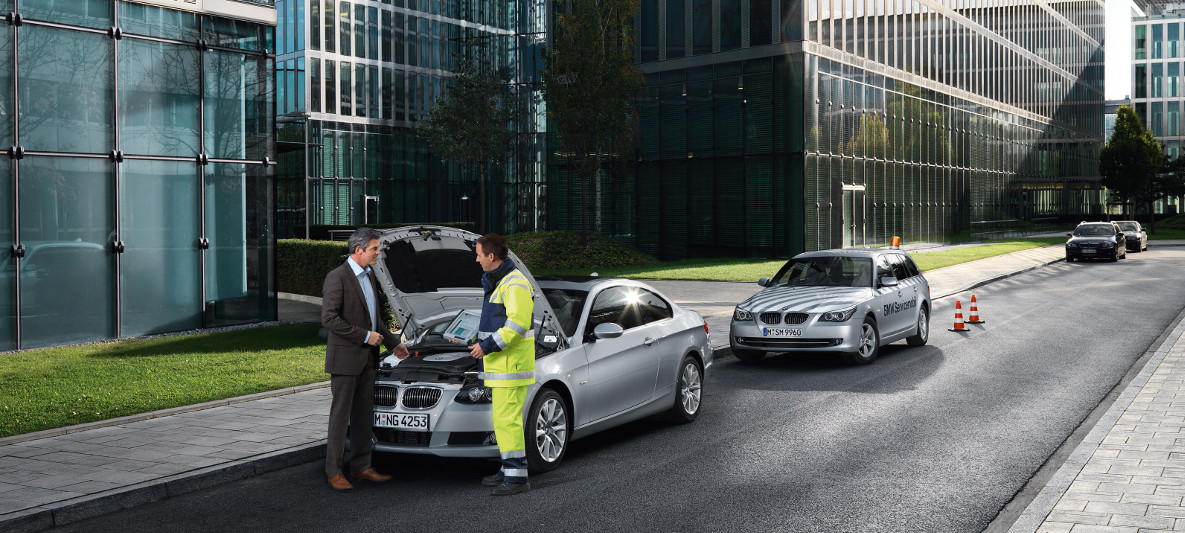 BMW Mobility Service Coverage

All members of BMW mobility service are entitled to the following benefits :

1. 24-hour access to free technical advice in the event of an accident or breakdown.

2. Unlimited number of Emergency Roadside Assistance requests free of charge.

3. Free Emergency Towing for an unlimited distance to the nearest BMW Authorized Dealer.

4. Free Emergency Towing up to a distance of 20 kilometers to any destination other than BMW Authorized Dealer. A charge of 25 baht per kilometer is applicable for distances beyond this and charges for any additional kilometers are the customer's responsibility.

5. "Mistakenly Locked" vehicle: If a spare key is located within a 20 kilometer radius, Mobility Services will organize for the spare key to be collected and brought to the vehicle location. For the distance exceed 20 kilometer, a charge of 25 Baht per kilometer will apply. Alternatively, if customer do not have spare key, locksmith service is available free of charge once per year. If the vehicle need to reproduce new key, customer will be responsible for the cost of new Key.

6. In case where the vehicle runs out of fuel, BMW Mobility Service will provide up to 10 liters of free fuel to enable the customer to reach the nearest gas station. This service is free only once per year.

Non-members Can Request Emergency Assistance With The Following Service Charges :

• Emergency Roadside Assistance – Non-members are charged 900 baht per service.

• Emergency Towing – Non-members are charged at a standard rate of 2,100 baht, which covers the first 25 kilometers of towing. A charge of 25 baht per kilometer applies to distances beyond 25 kilometers.

BMW Mobility Service Exclusions

• Any expenses incurred without the prior authorization of BMW Mobility Service.

• Expenses that would normally have been paid by the car owner, such as fuel and toll charges.

• The cost of replacement parts.

• Vehicle problems resulting from accidents and natural disasters.

• Any costs resulting from participation in motor racing, rallies, speeding or tests.

• Any costs resulting from the vehicle being kept in an unroadworthy condition. If the car owner continually fails to keep their vehicle in a roadworthy condition, BMW Mobility Service reserves the right to revoke the customer's coverage.

• Any costs resulting from the driver being under the influence of intoxicating liquor, impairing medicine or controlled substances.

• Any consequential losses arising directly or indirectly from the immobilization.

BMW Mobility Service Guidelines

1. All vehicles must be properly licensed to be eligible for service.

2. The vehicle displacement must occur on a public thoroughfare, street, highway, road, public or private parking lot. Service on logging roads, beaches, barricaded construction areas, racing tracks and restricted service roads is not covered under the BMW Mobility Service.

3. Coverage will be provided for vehicles which have become mechanically disabled. Repair costs, battery charging, tire rotation and costs for any spare parts are not covered under the BMW Mobility Service.

4. Service will be provided except when it is too dangerous for the service vehicle to operate because of prevailing weather or road conditions.

5. The cost for the use of more than two service persons or vehicles is not covered under the BMW Mobility Service.

6. Service does not cover the following :

• Ferry, bridge, or toll way charges for the vehicle are the responsibility of the member / non-member

• Towing of a vehicle from a BMW Authorized Dealer.

• More than 1 service call per disablement.

• The cost of parts, supplies or materials.

• Fines or impound towing charges due to violation of the law.

• Towing by any party other than an authorized service provider.

• Assistance from private citizen.

• Services outside the geographical borders of Thailand.

7. Towing service is provided if the vehicle cannot be started or driven safely under its own power.

8. Additional charges for the towing of vehicles which have been altered to the extent that they require special procedures and/or equipment that normally require for the towing of an unaltered vehicle, are the responsibility of the number.

9. For any service provided by independent contractors, BMW Mobility Service cannot assume any liability for any loss or damage resulting from the rendering of such service.

Remark : Terms and conditions can be changed without prior notice.