The BMW iX3 heralds a new era of emission-free sheer driving pleasure. The BMW iX3 heralds a new era of emission-free sheer driving pleasure. Explore the first all-electric BMW Sports Activity Vehicle that combines the best of two worlds: the driving dynamics and premium quality of the BMW X3 and the increased performance and efficiency of the fifth generation BMW eDrive technology. With a range of up to 460 km* and an electricity consumption starting at 18.5 kWh/100 km*, the BMW iX3 sets new benchmarks. And thanks to intelligent products and tailor-made services from BMW Charging, the recharging process is also simpler, faster and more efficient than ever. Fully developed and all-electric: the BMW iX3 is already giving the future an electrifying presence.

*The data have been calculated using the WLTP measuring method.

BMW iX3:
Power consumption in kWh/100 km: 17.8–17.5
Fuel consumption in l/100 km (combined): 0
CO2 emissions in g/km (combined): 0


Read more
THE HIGHLIGHTS OF THE BMW iX3.
Full of energy and ready to go: discover the highlights of the first-ever BMW iX3.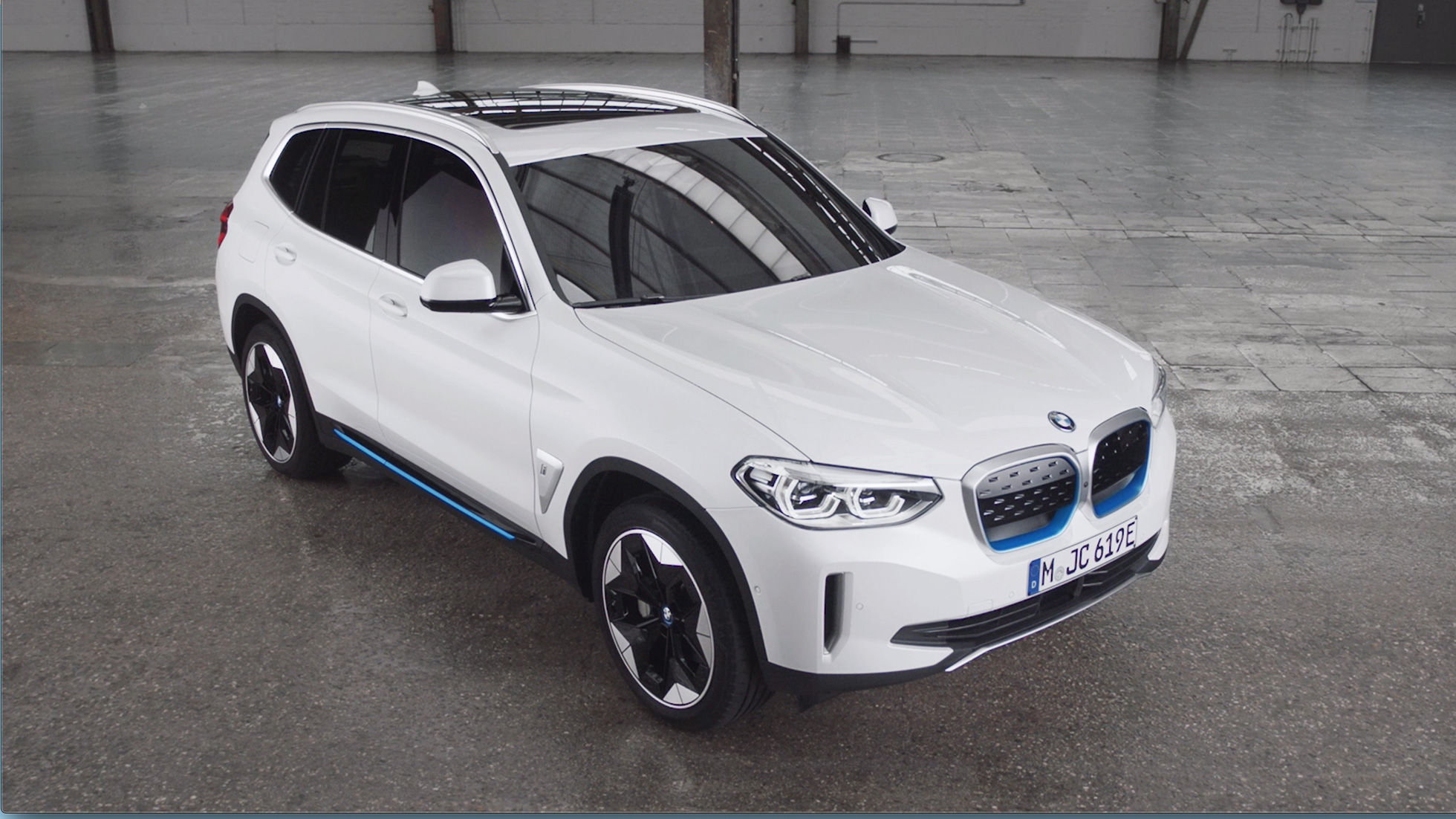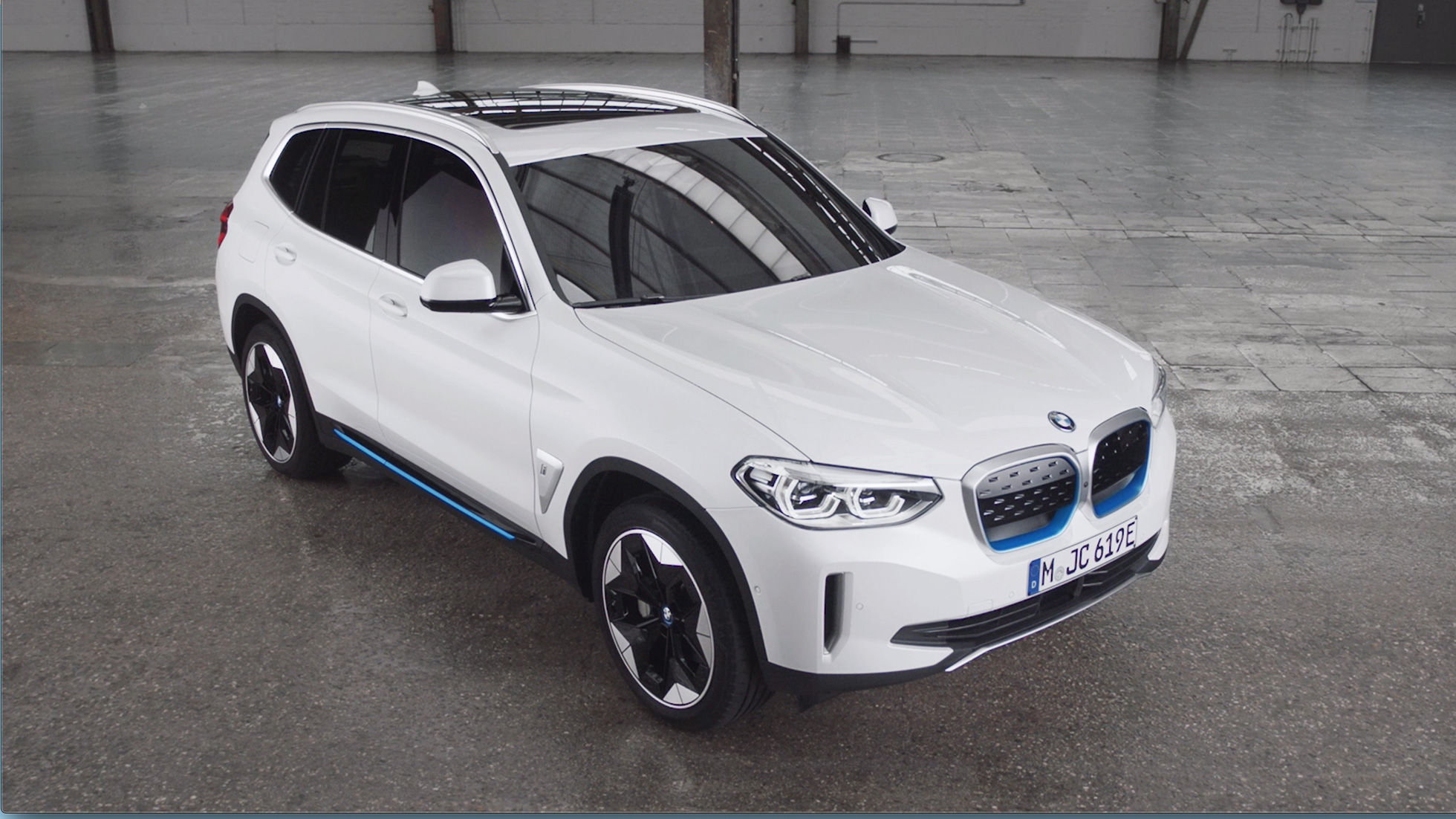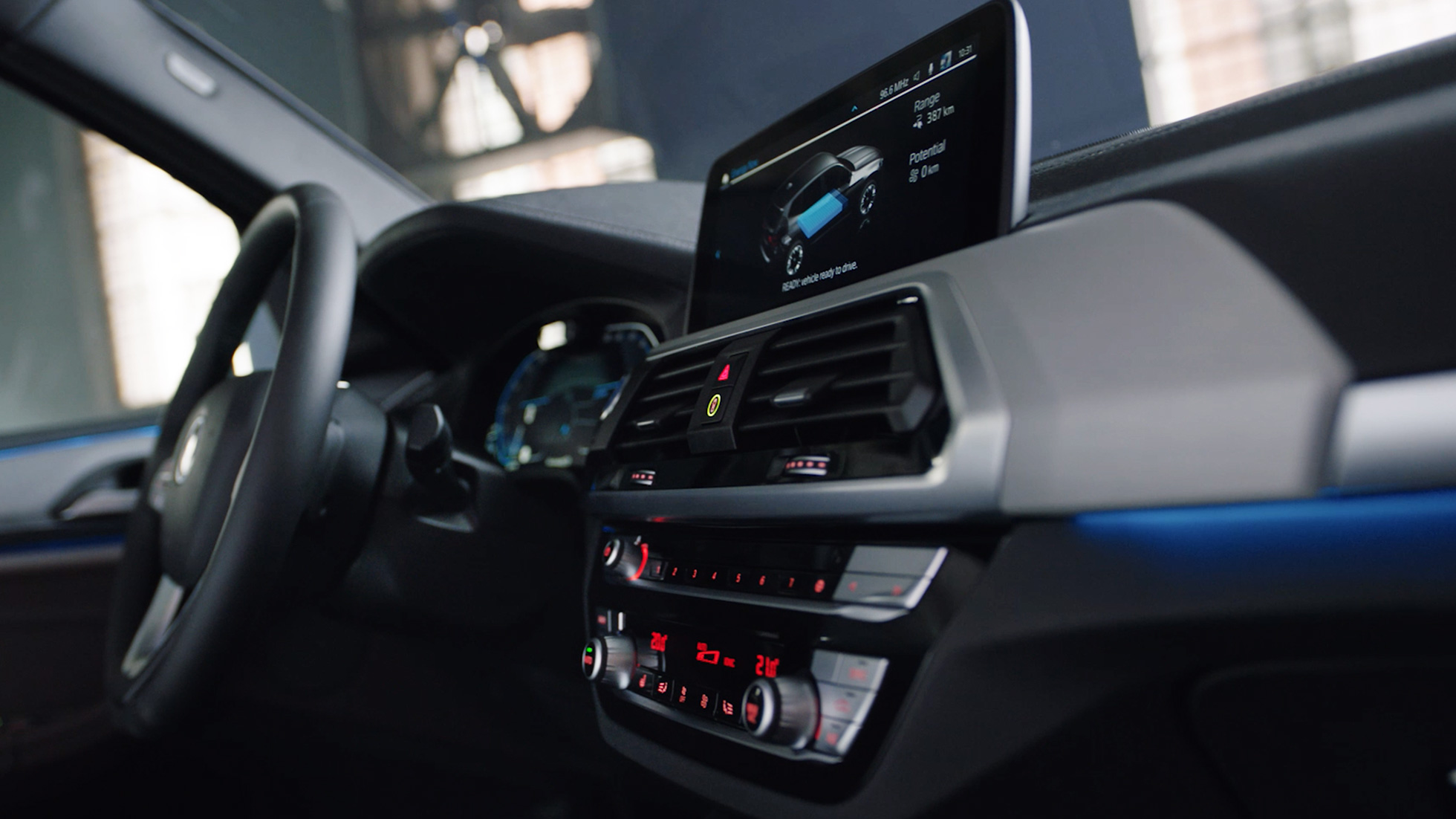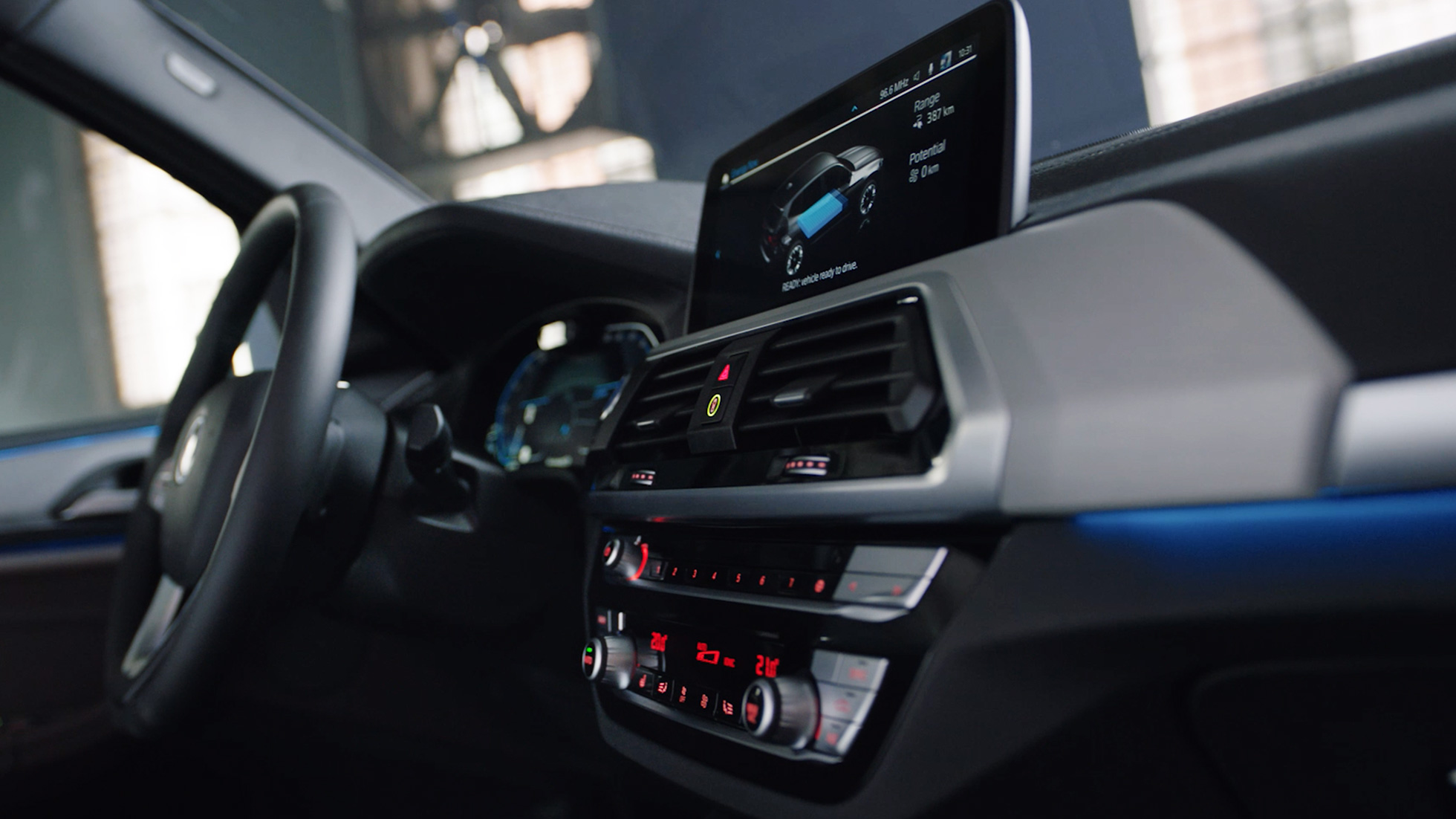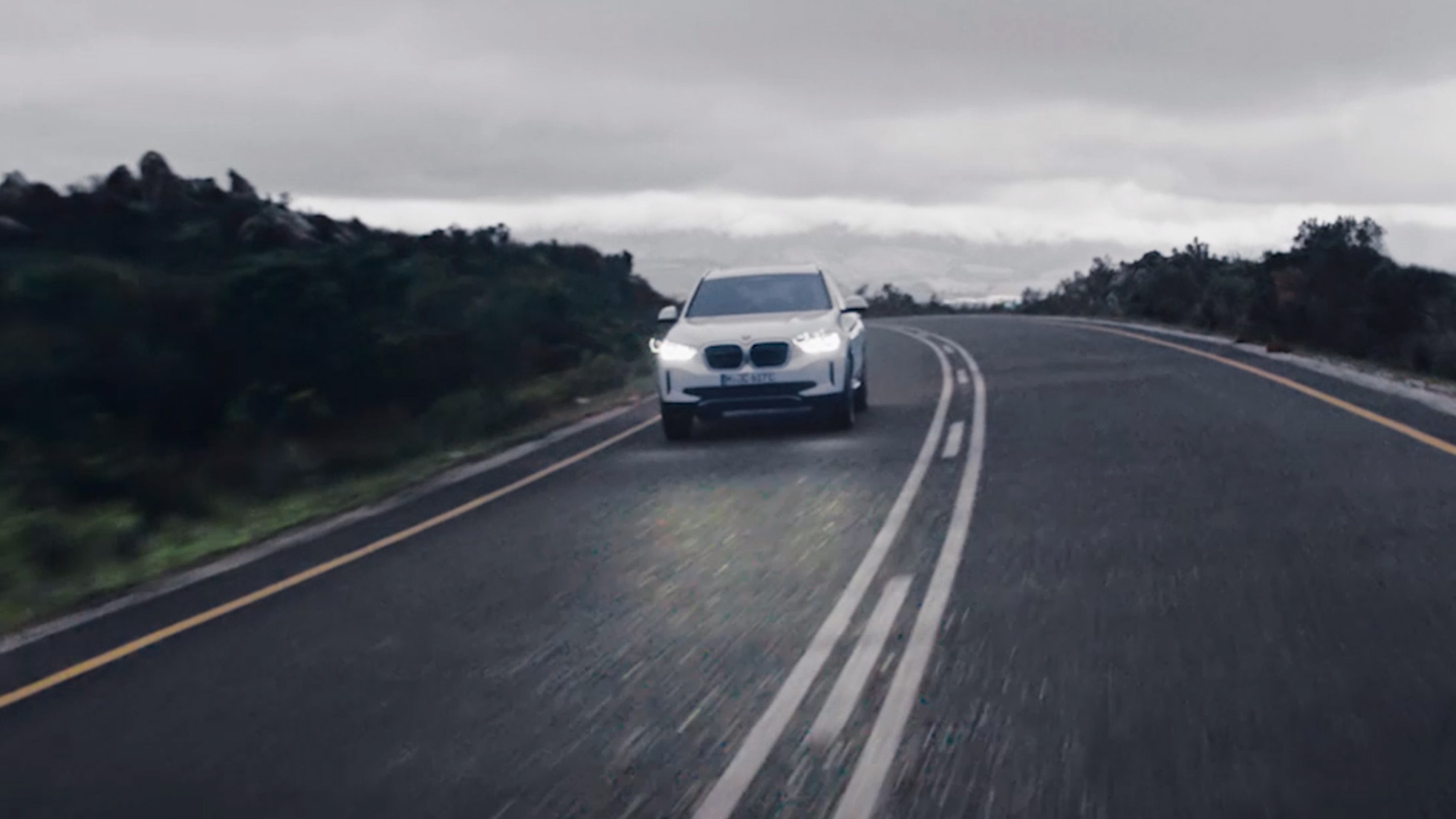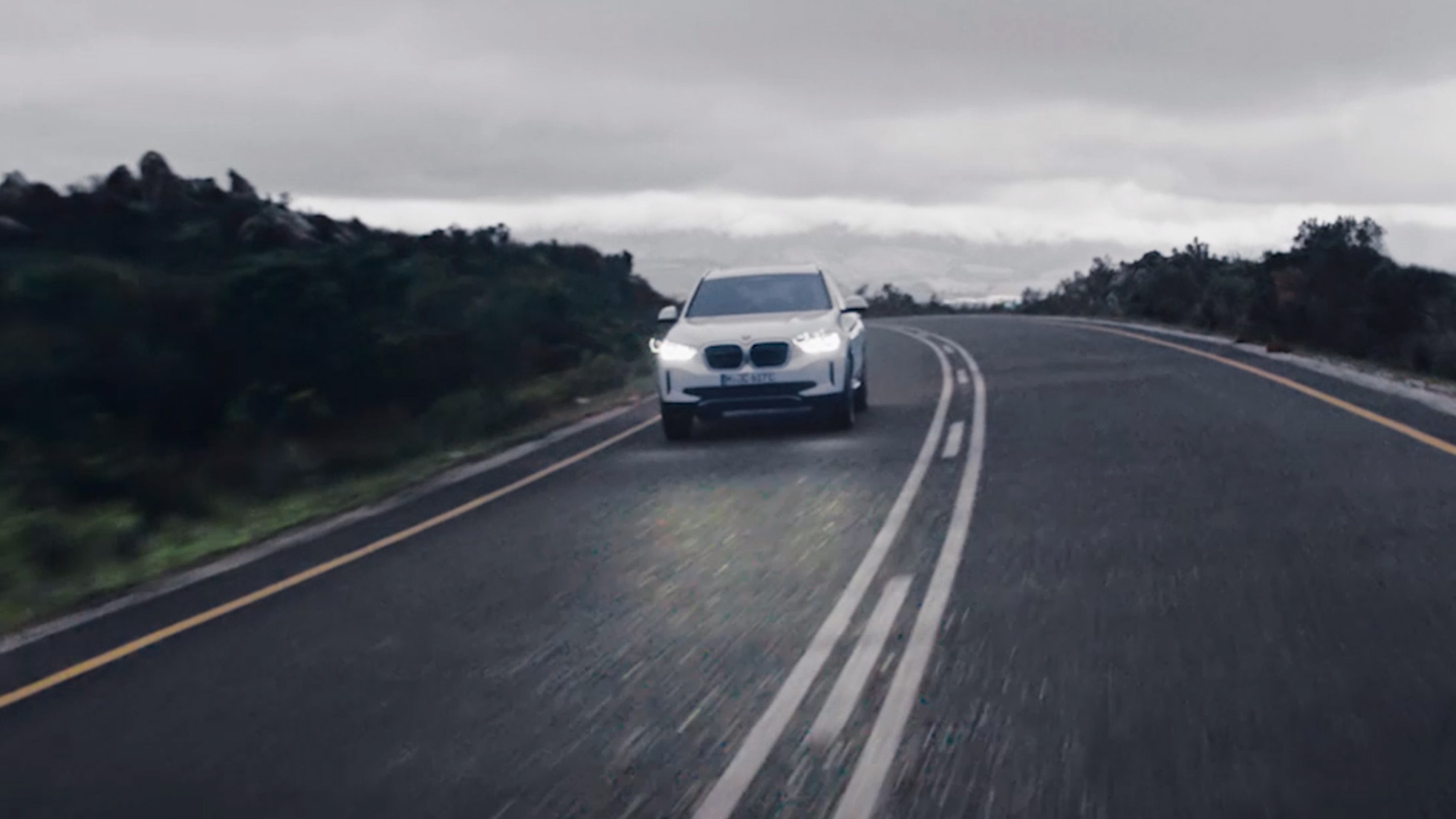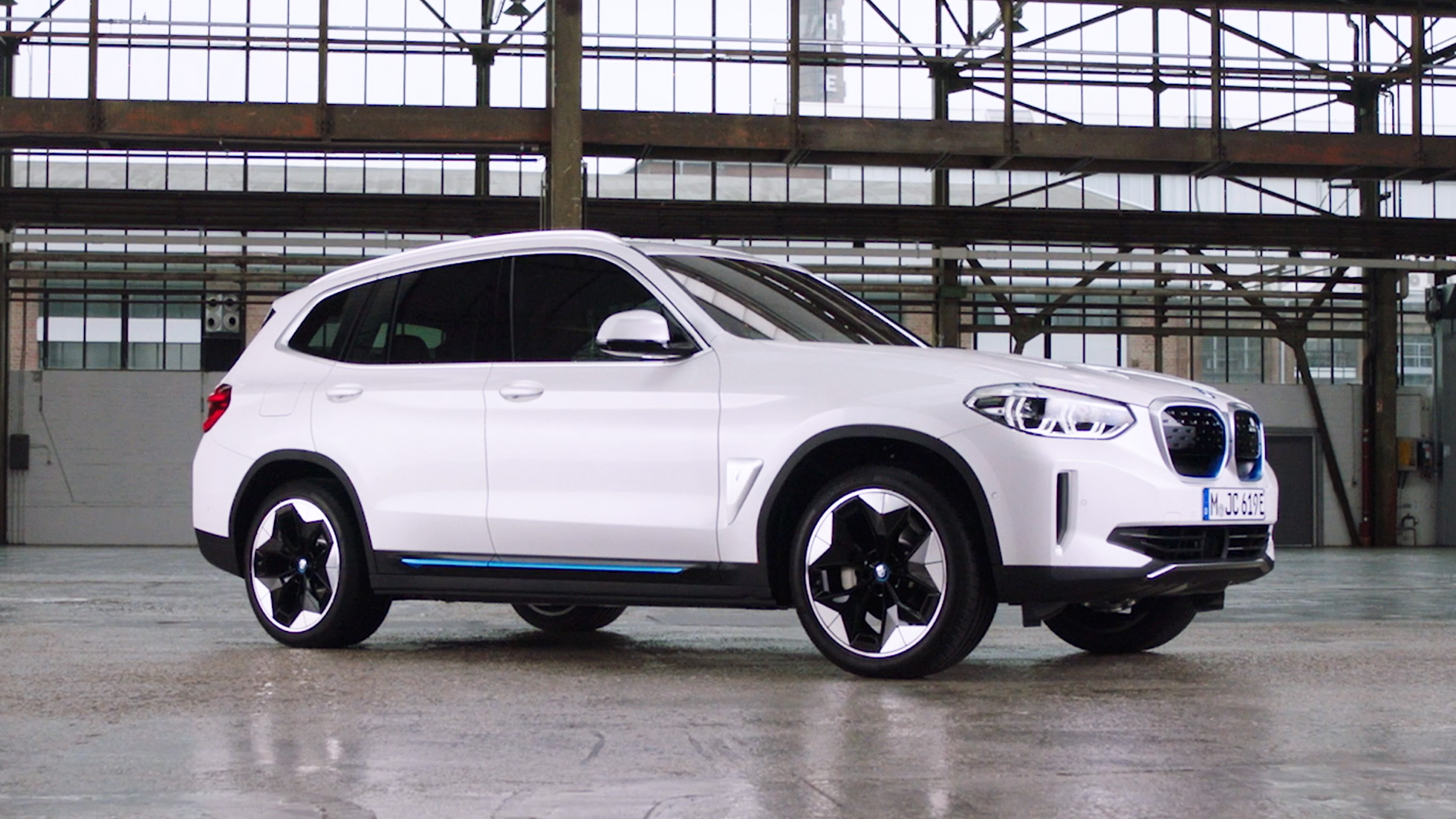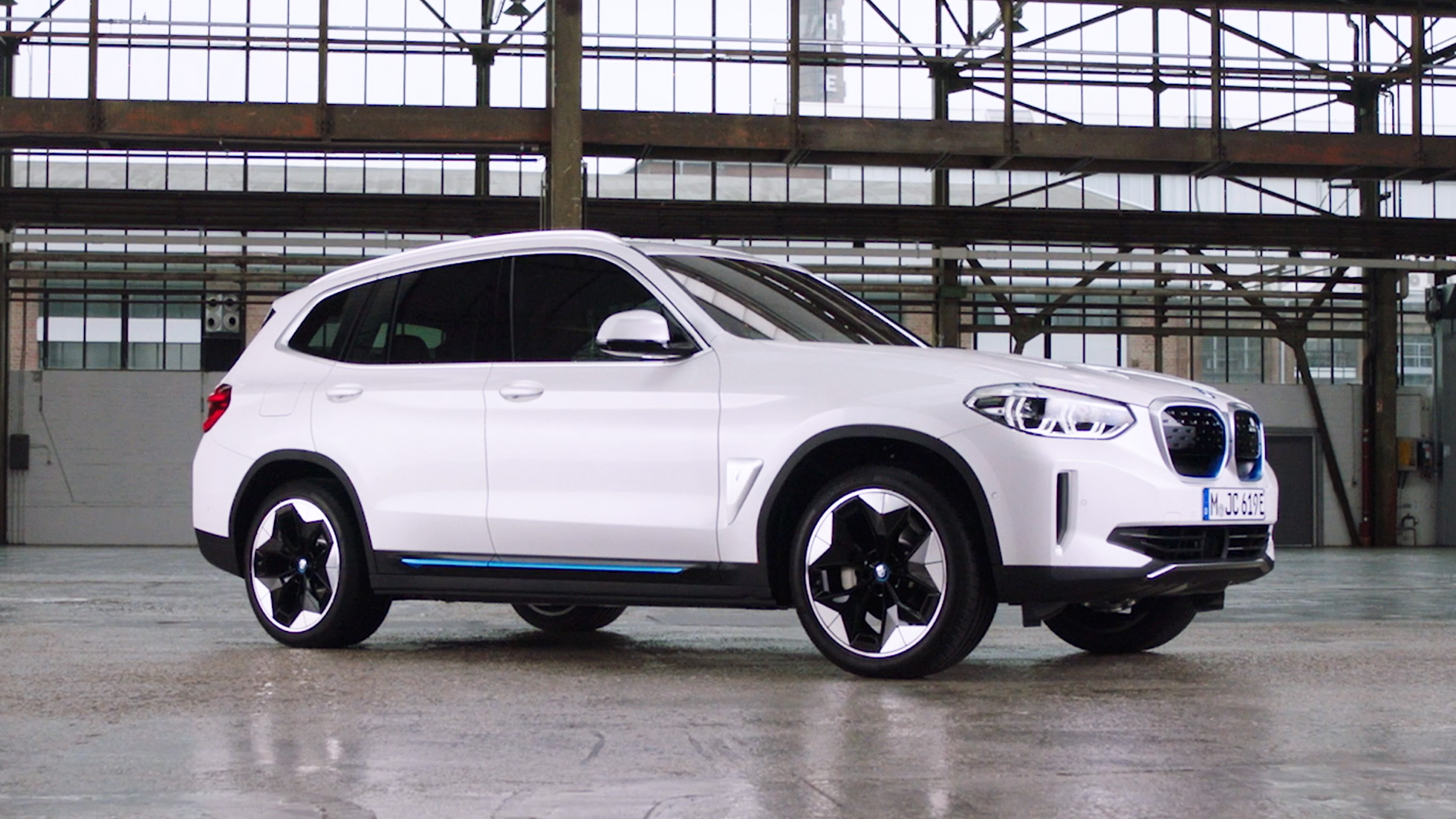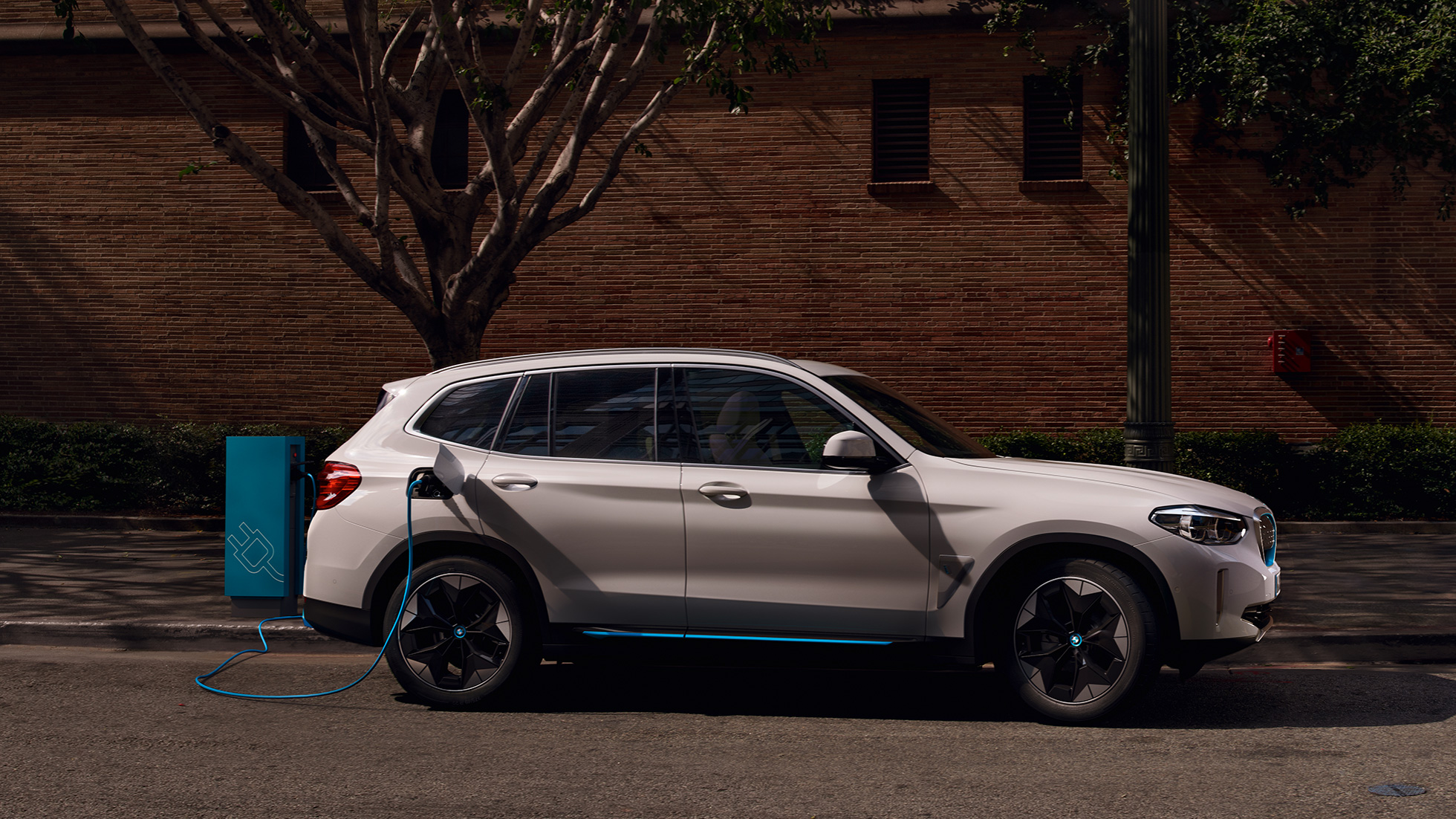 HIGH POWER CHARGING WITH UP TO 150 kW.
High Power Charging Stations enable the BMW iX3 to be charged up to 80 % in about 34 minutes.
Thanks to BMW Charging, you have access to a network of more than 450,000 charging points worldwide, including a large number of high-power charging stations on major roads, such as those of our cooperation partner IONITY. This enables you to avoid long waiting times and to recharge your BMW iX3 with 150 kW up to a level of 80% in only 34 minutes – or add a top-up charge to cover approx. 100 km in only 10 minutes.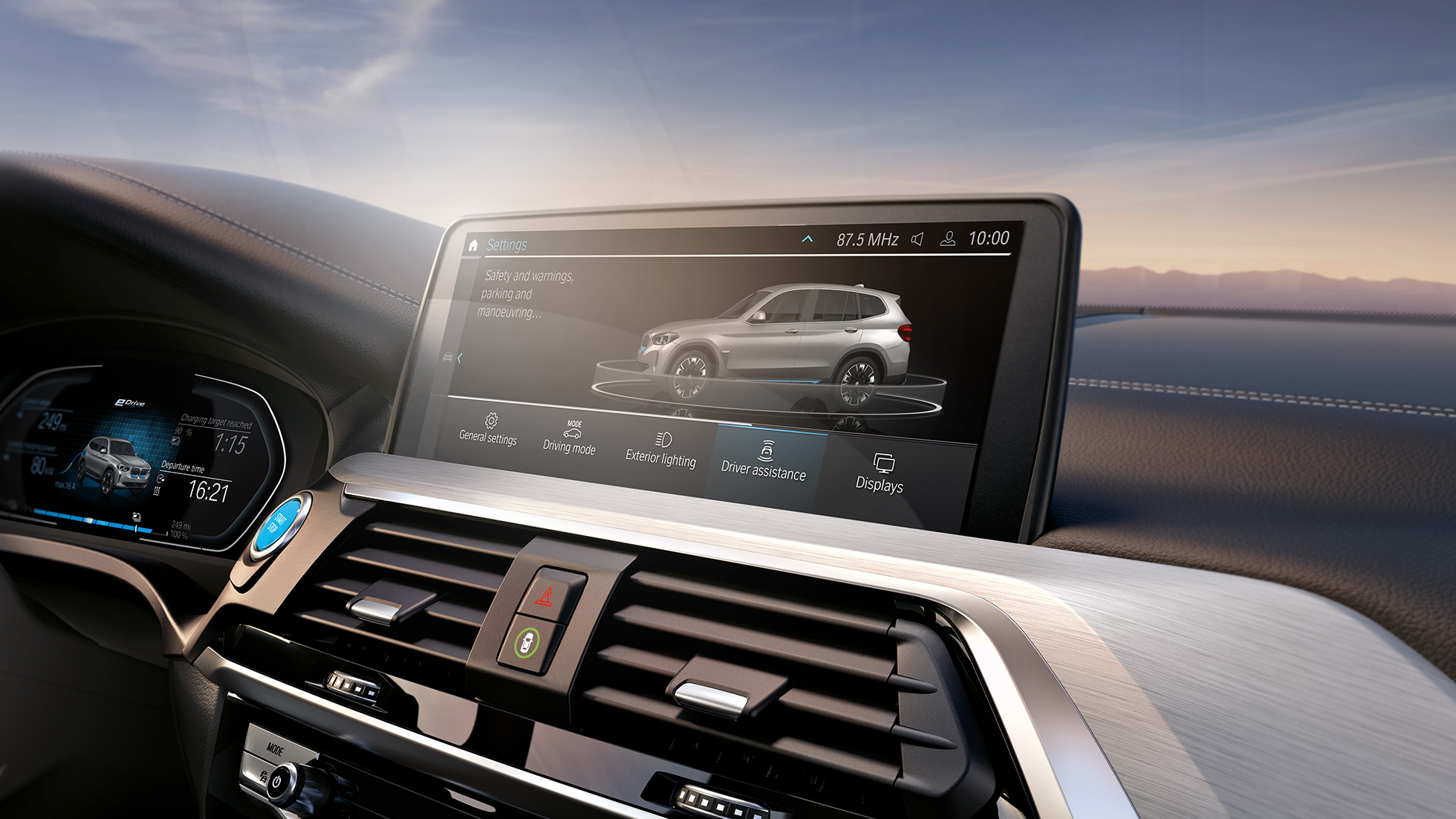 SOVEREIGN DRIVER ASSISTANCE SYSTEMS OF THE BMW iX3.
Comfortable supported by driver assistance systems such as the standard BMW Driving Assistant Professional.
Intelligent driver assistance systems of the latest generation, such as the standard feature Driving Assistant Professional with Active Cruise Control with Stop&Go function as well as Steering and Tracking Assistant offer you optimum comfort and maximum safety in many critical or monotonous traffic situations. At the same time, the Parking Assistant Plus with Reversing Assistant makes parking and manoeuvring easier than ever. Additional support comes from the Reversing Assistant to ensure convenient and safe reversing in narrow alleyways or similar driving situations.

"

The first ever BMW iX3 inspires with a clean and focused design, an uncompromisingly efficient electric drivetrain and pure driving pleasure combined with all advantages of a SAV. The BMW iX3 completes the X3 family and thus fulfils the BMW promise "Power of Choice".

"

Arno Keller, Subline Electrification Midsize Class BMW
THE DESIGN OF THE BMW iX3.
Stunning design options in the exterior and interior.
The BMW iX3 combines innovation and expression. Clear, powerful contours give it a modern puristic appearance while expressive BMW i accents emphasise the exclusivity of the first all-electric Sports Activity Vehicle. The striking front impresses at first sight, above all thanks to the BMW i specific kidney grille with its mesh-like structure and horizontally arranged nuggets. Redesigned 20" aerodynamic wheels together with the diffuser and inserts in BMW i Blue continue the specific design language consistently through to the rear. With individual details such as the BMW i entry sills and the standard-feature ambient light pre-set to BMW i Blue, the interior creates a modern and elegant atmosphere. Alongside the discrete BMW iX3 emblem in the centre console, indicators and gauges in the instrument cluster and Control Display precisely designed for the electric drive underline the uniqueness of the vehicle. In this way, the BMW iX3 exhibits its electrifying character – without any compromises.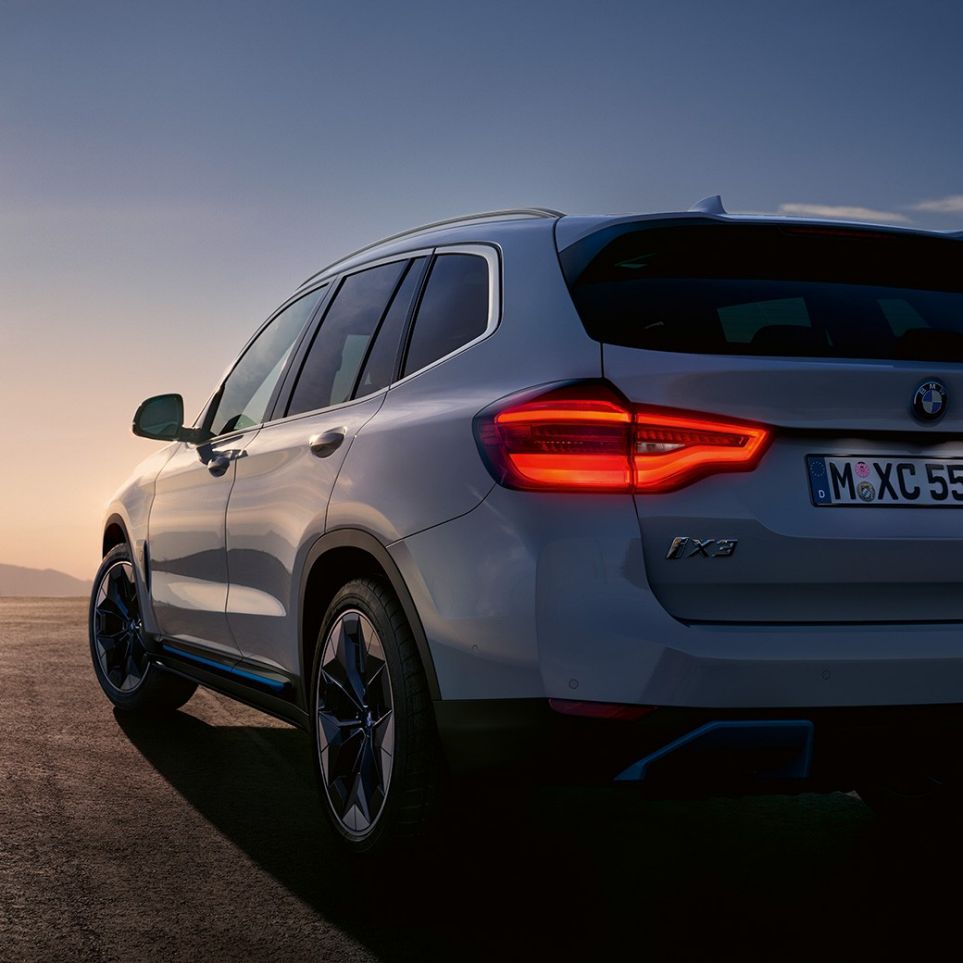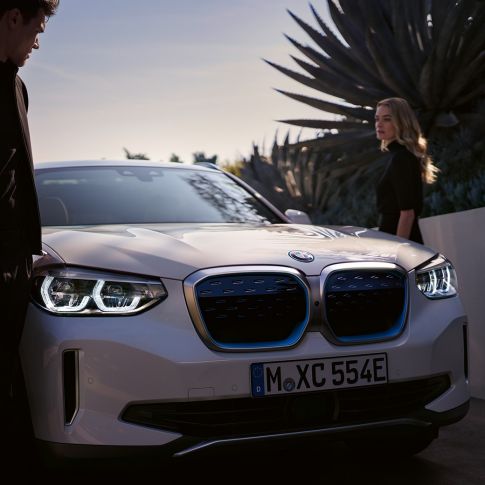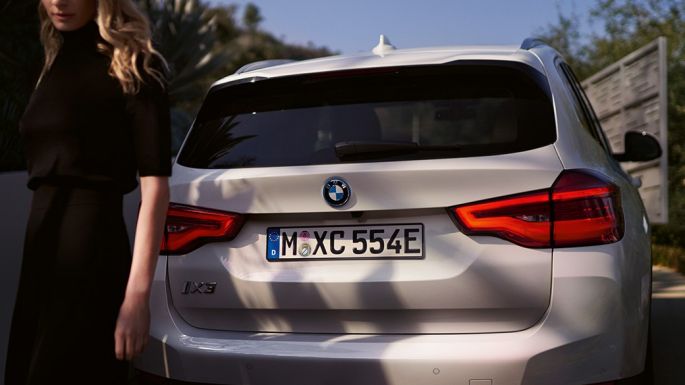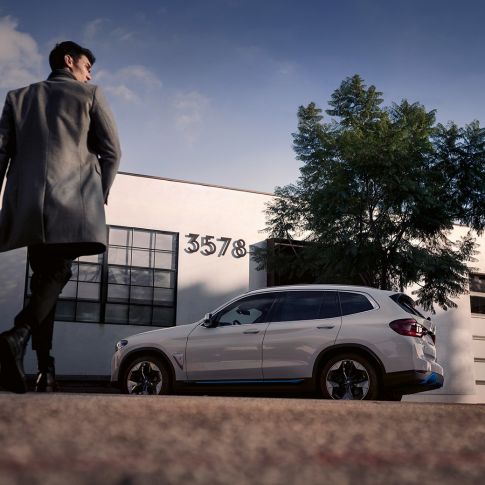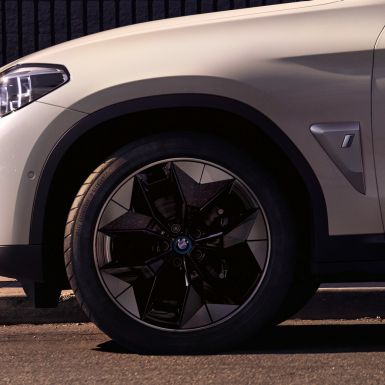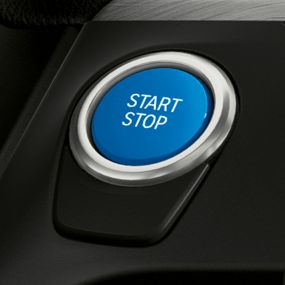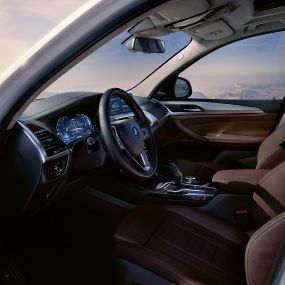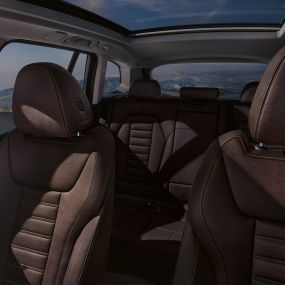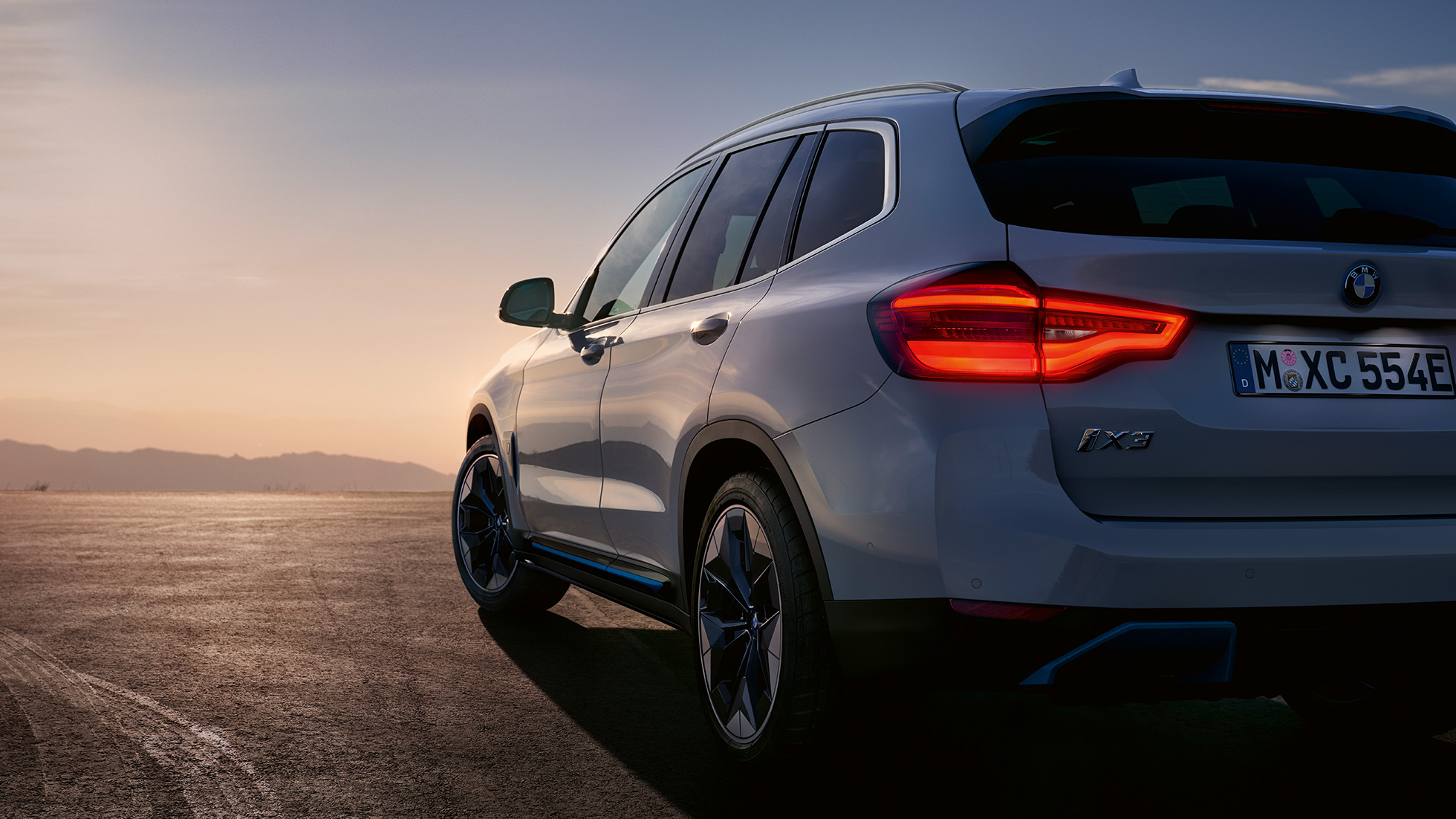 INSPIRED BY PIONEERING MOBILITY.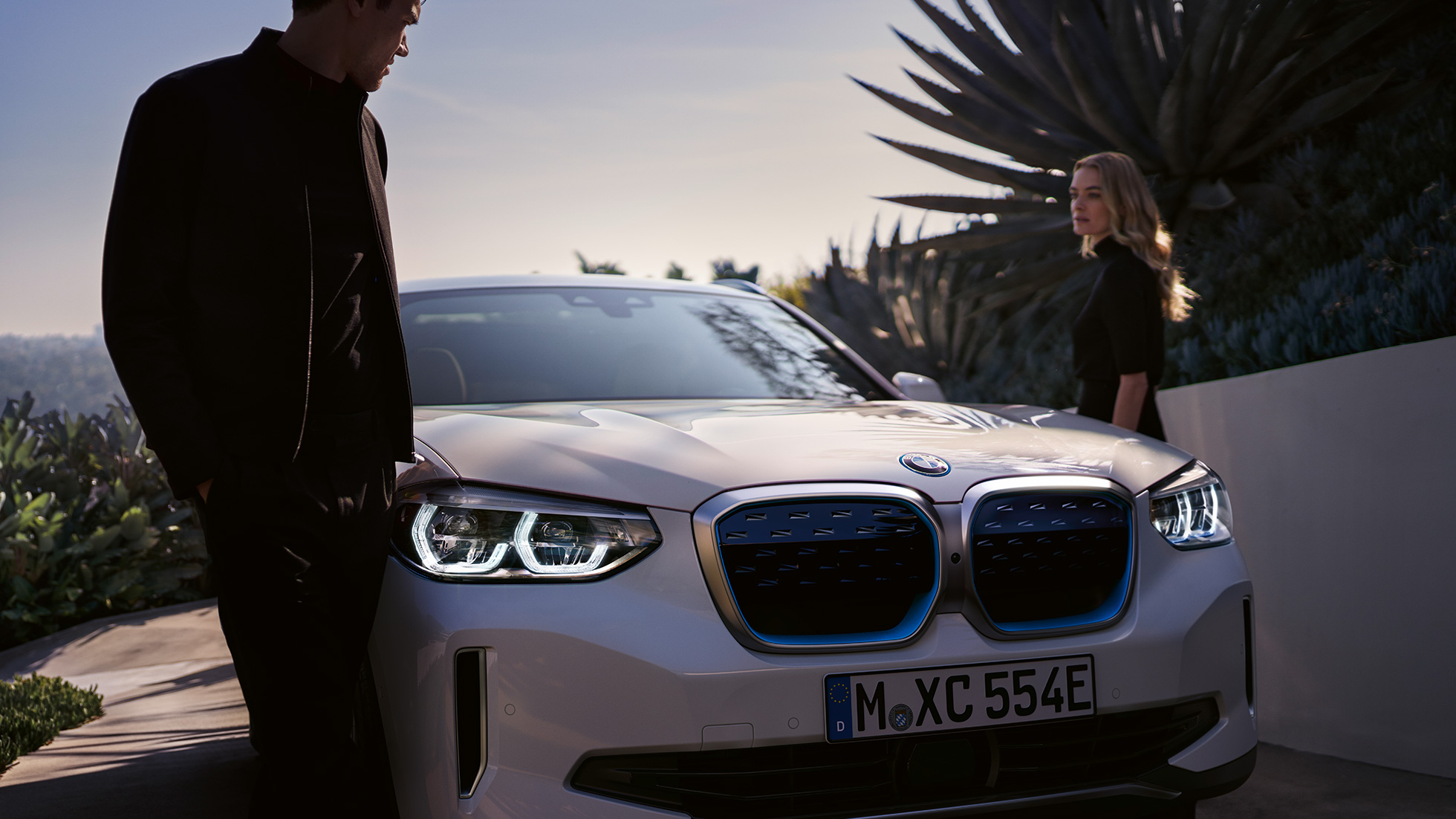 CHARACTERISTIC FRONT WITH BMW iX3 SPECIFIC KIDNEY.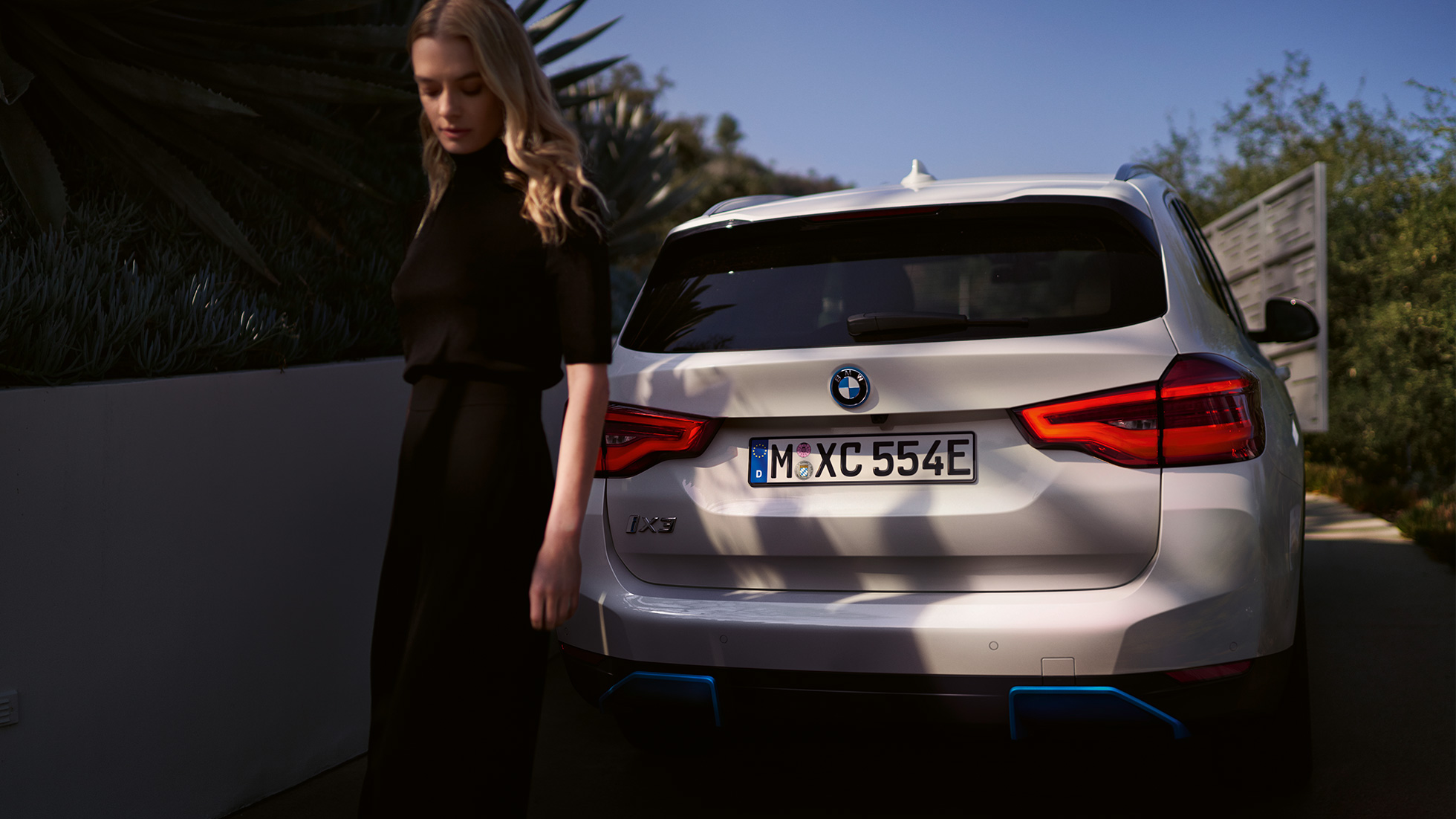 ATHLETIC REAR WITH BMW i SPECIFIC DIFFUSOR.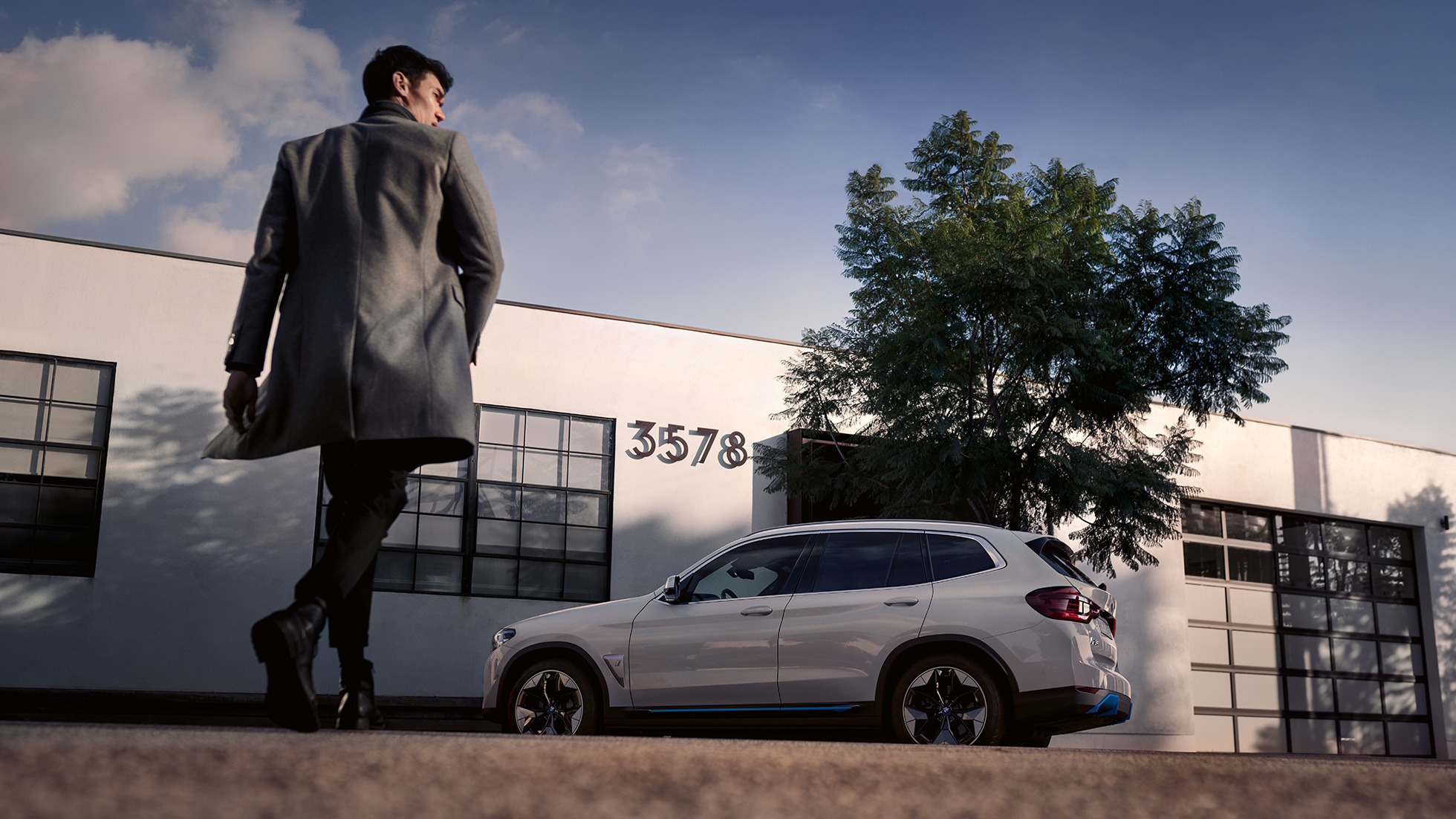 SPORTY SILHOUETTE WITH AIR BREATHER TRIM ELEMENTS.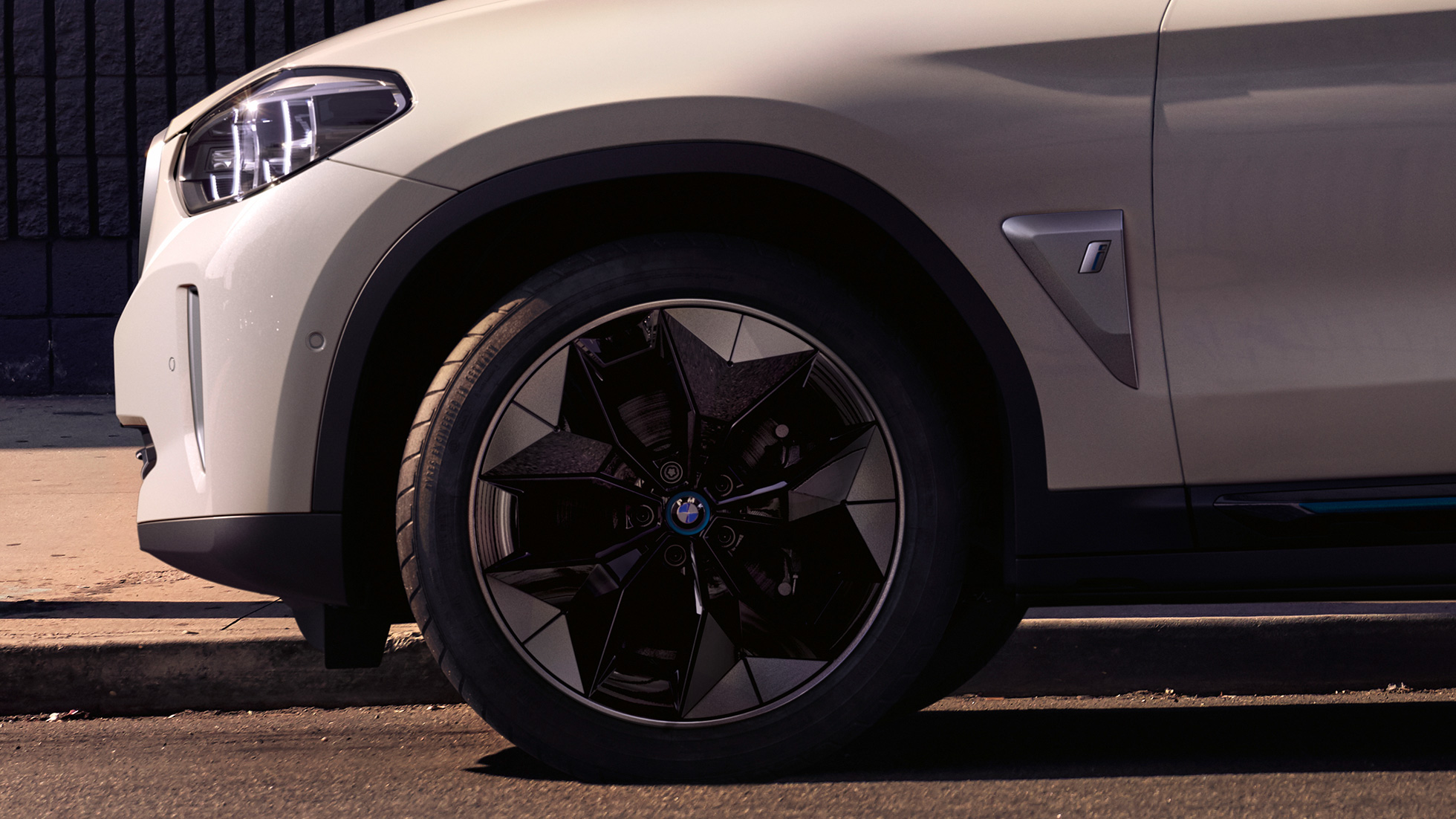 NEWLY DESIGNED BMW AERODYNAMIC WHEELS OF THE BMW iX3.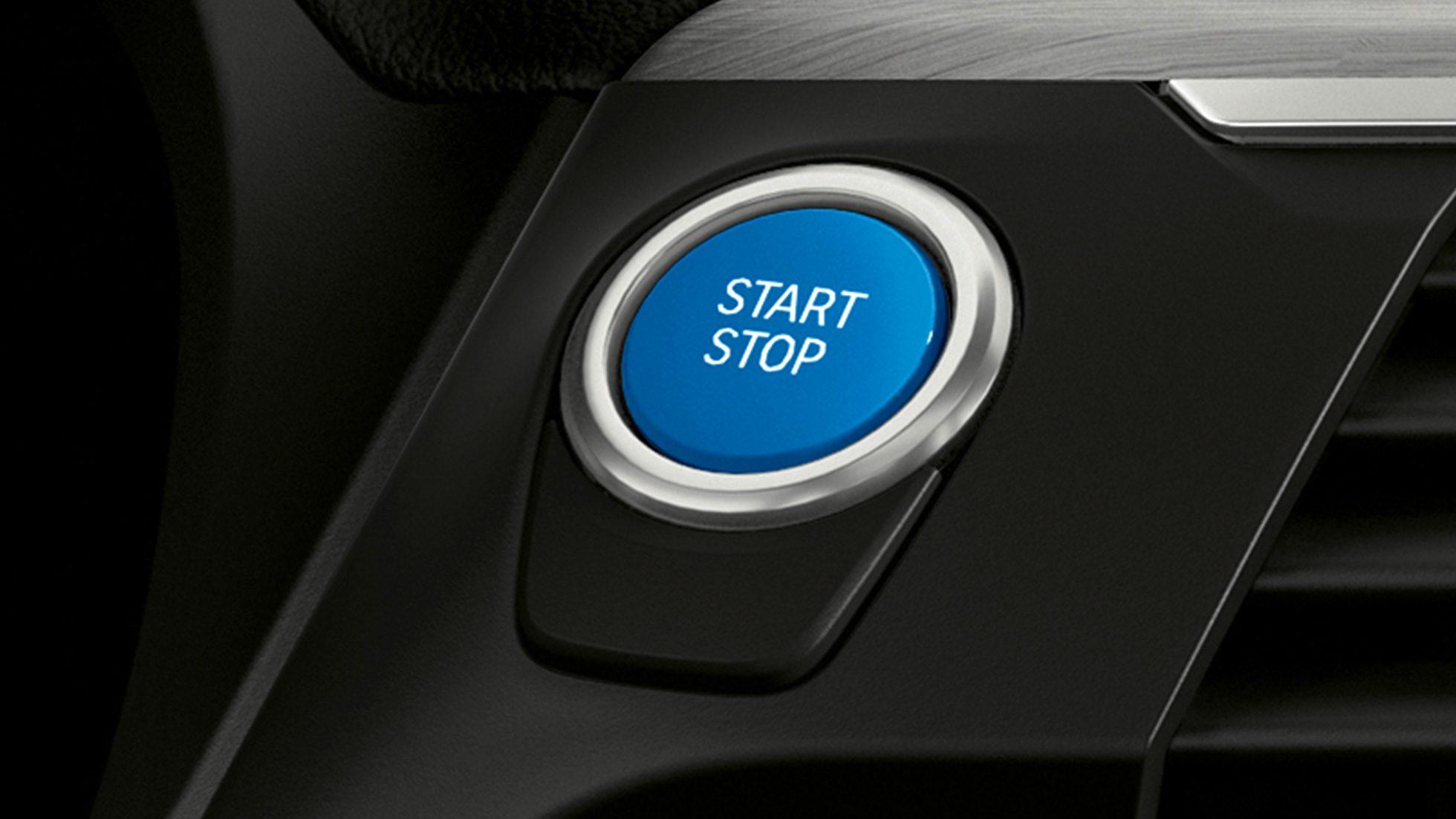 START/STOP BUTTON IN BMW i BLUE.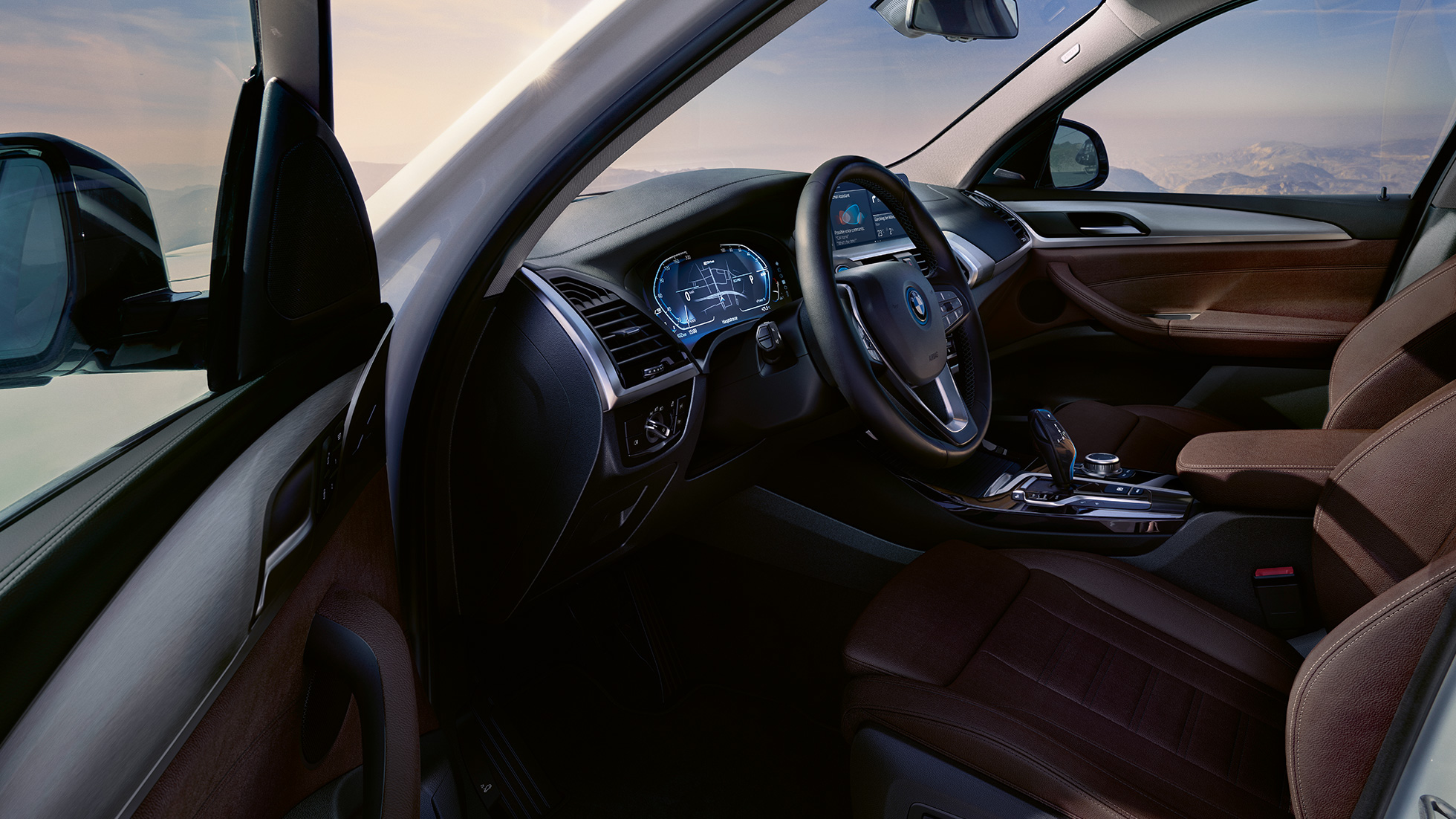 FUNCTIONAL PREMIUM INTERIOR IN BMW i DESIGN.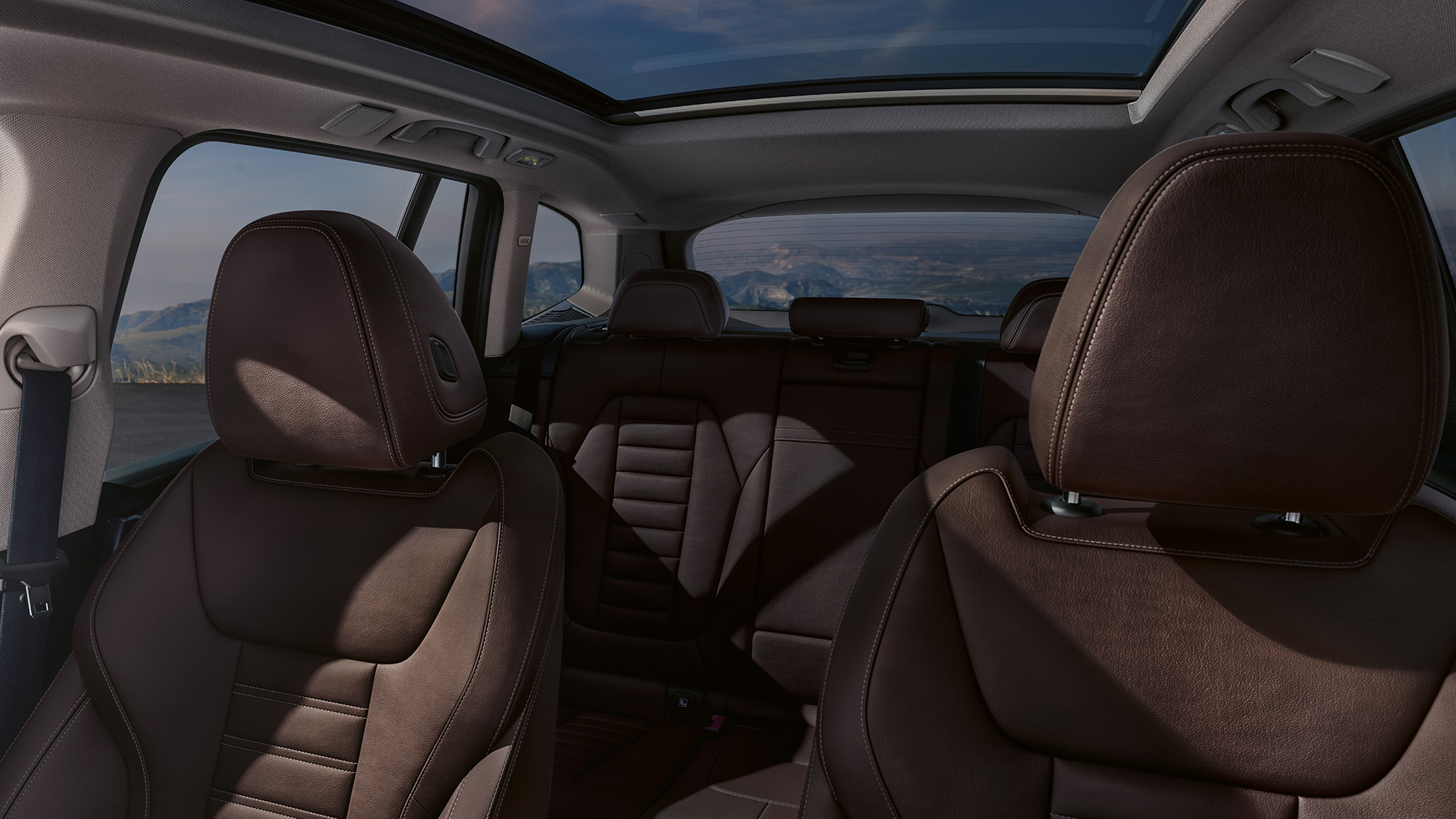 OPTIMAL SUPPORT THANKS TO SPORTS SEATS IN LEATHER 'VERNASCA' MOCHA.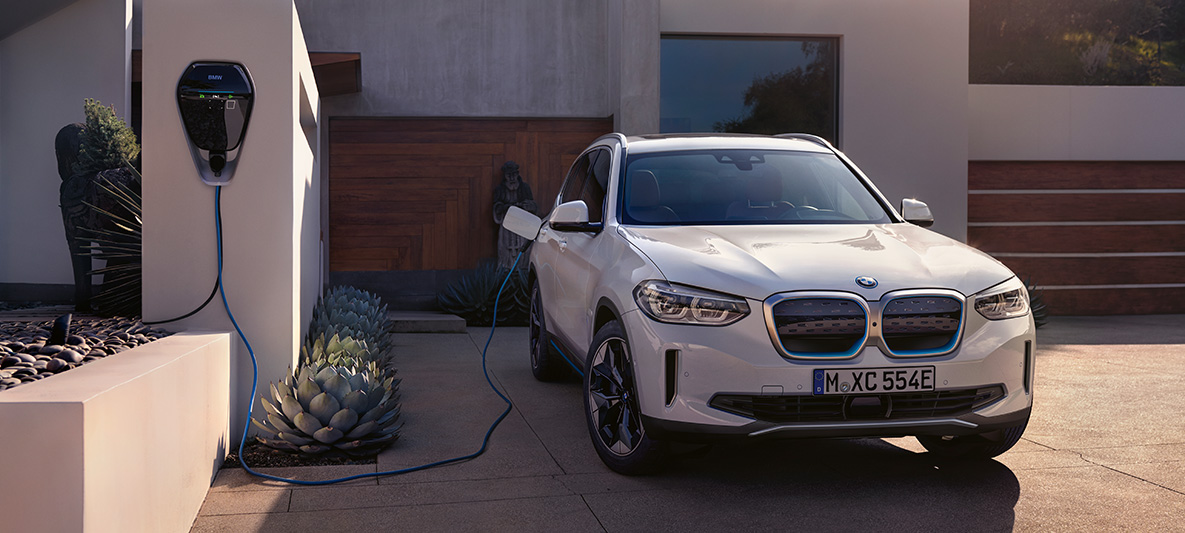 CHARGING OF THE BMW iX3.
No matter where you wish to charge your BMW iX3, BMW Charging offers you tailor-made products and services. In the case of public charging, BMW Charging provides access to a network of more than 450,000 charging points worldwide. Among them are also numerous high-power charging stations, such as those of our cooperation partner IONITY on the main arterial routes throughout Europe. With their charging output of up to 150 kW, they are able to charge the BMW iX3 up to a level of 80% in approx. 34 minutes. This means even shorter breaks due to charging on journeys with your BMW iX3.
BMW Charging additionally supplies everything that you need for charging at home, also as a practical solution package if required. With the new flexible fast charger, you can charge your BMW iX3 from a domestic socket or – with another optionally available adapter – from a more powerful industrial socket. If you need a suitable socket, you can simply book the professional installation service at the same time. This also applies to the BMW Wallbox Essential, with a charging output of up to 11 kW or, alternatively, the Smart Wallbox, which additionally offers extra services for intelligent charging.
BMW Charging also supports you in your vehicle with helpful digital services. Thanks to clever Connected Charging services, you can check the charge level of your battery at any time via the central information display and thus always be aware of precisely where charging stations are located and whether they are vacant. You can also ensure that the drive and interior are ideally preconditioned for the next journey, have a constant overview of your charging cycle history and much more besides.

​
Electric consumption and CO2 emissions.
BMW iX3:
Power consumption in kW/100 km: 17.8–17.5
Fuel consumption in l/100 km (combined): 0
CO2 emissions in g/km (combined): 0

The information on fuel consumption, CO2 emissions and energy consumption has been determined in accordance with the prescribed measurement procedure VO (EU) 715/2007 in the version applicable at the time of type approval. The figures refer to a vehicle with basic configuration in Germany and the range shown considers optional equipment and the different size of wheels and tires available on the selected model.

Further information about the official fuel consumption and the official specific CO2 emissions for new passenger automobiles can be found in the 'New Passenger Vehicle Fuel Consumption and CO2 Emission Guidelines', which are available free of charge at all sales outlets and from DAT Deutsche Automobil Treuhand GmbH, Hellmuth-Hirth-Str. 1, 73760 Ostfildern, Germany and on https://www.dat.de/co2

The values are already based on the new WLTP regulation and are translated back into NEDC-equivalent values in order to ensure the comparison between the vehicles. For vehicle related taxes or other duties based (at least inter alia) on CO2-emissions the CO2 values may differ to the values stated here.