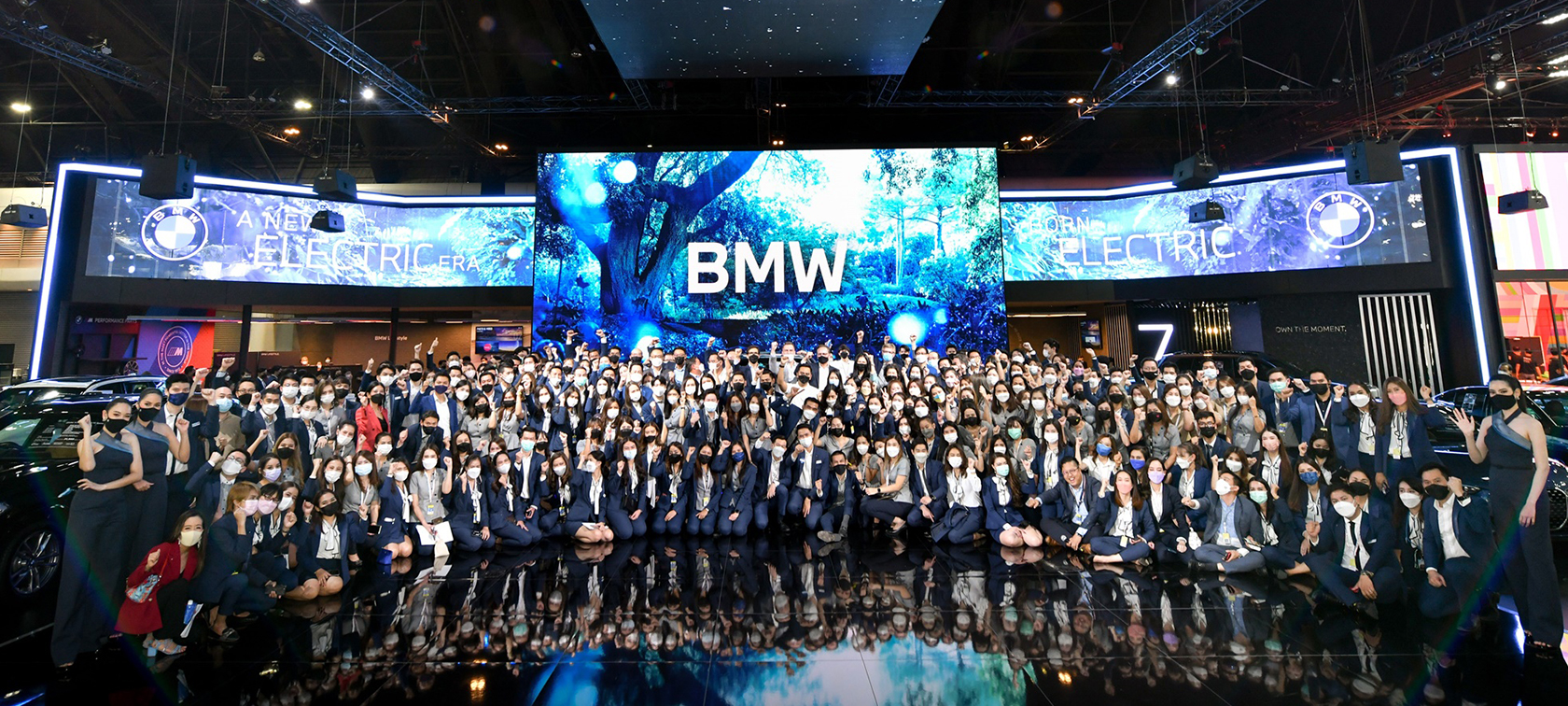 Press Release | 2022.01.18
BMW Group Thailand maintains No.1 leadership position in Thai premium automotive segment for two consecutive years reinforcing customers' trust and satisfaction
Passenger car registration data places BMW in the top spot of the premium segment in Thailand's premium automotive segment with 9,982 BMW vehicles registered in 2021, representing an increased segment share to 41.4%.
MINI Thailand achieved a very successful year in 2021 with 1,050 MINI registrations; BMW Motorrad achieves the highest-ever segment share in the market above 500cc (7.6%), and a total of 1,197 BMW motorcycles were registered in 2021.
BMW and MINI combined electrified vehicle registration in both PHEV and BEV drivetrains came up to the Number One ranking in the premium electrified segment with 32.9% segment share
Customer satisfaction (NPS score) hit highest-ever results in both sales and aftersales
BMW Group Thailand marks an outstanding achievement: the second consecutive year with Number One leadership in the Thai premium automotive segment. A total of 11,032 BMW and MINI were registered amid the challenges for all industries in 2021. BMW closed the year 2021 with 9,982 vehicles registration and MINI with 1,050 vehicles registration, while BMW Motorrad registered 1,197 units.
With new models raising the total number of electrified vehicles in the BMW Group line-up to 9 model variants, total registration of electrified BMW and MINI vehicles in 2021 reached 2,784 vehicles, placing BMW Group electrified vehicles in the Number One spot of the premium electrified segment with 32.9% segment share.
The continued success of BMW Group Thailand firmly demonstrated a high level of confidence from customers, which was also reflected in the NPS score increase to the highest-ever level. The company continues to have a customer-focused approach while providing new technologies and premium vehicles – this also includes combining the digitalization of services. Importantly, the company is committed to driving forward responsible and sustainable initiatives.
Mr. Alexander Baraka, President, BMW Group Thailand, said: "Last yearwas full of milestones that defined our joint success. We are delighted that BMW Group Thailand has maintained the Number One position in the premium segment for two consecutive years. MINI Thailand achieved a very successful year in 2021 with 1,050 MINI registrations while BMW Motorrad achieved the highest-ever segment share in the market above 500 CC at 7.6%. Another historic milestone that marked a major leap for us towards the future of e-mobilitylast year wasthe fact that BMW and MINI combined PHEV and BEV electrified vehicles registration is placed in the Number One ranking in the premium electrified segment with 32.9% segment share. This is a clear indication of the customer's trust in our BMW Group electrified vehicles."
"Our leadership in the premium segment reflects the agility with which we have transformed ourselves during unprecedented events as well as our ability to apply products that truly satisfy customer demands. Although the uncertain circumstances remain in 2022, BMW Group Thailand aims to deliver the best products, technologies and services to offer the best experience for all motorists, including ICE, PHEV and especially BEV users."
"With such a remarkable achievement in 2021, I would like to thank our customers for their trust in our brands. Customers have always been and will continue to be the main driving force for us. We will continue our mission to offer state-of-the-art technologies, service qualities and ultimate driving experiences to our customers. Additionally, I would like to personally thank our dealer partners and our staff for their commitments and great efforts throughout this most challenging period. We banded together and we continuously walk the extra miles." said Mr. Baraka.
Globally, BMW Group continued its increase in growth in 2021 with a total of 2,521,525 BMW, MINI and Rolls-Royce vehicles delivered to customers worldwide. Sales of electrified vehicles reflected strong customer interest in electromobility with over 328,316 electrified vehicle deliveries. Meanwhile, BMW Motorrad enjoyed the best-year-ever with 194,261 motorcycle deliveries worldwide.
BMW Group Thailand aims to record these milestones by offering extensive customer experiences in 2022 via digitalization from physical events to virtual platforms. The company also leverages digital solutions to enhance our customers' journey through the channel of its sales and service offers with utmost safety. As a premium car company, it is also an ambition to lead the way in sustainability. In 2022, the topics of social responsibility and solutions to environmental challenges will continue to be among the key focus points of the global and local strategies.
On top of various choices and product offerings that cover Thais' automotive and lifestyle needs, BMW Group Thailand has been collaborating with its dealership network to provide efficient, convenient and world-class services, which has helped ensure its leading position in the Thai premium automotive segment for the past two consecutive years.
Read more
The BMW Group  
With its four brands BMW, MINI, Rolls-Royce and BMW Motorrad, the BMW Group is the world's leading premium manufacturer of automobiles and motorcycles and also provides premium financial and mobility services. The BMW Group production network comprises 31 production and assembly facilities in 15 countries; the company has a global sales network in more than 140 countries.  
In 2021, the BMW Group sold over 2.5 million passenger vehicles and more than 194,000 motorcycles worldwide. The profit before tax in the financial year 2020 was € 5.222 billion on revenues amounting to € 98.990 billion. As of 31 December 2020, the BMW Group had a workforce of 120,726 employees.
The success of the BMW Group has always been based on long-term thinking and responsible action. The company set the course for the future at an early stage and consistently makes sustainability and efficient resource management central to its strategic direction, from the supply chain through production to the end of the use phase of all products.
BMW Group Thailand  
BMW Group Thailand, a subsidiary of BMW AG, Germany, was established on the 3rd October 1998. The four entities of BMW Group Thailand are BMW (Thailand) Co., Ltd. with responsibility for wholesales & marketing of BMW Group products, BMW Manufacturing (Thailand) Co., Ltd. with responsibility for BMW and BMW Motorrad local production, BMW Leasing (Thailand) Co., Ltd. with responsibility for financial services offerings to both wholesale and retail customers, and BMW Parts Manufacturing (Thailand) Co., Ltd., with responsibility for supplying components for the assembly of BMW Motorrad vehicles at BMW Group Manufacturing Thailand's Plant in Rayong.
In 2021, BMW Group Thailand recorded a stable performance with 11,032 BMW and MINI registrations. A total of 9,982 BMW vehicles and 1,050 MINI vehicles were registered last year. BMW Motorrad Thailand maintained its performance in 2021 with 1,197 motorcycle registrations.
On the production side, the BMW Group Manufacturing Thailand plant was founded on BMW Group's strong belief in the growth potential of Asian markets and Thailand in particular with its unique location, strong manufacturing base, and ready supply of skilled automotive labor, being an automotive hub for ASEAN. On-going investment has been put into the expansion of plant Rayong in terms of assembling processes, aiming to meet growing customer demand. In addition, with approximately 4 billion Thai Baht representing the amount of annual purchasing in Thailand, the BMW Global Purchasing office has been established in Thailand. This is to source various components from local suppliers in Thailand and the broader ASEAN region, in order to supply the entire BMW production network of 31 production and assembly facilities, located in 15 countries worldwide.  
BMW Group Manufacturing Thailand produces the following 16 models: BMW 2 Series, BMW 3 Series, BMW 5 Series, BMW 7 Series, BMW X1, BMW X3 and BMW X5. For BMW Motorrad, the BMW F 900 R, BMW F 900 XR, BMW F 750 GS, BMW F 850 GS, BMW F 850 GS Adventure, BMW R 1250 GS, BMW R 1250 GS Adventure, BMW S 1000 R and BMW S 1000 RR are also locally assembled at the plant. In addition, BMW Group Manufacturing Thailand now assembles five BMW plug-in hybrid models; BMW 330e, BMW 530e, BMW X3 xDrive30e, BMW X5 xDrive45e and BMW 745Le xDrive.
For further information, please contact: 
BMW Group Thailand  
1397
www.bmw.co.th
www.mini.co.th
www.bmw-motorrad.co.th
Media Contacts: 
Carl Byoir & Associates 
Suthatip Boonsaeng (08-7685-1695 or 0-2627-3501 ext.102) 
Benja Wangpeerawong (08-1629-5924 or 0-2627-3501 ext.218)
Pawalisa Thanawajeran (08-6564-4726 or 0-2627-3501 ext.125) 
Jirawat Akachan (09-3636-1241 or 0-2627-3501 ext. 101)
sboonsaeng@carlbyoir.com, bwangpeerawong@carlbyoir.com, pthanawajeran@carlbyoir.com, jakachan@carlbyoir.com
Read more