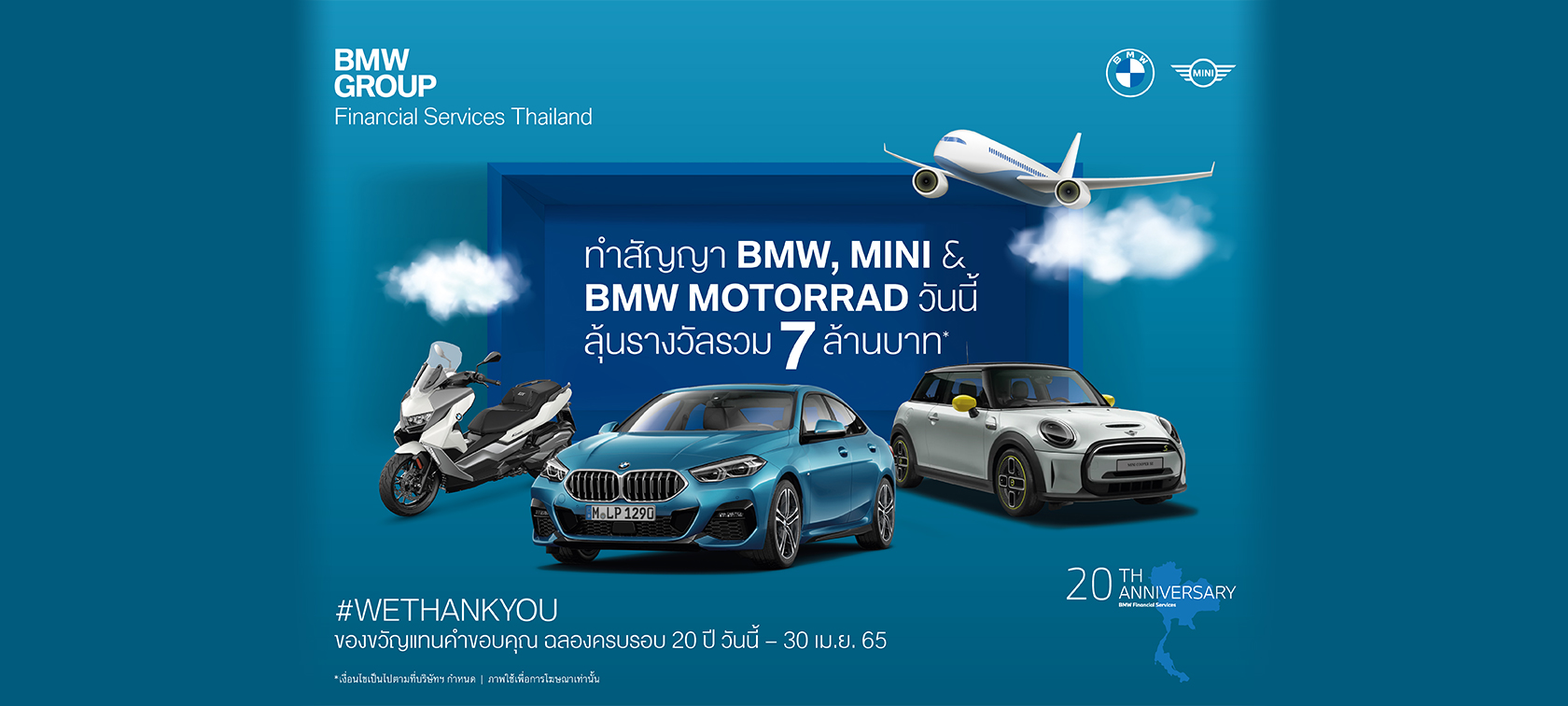 Press Release | 2021.10.15
BMW Financial Services holds lucky draw to celebrate 20 years of service with exclusive offerings for customers appreciation
Bangkok. BMW Financial Services Thailand is commemorating its 20-year journey in putting customers in the driver's seat through joyous campaigns for all brands under the BMW Group by offering exciting, exclusive rewards. All customers who purchase a vehicle under a BMW Financial Services contract for BMW, MINI, and BMW Motorrad between 1 May 2021 – 31 April 2022 will be eligible for special lucky draws that offer attractive monthly rewards aiming to celebrate the milestone with the most "customer centric offers of the last 2 decades" – starting from 15 October 2021 onward.
BMW, MINI, and BMW Motorrad customers will vie for tempting monthly rewards on an exciting journey to the grand finale – including 12-hour limo service package with driver on the BMW 7 Series as well as tailored experiences that include the BMW Driving Experience training session, the ever-exciting MINI John Cooper Works Track Days, and an off-road biking course with BMW Motorrad Rider Training. In addition to that, BMW, MINI, and BMW Motorrad are putting incredible grand prizes on the table for their customers with the BMW 2 Series Gran Coupe, The New All-Electric MINI, and the BMW Motorrad C 400 GT on offer from each respective brand at the campaign's conclusion in 2022.
Mr. Björn Antonsson, Chief Executive Officer, BMW Financial Services Thailand, said, "Throughout the past 20 years, the BMW Financial Services team has strived to provide the most ideal financial solutions for customers to access the vehicle of their dreams. For this very special anniversary, we want to thank our customers for their trust in our services by taking our 'Power of Choice' philosophy even further in this exclusive campaign, ultimately expanding this momentous milestone into special occasions and experiences that our customers can share while also reaffirming our commitment to deliver premium services for the ultimate BMW Group Brands experience."
To further share the excitement with all customers, BMW Financial Services and MINI Financial Services are also offering spectacular campaigns during this month of October. BMW customers will exclusively enjoy up to 3 years of BMW Protect first class insurance with a 'BMW Freedom Choice' contract, while customers opting for the BMW X1 and X3 will get 3 years of 0% interest and a complimentary gas voucher worth 30,000 THB. MINI customers, meanwhile, can enjoy their new all-electric MINI with 'MINI Freedom Choice' contract and 1-year MINI Protect first-class insurance, a free MINI Wallcharge to top up your ride, a 4-year MSI package, plus an exclusive hotel voucher. Furthermore, the exclusive '3ASY RIDE' financial program brings your favorite BMW Motorrad bike straight to you with great offers that including 0% down payment, up to 5 years of exclusive interest rates, 1-year insurance, and a 3-year BMSI package.
These exclusive offers are available only in October. For further updates on the exclusive prize draws and winnings, visit here.
*Terms and conditions apply
Read more
The BMW Group  
With its four brands BMW, MINI, Rolls-Royce and BMW Motorrad, the BMW Group is the world's leading premium manufacturer of automobiles and motorcycles and also provides premium financial and mobility services.
The BMW Group production network comprises 31 production and assembly facilities in 15 countries; the company has a global sales network in more than 140 countries.  
In 2020, the BMW Group sold over 2.3 million passenger vehicles and more than 169,000 motorcycles worldwide. The profit before tax in the financial year 2019 was € 7.118 billion on revenues amounting to € 104.210 billion. As of 31 December 2019, the BMW Group had a workforce of 126,016 employees.
The success of the BMW Group has always been based on long-term thinking and responsible action. The company has therefore established ecological and social sustainability throughout the value chain, comprehensive product responsibility and a clear commitment to conserving resources as an integral part of its strategy.  
BMW Group Thailand  
BMW Group Thailand, a subsidiary of BMW AG, Germany, was established on the 3rd October 1998. The four entities of BMW Group Thailand are BMW (Thailand) Co., Ltd. with responsibility for wholesales & marketing of BMW Group products, BMW Manufacturing (Thailand) Co., Ltd. with responsibility for BMW and BMW Motorrad local production, and BMW Leasing (Thailand) Co., Ltd. with responsibility for financial services offerings to both wholesale and retail customers, and BMW Parts Manufacturing (Thailand) Co., Ltd. with responsibility for automotive components supply for the assembly of BMW Motorrad vehicles at BMW Group Manufacturing Thailand's Plant Rayong.
In 2020, BMW Group Thailand recorded a stable performance with 12,426 BMW and MINI deliveries. A total of 11,242 BMW vehicles were delivered to Thai customers, a slight 4.3% decrease from 2019, while a total 1,184 MINI vehicles were delivered in Thailand, reflecting a small dip of only 1.7% drop year-on-year. BMW Motorrad Thailand maintained its performance despite difficult conditions in 2020 with 1,224 motorcycles delivered.
On the production side, the BMW Group Manufacturing Thailand plant was founded on BMW Group's strong belief in the growth potential of Asian markets and Thailand in particular with its unique location, strong manufacturing base, and ready supply of skilled automotive labor, being an automotive hub for ASEAN. On-going investment has been put into the expansion of plant Rayong in terms of assembling processes, aiming to meet growing customer demand. In addition, with approximately 4 billion Thai Baht representing the amount of annual purchasing in Thailand, the BMW Global Purchasing office has been established in Thailand. This is to source various components from local suppliers in Thailand and the broader ASEAN region, in order to supply the entire BMW production network of 31 production and assembly facilities, located in 15 countries worldwide.  
BMW Group Manufacturing Thailand produces the following 17 models: BMW 2 Series, BMW 3 Series, BMW 5 Series, BMW 7 Series, BMW X1, BMW X3, BMW X5, and BMW X7. For BMW Motorrad, the BMW F 900 R, BMW F 900 XR, BMW F 750 GS, BMW F 850 GS, BMW F 850 GS Adventure, BMW R 1250 GS, BMW R 1250 GS Adventure, BMW S 1000 R and BMW S 1000 RR are also locally assembled at the plant. In addition, BMW Group Manufacturing Thailand now assembles five BMW plug-in hybrid models; BMW 330e, BMW 530e, BMW X3 xDrive30e, BMW X5 xDrive45e and BMW 745Le xDrive.
For further information, please contact: 
BMW Group Thailand  
1397
www.bmw.co.th
www.mini.co.th
www.bmw-motorrad.co.th
Media Contacts: 
Carl Byoir & Associates 
Suthatip Boonsaeng (08-7685-1695 or0-2627-3501 ext.102) 
Thornthawat Thongnab (08-3225-4567 or 0-2627-3501 ext.206) 
Pawalisa Thanawajeran (08-6564-4726 or 0-2627-3501 ext.125) 
Napasorn Sriwannavit (08-5862-7676 or 0-2627-3501 ext. 212)
sboonsaeng@carlbyoir.com, tthongnab@carlbyoir.com, pthanawajeran@carlbyoir.com, nsriwannavit@carlbyoir.com
Read more