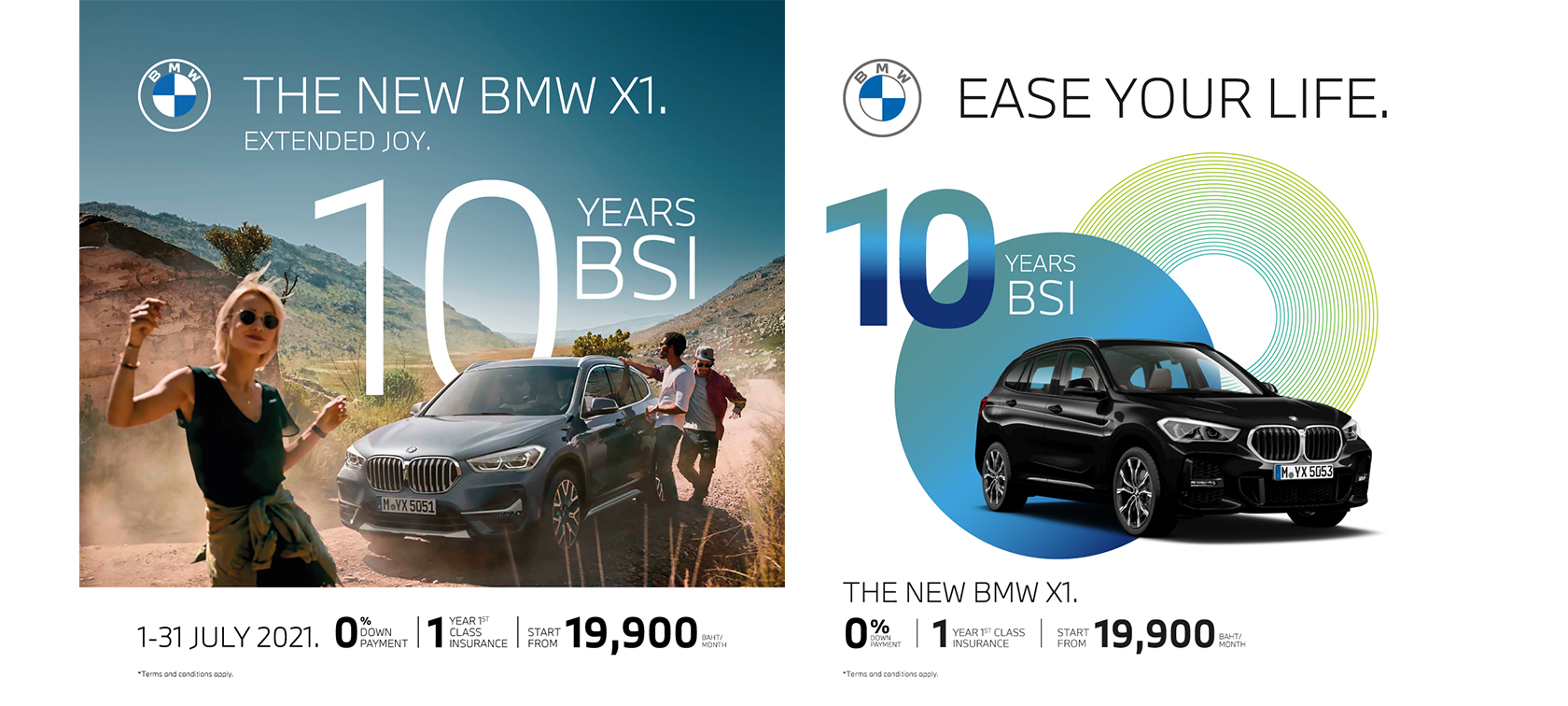 Press Release | 2021.07.13
BMW THAILAND COMMEMORATES ITS SUCCESS IN THAILAND'S PREMIUM CAR INDUSTRY WITH AN EXCLUSIVE CAMPAIGN TO EXTEND JOY
The exclusive offer includes an upgraded 10-year BMW Service Inclusive package for the BMW X1 and an additional Ease Your Life campaign offering a 0% down payment scheme for all new vehicle purchases
Bangkok. BMW Thailand is committed to its mission in providing customers with premium services for individual mobility. For the month of July, BMW is extending joy by offering an exclusive upgraded 10-year BMW Service Inclusive (BSI) package for BMW X1 owners. Offers will also include free first-class insurance, and a 0% down payment scheme for models like the BMW X1, BMW 2 Series, BMW 320d M Sport at only 19,900 THB per month. These exclusive offers along with the allure of the BMW X1's versatility and cutting-edge equipment features will accommodate the utmost excellent ownership experience.
The BSI Package goes hand in hand with the My BMW App that will offer easy access to the BMW ecosystem. Car owners can now easily contact BMW Service Partners directly, and always keep an eye on their vehicle's service requirements through the app. Additionally, service appointments can be made directly from the app if needed. Customers who'd like to take advantage of the online service appointment directly via My BMW App may simply choose a "Preferred Dealer" to enable this function.
"Given the strong reception for the previously launched BMW X1, it is clear that the enthusiasm for high-performance vehicles still very apparent in the Thai market," said Mr. Galdric Donnezan, Sales and Dealer Network Development Director of BMW Thailand. "This counts as the occasion to celebrate the success of the current BMW X1, with this offer that will further ensure car owners experience the smoothest ride possible. Making the already highly sought-after Sports Activity Vehicle more desirable than ever. At the same time, BMW Thailand is responding to the current market conditions and continue to stress the Power of Choice. Making way for the exclusive offers of the Ease your Life campaign, offering a 0% down payment offer on all new BMW purchases."
The BMX X1 is a multipurpose SAV with utmost versatility as it comes with a countless number of advanced technology systems as well as generous space for front and rear passengers. Designed for ultimate convenience, the car comes with 505 litres of luggage capacity that can easily expand to 1,550 liters when the rear seat backrest is folded down. A centrally mounted 10.25-inch touch control display – which can be operated using the BMW iDrive controller, a voice control or the touchscreen – offers an ideal platform to explore the BMW X1's rich capabilities and services. Through BMW ConnectedDrive and My BMW App, owners can make their next drive perfect with services that include automatic Parking Assistant, rear view camera, Parking Distance Control, and a Performance Control system that automatically adjusts the drive and break forces in accordance with driving situations, ultimately increasing safety and dynamics.
The BMW X1 is available in two models, the BMW X1 sDrive20d xLine and the BMW X1 sDrive20d M Sport. Both models are powered by the 2.0-litre four-cylinder diesel engine, which yields a peak output of 140 kW/190 hp at 4,000 rpm and peak torque at 400 Nm at 1,750-2,500 rpm. Both variants can accelerate from a standstill to 100 km/h in 7.9 seconds and have a maximum speed up to 222 km/h.

Beyond their exterior and interior differences, the BMW X1 sDrive20d M Sport also stands out with the inclusion of an 8-speed Steptronic Sport gearbox with gearshift paddles and a sport steering wheel. Customers booking a BMW X1 of both models with the purchase of BSI Ultimate Package – which offers 5 years / 100,000 km of maintenance and 5-year warranty with unlimited mileage – will receive an exclusive upgraded to 10-year BSI package – which offers 10 years / 100,000 km of maintenance and 5-year warranty with unlimited mileage, available from today till July 31, 2021.
Read more
SPECIAL OFFERS FROM BMW THAILAND
Under the Ease Your Life campaign, customers who purchase BMW vehicles of any model at any authorized BMW dealership with vehicle handover within the 31st of July 2021 will receive a special 0% down payment offer. Additionally, the campaign also provides low monthly payments with models like BMW 2 Series, BMW X1, BMW 320d M Sport at only 19,900 THB per month.
On top of that, customers can enjoy other benefit options such as:
Upgraded BSI offer to 10 years/ 100,000 km and free first-class BMW Protect insurance up to 1 year
Upgrade BSI offer to 5 Years/ 100,000 km and free first-class BMW Protect insurance up to 5 years for BMW 7 Series
Free first-class BMW Protect insurance up to 2 years for BMW 3 Series PHEV, 5 Series PHEV, and X3 PHEV
*Terms and conditions apply
Customers interested in the special offers can contact BMW authorised dealers nationwide or reach out to BMW's official LINE account @bmwthailand, or visit link below for more information.
Read more
The BMW Group   
With its four brands BMW, MINI, Rolls-Royce and BMW Motorrad, the BMW Group is the world's leading premium manufacturer of automobiles and motorcycles and also provides premium financial and mobility services.
The BMW Group production network comprises 31 production and assembly facilities in 15 countries; the company has a global sales network in more than 140 countries.   
In 2020, the BMW Group sold over 2.3 million passenger vehicles and more than 169,000 motorcycles worldwide. The profit before tax in the financial year 2019 was € 7.118 billion on revenues amounting to € 104.210 billion. As of 31 December 2019, the BMW Group had a workforce of 126,016 employees.  
The success of the BMW Group has always been based on long-term thinking and responsible action. The company has therefore established ecological and social sustainability throughout the value chain, comprehensive product responsibility and a clear commitment to conserving resources as an integral part of its strategy.   
BMW Group Thailand   
BMW Group Thailand, a subsidiary of BMW AG, Germany, was established on the 3rd October 1998. The three entities of BMW Group Thailand are BMW (Thailand) Co., Ltd. with responsibility for wholesales & marketing of BMW Group products, BMW Manufacturing (Thailand) Co., Ltd. with responsibility for BMW and BMW Motorrad local production, and BMW Leasing (Thailand) Co., Ltd. with responsibility for financial services offerings to both wholesale and retail customers.   
In 2020, BMW Group Thailand recorded a stable performance with 12,426 BMW and MINI deliveries. A total of 11,242 BMW vehicles were delivered to Thai customers, a slight 4.3% decrease from 2019, while a total 1,184 MINI vehicles were delivered in Thailand, reflecting a small dip of only 1.7% drop year-on-year. BMW Motorrad Thailand maintained its performance despite difficult conditions in 2020 with 1,224 motorcycles delivered.
On the production side, the BMW Group Manufacturing Thailand plant was founded on BMW Group's strong belief in the growth potential of Asian markets and Thailand in particular with its unique location, strong manufacturing base, and ready supply of skilled automotive labor, being an automotive hub for ASEAN. On-going investment has been put into the expansion of plant Rayong in terms of assembling processes, aiming to meet growing customer demand. In addition, with approximately 4 billion Thai Baht representing the amount of annual purchasing in Thailand, the BMW Global Purchasing office has been established in Thailand. This is to source various components from local suppliers in Thailand and the broader ASEAN region, in order to supply the entire BMW production network of 31 production and assembly facilities, located in 15 countries worldwide.   
BMW Group Manufacturing Thailand produces the following 17 models: BMW 2 Series, BMW 3 Series, BMW 5 Series, BMW 7 Series, BMW X1, BMW X3, BMW X5, and BMW X7. For BMW Motorrad, the BMW F 900 R, BMW F 900 XR, BMW F 750 GS, BMW F 850 GS, BMW F 850 GS Adventure, BMW R 1250 GS, BMW R 1250 GS Adventure, BMW S 1000 R and BMW S 1000 RR are also locally assembled at the plant. In addition, BMW Group Manufacturing Thailand now assembles five BMW plug-in hybrid models; BMW 330e, BMW 530e, BMW X3 xDrive30e, BMW X5 xDrive45e and BMW 745Le xDrive. 
For further information, please contact:  
BMW Group Thailand   
1397
www.bmw.co.th
www.mini.co.th
www.bmw-motorrad.co.th
Media Contacts:  
Carl Byoir & Associates  
Suthatip Boonsaeng (08-7685-1695 or0-2627-3501 ext.102)  
Thornthawat Thongnab (08-3225-4567 or 0-2627-3501 ext.206)  
Pawalisa Thanawajeran (08-6564-4726 or 0-2627-3501 ext.125)  
sboonsaeng@carlbyoir.com, tthongnab@carlbyoir.com, pthanwajeran@carlbyoir.com
Read more