Press Release | 2021.08.18
BMW GROUP THAILAND SUSTAINS POSITIVE MOMENTUM IN THE SECOND QUARTER OF THE YEAR SHOWING THE COMMITMENT TOWARDS LONG-TERM GROWTH IN THE THAI AUTOMOTIVE INDUSTRY
With continuation of multiple initiatives together with dealers and partners to support medical personnel and the community
BMW sales continue to rise as BMW, MINI, and BMW Motorrad delivered 5,037, 536, and 623 vehicles to date in 2021 – up 33%, 40%, and 1% respectively from the previous year

BMW and MINI both outpaced growth of passenger car market, which saw deliveries rise 0.5% year-on-year to 120,351 units.
BMW Group Manufacturing Thailand increased its half year production capacity for BMW cars reaching 31.4% from 2019 and 35.5% from 2020
Additional investment in BMW Parts Manufacturing Thailand expands local production network within the country.
Growing number of Safety and Health Administration-certified dealerships show BMW Group Thailand's continued support for health and safety.
With the commitment to fight against COVID-19, a number of CSR initiatives were implemented by both BMW Group Thailand and authorized dealers nationwide, such as food & water donation by dealers across the nation, BMW and MINI fleet for healthcare heroes and for car-sharing service to vaccination sites through HAUP app, double donation campaign to support Chaipattana COVID-19 Aid Fund, BMW Group Thailand mobility support for the Upcountry medical team together with partners, and Care4Water foundation's fund raising activity via the "We Care, We Share" charitable auction.
Read more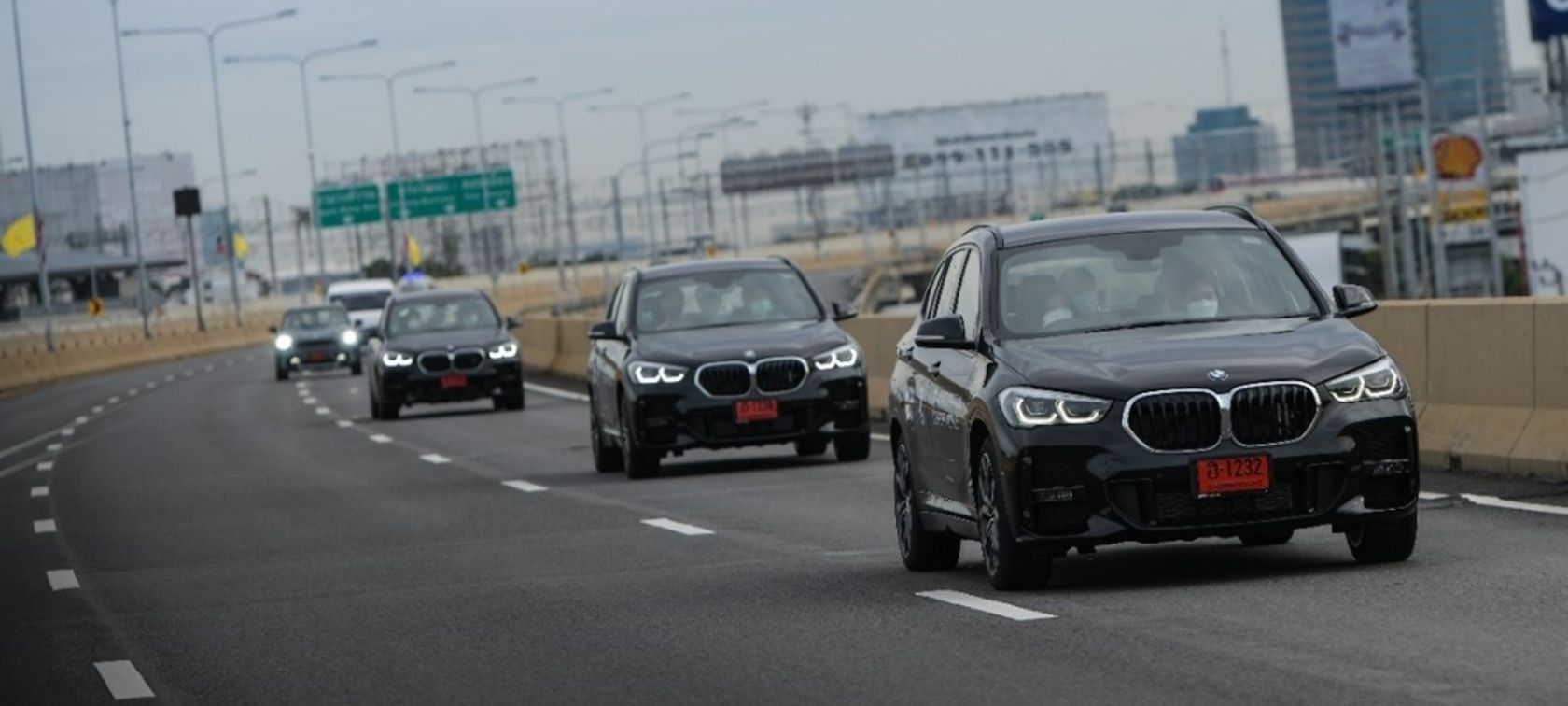 BMW X1 and MINI Countryman fleet support for the Rural Doctor Society Team during the mission in Bangkok, from 4-11 August
Bangkok. BMW Group Thailand's strong market performance in Thailand's premium automotive segment continued into the second quarter of 2021 as year-to-date deliveries across both BMW and MINI brands rose by 34% to a total of 5,573 deliveries – outpacing the wider passenger car market which also saw a jump in deliveries by 0.5% to 120,351 vehicles. These results further reaffirm BMW Group Thailand's long-term commitment to the Thai market as well as the trust placed in the group's brands by Thai motorists nationwide.
As of June 2021, BMW and MINI completed the delivery of 5,037 and 536 vehicles – up 33% and 40% respectively. BMW Motorrad, meanwhile, rounded out the roster of brands with 623 motorcycles delivered for a 1% year-on-year improvement over the same period.
On the production side, BMW Group Manufacturing Thailand was able to increase the YTD June 2021 production of BMW cars by +31.4% in comparison to 2019 and +35.5% in comparison to 2020 despite the economic turbulences in 2020 and 2021, thanks to solid orders on-hand and increasing demand for export.
To further accelerate business, BMW Group Thailand has reiterated its longstanding commitment to Thailand through its investment in BMW Parts Manufacturing Thailand. By expanding the local production network within the country and reinforcing Thailand's status as a key strategic market in the Asia Pacific region, the company will be able to ensure optimized operational efficiency and more streamlined logistical processes while also contributing to human capital development through employment opportunities as well as skill and knowledge training.
Mr. Alexander Baraka, President, BMW Group Thailand, said, "In this second quarter of 2021 BMW Group Thailand has shown commitment not only to production and sales, but also to long-term growth, our customers and the community. The team has shown tenacity and resiliency in the face of the COVID-19 crisis by adapting and transforming the business to fit the demands of the new normal. Our adaptation has allowed us to stay connected with our dealers, customers and provide innovative solutions to provide greater flexibility in all our products and services. In addition to ensuring customer satisfaction, we have expanded our efforts to support society at large in many ways to help bring mental and physical well-being in these times of uncertainty."
In light of the severe impact from the pandemic on the automotive industry, BMW Group Thailand's services have fully embraced the transformation towards a more digitalized form. During this second quarter BMW Group Thailand continued its shift towards digitalization and technology by moving onto virtual platforms where sales, product launches, and events were hosted. These changes were met with positive feedback, as seen in the most recent BMW Premium Selection Festival held in July 2021. Additionally, BMW Thailand has also reacted to increase accessibility with specific offers and products in challenging times with a number of special offers, i.e. BMW X1 with BSI extension to 10 years, BMW 2 Series GC Sport with starting price from only 1.99 Million THB, and No Down payment offers on all models. Moreover, BMW Group Thailand has also tailored more accommodating services to new normal practices such as test drives at customers' homes and pick-up and delivery services that are more flexible to meet changing lifestyle needs.
Furthermore, to provide the highest safety standards for customers, a number of authorized dealers has received Safety and Health Administration (SHA) approvals with even more dealers and locations still undergoing the approval process to deliver peace of mind for customers visiting the dealerships.
During the second quarter, BMW Group Thailand continues to demonstrate their corporate citizenship in various efforts to support the public's fight against COVID-19. "BMW Group Thailand and dealers are committed in its efforts to support the ongoing fight against COVID-19. We have partnered with various organizations to launch fundraising initiatives as well as services to help encourage health and safety for all Thais. I am confident that whatever the future holds for the rest of 2021, we will be ready to tackle, adapt, and develop our business and services to one that supports and provides solutions for all Thais," concluded Mr. Baraka.
Read more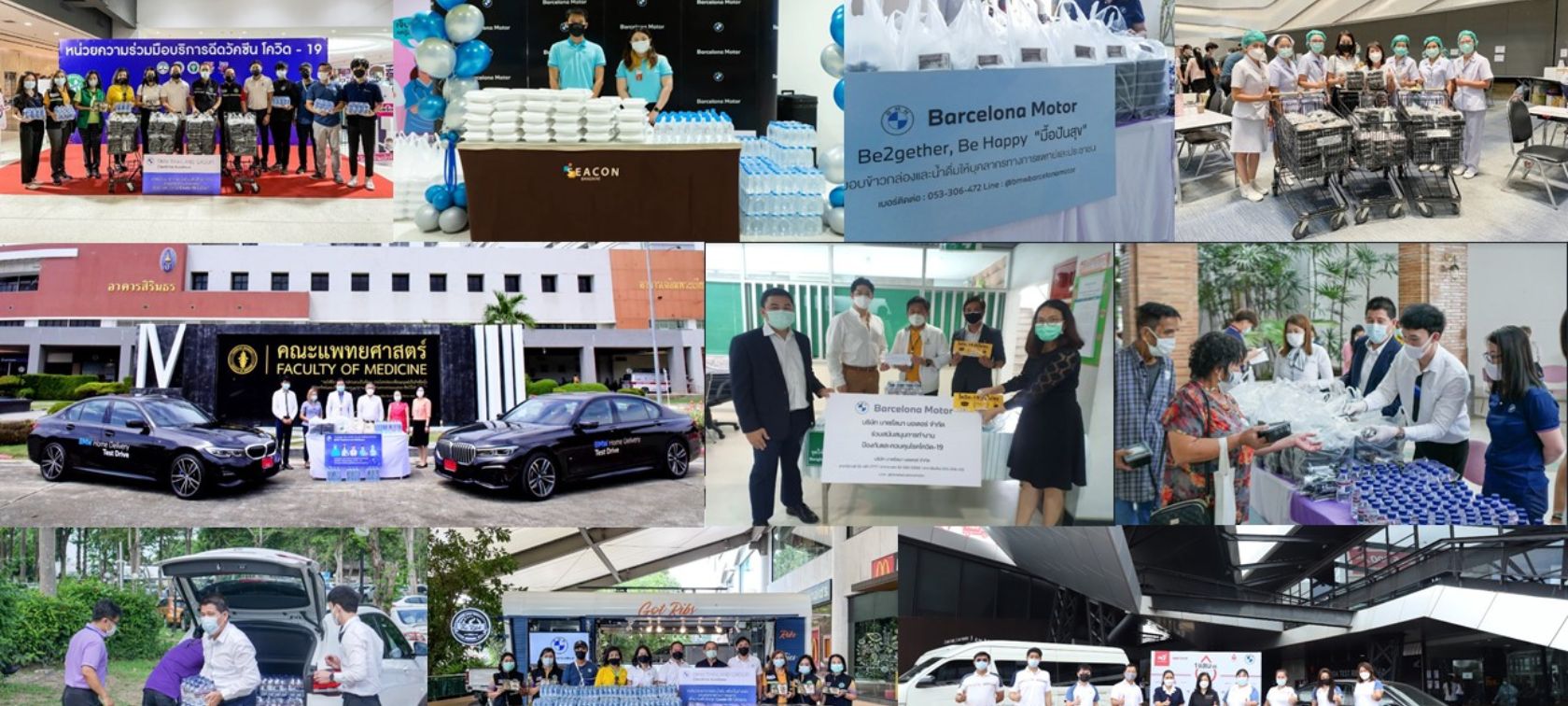 Dealers' activities to support the medical team and people in need across the nation
The BMW Group  
With its four brands BMW, MINI, Rolls-Royce and BMW Motorrad, the BMW Group is the world's leading premium manufacturer of automobiles and motorcycles and also provides premium financial and mobility services.
The BMW Group production network comprises 31 production and assembly facilities in 15 countries; the company has a global sales network in more than 140 countries. 
In 2020, the BMW Group sold over 2.3 million passenger vehicles and more than 169,000 motorcycles worldwide. The profit before tax in the financial year 2019 was € 7.118 billion on revenues amounting to € 104.210 billion. As of 31 December 2019, the BMW Group had a workforce of 126,016 employees.
The success of the BMW Group has always been based on long-term thinking and responsible action. The company has therefore established ecological and social sustainability throughout the value chain, comprehensive product responsibility and a clear commitment to conserving resources as an integral part of its strategy.  
BMW Group Thailand  
BMW Group Thailand, a subsidiary of BMW AG, Germany, was established on the 3rd October 1998. The three entities of BMW Group Thailand are BMW (Thailand) Co., Ltd. with responsibility for wholesales & marketing of BMW Group products, BMW Manufacturing (Thailand) Co., Ltd. with responsibility for BMW and BMW Motorrad local production, and BMW Leasing (Thailand) Co., Ltd. with responsibility for financial services offerings to both wholesale and retail customers.  
In 2020, BMW Group Thailand recorded a stable performance with 12,426 BMW and MINI deliveries. A total of 11,242 BMW vehicles were delivered to Thai customers, a slight 4.3% decrease from 2019, while a total 1,184 MINI vehicles were delivered in Thailand, reflecting a small dip of only 1.7% drop year-on-year. BMW Motorrad Thailand maintained its performance despite difficult conditions in 2020 with 1,224 motorcycles delivered.
On the production side, the BMW Group Manufacturing Thailand plant was founded on BMW Group's strong belief in the growth potential of Asian markets and Thailand in particular with its unique location, strong manufacturing base, and ready supply of skilled automotive labor, being an automotive hub for ASEAN. On-going investment has been put into the expansion of plant Rayong in terms of assembling processes, aiming to meet growing customer demand. In addition, with approximately 4 billion Thai Baht representing the amount of annual purchasing in Thailand, the BMW Global Purchasing office has been established in Thailand. This is to source various components from local suppliers in Thailand and the broader ASEAN region, in order to supply the entire BMW production network of 31 production and assembly facilities, located in 15 countries worldwide.  
BMW Group Manufacturing Thailand produces the following 17 models: BMW 2 Series, BMW 3 Series, BMW 5 Series, BMW 7 Series, BMW X1, BMW X3, BMW X5, and BMW X7. For BMW Motorrad, the BMW F 900 R, BMW F 900 XR, BMW F 750 GS, BMW F 850 GS, BMW F 850 GS Adventure, BMW R 1250 GS, BMW R 1250 GS Adventure, BMW S 1000 R and BMW S 1000 RR are also locally assembled at the plant. In addition, BMW Group Manufacturing Thailand now assembles five BMW plug-in hybrid models; BMW 330e, BMW 530e, BMW X3 xDrive30e, BMW X5 xDrive45e and BMW 745Le xDrive.
For further information, please contact: 
BMW Group Thailand  
1397
www.bmw.co.th
www.mini.co.th
www.bmw-motorrad.co.th
Media Contacts: 
Carl Byoir & Associates 
Suthatip Boonsaeng (08-7685-1695 or0-2627-3501 ext.102) 
Thornthawat Thongnab (08-3225-4567 or 0-2627-3501 ext.206) 
Pawalisa Thanawajeran (08-6564-4726 or 0-2627-3501 ext.125)
Napasorn Sriwannavit (08-5862-7676 or 0-2627-3501 ext.212)
sboonsaeng@carlbyoir.com, tthongnab@carlbyoir.com, pthanawajeran@carlbyoir.com, nsriwannavit@carlbyoir.com
Read more