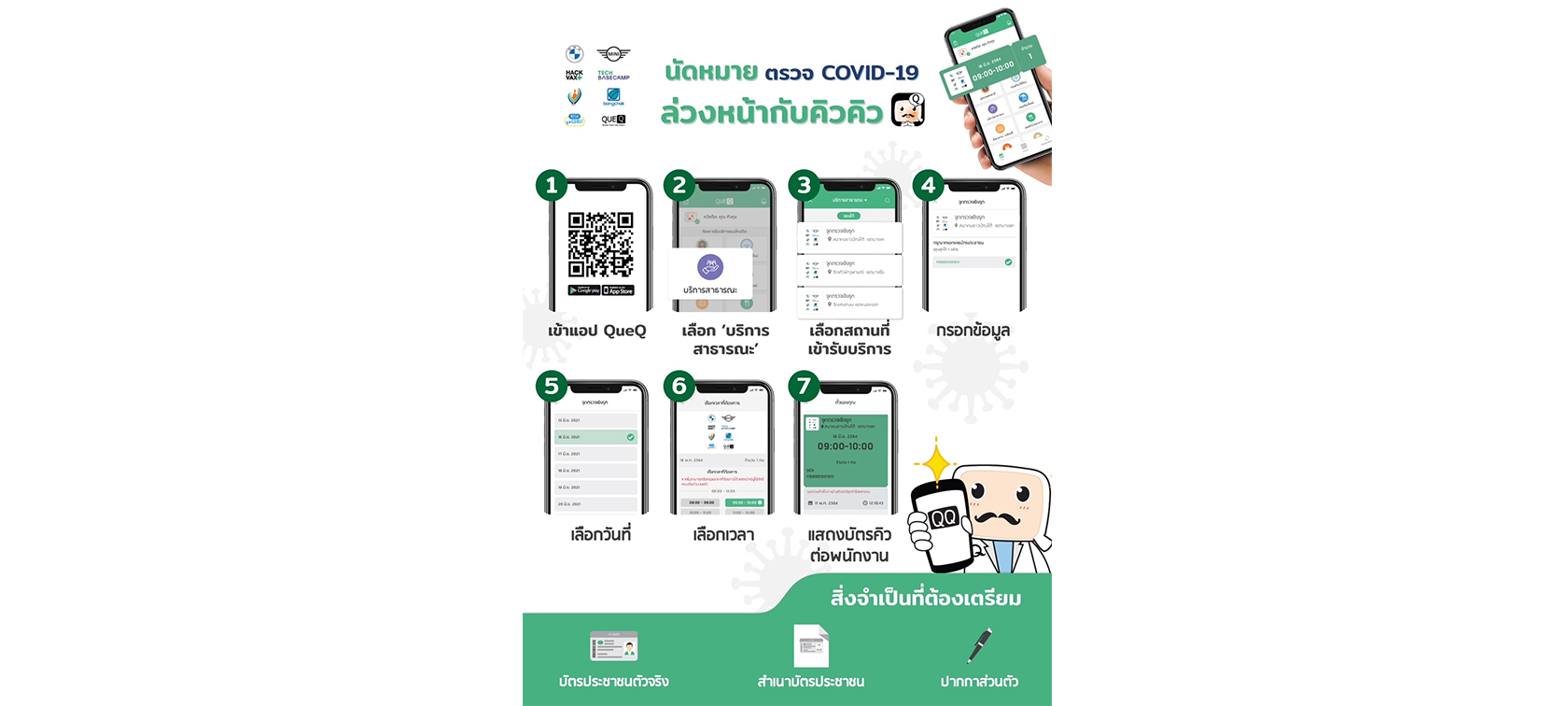 Press Release | 2021.08.04
BMW GROUP THAILAND, HACKVAX OPEN DESIGN, BANGCHAK CORPORATION PCL., ZICO FOUNDATION, QUEQ, VOLUNTEER ORGANIZERS, AND MAHARAT NAKHON RATCHASIMA HOSPITAL, COLLABORATE IN SETTING UP COVID-19 TESTING STATIONS ACROSS BANGKOK
Bangkok. With the commitment to fight against COVID-19 in Thailand and continue supporting the Chaipattana Foundation Fund for COVID-19 (and Other Diseases), a collaboration between BMW Group Thailand, HackVax Open Design, Bangchak Corporation PCL., Zico Foundation, QueQ Application, Volunteer Organizers, and Maharat Nakhon Ratchasima Hospital, will be offering COIVD-19 tests for those living in Bangkok. With a mission to expand this service to other locations and provinces, this initiative will be an alternative option for Thais to proactively get COVID-19 testing to remain vigilant over one's health and help slowing the spread of the pandemic.
Between 4-9 August 2021, the Covid-19 testing stations will be covering various locations across Bangkok including:
On August 4, 2021, at Wat Nang Ratchawihan, Chom Thong District (Fully booked)
On August 5, 2021, at Pak Tai Association, Bang Kae District (Can be booked via QueQ)
On August 6, 2021, at Wat Kaew Fah Chulamanee, Bang Sue District (Can be booked via QueQ)
On August 7, 2021, at Wat Yang, On Nut, Bang Na, Suan Luang District (Registration within the districts)
On August 8, 2021, at Wat Saen Kasem, Nong Chok District (Can be booked via QueQ)
On August 9, 2021, (awaiting confirmation for the exact venue)
*To note, locations are subjected to change. For further information and any updates on locations, date and time please go to the QueQ app for registration.

For those who wish to get tested need to pre-register online through the QueQ Application, which is entirely free of charge. After the test, results of the Rapid Antigen Test will be provided as verification of testing. Additionally, in accordance with health and safety protocols there will be strict social distancing measures enforced, for which daily capacity limits can be found through the QueQ Application. To prevent the spread of disease, there will be no Walk-ins accepted at any of the stations.
Furthermore, BMW Group Thailand will provide 6 units of BMW X1 xDrive20d and MINI Cooper S Countryman vehicles to support the initiative, which will be used as transportation for medical personnel and volunteers throughout this mission. 
Read more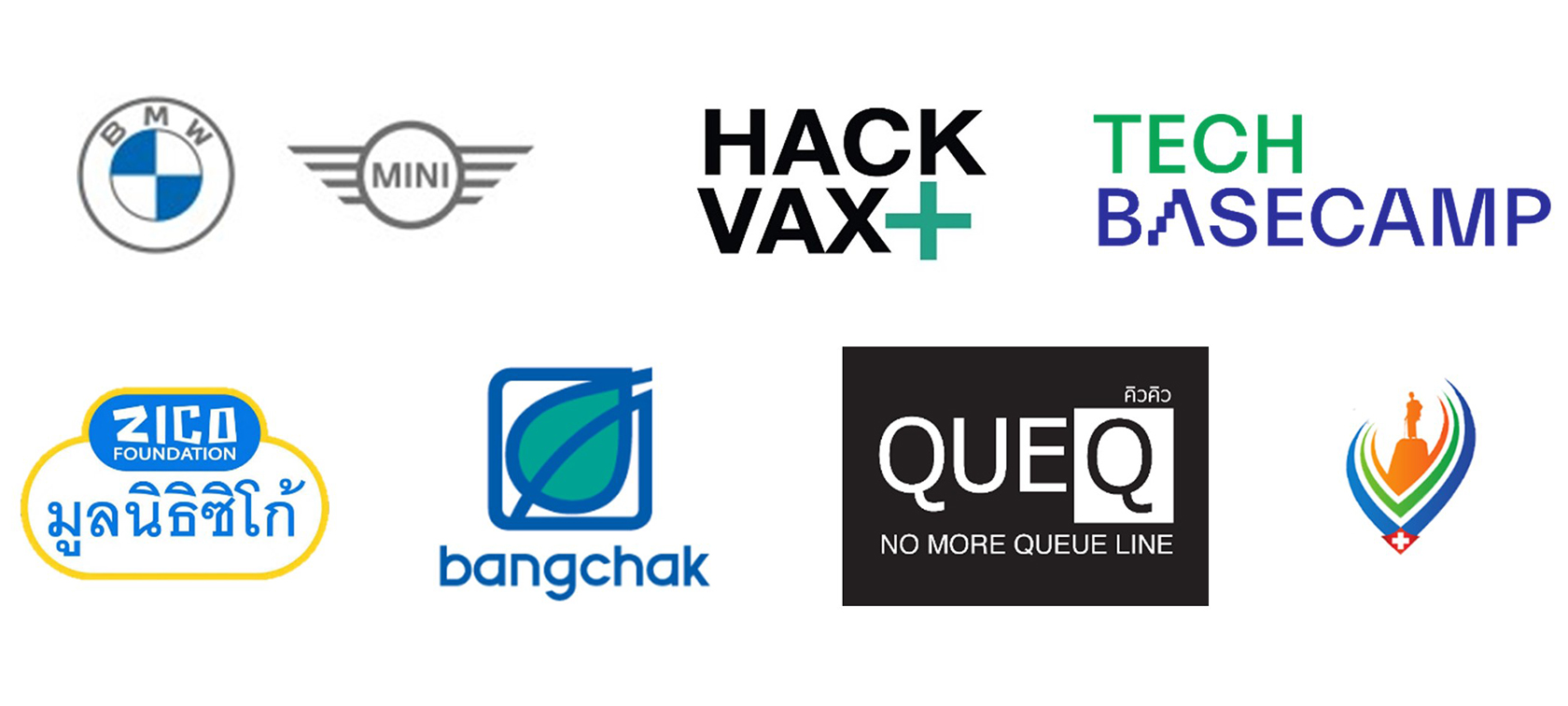 The BMW Group  
With its four brands BMW, MINI, Rolls-Royce and BMW Motorrad, the BMW Group is the world's leading premium manufacturer of automobiles and motorcycles and also provides premium financial and mobility services.
The BMW Group production network comprises 31 production and assembly facilities in 15 countries; the company has a global sales network in more than 140 countries.  
In 2020, the BMW Group sold over 2.3 million passenger vehicles and more than 169,000 motorcycles worldwide. The profit before tax in the financial year 2019 was € 7.118 billion on revenues amounting to € 104.210 billion. As of 31 December 2019, the BMW Group had a workforce of 126,016 employees.
The success of the BMW Group has always been based on long-term thinking and responsible action. The company has therefore established ecological and social sustainability throughout the value chain, comprehensive product responsibility and a clear commitment to conserving resources as an integral part of its strategy.  
BMW Group Thailand  
BMW Group Thailand, a subsidiary of BMW AG, Germany, was established on the 3rd October 1998. The three entities of BMW Group Thailand are BMW (Thailand) Co., Ltd. with responsibility for wholesales & marketing of BMW Group products, BMW Manufacturing (Thailand) Co., Ltd. with responsibility for BMW and BMW Motorrad local production, and BMW Leasing (Thailand) Co., Ltd. with responsibility for financial services offerings to both wholesale and retail customers.  
In 2020, BMW Group Thailand recorded a stable performance with 12,426 BMW and MINI deliveries. A total of 11,242 BMW vehicles were delivered to Thai customers, a slight 4.3% decrease from 2019, while a total 1,184 MINI vehicles were delivered in Thailand, reflecting a small dip of only 1.7% drop year-on-year. BMW Motorrad Thailand maintained its performance despite difficult conditions in 2020 with 1,224 motorcycles delivered.
On the production side, the BMW Group Manufacturing Thailand plant was founded on BMW Group's strong belief in the growth potential of Asian markets and Thailand in particular with its unique location, strong manufacturing base, and ready supply of skilled automotive labor, being an automotive hub for ASEAN. On-going investment has been put into the expansion of plant Rayong in terms of assembling processes, aiming to meet growing customer demand. In addition, with approximately 4 billion Thai Baht representing the amount of annual purchasing in Thailand, the BMW Global Purchasing office has been established in Thailand. This is to source various components from local suppliers in Thailand and the broader ASEAN region, in order to supply the entire BMW production network of 31 production and assembly facilities, located in 15 countries worldwide.  
BMW Group Manufacturing Thailand produces the following 17 models: BMW 2 Series, BMW 3 Series, BMW 5 Series, BMW 7 Series, BMW X1, BMW X3, BMW X5, and BMW X7. For BMW Motorrad, the BMW F 900 R, BMW F 900 XR, BMW F 750 GS, BMW F 850 GS, BMW F 850 GS Adventure, BMW R 1250 GS, BMW R 1250 GS Adventure, BMW S 1000 R and BMW S 1000 RR are also locally assembled at the plant. In addition, BMW Group Manufacturing Thailand now assembles five BMW plug-in hybrid models; BMW 330e, BMW 530e, BMW X3 xDrive30e, BMW X5 xDrive45e and BMW 745Le xDrive.
For further information, please contact: 
BMW Group Thailand  
1397 
Media Contacts: 
Carl Byoir & Associates 
Suthatip Boonsaeng (08-7685-1695 or0-2627-3501 ext.102) 
Thornthawat Thongnab (08-3225-4567 or 0-2627-3501 ext.206) 
Pawalisa Thanawajeran (08-6564-4726 or 0-2627-3501 ext.125)
Napasorn Sriwannavit (08-5862-7676 or 0-2627-3501 ext.212)
sboonsaeng@carlbyoir.com, tthongnab@carlbyoir.com, pthanawajeran@carlbyoir.com, nsriwannavit@carlbyoir.com
Read more