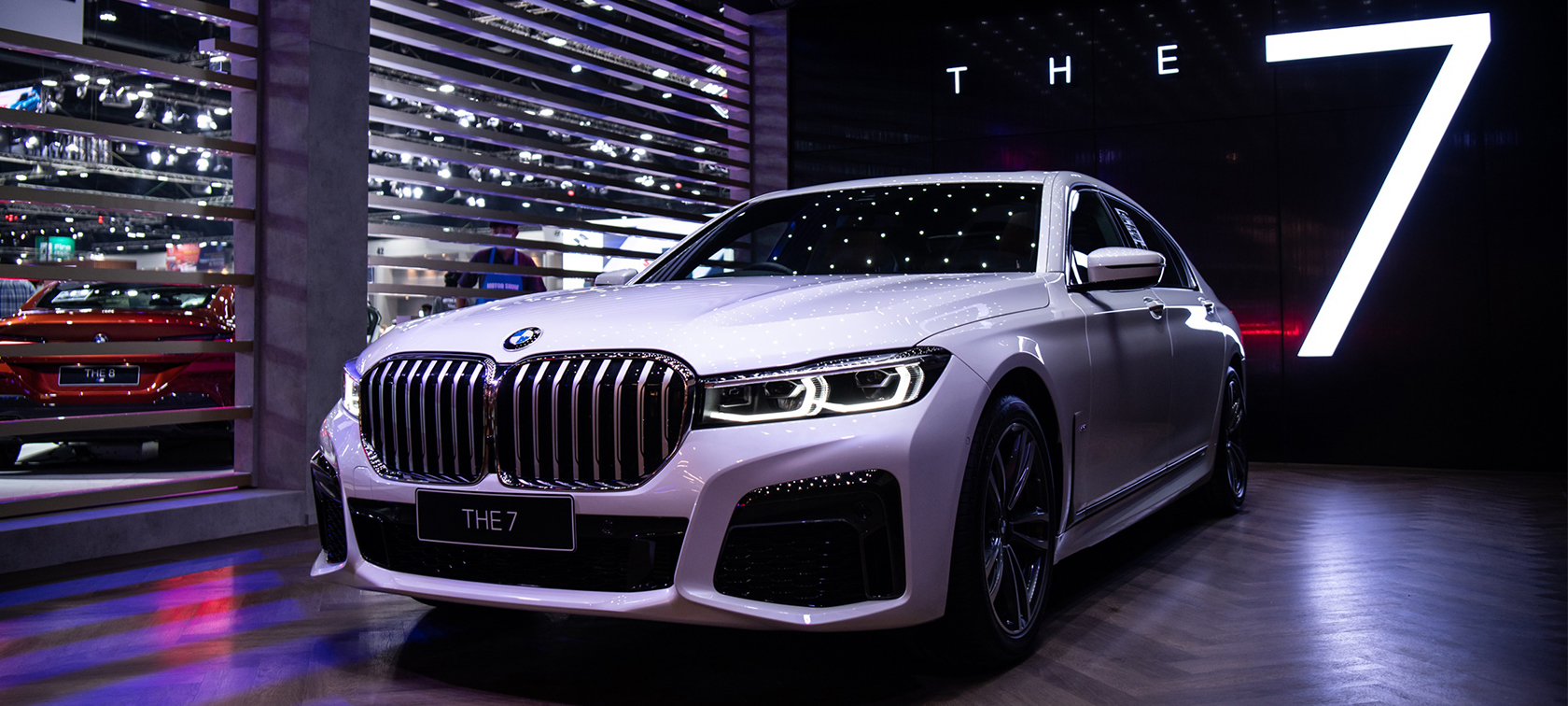 Press Release | 2021.04.30
BMW GROUP THAILAND RETAINS THE NUMBER ONE SPOT IN THE PREMIUM AUTOMOTIVE SEGMENT AND BEST-EVER FIRST QUARTER IN THE HISTORY
The Federation of Thai Industries recently reported an official Q1 2021 sales results, which show BMW Group Thailand retaining the Number One position in Thailand's premium automotive segment
BMW and MINI premium segment share rose to 48.7%, setting a new record for first-quarter sales with 2,773 BMW and MINI vehicles delivered, up 42% year-on-year
BMW sales reached a new all-time high in the first quarter with 2,533 deliveries – up 41% year-on-year
Triple-digit year-on-year growth across segments with major 220% increase in BMW M sales, 140% boost for BMW PHEV deliveries, and 124% increase in BMW Corporate sales
Robust performance in the BMW Luxury segment with 25.5% growth as BMW Premium Selection certified used car program sees 44% improvement
MINI enjoyed a great start of the year with 240 deliveries, up 57% year-on-year to record the best-ever first quarter as well
BMW Motorrad maintained its performance with 281 motorcycles delivered, a slight decrease of only 3% from the previous year

Bangkok. BMW Group Thailand is celebrating yet another historic milestone with a blazing start to 2021, setting a new record for first-quarter deliveries on its way to retaining the Number One leader position in the Thai premium automotive segment. This achievement follows a historic 2020, in which BMW Group Thailand secured leadership in this segment despite facing the most challenging period in its history. From January to March 2021, BMW Group Thailand saw increased sales across all segments with a total of 2,773 BMW and MINI deliveries, a 42% jump from the same period in 2020, before closing the quarter to secure the highest premium segment share at 48.7%. The company also set new sales records for BMW M, BMW PHEV and BMW Corporate with triple-digit jumps for each in the first three months of 2021, while BMW Luxury segment and BMW used car reported an outstanding quarter with robust double-digit growths.
Following its landmark year, BMW Group Thailand has reached new heights once again with exceptional sales figures in the opening quarter of 2021. With 2,533 BMW deliveries – up 41% from the previous year, the brand reached a new all-time high for the first quarter. Main factors contributing to the success include exceptionally high demand in the high-end luxury segment with sales volume of the BMW 7 Series, BMW 8 Series, BMW X7, and BMW i8 rising collectively by 25.5% year-on-year. The 220% boost in BMW M deliveries further contributed to this spectacular overall performance and demonstrated a strong passion for high-performance vehicles among Thai consumers.
Meanwhile, a surge of demand for electrified vehicles in the Thai market continues, as evident in the 140% jump in BMW PHEV deliveries compared to the previous year. This strong momentum is also supported by BMW Financial Services with innovative offerings that resulted in an 44% boost for the BMW Premium Selection certified used car program and a striking 124% jump in BMW Corporate sales.
For MINI Thailand, a total of 240 MINI vehicles were delivered, setting another record for the best-ever first quarter with an increase of 57% year-on-year. BMW Motorrad Thailand maintained its performance despite difficult conditions in Q1 2021 with 281 motorcycles delivered.

Read more
| | | Compared with same quarter previous year % |
| --- | --- | --- |
| | | |
| | | |
| | | |
| | | |
On the global level, all BMW Group brands posted sales growth worldwide during the first three months of 2021. A total of 636,606 BMW, MINI, and Rolls-Royce vehicles were delivered to customers around the world – up 33.5% from the first quarter of 2020. The robust sales performance was especially boosted by strong demand for electrified vehicles, which grew by 129.8% year-on-year from 70,207 BEVs and PHEVs sold in all regions. Meanwhile, BMW Motorrad was able to deliver 42,592 motorcycles and scooters to worldwide customers in the first three months of this year, a healthy climb of 22.5% – its best-ever sales result for a first quarter.
Mr. Alexander Baraka, President, BMW Group Thailand, said "BMW Group Thailand marked 2020 a historic year as we became the leader of Thailand's premium automotive segment. Continuing the relentless efforts from all dealers and everyone at the BMW Group Thailand, we have built upon it with another landmark achievement after closing the most successful opening quarter as the Number One leader in the Thai premium automotive segment once again. Our leading 48.7% segment share is yet another living proof that, whatever the circumstances, we will always remain committed to our mission to ceaselessly innovate and fulfill customer needs across all aspects of mobility. We have been serving the market with flexibility in all of our products and services while also making sure that we always stay connected to the changing lifestyles of modern consumers. From January to March 2021, we launched over 10 models across all three brands thus giving our customers the Power of Choice to choose from diesel, petrol, plug-in hybrid and fully electric drivetrains as well as high-performance M models.
"For BMW, we introduced the new BMW 5 Series, BMW X7 xDrive30d M Sport, BMW 330Li M Sport, BMW M340i xDrive, BMW M4 Competition Coupé, along with the M Performance editions of BMW X3 xDrive20d M Sport, BMW X4 xDrive20d M Sport X and BMW 330e M Sport. Meanwhile, MINI Thailand thrilled its fans with the new MINI Cooper S Countryman, MINI John Cooper Works GP Inspired Edition, MINI John Cooper Works Countryman and MINI Paddy Hopkirk Edition – which was recently presented at the Bangkok International Motor Show 2021. BMW Motorrad Thailand also continued its legacy with the new BMW R 18 Classic First Edition. In addition, we have also extended our digital outreach with the new My BMW App and the MINI App, both of which deliver effortless connectivity between drivers and their vehicles through smartphones.
"Most importantly, I'd like to thank our customers for placing their trust in our brands and also our dealer partners collectively as the main driving force behind these achievements. I am confident that we will be able to continue this journey together and lead the way for premium mobility in Thailand throughout the remaining months of this year," added Mr. Baraka.

Read more
The BMW Group  
With its four brands BMW, MINI, Rolls-Royce and BMW Motorrad, the BMW Group is the world's leading premium manufacturer of automobiles and motorcycles and also provides premium financial and mobility services. The BMW Group production network comprises 31 production and assembly facilities in 15 countries; the company has a global sales network in more than 140 countries.  
In 2020, the BMW Group sold over 2.3 million passenger vehicles and more than 169,000 motorcycles worldwide. The profit before tax in the financial year 2019 was € 7.118 billion on revenues amounting to € 104.210 billion. As of 31 December 2019, the BMW Group had a workforce of 126,016 employees.
The success of the BMW Group has always been based on long-term thinking and responsible action. The company has therefore established ecological and social sustainability throughout the value chain, comprehensive product responsibility and a clear commitment to conserving resources as an integral part of its strategy. 
BMW Group Thailand  
BMW Group Thailand, a subsidiary of BMW AG, Germany, was established on the 3rd October 1998. The three entities of BMW Group Thailand are BMW (Thailand) Co., Ltd. with responsibility for wholesales & marketing of BMW Group products, BMW Manufacturing (Thailand) Co., Ltd. with responsibility for BMW and BMW Motorrad local production, and BMW Leasing (Thailand) Co., Ltd. with responsibility for financial services offerings to both wholesale and retail customers.  
In 2020, BMW Group Thailand recorded a stable performance with 12,426 BMW and MINI deliveries. A total of 11,242 BMW vehicles were delivered to Thai customers, a slight 4.3% decrease from 2019, while a total 1,184 MINI vehicles were delivered in Thailand, reflecting a small dip of only 1.7% drop year-on-year. BMW Motorrad Thailand maintained its performance despite difficult conditions in 2020 with 1,224 motorcycles delivered.
On the production side, the BMW Group Manufacturing Thailand plant was founded on BMW Group's strong belief in the growth potential of Asian markets and Thailand in particular with its unique location, strong manufacturing base, and ready supply of skilled automotive labor, being an automotive hub for ASEAN. On-going investment has been put into the expansion of plant Rayong in terms of assembling processes, aiming to meet growing customer demand. In addition, with approximately 4 billion Thai Baht representing the amount of annual purchasing in Thailand, the BMW Global Purchasing office has been established in Thailand. This is to source various components from local suppliers in Thailand and the broader ASEAN region, in order to supply the entire BMW production network of 31 production and assembly facilities, located in 15 countries worldwide.  
BMW Group Manufacturing Thailand produces the following 17 models: BMW 2 Series, BMW 3 Series, BMW 5 Series, BMW 7 Series, BMW X1, BMW X3, BMW X5, and BMW X7. For BMW Motorrad, the BMW F 900 R, BMW F 900 XR, BMW F 750 GS, BMW F 850 GS, BMW F 850 GS Adventure, BMW R 1250 GS, BMW R 1250 GS Adventure, BMW S 1000 R and BMW S 1000 RR are also locally assembled at the plant. In addition, BMW Group Manufacturing Thailand now assembles five BMW plug-in hybrid models; BMW 330e, BMW 530e, BMW X3 xDrive30e, BMW X5 xDrive45e and BMW 745Le xDrive.
For further information, please contact: 
BMW Group Thailand  

1397
www.bmw.co.th
www.mini.co.th
www.bmw-motorrad.co.th
Media Contacts: 
Carl Byoir & Associates 
Suthatip Boonsaeng (08-7685-1695 or0-2627-3501 ext.102) 
Thornthawat Thongnab (08-3225-4567 or 0-2627-3501 ext.206) 
Pawalisa Thanawajeran (08-6564-4726 or 0-2627-3501 ext.125) 
Pichanan Toonkamthornchai (08-5157-7557 or 0-2627-3501 ext.101) 
sboonsaeng@carlbyoir.com, tthongnab@carlbyoir.com, pthanwajeran@carlbyoir.com, ptoonkamthornchai@carlbyoir.com

Read more