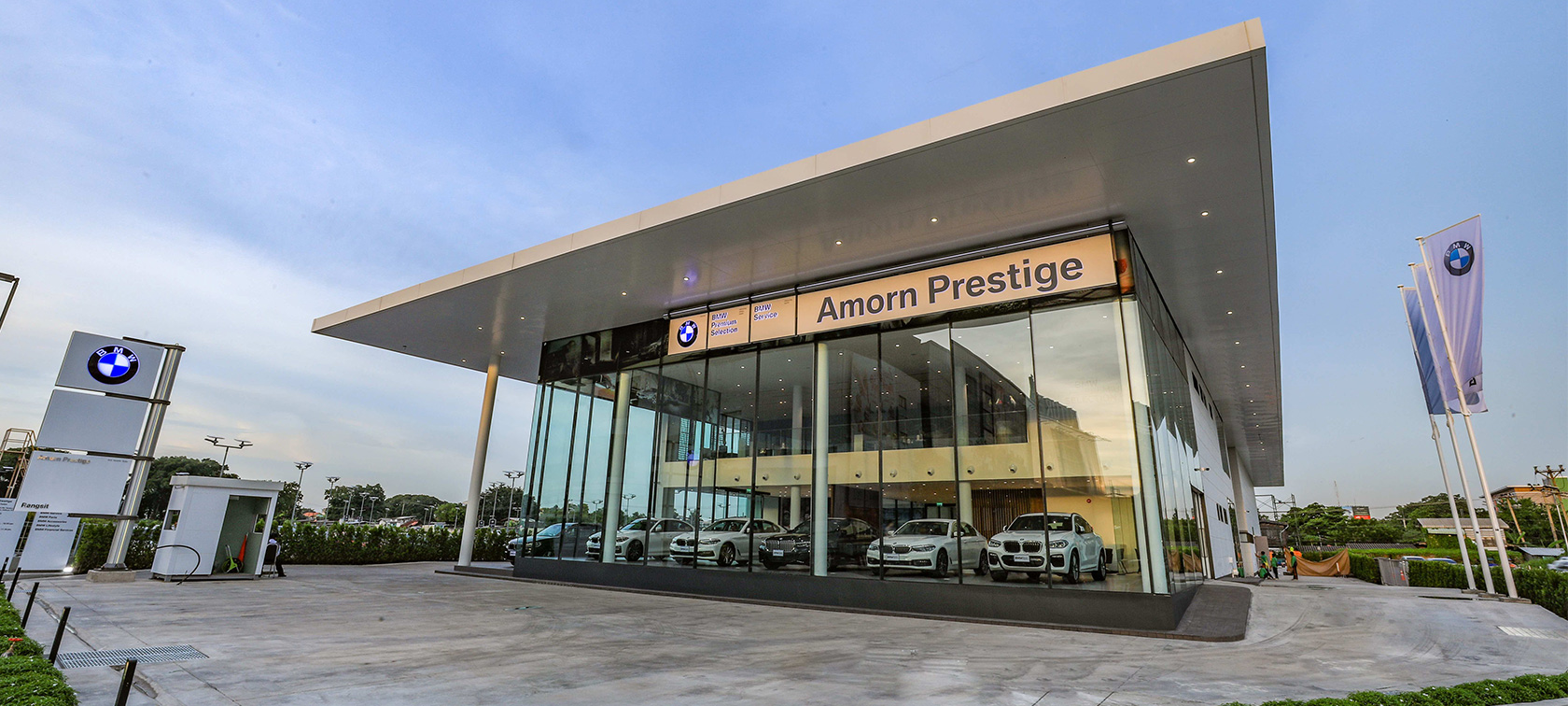 Press Release | 2020.09.28
BMW Amorn Prestige Rangsit brings unparalleled service offerings from BMW Service Outlet and BMW Premium Selection certified used car showroom under world-class standards to Pathum Thani and Nakhon Nayok
Pathum Thani. Authorised BMW dealer Amorn Prestige is embarking on a new chapter in its partnership with BMW Group Thailand with the unveiling of BMW Amorn Prestige Rangsit – the latest BMW Service Outlet – which includes a BMW Premium Selection showroom for certified used car offerings – that is ready to deliver premium customer experiences in all dimensions in line with BMW's world-class standards.

Mr. Alexander Baraka, President of BMW Group Thailand, said, "Our history of collaboration with Amorn Prestige covers seven years of remarkable success and customer-centric innovation. For instance, the launch of Thailand's first-ever BMW Service Outlet two years ago represented the level of Amorn Prestige's commitment to excellence at every point of customer contact, and we are very excited to help bring this excellence to serve the market in Pathum Thani and Nakhon Nayok."

Backed by an investment of THB 90 million, the new BMW Amorn Prestige Rangsit is situated on a 2-rai plot that hosts both a showroom and service workshop with 60 staff on board across a total floor space of 2,125 square meters. BMW Amorn Prestige Rangsit rounds out its BMW experience with certified used cars under the BMW Premium Selection program on show in the 767 sq.m. showroom space.

The service area includes four separate work bays with the capacity to service up to 30 vehicles per day. Owners of electrified BMWs can also take advantage of three charging spots at the new dealership. Additionally, customers can take the premium service experience to the next level on the showroom's second floor, which is a special collaboration between Amorn Prestige and THANN to offer relaxed atmosphere and personalized customer services.

"The opening of BMW Amorn Prestige Rangsit continues our mission to elevate the BMW customer experience everywhere," Wannapa Tangbanyong, Dealer Principal at Amorn Prestige, added. "To reflect the level of care and attention to detail in our services, the dealership features intricate interior designs crafted with inspirational contributions from THANN – a renowned Thai brand that combines retail, hospitality and well-being into a uniquely rich experience that lives up to the expectations of BMW customers. The new BMW facility welcomes visitors with a 125-sq.m. customer lounge on the second floor under the concept of THANN SPACE. Intricately crafted by interior designers and perfumers from THANN, the luxurious space offers a luxurious atmosphere that gently relaxes the senses of visiting customers at BMW Amorn Prestige Rangsit."

BMW Amorn Prestige Rangsit is now open at 94/5 Phahonyothin Rd., Tambon Prachathipat, Amphoe Thanyaburi, Pathum Thani 12130. Tel 02-513-9555

Read more
The BMW Group 
With its four brands BMW, MINI, Rolls-Royce and BMW Motorrad, the BMW Group is the world's leading premium manufacturer of automobiles and motorcycles and also provides premium financial and mobility services. The BMW Group production network comprises 31 production and assembly facilities in 15 countries; the company has a global sales network in more than 140 countries.
In 2019, the BMW Group recorded new all-time highs with over 2.5 million passenger vehicles, an increase of 1.2% from the previous year, and 175,000 motorcycles, up 5.8% year-on-year, delivered to customers worldwide. Global sales of electrified BMW and MINI vehicles grew by 2.2% to 145,815 cars, taking the total number of electrified BMW Group vehicles on the road to half a million. As of 31 December 2019, the BMW Group had a workforce of 133,778 employees.
The success of the BMW Group has always been based on long-term thinking and responsible action. The company has therefore established ecological and social sustainability throughout the value chain, comprehensive product responsibility and a clear commitment to conserving resources as an integral part of its strategy.  
BMW Group Thailand
BMW Group Thailand, a subsidiary of BMW AG, Germany, was established on the 3rd October 1998. The three entities of BMW Group Thailand are BMW (Thailand) Co., Ltd. with responsibility for wholesales & marketing of BMW Group products, BMW Manufacturing (Thailand) Co., Ltd. with responsibility for BMW and BMW Motorrad local production, and BMW Leasing (Thailand) Co., Ltd. with responsibility for financial services offerings to both wholesale and retail customers.

In 2019, BMW Group Thailand recorded a stable performance with 12,954 BMW and MINI deliveries. The sales of MINI in Thailand achieved the highest growth rate across MINI's global networks with 1,204 deliveries, growing by 15% year-on-year. BMW's luxury segment also enjoyed remarkable results from sales volume of the BMW 7 Series, BMW 8 Series, BMW X7, and BMW i8, recording double-digit growth at 39% year-on-year, while the BMW Premium Selection certified used car program grew by 16% year-on-year.
On the production side, the BMW Group Manufacturing Thailand plant was founded on BMW Group's strong belief in the growth potential of Asian markets and Thailand in particular with its unique location, strong manufacturing base, and ready supply of skilled automotive labor, being an automotive hub for ASEAN. On-going investment has been put into the expansion of plant Rayong in terms of assembling processes, aiming to meet growing customer demand. In addition, with approximately 4 billion Thai Baht representing the amount of annual purchasing in Thailand, the BMW Global Purchasing office has been established in Thailand. This is to source various components from local suppliers in Thailand and the broader ASEAN region, in order to supply the entire BMW production network of 31 production and assembly facilities, located in 15 countries worldwide.

BMW Group Manufacturing Thailand produces the following 16 models: BMW 3 Series sedan, BMW 3 Series Gran Turismo, BMW 5 Series, BMW 7 Series, BMW X1, BMW X3 and BMW X5. For BMW Motorrad, the BMW F 900 R, BMW F 900 XR, BMW F 750 GS, BMW F 850 GS, BMW F 850 GS Adventure, BMW R 1250 GS, BMW R 1250 GS Adventure, BMW S 1000 R and BMW S 1000 RR are also locally assembled at the plant. In addition, BMW Group Manufacturing Thailand now assembles five BMW plug-in hybrid models; BMW 330e, BMW 530e, BMW X3 xDrive30e, BMW X5 xDrive45e and BMW 745Le xDrive.
For further information, please contact: 
BMW Group Thailand  
1397 

www.bmw.co.th
www.mini.co.th
www.bmw-motorrad.co.th
Media Contacts: 
Carl Byoir & Associates 
Suthatip Boonsaeng (08-7685-1695 or0-2627-3501 ext.102) 
Thornthawat Thongnab (08-3225-4567 or 0-2627-3501 ext.206) 
Pawalisa Thanawajeran (08-6564-4726 or 0-2627-3501 ext.125) 
Pichanan Toonkamthornchai (08-5157-7557 or 0-2627-3501 ext.101) 
sboonsaeng@carlbyoir.com, tthongnab@carlbyoir.com, pthanawajeran@carlbyoir.com, ptoonkamthornchai@carlbyoir.com 

Read more