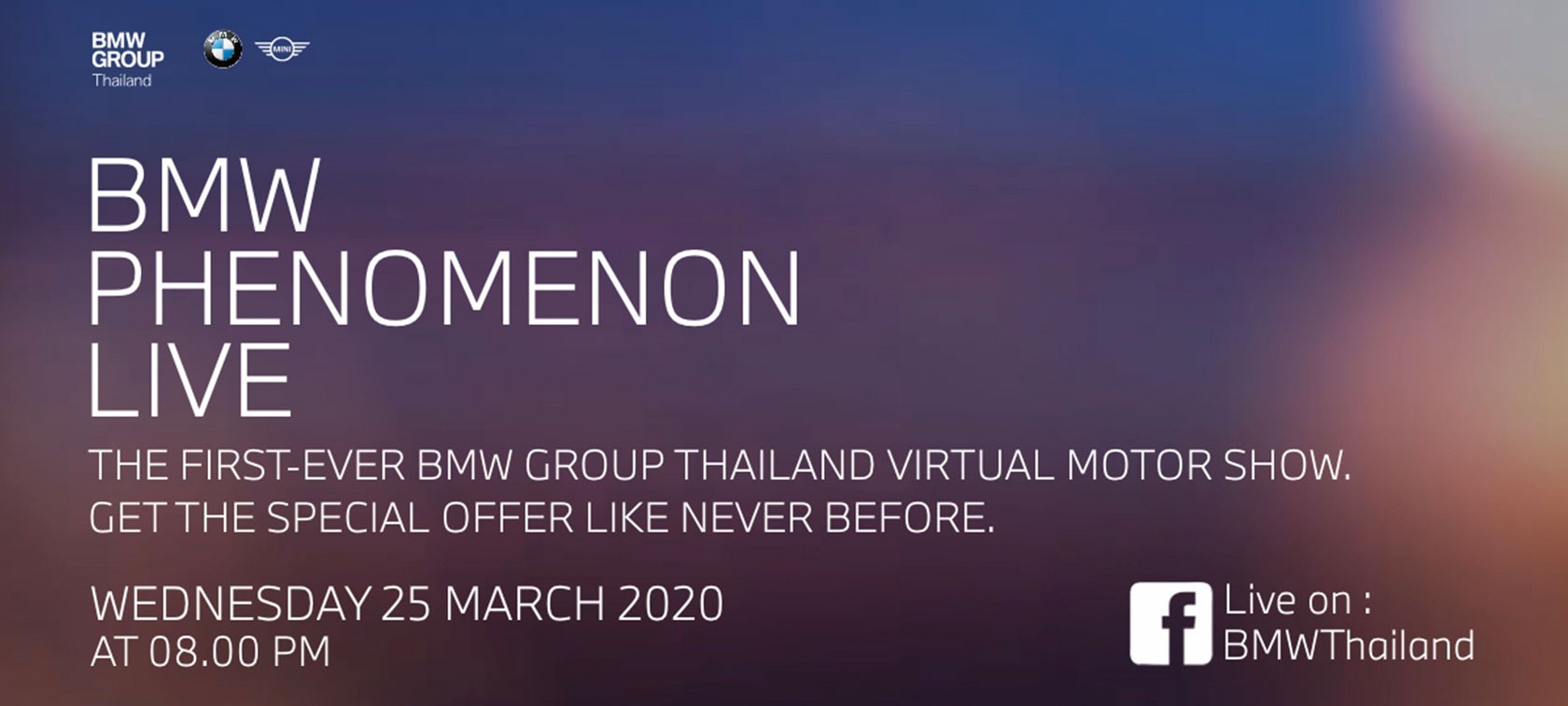 Press Release | 2020.03.18
Join the first-ever livestream of new models debut from BMW Group Thailand and be astounded by special offers like never before through Facebook Live
Bangkok. For the first time ever, BMW Group Thailand is livestreaming the debut of new models through its "BMW Group Phenomenon LIVE" on Facebook Live. Fans across the country are invited to be part of the unprecedented virtual Motor Show, where new automotive innovations from BMW will be unveiled to the public for the first time. This novel online experience will star the new BMW X6 with its head-turning and powerful coupe-style look, the new luxurious sports car BMW M8 Competition Coupe with its unparalleled performance, and the new BMW 630i GT M Sport with its exceptional driving comfort and spaciousness. MINI's highlight includes the new MINI Cooper S Countryman Hightrim with new transmission, offering at the same price at THB 2,499,000 (VAT incl. with MSI Standard Package). From BMW Motorrad, the BMW C 400 X mid-size scooter is awaiting to give you the opportunity to take advantage of everything while you're on the move. Unprecedented special offers from BMW, MINI and BMW Motorrad will also be revealed to Thai customers. Tune in on the live Phenomenon on Wednesday, March 25th, 2020 at 20.00 hrs. on www.facebook.com/bmwthailand/, which will broadcast the livestream from all three brands, or opt into the livestream of each brand directly on the following channels:
Read more
Special offers for BMW Group Phenomenon LIVE audiences:
First 20 BMW Facebook Live audiences who register at www.bmw.co.th/phenomenonlive
will receive Bowers & Wilkins P7 headphone set, worth THB 15,000, and be eligible for a secret offer for BMW X1, which will be revealed during the livestream. Special gifts, inclusive of Bowers & Wilkins speaker sets, will also be offered for the first 200 online booking customers at https://shop.bmw.co.th.
MINI Facebook Live audiences who register at www.mini.co.th/phenomenonlive.html
will be eligible to make an online booking for the new MINI Cooper S Countryman Hightrim with special offer of free 1-year first class insurance, free 1-year COVID-19 insurance and free MINI Fine Dust Filter, available for customers who book online from 25th March 2020 from 20:10 onwards via www.mini.co.th only.
First 50 BMW Motorrad Facebook Live audiences who register at https://www.bmw-motorrad.co.th/th/phenomenonlive.html will receive a voucher worth THB 15,000, which entitles 2 persons to join BMW Motorrad rider training at Enduro Park Thailand.
*The Company reserves the right to change these terms and conditions at any time without prior notice.
Be part of the first-ever BMW Group Phenomenon LIVE on Wednesday, March 25th, 2020 and make sure not to miss any updates and special offers by registering as mentioned above from 18 March onward.
Read more
The BMW Group
With its four brands BMW, MINI, Rolls-Royce and BMW Motorrad, the BMW Group is the world's leading premium manufacturer of automobiles and motorcycles and also provides premium financial and mobility services. The BMW Group production network comprises 31 production and assembly facilities in 15 countries; the company has a global sales network in more than 140 countries.
In 2019, the BMW Group recorded new all-time highs with over 2,520,307 passenger vehicles, an increase of 1.2% from the previous year, and 175,162 motorcycles, up 5.8% year-on-year, delivered to customers worldwide. Global sales of electrified BMW and MINI vehicles grew by 2.2% to 145,815 cars, taking the total number of electrified BMW Group vehicles on the road to half a million. As of 31 December 2018, the BMW Group had a workforce of 134,682 employees.
The success of the BMW Group has always been based on long-term thinking and responsible action. The company has therefore established ecological and social sustainability throughout the value chain, comprehensive product responsibility and a clear commitment to conserving resources as an integral part of its strategy.
BMW Group Thailand
BMW Group Thailand, a subsidiary of BMW AG, Germany, was established on the 3rd October 1998. The three entities of BMW Group Thailand are BMW (Thailand) Co., Ltd. with responsibility for wholesales & marketing of BMW Group products, BMW Manufacturing (Thailand) Co., Ltd. with responsibility for BMW and BMW Motorrad local production, and BMW Leasing (Thailand) Co., Ltd. with responsibility for financial services offerings to both wholesale and retail customers.
In 2019, BMW Group Thailand recorded a stable performance with 12,954 BMW and MINI deliveries. The sales of MINI in Thailand achieved the highest growth rate across MINI's global networks with 1,204 deliveries, growing by 15% year-on-year. BMW's luxury segment also enjoyed remarkable results from sales volume of the BMW 7 Series, BMW 8 Series, BMW X7, and BMW i8, recording double-digit growth at 39% year-on-year, while the BMW Premium Selection certified used car program grew by 16% year-on-year.
On the production side, the BMW Group Manufacturing Thailand plant was founded on BMW Group's strong belief in the growth potential of Asian markets and Thailand in particular with its unique location, strong manufacturing base, and ready supply of skilled automotive labor, being an automotive hub for ASEAN. On-going investment has been put into the expansion of plant Rayong in terms of assembling processes, aiming to meet growing customer demand. In addition, with approximately 4 billion Thai Baht representing the amount of annual purchasing in Thailand, the BMW Global Purchasing office has been established in Thailand. This is to source various components from local suppliers in Thailand and the broader ASEAN region, in order to supply the entire BMW production network of 31 production and assembly facilities, located in 15 countries worldwide.
BMW Group Manufacturing Thailand produces the following 15 models: BMW 3 Series sedan, BMW 3 Series Gran Turismo, BMW 5 Series, BMW 7 Series, BMW X1, BMW X3 and BMW X5. For BMW Motorrad, the BMW F 750 GS, BMW F 850 GS, BMW F 850 GS Adventure, BMW R 1250 GS, BMW R 1250 GS Adventure, BMW S 1000 R, BMW S 1000 RR and BMW S 1000 XR are also locally assembled at the plant. In addition, BMW Group Manufacturing Thailand now assembles four BMW plug-in hybrid models; BMW 330e, BMW 530e, BMW X5 xDrive45e and BMW 745Le xDrive.
For further information, please contact:
BMW Group Thailand
1-800-269-269
Media Contacts:
Carl Byoir & Associates
Suthatip Boonsaeng (08-7685-1695 or0-2627-3501 ext.102)
Thornthawat Thongnab (08-3225-4567 or 0-2627-3501 ext.206)
Pawalisa Thanawajeran (08-6564-4726 or 0-2627-3501 ext.125)
Pichanan Toonkamthornchai (08-5157-7557 or 0-2627-3501 ext.101)
sboonsaeng@carlbyoir.com, tthongnab@carlbyoir.com, pthanawajeran@carlbyoir.com, ptoonkamthornchai@carlbyoir.com
Read more