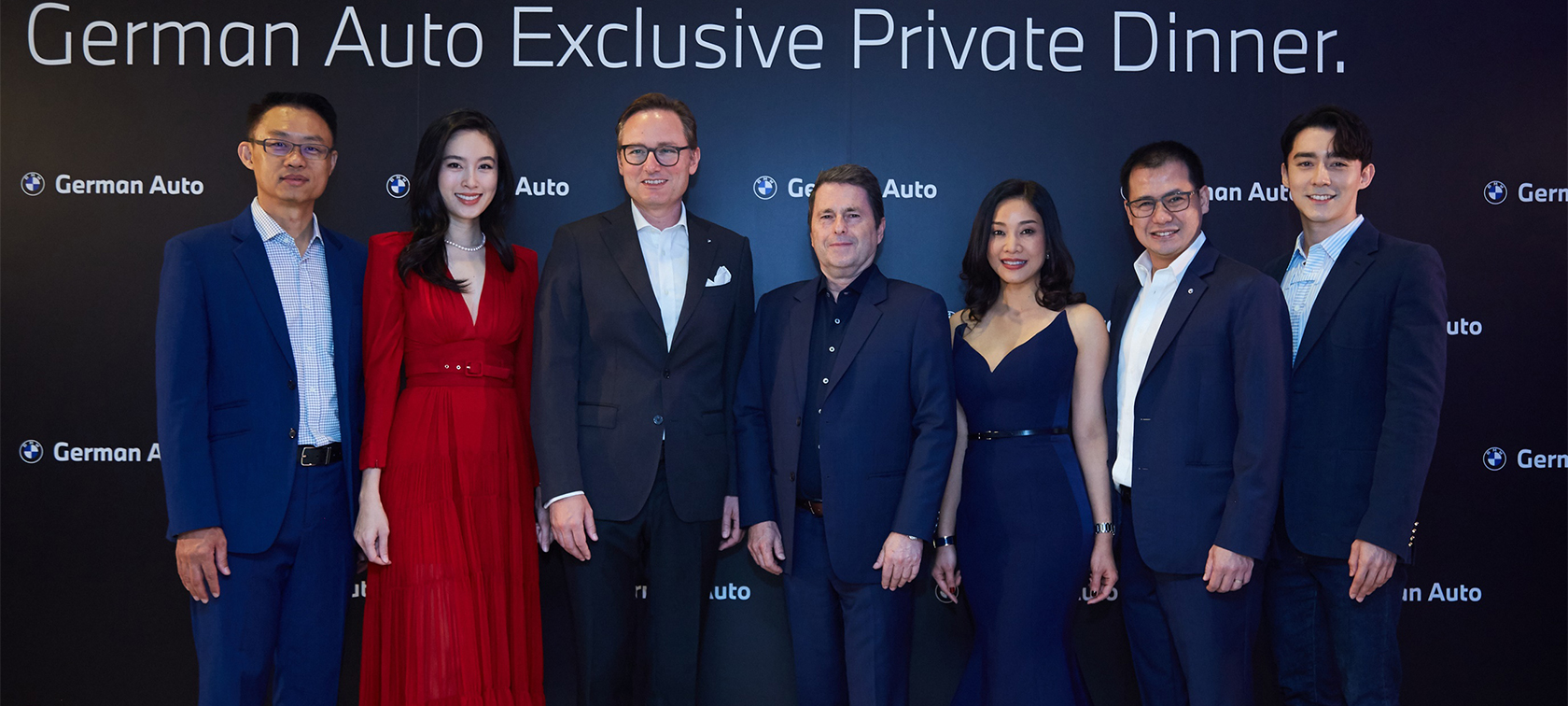 Press Release | 2020.11.16
GERMAN AUTO HOSTS EXCLUSIVE DINNER FOR BMW X5 OWNERS IN CELEBRATION OF 2020 SUCCESS.
German Auto – led by Khun Piyavit Khemarangsan (6th left), President, and Mr. Ralf Bissinger (4th left), Dealer Principal – hosted "BMW GERMAN AUTO EXCLUSIVE PRIVATE DINNER" to celebrate the sales success of the BMW X5 SAV in 2020. The event was recently held at BMW German Auto Chaengwattana and was joined by Mr. Alexander Baraka (3rd left), President, BMW Group Thailand, together with famous Thai celebrities – Treechada "Poyd" Petcharat (2nd left) and Kanin "Ohm" Stanley (far right).
Photograph shows, from left; Khun Pittawat Duangchaiek, General Manager Sales, German Auto; Treechada "Poyd" Petcharat; Mr. Alexander Baraka, President, BMW Group Thailand; Mr. Ralf Bissinger, Dealer Principal, German Auto; Khun Paweena Khemarangsan; Khun Piyavit Khemarangsan, President, German Auto; and Kanin "Ohm" Stanley
Bangkok. German Auto, an authorised BMW, MINI and BMW Motorrad dealer, hosted an exclusive private dinner to bring together BMW X5 customers in celebration of the superior SAV's successes throughout 2020. To represent the iconic BMW experience, the evening starred works of culinary art as exquisitely curated by Chef Cheiepvut "Moo" Kupsirikul from Table X, one of Thailand's first Chef's Table restaurants. The event, which also featured elegant tunes sung by the talented Phrimaphaa "Nok" Khornrojjanachawin, recently took place at German Auto Chaengwattana.
Guests at the dinner were also joined by Mr. Alexander Baraka, President, BMW Group Thailand, along with Thai celebrities who shared their passion in BMW – such as Treechada "Poyd" Petcharat, Kanin "Ohm" Stanley, Nuntawat "Max" Chanyalikit and Thanakorn Mahanontharit.
Mr. Ralf Bissinger, Dealer Principal, German Auto, said, "Over the past 13 years, German Auto as an authorized BMW, MINI and BMW Motorrad dealer, has served the eclectic needs of Thai motorists with a range of BMW models and extensive aftersales services. We have a team of skilled technicians and sales experts with more than 10 years of experience in this sphere. To make sure that we can cater to the growing demands of consumers, we have expanded our services to cover high-demand areas such as Bang Na and Chaengwattana and all the way to Pattaya. We have also been strengthening our aftersales services with the launch of German Auto Service Factory in 2018, which was Thailand's first BMW and MINI service factory located near Suvarnabhumi Airport on Bangna-Trad-Suvarnabhumi Road. Throughout these years, we have been grateful for the trust that customers have placed in us. Therefore, we are delighted to host this exclusive dinner to thank our customers and deliver a superior experience that communicates our belief: 'German Auto is not just about BMW. It's about delivering you an experience'. With impressive sales of the BMW X5 this year, we are blessed to share our success with BMW X5 owners who took part in creating a reason for this celebration."
Mr. Alexander Baraka, President, BMW Group Thailand, said, "With all the challenges we have faced since the beginning of this year, I would like to express my appreciation to German Auto for weathering all these difficulties with us while still continuing to deliver impressive accomplishments. Most importantly, we have to thank all BMW customers who trust BMW to be part of exciting future ahead. I am confident that no matter what challenges may come in the future, Thai customers will continue to be impressed by BMW both on the road and beyond."
To complete the special night, guests were also invited to join an exclusive photo session by famous fashion photographer, Punsiri "Tim" Siriwetchapun, who captured the memorable evening through his lens.
Experience a world of premium mobility from BMW at German Auto showrooms in Bang Na (Tel. 02-396-1199), Chaengwattana (02-119-0999), and Pattaya (Tel 038-235-600).

Read more
The BMW Group
With its four brands BMW, MINI, Rolls-Royce and BMW Motorrad, the BMW Group is the world's leading premium manufacturer of automobiles and motorcycles and also provides premium financial and mobility services. The BMW Group production network comprises 31 production and assembly facilities in 15 countries; the company has a global sales network in more than 140 countries.
In 2019, the BMW Group recorded new all-time highs with over 2.5 million passenger vehicles, an increase of 1.2% from the previous year, and 175,000 motorcycles, up 5.8% year-on-year, delivered to customers worldwide. Global sales of electrified BMW and MINI vehicles grew by 2.2% to 145,815 cars, taking the total number of electrified BMW Group vehicles on the road to half a million. As of 31 December 2019, the BMW Group had a workforce of 133,778 employees.
The success of the BMW Group has always been based on long-term thinking and responsible action. The company has therefore established ecological and social sustainability throughout the value chain, comprehensive product responsibility and a clear commitment to conserving resources as an integral part of its strategy.  

BMW Group Thailand  
BMW Group Thailand, a subsidiary of BMW AG, Germany, was established on the 3rd October 1998. The three entities of BMW Group Thailand are BMW (Thailand) Co., Ltd. with responsibility for wholesales & marketing of BMW Group products, BMW Manufacturing (Thailand) Co., Ltd. with responsibility for BMW and BMW Motorrad local production, and BMW Leasing (Thailand) Co., Ltd. with responsibility for financial services offerings to both wholesale and retail customers.  

In 2019, BMW Group Thailand recorded a stable performance with 12,954 BMW and MINI deliveries. The sales of MINI in Thailand achieved the highest growth rate across MINI's global networks with 1,204 deliveries, growing by 15% year-on-year. BMW's luxury segment also enjoyed remarkable results from sales volume of the BMW 7 Series, BMW 8 Series, BMW X7, and BMW i8, recording double-digit growth at 39% year-on-year, while the BMW Premium Selection certified used car program grew by 16% year-on-year.
On the production side, the BMW Group Manufacturing Thailand plant was founded on BMW Group's strong belief in the growth potential of Asian markets and Thailand in particular with its unique location, strong manufacturing base, and ready supply of skilled automotive labor, being an automotive hub for ASEAN. On-going investment has been put into the expansion of plant Rayong in terms of assembling processes, aiming to meet growing customer demand. In addition, with approximately 4 billion Thai Baht representing the amount of annual purchasing in Thailand, the BMW Global Purchasing office has been established in Thailand. This is to source various components from local suppliers in Thailand and the broader ASEAN region, in order to supply the entire BMW production network of 31 production and assembly facilities, located in 15 countries worldwide.
BMW Group Manufacturing Thailand produces the following 16 models: BMW 2 Series, BMW 3 Series, BMW 5 Series, BMW 7 Series, BMW X1, BMW X3 and BMW X5. For BMW Motorrad, the BMW F 900 R, BMW F 900 XR, BMW F 750 GS, BMW F 850 GS, BMW F 850 GS Adventure, BMW R 1250 GS, BMW R 1250 GS Adventure, BMW S 1000 R and BMW S 1000 RR are also locally assembled at the plant. In addition, BMW Group Manufacturing Thailand now assembles five BMW plug-in hybrid models; BMW 330e, BMW 530e, BMW X3 xDrive30e, BMW X5 xDrive45e and BMW 745Le xDrive.
For further information, please contact: 
BMW Group Thailand  
1397

www.bmw.co.th
www.mini.co.th
www.bmw-motorrad.co.th
Media Contacts:
Carl Byoir & Associates 
Suthatip Boonsaeng (08-7685-1695 or0-2627-3501 ext.102) 
Thornthawat Thongnab (08-3225-4567 or 0-2627-3501 ext.206) 
Pawalisa Thanawajeran (08-6564-4726 or 0-2627-3501 ext.125) 
Pichanan Toonkamthornchai (08-5157-7557 or 0-2627-3501 ext.101) 
sboonsaeng@carlbyoir.com, tthongnab@carlbyoir.com, pthanawajeran@carlbyoir.com, ptoonkamthornchai@carlbyoir.com

Read more