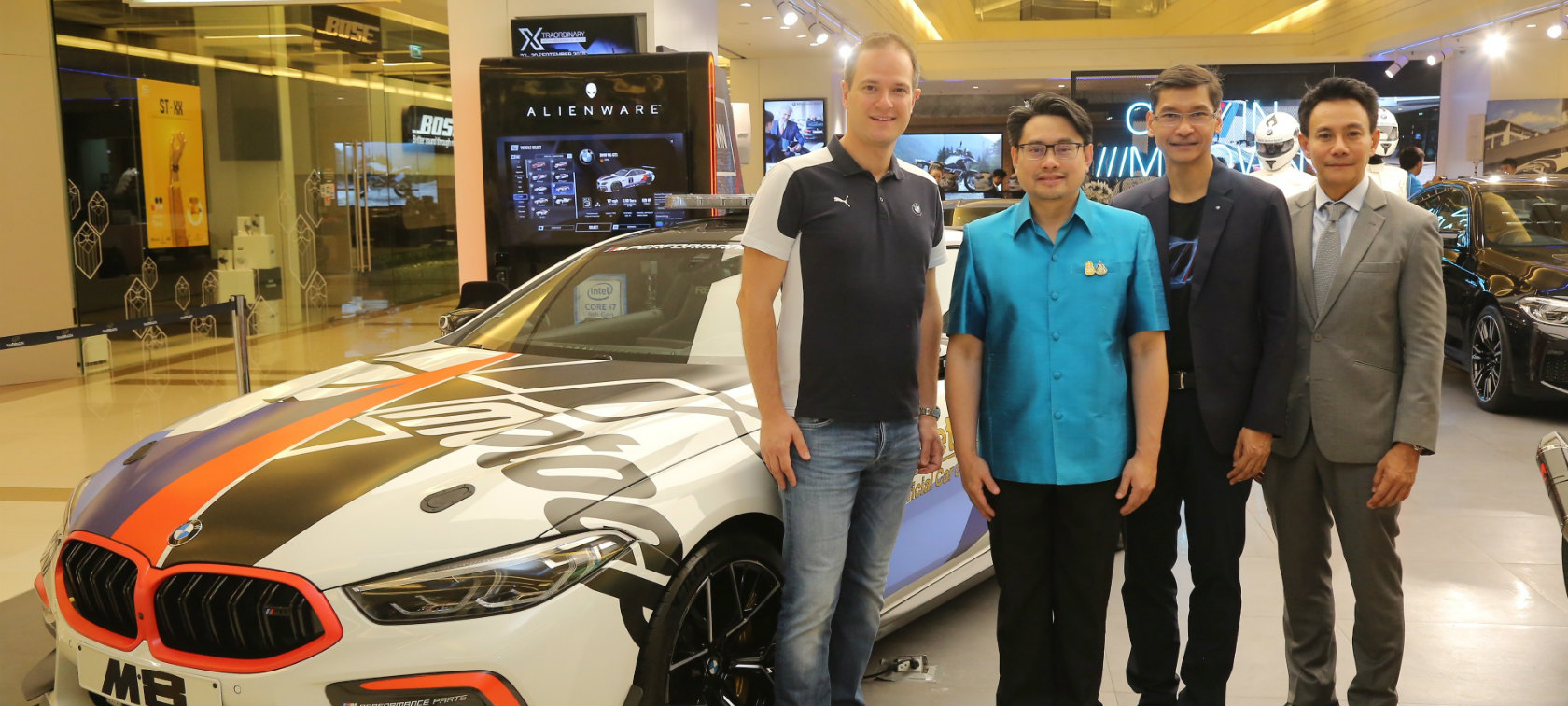 Press Release | 2019.09.27
BMW Group Thailand Unveils the BMW Safety Car Fleet for MotoGP 2019 Race at Chang International Circuit in Buriram
Dr. Gongsak Yodmani, Governor of the Sports Authority of Thailand (2nd from left), congratulated BMW Group Thailand – led by Mr. Christian Samlowski, Head of BMW Motorrad Thailand (left), and Khun Krisda Utamote (2nd from right), Director Corporate Communications, BMW Group Thailand – together with Khun Saran Uttavethvoravut, Sales Director, Millennium Auto (right), at the unveiling of the official fleet of safety vehicles for the world-class MotoGP 2019 motorcycle racing championship ahead of the race in Thailand.
Bangkok. BMW Group Thailand is set to join the dazzling excitement of the world-class MotoGP 2019 motorcycle racing championship with a fleet of safety cars to be featured in the race, which will take place during October 4-6 at Chang International Circuit, Buriram province. Leading the fleet for this pinnacle of two-wheeled motorsports are special safety vehicle versions of the BMW M8, BMW M5, and BMW S 1000 RR – all of which will continue a long-running partnership between BMW Group, BMW M, and MotoGP organizer Dorna Sports into its 21st season with BMW M as the Official Car of MotoGP.
Starring in this year's fleet for the MotoGP is the new BMW M8 Safety Car, which made its global debut at the BMW Group #NextGen event – held at BMW Welt in Munich in June 2019. This lead car packs top-class performance based on the BMW M8 Competition, delivering 460kW / 625hp from its high-revving V8 unit with M TwinPower Turbo technology. The high-performance engine is paired up with an eight-speed M Steptronic transmission with Drivelogic, and the engine's power is channelled to the road via the M xDrive all-wheel-drive system. Another standout feature is the newly developed, M-specific integrated braking system. This true racing pedigree powers the car from a standstill to 100 km/h within a mere 3.2 seconds.
Painstaking manual work at the BMW M Manufaktur in Garching converted the high-performance base car into the BMW M8 MotoGP Safety Car. With an extensive line of BMW M Performance accessories, the Safety Car creates not only sporty accents but also fulfils functional requirements for aerodynamics, cooling and lightweight construction. The new BMW M8 MotoGP Safety Car comes with the light bar on the carbon fibre-reinforced plastic (CFRP) roof that is equipped with state-of-the-art LED technology. The red-foiled front kidney grille catches the eye with its frozen-black finish for the front spoiler, while LED flashes are installed up front together with the flashing corona headlight rings. The transformation of the BMW M8 MotoGP Safety Car was completed by the inclusion of special racing features and the necessary safety equipment to ensure the ultimate safety and optimization specifically adapted to its new role as the Safety Car. The RECARO racing seats with Schroth belts also guarantee a combination of comfort and maximum security for their occupants when being in action on the racetrack.
In the 2019 season, the fleet of official MotoGP vehicles includes a total of eight different BMW M high-performance cars – the BMW M2 MotoGP Safety Car, the BMW M5 MotoGP Safety Car, the BMW M8 MotoGP Safety Car, the BMW M3 Safety Car, the BMW M4 Coupé Safety Car, the BMW M6 Safety Car, the BMW M5 Safety Officer, and the BMW X5 M Medical Car. BMW Motorrad also features in the fleet with the BMW S 1000 RRs as Safety Bike.

Read more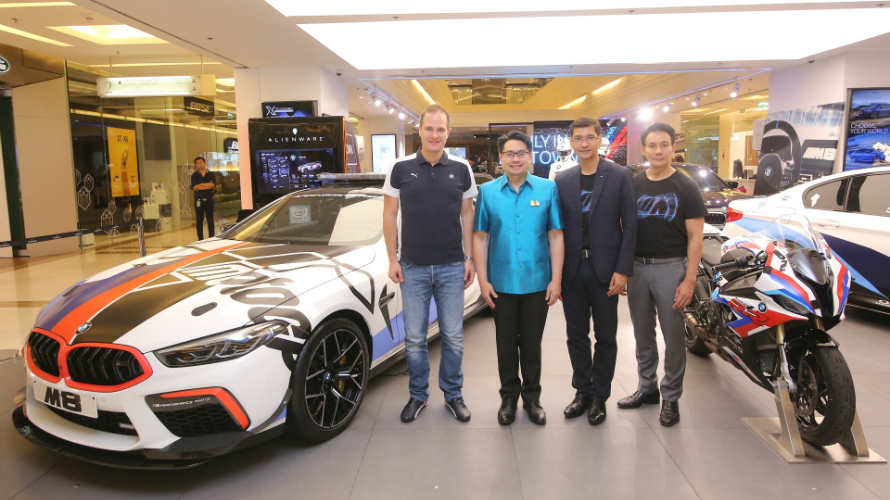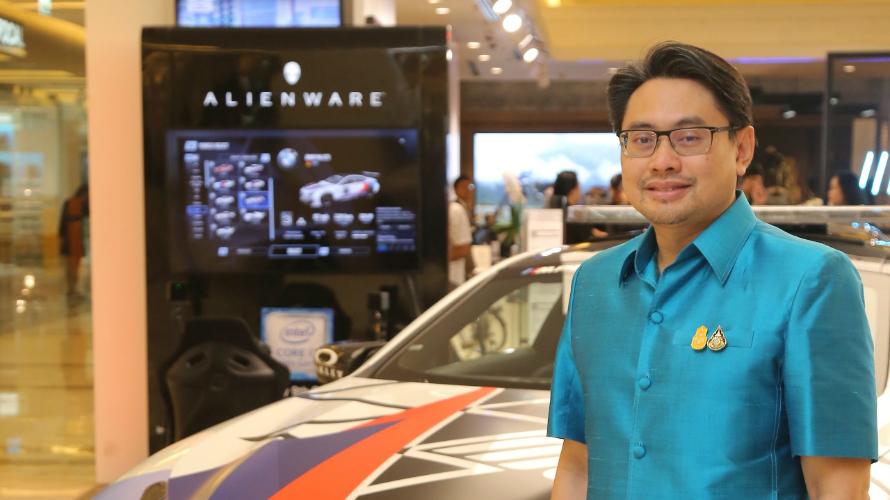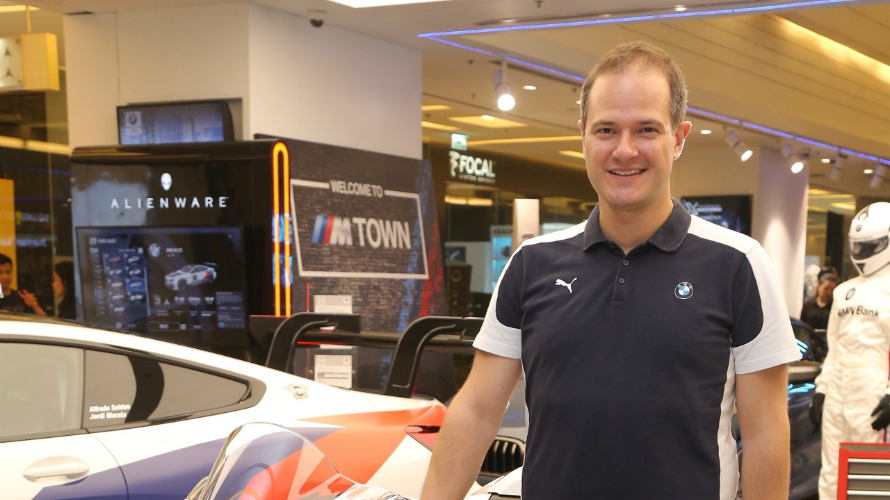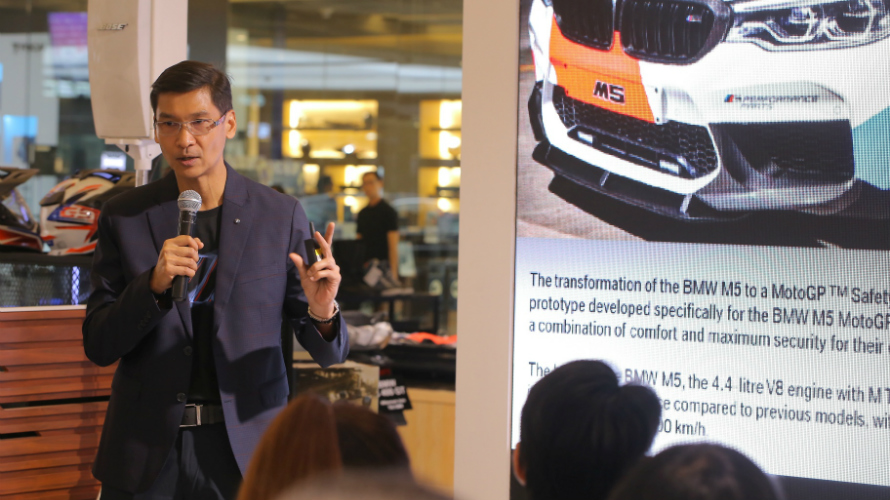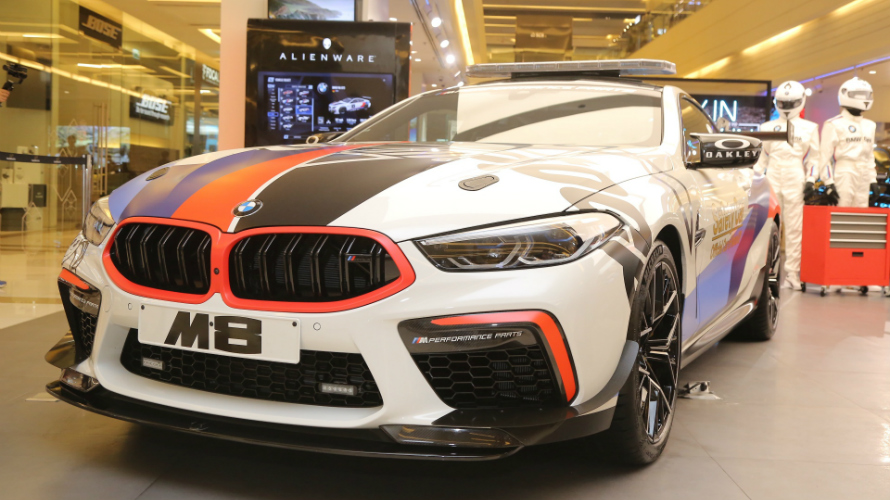 The BMW Group
With its four brands BMW, MINI, Rolls-Royce and BMW Motorrad, the BMW Group is the world's leading premium manufacturer of automobiles and motorcycles and also provides premium financial and mobility services. The BMW Group production network comprises 31 production and assembly facilities in 15 countries; the company has a global sales network in more than 140 countries.
In 2018, the BMW Group sold over 2,490,000 passenger vehicles and more than 165,000 motorcycles worldwide. The profit before tax in the financial year 2017 was € 10.655 billion on revenues amounting to € 98.678 billion. As of 31 December 2017, the BMW Group had a workforce of 129,932 employees.
The success of the BMW Group has always been based on long-term thinking and responsible action. The company has therefore established ecological and social sustainability throughout the value chain, comprehensive product responsibility and a clear commitment to conserving resources as an integral part of its strategy.
BMW Group Thailand
BMW Group Thailand, a subsidiary of BMW AG, Germany, was established on the 3rd October 1998. The three entities of BMW Group Thailand are BMW (Thailand) Co., Ltd. with responsibility for wholesales & marketing of BMW Group products, BMW Manufacturing (Thailand) Co., Ltd. with responsibility for BMW and BMW Motorrad local production, and BMW Leasing (Thailand) Co., Ltd. with responsibility for financial services offerings to both wholesale and retail customers.
In 2018, BMW Group Thailand reached new all-time highs with 12,036 BMW deliveries, representing a 20% increase year-on-year and the highest growth rate across BMW's global networks for the second consecutive year. The sales of BMW plug-in hybrid vehicles (PHEV) also achieved a record-high growth rate of 122% in Thailand over the past year. While MINI and BMW Motorrad also achieved the new record in sales with 1,051 vehicles MINI deliveries (growing sales by 4% year-on-year) and 2,154 BMW Motorcycles deliveries (growing sales by 8% year-on-year).
On the production side, the BMW Group Manufacturing Thailand plant was founded on BMW Group's strong belief in the growth potential of Asian markets and Thailand in particular with its unique location, strong manufacturing base, and ready supply of skilled automotive labor, being an automotive hub for ASEAN. On-going investment has been put into the expansion of plant Rayong in terms of assembling processes, aiming to meet growing customer demand. In addition, with approximately 4 billion Thai Baht representing the amount of annual purchasing in Thailand, the BMW Global Purchasing office has been established in Thailand. This is to source various components from local suppliers in Thailand and the broader ASEAN region, in order to supply the entire BMW production network of 31 production and assembly facilities, located in 15 countries worldwide.
BMW Group Manufacturing Thailand produces the following 13 models: BMW 3 Series Gran Turismo, BMW 5 Series, BMW 7 Series, BMW X1, and BMW X3. For BMW Motorrad, the BMW F 750 GS, BMW F 850 GS, BMW F 850 GS Adventure, BMW R 1250 GS, BMW R 1250 GS Adventure, BMW S 1000 R, BMW S 1000 RR and BMW S 1000 XR are also locally assembled at the plant. In addition, BMW Group Manufacturing Thailand now assembles two BMW plug-in hybrid models; BMW 530e and BMW 740Le.
For further information, please contact:
BMW Group Thailand
1-800-269-269
www.bmw.co.th
www.mini.co.th
www.bmw-motorrad.co.th
Media Contacts:
Carl Byoir & Associates
Suthatip Boonsaeng (08-7685-1695 or0-2627-3501 ext.102)
Thornthawat Thongnab (08-3225-4567 or 0-2627-3501 ext.206)
Pichanan Toonkamthornchai (08-5157-7557 or 0-2627-3501 ext.101)
Nalinuth Sirisombut (08-6977-7881 or 0-2627-3501 ext.155)
sboonsaeng@carlbyoir.com, tthongnab@carlbyoir.com, ptoonkamthornchai@carlbyoir.com, nsirisombut@carlbyoir.com

Read more