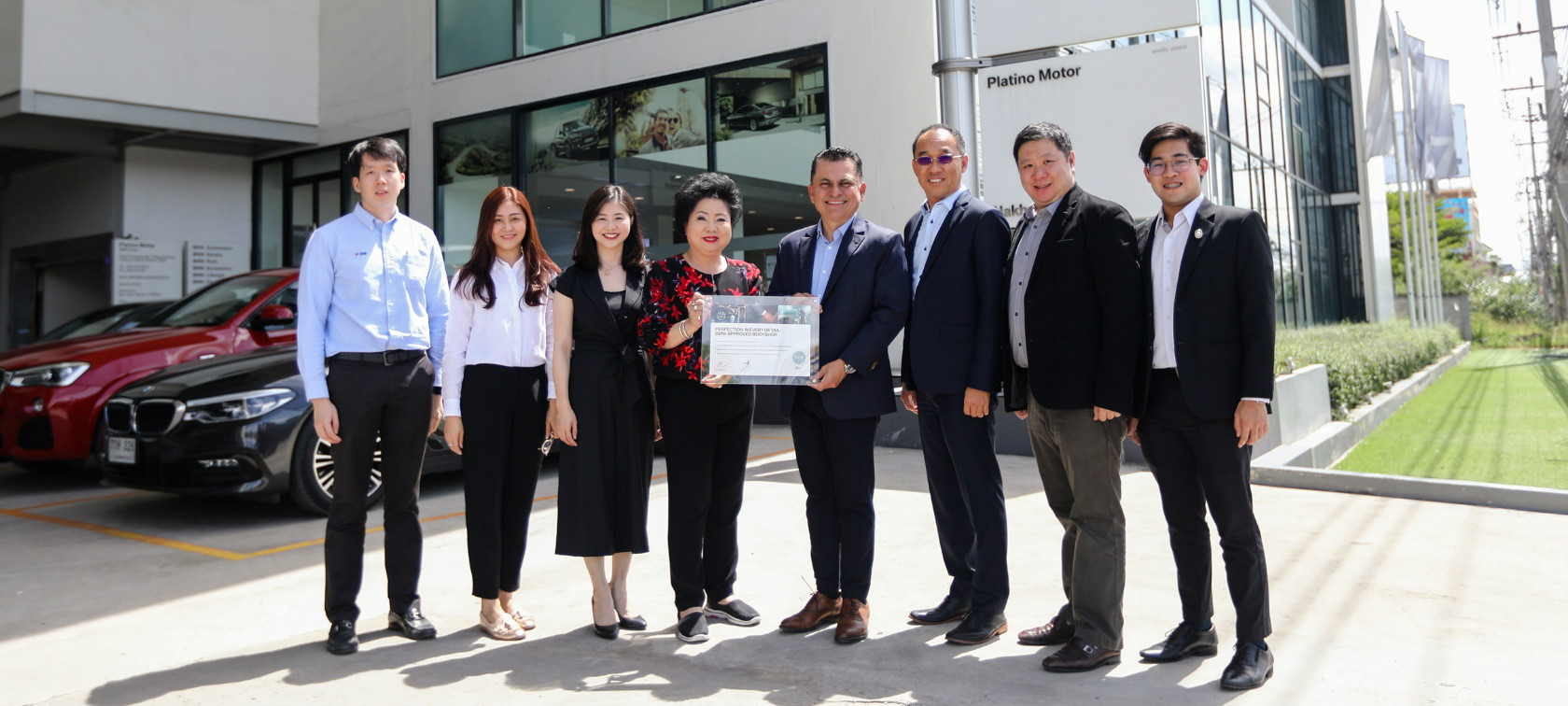 Photo Release | 2019.09.23
Platino Motor Nakhonpathom Enhances Aftersales Services with State-of-the-Art BMW Certified Body and Paint Centre
Nakhon Pathom. BMW Group Thailand, led by Mr. César Badilla (5th left), Director Aftersales, together with authorized BMW dealer Platino Motor Nakhonpathom, led by Executive Director Khun Suparat Apikulprapa (3rd left), have raised the bar for BMW aftersales services in the Western region – which covers Nakhon Pathom, Ratchaburi, Suphanburi and Kanchanaburi provinces – by launching a BMW Certified Body and Paint Center to provide full body repair and paint services. The BMW Certified Body and Paint Center at Platino Motor Nakhonpathom is equipped with 14 mechanical bays, including 8 light-duty bays, 4 body repair bays, 2 paint repair bays, and 2 paintwork booths – the last of which come equipped with electromagnetic infrared painting technology that offers flawless, factory-grade paint finish. All paint services utilize BMW's standard water-based, environment-friendly ColorSystem paint.
Leveraging its deep insights into customers' needs and extensive market experience as the latest addition to the roster of authorized BMW dealers, Platino Motor Nakhonpathom continues to strive towards a better customer experience with convenient one-stop service and exceptional maintenance work with original BMW parts. The dealer is also working with leading insurance companies to guarantee a fast and seamless journey for customers. These remarkable capabilities have positioned Platino Motor as a trusted partner of BMW Group Thailand and the latest operator of a BMW certified body and paint centre – the 12th BMW-certified facility for body and paint services in Thailand.
Customers can make a service appointment in advance via www.bmw.co.th or call Platino Motor Nakhon Pathom at 034-275-324.

Read more