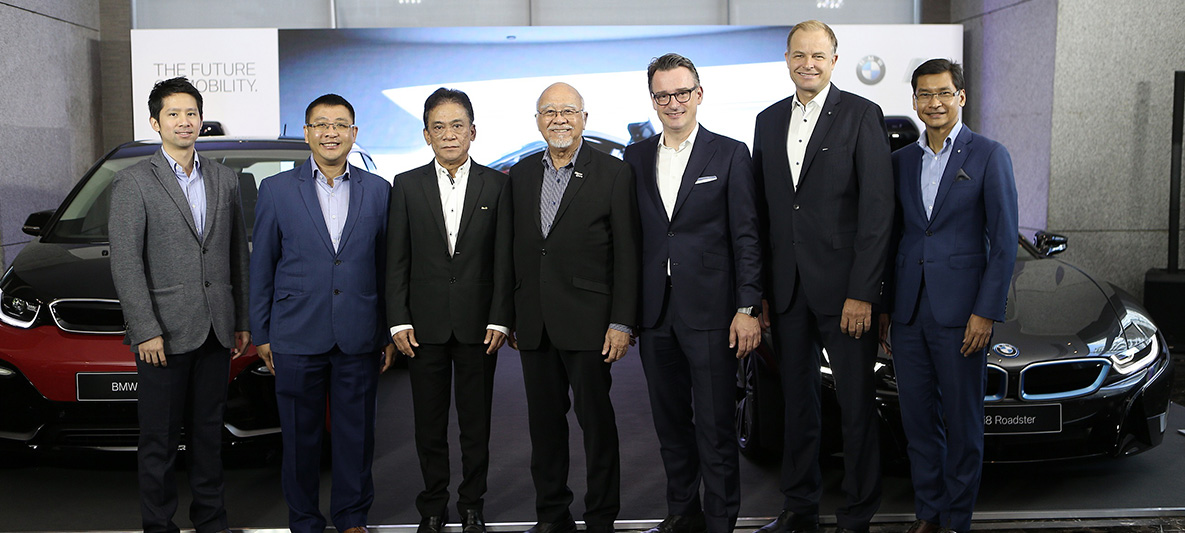 Press Release | 2019.06.21
BMW Group Thailand holds 'The Future of Mobility' forum to showcase visions that shape the e-mobility of the future through the lens of top BMW executive and industry experts
From left to right;
1. Khun Krit Vichaiwatanapanich, CEO and Co-founder, Haupcar
2. Dr. Yossapong Laoonual, President of Electric Vehicle Association of Thailand and Chairman, Automotive Research Cluster Working Group, KMUTT
3. Khun Jaturon Komolmitr, Director and Chief Operating Officer, Grand Prix International PCL
4. Khun Kwanchai Paphatphong, President and CEO, Inter-Media Consultant Co., Ltd.
5. Dr. Andreas Aumann, Vice President Product Management, BMW i and E-Mobility, BMW Group
6. Mr. Christian Wiedmann, President, BMW Group Thailand
7. Khun Krisda Utamote, Director Corporate Communications, BMW Group Thailand


Bangkok. BMW has underlined its vision for the future of mobility as the world moves towards the era of electromobility with 'The Future of Mobility' forum, which presented the perspectives of top BMW executive and industry experts. Together, the innovative thinkers shared the visionary trends that will shape the direction of Car Sharing systems in Thailand, whereas BMW Group had the opportunity to build upon its leadership in the field of automobile electrification through the futuristic yet practical innovations under the BMW i banner. On this occasion, BMW Group Thailand also unveiled its mission to prepare the country for an electrified future with the localization of high-voltage battery production and the expansion of ChargeNow public charging station network nationwide.
Mr. Christian Wiedmann, President, BMW Group Thailand, said, "We are delighted to host this forum as a platform that brings together the experts in the industry to chart a path towards the emission-free mobility. For BMW Group Thailand, our 20% year-on-year growth rate in 2018 represents the highest growth rate for BMW worldwide for the second consecutive year, placing BMW Group Thailand as the top automaker. The remarkable performance of plug-in hybrid vehicles (PHEV), with a 122% jump in sales, is yet another solid indicator of our success. Further BMW PHEV models – following the launch of the BMW 530e, BMW 740Le and BMW i8 Coupe and BMW i8 Roadster – will be introduced to Thai market in due course. As we ceaselessly drive our international standing as a pioneer in the field of sustainability, we have continued to support Thailand's charging infrastructure with the launch of ChargeNow in 2017. With ChargeNow, PHEV and BEV users of any brands will have access to all ChargeNow charging stations for the users' own benefits. Today, we now have over 121 chargers at 57 locations nationwide."
"BMW Group Manufacturing Thailand has also set its sights on another milestone in Thailand's journey towards a future of electro-mobility with local high voltage battery assembly – which comprises assembly of the battery modules and the battery packs – from 2019 onwards. BMW Group Manufacturing Thailand together with DRÄXLMAIER Group have invested over 400 million baht (€11.11 million) to establish this new beacon for e-mobility innovations in Thailand and the region," added Mr. Wiedmann.
A new production facility, in partnership with the DRÄXLMAIER Group – one of the world's leading automotive suppliers and a strong systems partner with BMW Group since 1966, will commence its full operation in this year. Finished batteries will be transported to BMW Group Manufacturing Thailand for the production of the PHEVs based on the BMW 5 Series and BMW 7 Series in the first phase from 2019 onward. In addition, BMW Group Manufacturing Thailand has already been granted approval for government-backed incentives from Thailand's Board of Investment (BoI) to cover a further investment of over 700 million baht (€19.44 million) into assembly of even more BMW Plug-in Hybrid models in the future.

Read more
Electromobility innovations by BMW Group for an electrified, sustainable future
At 'The Future of Mobility' forum, Dr. Andreas Aumann, Vice President Product Management BMW i and E-Mobility, BMW Group, shared BMW Group's vision on electromobility innovations under the BMW i brand, which focuses on a visionary and ground-breaking concept for mobility that is sustainably designed throughout. This focus on sustainability dovetails with the evident increase in demand for electric vehicles around the globe with significant growth potential still present for the market.
On a global scale, the BMW Group sold more than 140,000 electrified (battery-electric and plug-in hybrid) vehicles in 2018. In total, 142,617 (+38.4%) electrified BMW and MINI vehicles were delivered to customers around the world last year.
"Electromobility is an essential pillar of the BMW Group's corporate strategy Number ONE>NEXT and one of the company's four key future-focused ACES topics (Autonomous, Connected, Electrified and Services/Shared). With the launch of the BMW i3, the BMW Group established itself early as a pioneer in the field of electric mobility. By 2021, the BMW Group will have five all-electric models: the BMW i3, the MINI Electric, the BMW iX3, the BMW i4 and the BMW iNEXT. By 2025, that number is set to grow to at least twelve models. Including plug-in hybrids, the BMW Group's electrified product portfolio will then comprise at least 25 models." said Dr. Andreas Aumann, Vice President Product Management BMW i and E-Mobility, BMW Group.
From 2021 onward, the BMW Group will be capable of manufacturing models with all-electric (BEV), plug-in hybrid (PHEV) and conventional (ICE) drivetrains on a single production line. Its ability to integrate e-mobility in the production network enables the BMW Group to respond even more flexibly to the increasing demand for electrified vehicles. By the end of 2019, the BMW Group expects to have more than half a million electrified vehicles on the roads.
"In future, we will be able to swiftly decide which models we are going to equip with what mix of all-electric drive, plug-in hybrid drive or exceptionally efficient combustion engines. This will let us partially or fully electrify each model in accordance with market demand, creating the basis for the mass-market introduction of pure battery electric vehicles in the future." added Dr. Aumann.
Read more
Car sharing set for promising future as BMW Group Thailand, public sector and business partners join up to drive Thailand towards emission-free car sharing solutions
BMW Group Thailand has been collaborating with the public sector and business partners to support EV-related development efforts and to provide charging station services in Thailand. In 2016, BMW Group Thailand signed a Memorandum of Understanding (MoU) with King Mongkut's University of Technology Thonburi (KMUTT) to study the prospects of electric vehicles (EV) and car sharing programs in Thailand under the "Electric Vehicle Charging and Car Sharing Zones" or "Charge & Share" initiative. Through this MoU, BMW Group Thailand has provided KMUTT with access to the BMW i3, a fully emission-free electric vehicle, as well as plug-in hybrid vehicles in the BMW 330e and BMW X5 xDrive40e.
Dr. Yossapong Laoonual, President of Electric Vehicle Association of Thailand and Chairman, Automotive Research Cluster Working Group, KMUTT said, "Charge & Share is an initiative led by Automotive Research Cluster Working Group, KMUTT. Our goal is to support EV deployment in the university, encourage commute via car sharing, and conduct research on public transit behavior in Thailand. This is a great starting point and we are pleased to be able to partner with BMW Group Thailand on the Charge & Share initiative. We strongly believe that this project will significantly drive Thailand towards sustainable future."
Under this initiative, KMUTT has set up charging stations to offer car sharing services in the university. The BMW PHEV vehicle enables KMUTT to record drivers' behavior as well as public behavior in Car Sharing and EV Car Sharing systems – all of which contribute to the Charge & Share project as well as analysis of future EV utilization in Thailand. Additionally, Haupcar – Thailand's first car sharing service and application – is working with the university to facilitate the vehicle reservation, return, and general service management systems.
Haupcar currently has a fleet of 200 vehicles for rent, most of which are subcompact, compact and sedan models. The startup has signed up over 60,000 users, generally based in Bangkok. Its ambition is to expand service locations for the electric car sharing service. With the BMW i3 now involved in the pilot phase, the company aims to increase the use of electric vehicles over the coming years.
To further support the infrastructure for EV car sharing, encourage growth of electric vehicles in Thailand, and contribute to the Energy Policy and Planning Office's (EPPO) goal of having 1.2 million EVs and PHEVs on Thai streets by the year 2036, BMW Group Thailand and ChargeNow partners have been continuously expanding the ChargeNow public charging station network across Thailand following the official launch in August 2017. Currently, there are over 121 ChargeNow and charging outlets at BMW authorized dealers ready for service in 57 locations nationwide with the aim to increase to the total of 150 chargers within 2020. And for ultimate benefit of all PHEV [plug-in hybrids] and BEV [battery electric vehicles] users, the charging stations are available in every network that carries similar standards and operates in a standardised service system.
Read more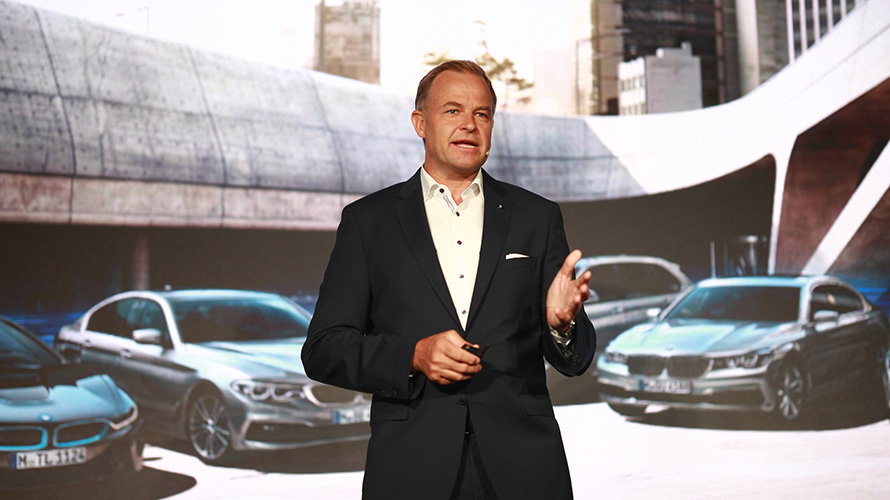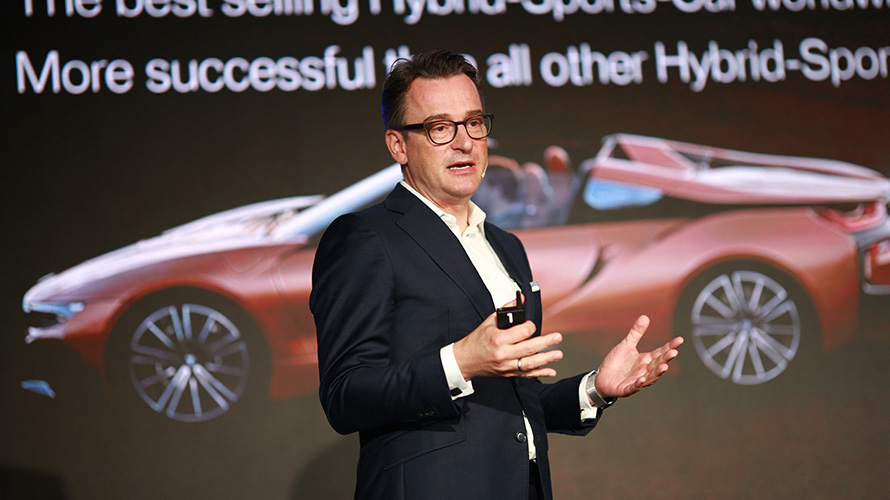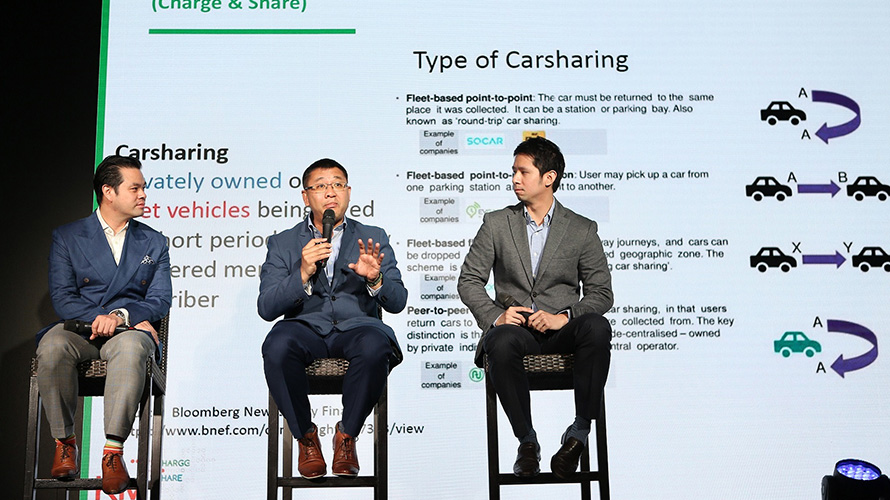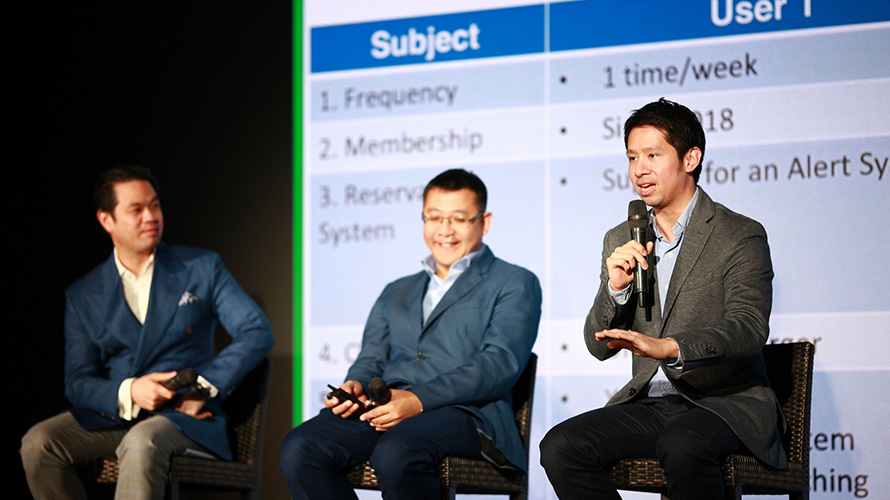 The BMW Group
With its four brands BMW, MINI, Rolls-Royce and BMW Motorrad, the BMW Group is the world's leading premium manufacturer of automobiles and motorcycles and also provides premium financial and mobility services. The BMW Group production network comprises 31 production and assembly facilities in 15 countries; the company has a global sales network in more than 140 countries.
In 2018, the BMW Group sold over 2,490,000 passenger vehicles and more than 165,000 motorcycles worldwide. The profit before tax in the financial year 2017 was € 10.655 billion on revenues amounting to € 98.678 billion. As of 31 December 2017, the BMW Group had a workforce of 129,932 employees.
The success of the BMW Group has always been based on long-term thinking and responsible action. The company has therefore established ecological and social sustainability throughout the value chain, comprehensive product responsibility and a clear commitment to conserving resources as an integral part of its strategy.
BMW Group Thailand
BMW Group Thailand, a subsidiary of BMW AG, Germany, was established on the 3rd October 1998. The three entities of BMW Group Thailand are BMW (Thailand) Co., Ltd. with responsibility for wholesales & marketing of BMW Group products, BMW Manufacturing (Thailand) Co., Ltd. with responsibility for BMW and BMW Motorrad local production, and BMW Leasing (Thailand) Co., Ltd. with responsibility for financial services offerings to both wholesale and retail customers.
In 2018, BMW Group Thailand reached new all-time highs with 12,036 BMW deliveries, representing a 20% increase year-on-year and the highest growth rate across BMW's global networks for the second consecutive year. The sales of BMW plug-in hybrid vehicles (PHEV) also achieved a record-high growth rate of 122% in Thailand over the past year. While MINI and BMW Motorrad also achieved the new record in sales with 1,051 vehicles MINI deliveries (growing sales by 4% year-on-year) and 2,154 BMW Motorcycles deliveries (growing sales by 8% year-on-year).
On the production side, the BMW Group Manufacturing Thailand plant was founded on BMW Group's strong belief in the growth potential of Asian markets and Thailand in particular with its unique location, strong manufacturing base, and ready supply of skilled automotive labor, being an automotive hub for ASEAN. On-going investment has been put into the expansion of plant Rayong in terms of assembling processes, aiming to meet growing customer demand. In addition, with approximately 4 billion Thai Baht representing the amount of annual purchasing in Thailand, the BMW Global Purchasing office has been established in Thailand. This is to source various components from local suppliers in Thailand and the broader ASEAN region, in order to supply the entire BMW production network of 31 production and assembly facilities, located in 15 countries worldwide.
BMW Group Manufacturing Thailand produces the following 13 models: BMW 3 Series Gran Turismo, BMW 5 Series, BMW 7 Series, BMW X1, and BMW X3. For BMW Motorrad, the BMW F 750 GS, BMW F 850 GS, BMW F 850 GS Adventure, BMW R 1250 GS, BMW R 1250 GS Adventure, BMW S 1000 R, BMW S 1000 RR and BMW S 1000 XR are also locally assembled at the plant. In addition, BMW Group Manufacturing Thailand now assembles two BMW plug-in hybrid models; BMW 530e and BMW 740Le.
For further information, please contact:
BMW Group Thailand
1-800-269-269
www.bmw.co.th
www.mini.co.th
www.bmw-motorrad.co.th
Media Contacts:
Carl Byoir & Associates
Suthatip Boonsaeng (08-7685-1695 or0-2627-3501 ext.102)
Thornthawat Thongnab (08-3225-4567 or 0-2627-3501 ext.206)
Pichanan Toonkamthornchai (08-5157-7557 or 0-2627-3501 ext.101)
Nalinuth Sirisombut (08-6977-7881 or 0-2627-3501 ext.155)
sboonsaeng@carlbyoir.com, tthongnab@carlbyoir.com, ptoonkamthornchai@carlbyoir.com, nsirisombut@carlbyoir.com
Read more