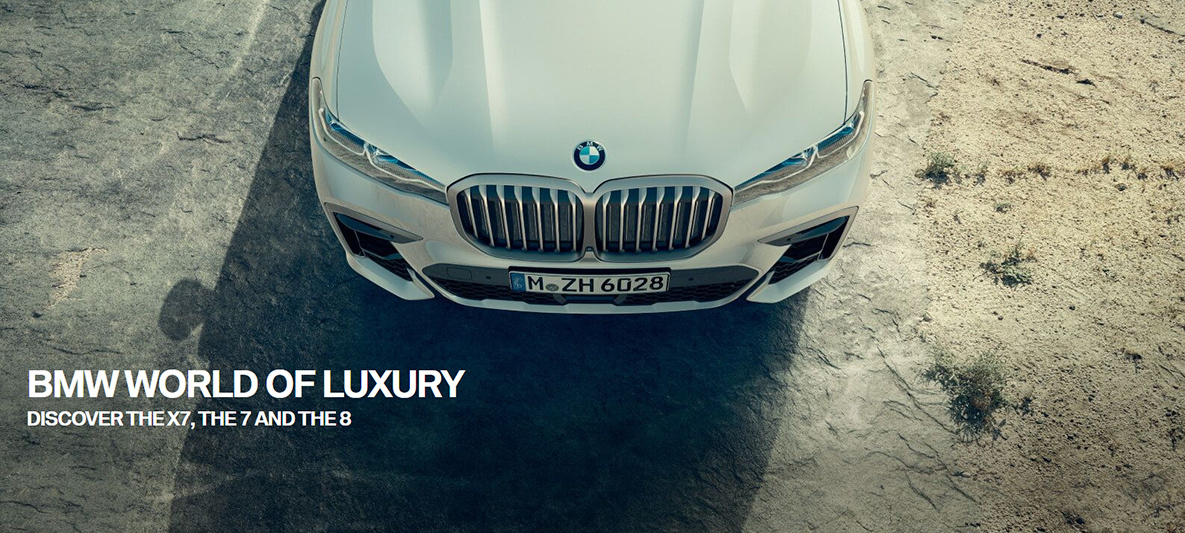 Press Release | 2019.06.13
BMW WORLD OF LUXURY REACHES OUT TO BMW FANS ACROSS THE COUNTRY WITH BMW PREMIUM SHOWCASE
BMW Thailand and BMW authorized dealers set to bring the pinnacle of BMW's Luxury Class led by the BMW X7, BMW 7 Series, and BMW 8 Series during June-August 2019
Bangkok. BMW Thailand is teaming up with BMW authorized dealers to organize the BMW World of Luxury, a special roadshow that will bring the state-of-the-art BMW Luxury class to delight fans in all 4 regions across 10 provinces. BMW enthusiasts will have a chance to get up close and personal with a wide array of BMW models, led by the first-ever BMW X7 M50d, the pinnacle of the modern luxury Sports Activity Vehicle (SAV), the BMW 7 series and the all-new BMW M850i xDrive Coupe – as they discover first-hand the vehicles' incomparable performance and ultimate driving pleasure. BMW fans will be able to enjoy the roadshow from June until August 2019 along with exclusive offers when booking new BMW vehicles.
Mr. Christian Wiedmann, President, BMW Group Thailand said, "This roadshow will showcase the best-in-class BMW Luxury segment, flaunting the sumptuous statement to BMW aficionados across the nation. It adheres to BMW's vision in innovating premium vehicles like no other, underlines our dare to explore and truly defines our philosophy of creating unique moments that make every second of your life count. This brings to life a new kind of luxury and reaffirms the superior technological innovations that mark our commitment towards progressive luxury"
The BMW World of Luxury will be driving to meet fans in;
• Nakhon Pathom on 13-16 June at Central Plaza Salaya
• Khon Kaen on 13-16 June at Central Plaza Khon Kaen
• Udon Thani on 20-23 June at Central Plaza Udon Thani
• Ubon Ratchathani on 27-30 June at Central Plaza Ubon Ratchathani
• Songkla on 4-7 July at Central Festival Hat Yai
• Phuket on 18-21 July at Central Phuket Floresta
• Chonburi on 18-21 July at Central Plaza Chonburi and on 25-28 July at Central Festival Pattaya Beach
• Chiang Mai on 1-4 August at Central Festival Chiangmai
• Nakhon Ratchasima on 1-4 August at Central Plaza Nakhon Ratchasima
• Phitsanulok on 8-11 August at Central Plaza Phitsanulok
For more information, please contact BMW authorized dealers nationwide and stay tuned for more updates on the website https://www.bmw.co.th and the BMW Thailand Facebook fanpage at https://www.facebook.com/bmwthailand/

Read more
The BMW Group
With its four brands BMW, MINI, Rolls-Royce and BMW Motorrad, the BMW Group is the world's leading premium manufacturer of automobiles and motorcycles and also provides premium financial and mobility services. The BMW Group production network comprises 31 production and assembly facilities in 15 countries; the company has a global sales network in more than 140 countries.
In 2018, the BMW Group sold over 2,490,000 passenger vehicles and more than 165,000 motorcycles worldwide. The profit before tax in the financial year 2017 was € 10.655 billion on revenues amounting to € 98.678 billion. As of 31 December 2017, the BMW Group had a workforce of 129,932 employees.
The success of the BMW Group has always been based on long-term thinking and responsible action. The company has therefore established ecological and social sustainability throughout the value chain, comprehensive product responsibility and a clear commitment to conserving resources as an integral part of its strategy.
BMW Group Thailand
BMW Group Thailand, a subsidiary of BMW AG, Germany, was established on the 3rd October 1998. The three entities of BMW Group Thailand are BMW (Thailand) Co., Ltd. with responsibility for wholesales & marketing of BMW Group products, BMW Manufacturing (Thailand) Co., Ltd. with responsibility for BMW and BMW Motorrad local production, and BMW Leasing (Thailand) Co., Ltd. with responsibility for financial services offerings to both wholesale and retail customers.
In 2018, BMW Group Thailand reached new all-time highs with 12,036 BMW deliveries, representing a 20% increase year-on-year and the highest growth rate across BMW's global networks for the second consecutive year. The sales of BMW plug-in hybrid vehicles (PHEV) also achieved a record-high growth rate of 122% in Thailand over the past year. While MINI and BMW Motorrad also achieved the new record in sales with 1,051 vehicles MINI deliveries (growing sales by 4% year-on-year) and 2,154 BMW Motorcycles deliveries (growing sales by 8% year-on-year).
On the production side, the BMW Group Manufacturing Thailand plant was founded on BMW Group's strong belief in the growth potential of Asian markets and Thailand in particular with its unique location, strong manufacturing base, and ready supply of skilled automotive labor, being an automotive hub for ASEAN. On-going investment has been put into the expansion of plant Rayong in terms of assembling processes, aiming to meet growing customer demand. In addition, with approximately 4 billion Thai Baht representing the amount of annual purchasing in Thailand, the BMW Global Purchasing office has been established in Thailand. This is to source various components from local suppliers in Thailand and the broader ASEAN region, in order to supply the entire BMW production network of 31 production and assembly facilities, located in 15 countries worldwide.
BMW Group Manufacturing Thailand produces the following 13 models: BMW 3 Series Gran Turismo, BMW 5 Series, BMW 7 Series, BMW X1, and BMW X3. For BMW Motorrad, the BMW F 750 GS, BMW F 850 GS, BMW F 850 GS Adventure, BMW R 1250 GS, BMW R 1250 GS Adventure, BMW S 1000 R, BMW S 1000 RR and BMW S 1000 XR are also locally assembled at the plant. In addition, BMW Group Manufacturing Thailand now assembles two BMW plug-in hybrid models; BMW 530e and BMW 740Le.
For further information, please contact:
BMW Group Thailand
1-800-269-269
www.bmw.co.th
www.mini.co.th
www.bmw-motorrad.co.th
Media Contacts:
Carl Byoir & Associates
Suthatip Boonsaeng (08-7685-1695 or0-2627-3501 ext.102)
Thornthawat Thongnab (08-3225-4567 or 0-2627-3501 ext.206)
Pichanan Toonkamthornchai (08-5157-7557 or 0-2627-3501 ext.101)
Nalinuth Sirisombut (08-6977-7881 or 0-2627-3501 ext.155)
sboonsaeng@carlbyoir.com, tthongnab@carlbyoir.com, ptoonkamthornchai@carlbyoir.com, nsirisombut@carlbyoir.com

Read more