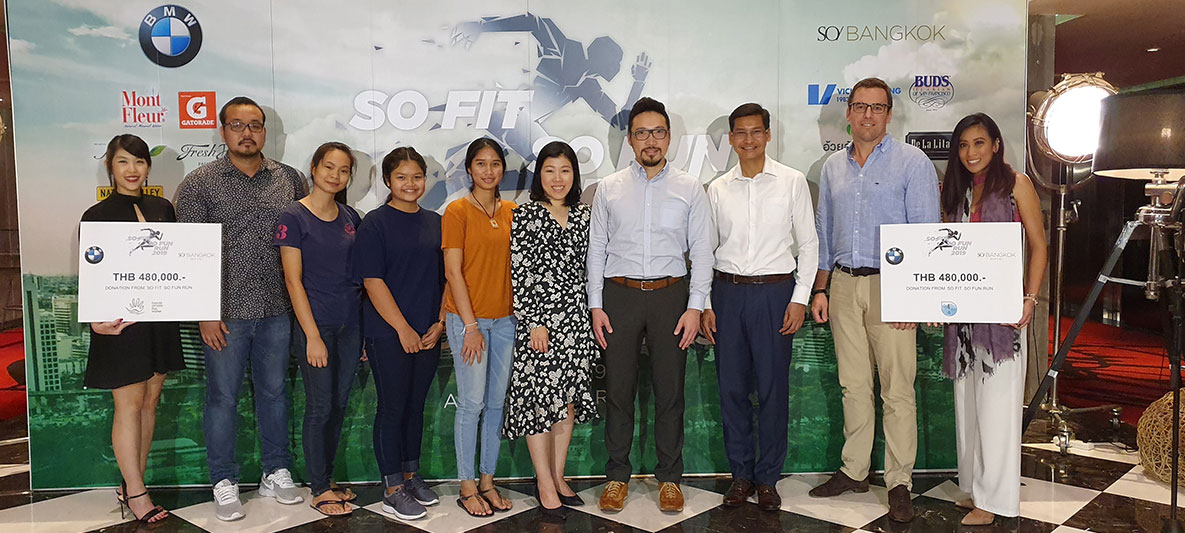 Photo Release | 2019.05.07
BMW Group Thailand and SO Sofitel Bangkok present funds raised by the SO FIT SO FUN RUN 2019 to Care4Water and Hands Across The Waters foundations
Bangkok. Executives from BMW Group Thailand and SO Sofitel Bangkok presented 960,000 THB from the proceeds of the SO FIT SO FUN RUN to the Care4Water foundation to support the provision of clean water to communities in need and to Hands Across The Waters to improve the lives of underprivileged children in Thailand. BMW Group Thailand and SO Sofitel Bangkok organized this charitable run for the second consecutive year to raise funds to support children and communities in need across the country. This year's event saw the participation of 1,200 runners.
Photograph shows Khun Sethipong Anutarasoti (4th right), General Manager Marketing, BMW Thailand, Khun Krisda Utamote (3rd right), Director Corporate Communications, BMW Group Thailand, Mr. Björn Antonsson (2nd right), Chief Executive Officer, BMW Financial Services Thailand, Khun Nusara Arampienlert (far left), Director of Talent and Culture, and Khun Pidichanan Petchngaovilai Macaluso (far right), Director of Marketing Communications, SO Sofitel Bangkok.
The Care4Water foundation is represented by Khun Jariya Koonlinthip (6th left), Chairperson of the Board, and the Hands Across The Water foundation is represented by Khun Monchai Wongrach (2nd left), Manager. Also pictured are some of the children supported by the foundation.
For more information, please visit https://www.sofit-sofunrun.com/


Read more
For further information, please contact:
BMW Group Thailand
1-800-269-269
www.bmw.co.th
www.mini.co.th
www.bmw-motorrad.co.th
Media Contacts:
Carl Byoir & Associates
Suthatip Boonsaeng (08-7685-1695 or0-2627-3501 ext.102)
Thornthawat Thongnab (08-3225-4567 or 0-2627-3501 ext.206)
Pichanan Toonkamthornchai (08-5157-7557 or 0-2627-3501 ext.101)
Nalinuth Sirisombut (08-6977-7881 or 0-2627-3501 ext.155)
sboonsaeng@carlbyoir.com, tthongnab@carlbyoir.com, ptoonkamthornchai@carlbyoir.com, nsirisombut@carlbyoir.com

Read more