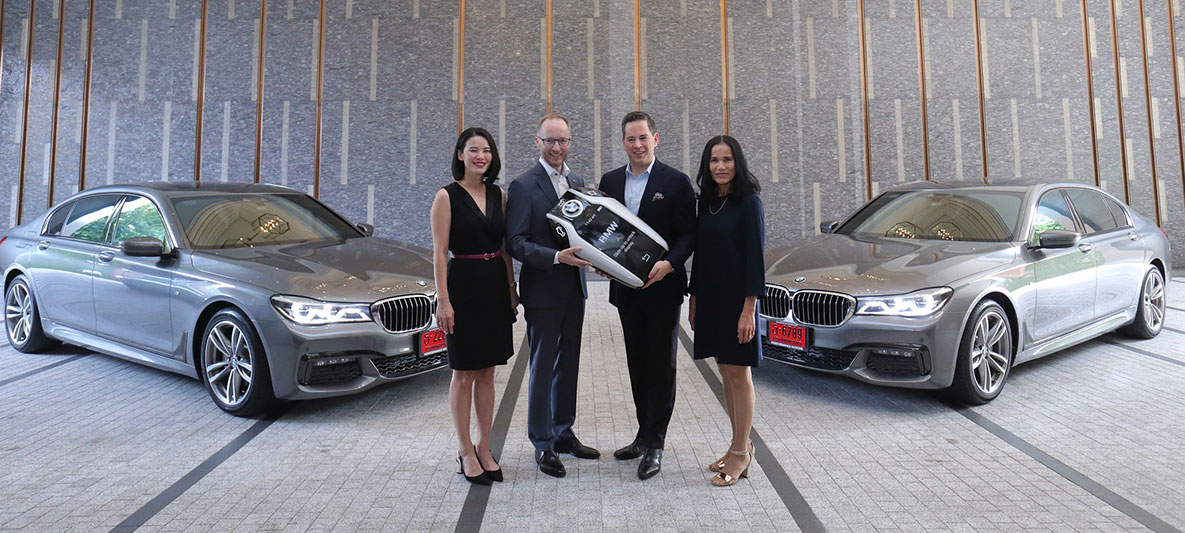 Photo Release | 2019.05.02
BMW Thailand and Rosewood Bangkok Present Premium Limousine Service with the BMW 7 Series
In the photo (from left to right)
1. Khun Prapatsara Aramvongsamut, General Manager Sales, BMW Thailand
2. Mr. Lars Nielsen, Director Sales & Marketing, BMW Thailand
3. Mr. Thomas Harlander, Managing Director, Rosewood Bangkok
4. Khun Panjavilai Song-im, Managing Director, The Oriental Trans and Car Service Co., Ltd.
Bangkok. BMW Thailand recently celebrated the delivery of two BMW 730Ld M Sport limousines to Rosewood Bangkok, a luxury hotel in the heart of the city, to offer hotel guests world-class and unprecedented ride experiences as well as to reaffirm the hotel's reputation as a leader in hospitality.
The BMW 730Ld M Sport's refined appearance evokes a sporty sense of luxury while still presenting a harmonious blend of supreme comfort and dynamic driving characteristics. The adaptive full-LED headlights and chrome kidney grilles – including an air flap that only opens when there is an increased need for cooling – define the unmistakable appearance of the BMW 7 Series range. The powerful 6-cylinder, 195 hp engine is coupled with an 8-speed automatic gearbox, which reduces fuel consumption to an average of 18.2 km/l, while rear-axle air suspension with self-levelling technology ensures a supremely smooth journey for passengers.
In addition to elegant design, the luxury sedan features an expansive interior and generous luggage space for the convenience and comfort of passengers. This ultimate on-the-road experience for drivers and passengers alike is enhanced further with new soundproof materials added to reduce undesirable noises. The back seat comes equipped with a new design and comfort package, including massage function in the backrest, Harman-Kardon surround sound system with 16 speakers and Sky Lounge Panorama glass roof – a unique and exclusive offering in the luxury sedan segment. At night, light emitted from side-mounted LED modules is directed evenly onto the glass roof, illuminating an atmospheric motif mimicking a starry sky.
The entertainment system includes a 9.2-inch display and iDrive controller on the armrest, which is further enhanced by the new BMW gesture control which detects hand movements via a 3D sensor and provides passengers with full control of various vehicle systems and infotainment functions in an extremely intuitive and user-friendly fashion. Additionally, BMW Touch Command function allows passengers in any seat to control comfort functions such as seat adjustment, interior lighting and air conditioning, as well as infotainment, navigation and communication systems through a removable tablet with 7-inch screen.
Read more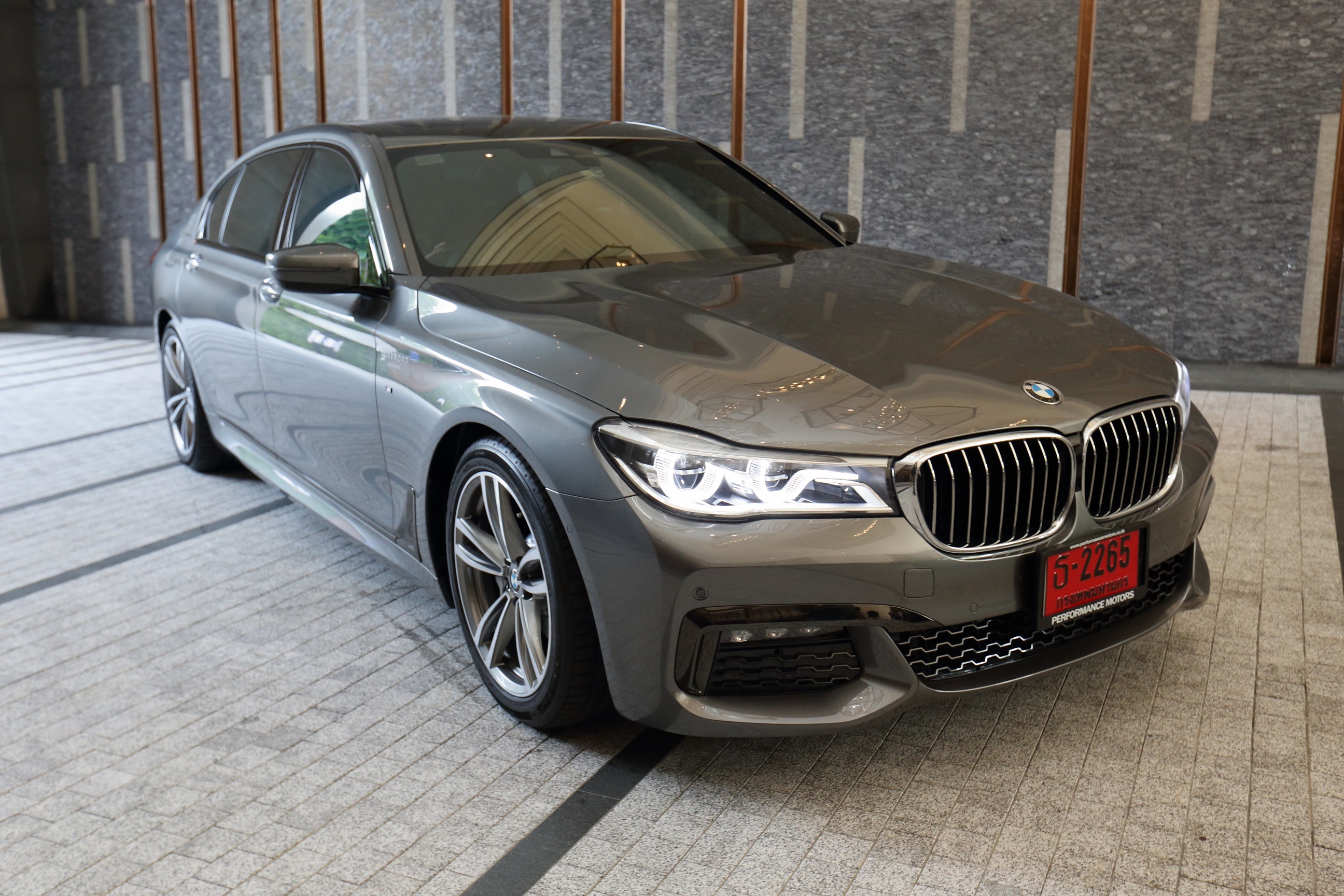 The BMW Group
With its four brands BMW, MINI, Rolls-Royce and BMW Motorrad, the BMW Group is the world's leading premium manufacturer of automobiles and motorcycles and also provides premium financial and mobility services. The BMW Group production network comprises 30 production and assembly facilities in 14 countries; the company has a global sales network in more than 140 countries.
In 2018, the BMW Group sold over 2,490,000 passenger vehicles and more than 165,000 motorcycles worldwide. The profit before tax in the financial year 2017 was € 10.655 billion on revenues amounting to € 98.678 billion. As of 31 December 2017, the BMW Group had a workforce of 129,932 employees.
The success of the BMW Group has always been based on long-term thinking and responsible action. The company has therefore established ecological and social sustainability throughout the value chain, comprehensive product responsibility and a clear commitment to conserving resources as an integral part of its strategy.
BMW Group Thailand
BMW Group Thailand, a subsidiary of BMW AG, Germany, was established on the 3rd October 1998. The three entities of BMW Group Thailand include BMW (Thailand) Co., Ltd. with responsibility for wholesales & marketing of BMW Group products, BMW Manufacturing (Thailand) Co., Ltd. with responsibility for BMW and BMW Motorrad local production, and BMW Leasing (Thailand) Co., Ltd. with responsibility for financial services offerings to both wholesale and retail customers.
In 2018, BMW Group Thailand has reached the new all-time highs with 12,036 BMW deliveries, representing a 20% increase year-on-year and the highest growth rate across BMW's global networks for the second consecutive year. The sales of BMW plug-in hybrid vehicles (PHEV) also achieved a record-high growth rate of 122% in Thailand over the past year. While MINI and BMW Motorrad also achieved the new record in sales with 1,051 vehicles MINI deliveries (growing sales by 4% year-on-year) and 2,154 BMW Motorcycles deliveries (growing sales by 8% year-on-year).
On the production side, the BMW Group Manufacturing Thailand plant was founded on BMW Group's strong belief in the growth potential of Asian markets and Thailand in particular with its unique location, strong manufacturing base, and ready supply of skilled automotive labor, being an automotive hub for ASEAN. On-going investment has been put into the expansion of plant Rayong in terms of assembling processes, aiming to meet growing customer demand. In addition, with approximately 4 billion Thai Baht representing the amount of annual purchasing in Thailand, the BMW Global Purchasing office has been established in Thailand. This is to source various components from local suppliers in Thailand and the broader ASEAN region, in order to supply the entire BMW production network of 30 production and assembly facilities, located in 14 countries worldwide.
BMW Group Manufacturing Thailand produces the following 12 models: BMW 3 Series Gran Turismo, BMW 5 Series, BMW 7 Series, BMW X1, and BMW X3. For BMW Motorrad, the BMW F 750 GS, BMW F 850 GS, BMW R 1200 GS, BMW R 1200 GS Adventure, BMW S 1000 R, BMW S 1000 RR and BMW S 1000 XR are also locally assembled at the plant. In addition, BMW Group Manufacturing Thailand now assembles two BMW plug-in hybrid models; BMW 530e and BMW 740Le.
For further information, please contact:
BMW Group Thailand
1-800-269-269
www.bmw.co.th
www.mini.co.th
www.bmw-motorrad.co.th
Media Contacts:
Carl Byoir & Associates
Suthatip Boonsaeng (08-7685-1695 or0-2627-3501 ext.102)
Thornthawat Thongnab (08-3225-4567 or 0-2627-3501 ext.206)
Pichanan Toonkamthornchai (08-5157-7557 or 0-2627-3501 ext.101)
Nalinuth Sirisombut (08-6977-7881 or 0-2627-3501 ext.155)
sboonsaeng@carlbyoir.com, tthongnab@carlbyoir.com, ptoonkamthornchai@carlbyoir.com, nsirisombut@carlbyoir.com

Read more