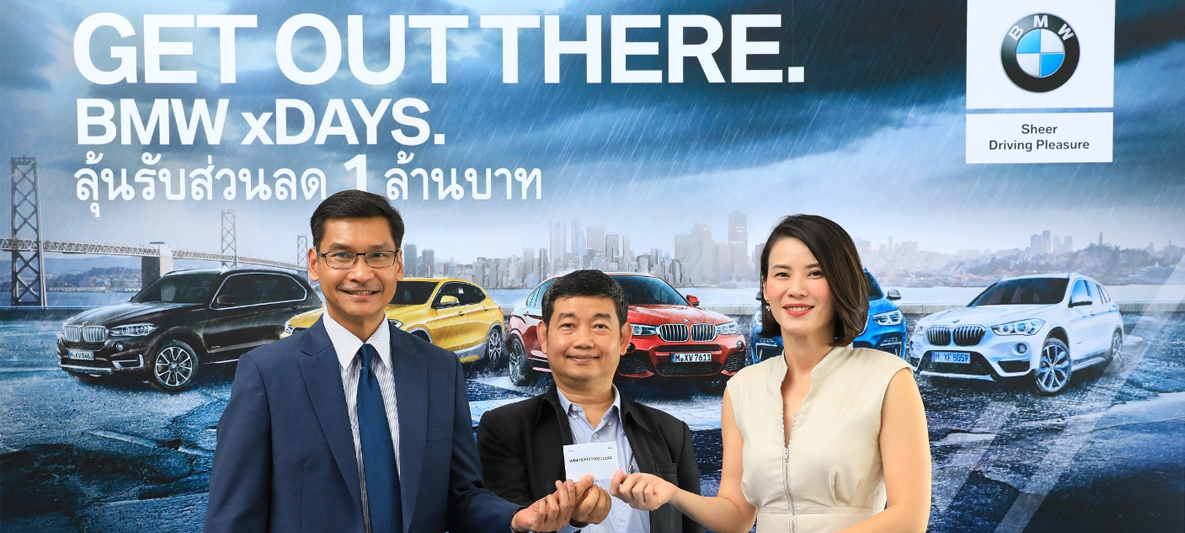 Photo Release | 2018.07.13
BMW Thailand announces first winner of THB 1 million discount prize in "GET OUT THERE. BMW xDAYS" sweepstakes
Two prizes worth THB 2 million combined still up for grabs
Pathumthani. BMW Group Thailand – led by Khun Krisda Utamote (left), Director Corporate Communications, and Khun Prapatsara Aramvongsamut (right), General Manager Sales, BMW Thailand – held a special lucky draw to pick the first winning customer in its "GET OUT THERE.
BMW xDAYS" campaign, which offers three prizes in the form of 1 million baht discount on a BMW car for each winner – chosen from a pool of customers who purchased and took delivery of any new BMW vehicle from June 1 to August 31, 2018. The draw was held at the BMW Group Thailand Training Center and was witnessed by Mr. Preecha Biamukda (middle), Administrative Officer, Special Professional Level, Department of Provincial Administration, Ministry of Interior.
This prize draw was the first of a series of three, held for BMW customers who purchased and took delivery of their new vehicle in June 2018. The winning customer was officially announced on the www.bmw.co.th website on July 12, 2018. The second lucky draw will be held in August for customers who purchased and took delivery of their new cars within June and July 2018 with the official announcement coming on August 15, while the third draw in September will encompass customers throughout the June-August period with the result revealed on September 12. For official winner announcements for the upcoming draws, visit www.bmw.co.th.


Read more
For further information, please contact:
BMW Group Thailand
1-800-269-269
www.bmw.co.th
www.mini.co.th
www.bmw-motorrad.co.th
Media Contacts:
Carl Byoir & Associates
Suthatip Boonsaeng (08-7685-1695 or 0-2627-3501 ext.102)
Thornthawat Thongnab (08-3225-4567 or 0-2627-3501 ext.206)
Pichanan Toonkamthornchai (08-5157-7557 or 0-2627-3501 ext.101)
Nalinuth Sirisombut (08-6977-7881 or 0-2627-3501 ext.155)
sboonsaeng@carlbyoir.com, tthongnab@carlbyoir.com, ptoonkamthornchai@carlbyoir.com, nsirisombut@carlbyoir.com


Read more