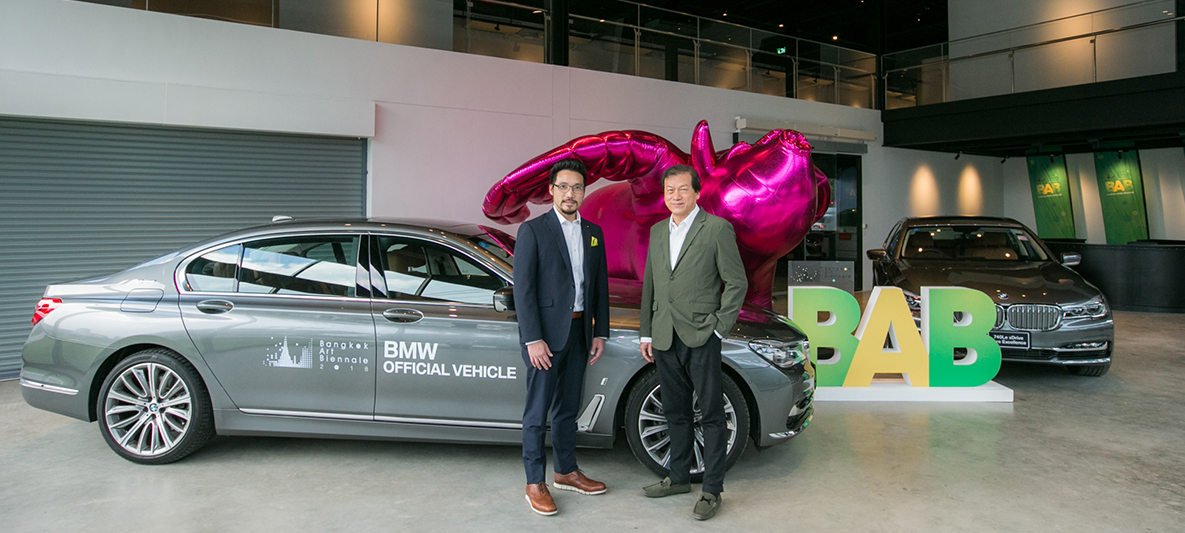 Press Release | 2018.10.11
BMW Thailand Supports "Bangkok Art Biennale 2018" with Premium BMW 7 Series as Official Limousine Shuttles for Artists
Complementing the ultimate 'beyond bliss' experience from October 2018 until February 2019.
Bangkok. BMW Thailand – led by Khun Sethipong Anutarasoti, General Manager Marketing (left) – presented 20 BMW vehicles to Professor Dr. Apinan Poshyananda (right), Chief Executive and Artistic Director, in support of the Bangkok Art Biennale 2018. The fleet will serve as official limousine shuttles for renowned international and Thai artists participating in this major exhibition from October 19, 2018 to February 3, 2019.
This partnership with the Bangkok Art Biennale 2018 resonates with BMW Group's long-term cultural commitment and enthusiasm for contemporary and modern art. The company has initiated and engaged in over 100 cultural collaborations worldwide throughout the past 50 years, including supporting curators' workshops, partnering with leading museums, and supporting art fairs and opera houses around the globe. In Thailand, BMW Group Thailand has been supporting Bangkok's International Festival of Dance & Music over the past decade including the latest edition of the event in 2018. This also reflects the company's commitment in enhancing Bangkok's stature as a hub of contemporary art and cultural tourism.
During the Bangkok Art Biennale exhibition, the BMW 740Le xDrive Pure Excellence will serve as the flagship of the entire fleet for participating Thai and international artists as luxury limousines with outstanding plug-in hybrid technology, which brings together a powerful BMW TwinPower Turbo combustion engine and an electric drive system for a total system output of 240kW/326hp and a combined peak torque of 500Nm. The made-to-measure luxurious interior provides passengers with comfortable seats with active ventilation as well as massage and optional seat heating. The Executive Lounge Seating and the Sky Lounge Panorama glass roof also complement long-distance comfort to maximizing personal wellbeing on any journey.
Read more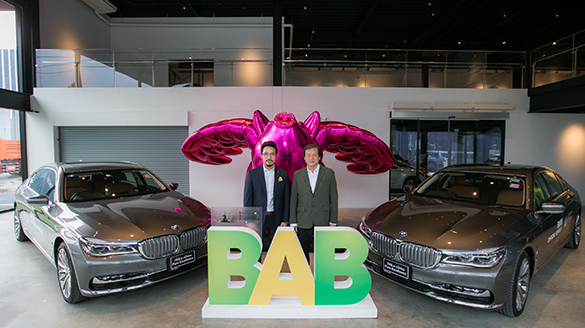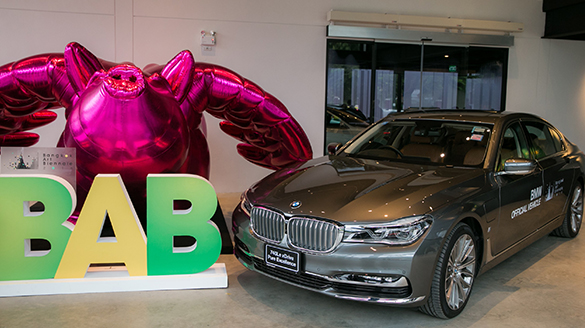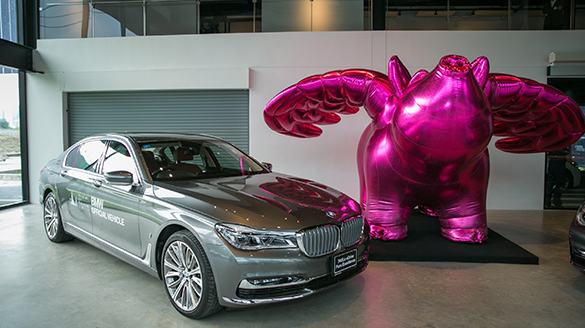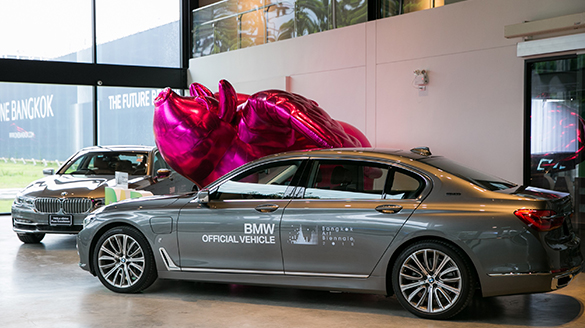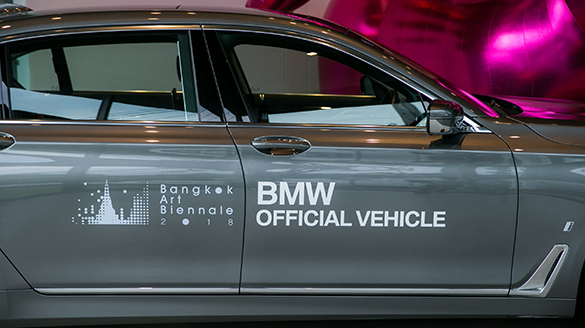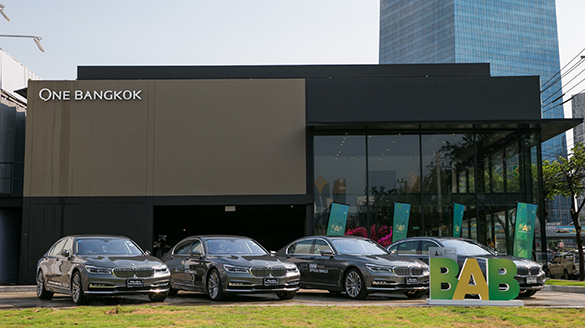 The BMW Group
With its four brands BMW, MINI, Rolls-Royce and BMW Motorrad, the BMW Group is the world's leading premium manufacturer of automobiles and motorcycles and also provides premium financial and mobility services. The BMW Group production network comprises 30 production and assembly facilities in 14 countries; the company has a global sales network in more than 140 countries.
In 2017, the BMW Group sold over 2,463,500 passenger vehicles and more than 164,000 motorcycles worldwide.
As of 31 December 2016, the BMW Group had a workforce of 124,729 employees.
The success of the BMW Group has always been based on long-term thinking and responsible action. The company has therefore established ecological and social sustainability throughout the value chain, comprehensive product responsibility and a clear commitment to conserving resources as an integral part of its strategy.
BMW Group Thailand
BMW Group Thailand, a subsidiary of BMW AG, Germany, was established on the 3rd October 1998. The three entities of BMW Group Thailand include BMW (Thailand) Co., Ltd. with responsibility for wholesales & marketing of BMW Group products, BMW Manufacturing (Thailand) Co., Ltd. with responsibility for BMW and BMW Motorrad local production, and BMW Leasing (Thailand) Co., Ltd. with responsibility for financial services offerings to both wholesale and retail customers.
Within the first 7 months of 2018, BMW Group Thailand achieved a historic sales record with 6,505 BMW and MINI vehicles delivered to customers, an increase of 12% year-on-year. BMW Motorrad also had the best-ever record with 1,094 motorcycle deliveries, 18% higher than the same period last year. These milestones have made the most successful 7-month period for
BMW Group Thailand.
On the production side, the BMW Group Manufacturing Thailand plant was founded on BMW Group's strong belief in the growth potential of Asian markets and Thailand in particular with its unique location, strong manufacturing base, and ready supply of skilled automotive labor, being an automotive hub for ASEAN.
On-going investment has been put into the expansion of plant Rayong in terms of assembling processes, aiming to meet growing customer demand. In addition, with approximately 4 billion Thai Baht representing the amount of annual purchasing in Thailand, the BMW Global Purchasing office has been established in Thailand. This is to source various components from local suppliers in Thailand and the broader ASEAN region, in order to supply the entire BMW production network of 30 production and assembly facilities, located in 14 countries worldwide.
As of 2017, BMW Group Manufacturing Thailand produces the following 17 models: BMW 1 Series, BMW 3 Series, BMW 3 Series Gran Turismo, BMW 5 Series, BMW 7 Series, BMW X1, BMW X3, BMW X4 and BMW X5. For BMW Motorrad the BMW F 800 R, BMW F 800 GS, BMW F 700 GS, BMW R 1200 GS, BMW R 1200 GS Adventure, BMW S 1000 R, BMW S 1000 RR and BMW S 1000 XR are also locally assembled at the plant. In addition, BMW Group Manufacturing Thailand now assembles four BMW plug-in hybrid models; BMW 330e, BMW 530e, BMW X5 xDrive40e and BMW 740Le.
For further information, please contact:
BMW Group Thailand
1-800-269-269
www.bmw.co.th
www.mini.co.th
www.bmw-motorrad.co.th
Media Contacts:
Carl Byoir & Associates
Suthatip Boonsaeng (08-7685-1695 or0-2627-3501 ext.102)
Thornthawat Thongnab (08-3225-4567 or 0-2627-3501 ext.206)
Pichanan Toonkamthornchai (08-5157-7557 or 0-2627-3501 ext.101)
Nalinuth Sirisombut (08-6977-7881 or 0-2627-3501 ext.155)
sboonsaeng@carlbyoir.com, tthongnab@carlbyoir.com, ptoonkamthornchai@carlbyoir.com, nsirisombut@carlbyoir.com

Read more