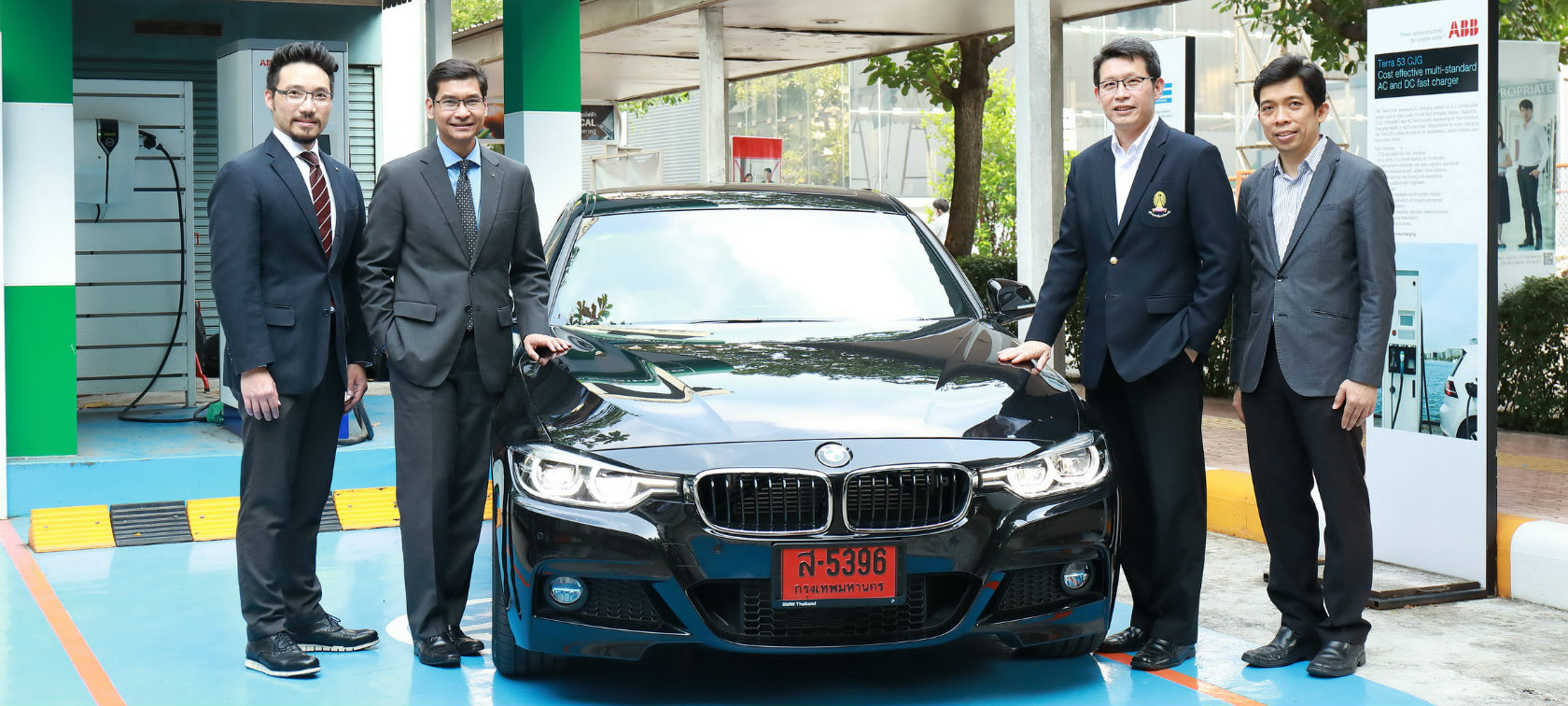 Press Release | 2018.04.09
BMW Group Thailand joins the faculty of Engineering, Chulalongkorn University, in driving Thailand towards emission-free future
BMW Group Thailand – represented by Khun Krisda Utamote (2nd left), Director Corporate Communications and Khun Sethipong Anutarasoti (1st left), General Manager Marketing – presents a BMW 330e M Sport to the Smart Mobility Research Center under the Faculty of Engineering, Chulalongkorn University – led by Assoc. Prof. Supot Teachavorasinskun (2nd right), Dean of Faculty of Engineering, and Assoc. Prof. Dr. Angkee Sripakagorn (1st right), Director of Smart Mobility Research Center – to support academic research in energy conservation technologies for the future.
Bangkok. BMW Group Thailand has reaffirmed its commitment in driving Thailand towards a sustainable future in mobility by delivering a brand-new electric plug-in hybrid vehicle (PHEV), the BMW 330e M Sport, to the Faculty of Engineering, Chulalongkorn University, for academic research on energy conservation conducted by the Smart Mobility Research Center in collaboration with the Energy Policy and Planning Office (EPPO). The research aims to lay a strong EV/PHEV foundation to an emission-free future through the study of electric (EV) and plug-in hybrid vehicles' energy consumption and an exploration of the prospective change in driving behavior following the adoption of EVs.
Mr. Christian Wiedmann, President, BMW Group Thailand, said, "One of BMW Group's missions on the global level is to create premium, eco-friendly mobility for sustainability in the future. BMW Group Thailand is pleased to support both the public and private sectors in bringing to life a future of clean energy. We firmly believe that our innovative EVs and PHEVs can play a role in developing the electric mobility infrastructure in Thailand in accordance with the government's proactive policies and growing interest among consumers in energy conservation."
This academic research on innovations for energy conservation is a collaboration between the Smart Mobility Research Center, the Faculty of Engineering, Chulalongkorn University, and EPPO. The objective is to collect data from EVs to analyze driver behavioral patterns in the Greater Bangkok area while also evaluating the energy efficiency of EVs and PHEVs in Thailand for further compilation into a database that supports future EV-related development initiatives and contribute to the EPPO's goal in having 1.2 million EVs and PHEVs on Thai streets by the year 2036.
Assoc. Prof. Supot Teachavorasinskun, Dean of Faculty of Engineering, Chulalongkorn University said, "With the EV trend now already emerging, we see the development of EV-related infrastructure is an important matter. This research program has enjoyed generous support from private companies such as BMW Group Thailand, whose commitment shows not only genuine interest in driving EV innovations but also a clear determination to work with the public sector to push forward Thailand's capacity to compete on a global level. The database resulting from this research will potentially benefit future policy directions and plans in expanding charging station coverage across the nation."
The BMW 330e M Sport's plug-in hybrid technology capably harnesses the potential of an electric motor setup to reduce fuel consumption and enable zero-emission urban driving with a range of around 40 km. The vehicle comes equipped with a 7.6kWh battery that can be topped up via household power outlets with the charging cable stored in the rear boot. Once fully drained, the battery can be fully recharged at home in approximately three hours. Alternatively, the BMW i Wallbox Pure further enhances charging performance in a safe and convenient way with 3.7 kilowatts (16A/230V) of power for a full recharge time of just 2 hours and 12 minutes.

Read more
The BMW Group
With its four brands BMW, MINI, Rolls-Royce and BMW Motorrad, the BMW Group is the world's leading premium manufacturer of automobiles and motorcycles and also provides premium financial and mobility services. The BMW Group production network comprises 31 production and assembly facilities in 14 countries; the company has a global sales network in more than 140 countries.
In 2017, the BMW Group sold over 2,463,500 passenger vehicles and more than 164,000 motorcycles worldwide. As of 31 December 2016, the BMW Group had a workforce of 124,729 employees.
The success of the BMW Group has always been based on long-term thinking and responsible action. The company has therefore established ecological and social sustainability throughout the value chain, comprehensive product responsibility and a clear commitment to conserving resources as an integral part of its strategy.
BMW Group Thailand
BMW Group Thailand, a subsidiary of BMW AG, Germany, was established on the 3rd October 1998. The three entities of BMW Group Thailand include BMW (Thailand) Co., Ltd. with responsibility for wholesales & marketing of BMW Group products, BMW Manufacturing (Thailand) Co., Ltd. with responsibility for BMW, MINI and BMW Motorrad local production, and BMW Leasing (Thailand) Co., Ltd. with responsibility for financial services offerings to both wholesale and retail customers.
In 2017, BMW Group Thailand achieved a historic sales record with 11,030 BMW and MINI vehicles delivered to customers from January to December 2017, an increase of 39% year-on-year and the first-ever 5-digit sales figure in the company's history. BMW Motorrad also had the best-ever record with 2,001 motorcycle deliveries, 10% higher than the same period last year. These milestones have made 2017 the most successful 12-month period for all of BMW Group Thailand's three business units – with BMW Thailand in particular posting the highest growth rate across BMW Group's global network at 43%.
On the production side, the BMW Group Manufacturing Thailand plant was founded on BMW Group's strong belief in the growth potential of Asian markets and Thailand in particular with its unique location, strong manufacturing base, and ready supply of skilled automotive labor, being an automotive hub for ASEAN.
On-going investment has been put into the expansion of plant Rayong in terms of assembling processes, aiming to meet growing customer demand. In addition, with approximately 4 billion Thai Baht representing the amount of annual purchasing in Thailand, the BMW Global Purchasing office has been established in Thailand. This is to source various components from local suppliers in Thailand and the broader ASEAN region, in order to supply the entire BMW production network of 31 production and assembly facilities, located in 14 countries worldwide.
As of 2017, BMW Group Manufacturing Thailand produces the following 17 models: BMW 1 Series, BMW 3 Series, BMW 3 Series Gran Turismo, BMW 5 Series, BMW 7 Series, BMW X1, BMW X3, BMW X4 and BMW X5. For BMW Motorrad the BMW F 800 R, BMW F 800 GS, BMW F 700 GS, BMW R 1200 GS, BMW R 1200 GS Adventure, BMW S 1000 R, BMW S 1000 RR and BMW S 1000 XR are also locally assembled at the plant. In addition, BMW Group Manufacturing Thailand now assembles four BMW plug-in hybrid models; BMW 330e, BMW 530e, BMW X5 xDrive40e and BMW 740Le.
Starting from May 2016, BMW Group Manufacturing Thailand's assembly line capability has been expanded for the purpose of exporting the BMW X3 and BMW X5 to China as well.
For further information, please contact:
BMW Group Thailand
1-800-269-269
www.bmw.co.th
www.mini.co.th
www.bmw-motorrad.co.th
Media Contacts:
Carl Byoir & Associates
Suthatip Boonsaeng (08-7685-1695 or 0-2627-3501 ext.102)
Thornthawat Thongnab (08-3225-4567 or 0-2627-3501 ext.206)
Pichanan Toonkamthornchai (08-5157-7557 or 0-2627-3501 ext.101)
Nalinuth Sirisombut (08-6977-7881 or 0-2627-3501 ext.155)
sboonsaeng@carlbyoir.com, tthongnab@carlbyoir.com, ptoonkamthornchai@carlbyoir.com, nsirisombut@carlbyoir.com

Read more