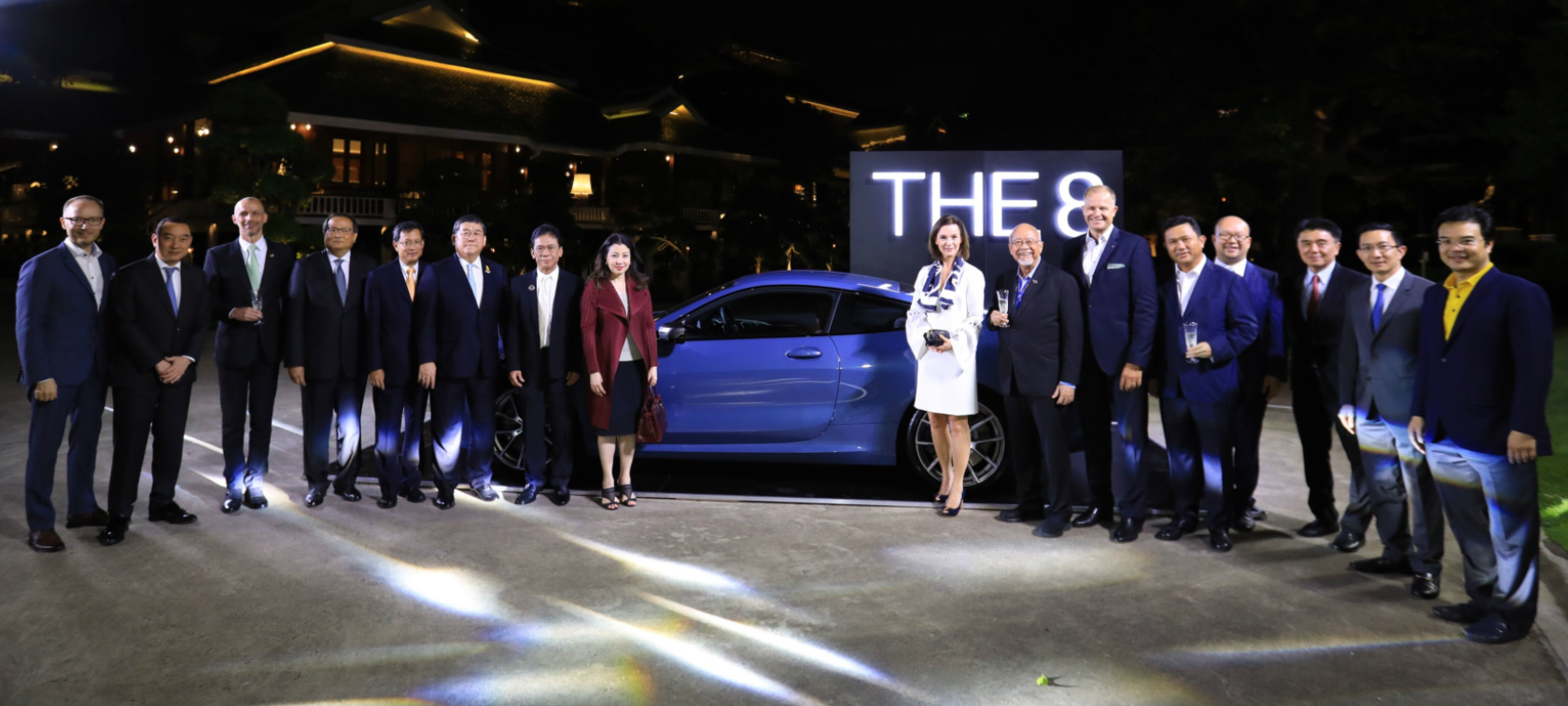 Photo Release | 2018.12.06
BMW Group Thailand holds exclusive dinner to unveil the all-new BMW 8 Series to the distinguished guests and celebrities in Thailand
Ms. Hildegard Wortmann (9th from left), Senior Vice President Region Asia-Pacific, BMW Group and Mr. Christian Wiedmann (11th from left), President, BMW Group Thailand, together with distinguished guests
From left to right;
1. Mr. Lars Nielsen, Sales and Marketing Director, BMW Thailand
2. Khun Plakorn Wanglee, President, Chief Executive Officer & Director, Standard Chartered Bank (Thai) Public Co. Ltd.
3. Mr. Jan Scheer, Minister, Deputy Head of Mission and Head of Economic Affairs, Permanent Observer to ESCAP, German Embassy Bangkok
4. Khun Vichien Phongsathorn, Chairman of the Board of Directors, Premier Technology Public Company Limited
5. Khun Chai Nasylvanta, Founder & CEO, Advance Aviation Co., Ltd
6. Khun Chaiwat Utaiwan, Managing Director & Director at TTW Public Co. Ltd.
7. Khun Jaturont Komolmis, Chief Operation Officer, Grand Prix International PLC. And Vice Chairman, The Bangkok International Motor Show
8. Khun Chadatip Chutrakul, CEO, Siam Piwat Group
9. Ms. Hildegard Wortmann, Senior Vice President Region Asia-Pacific, BMW Group
10. Khun Kwanchai Paphatphong, President & CEO, Inter-Media Consultant Co., Ltd. and Organizing Chairman, Thailand International Motor Expo
11. Mr. Christian Wiedmann, President, BMW Group Thailand
12. Khun Viboon Kromadit, Director & Chief Marketing Officer, Amata Corporation PCL.
13. Khun Paul Kanjanapas, Managing Director, IMPACT Exhibition Management Co., Ltd.
14. Khun Pichit Thanyodom, Chief Corporate Solution Officer, True Corporation Public Company Limited
15. Khun Smith Banomyong, Senior Executive Vice President and Chief Financial Officer,
Gulf Energy Development Public Company Limited
16. Khun Prinn Panitchpakdi, Governor, The Stock Exchange of Thailand (SET)
Bangkok. BMW Group Thailand – led by Mr. Christian Wiedmann, President – held an exclusive dinner for the unveiling of the all-new BMW M850i xDrive Coupe in the presence of distinguished guests and celebrities from across Thailand's business landscape. Hosted at Nai Lert Park Heritage Home, the event was presided over by Ms. Hildegard Wortmann, Senior Vice President Region Asia-Pacific, BMW Group.
The all-new BMW M850i xDrive Coupe reflects BMW Group's commitment in continuing the tradition of innovative sports coupes that represent a unique combination of athletic dynamism and luxury. This sport coupe sits low on the road with a powerful stance that complements its elegantly flowing lines and precise contours on the long bonnet and along the low-slung body. Supreme power is provided by a 4.4-litre eight-cylinder engine delivering a maximum output of 390 kW/530 hp at 5,500 – 6,000 rpm and maximum torque of 750 Nm at 1,800 – 4,600 rpm. The all-new BMW M850i xDrive Coupe enthrals with acceleration from a standstill to 100 km/h within a mere 3.7 seconds, sending the coupe to a top speed of 250 km/h. The sophisticated interior comes with stainless steel mesh interior trim strips and 'CraftedClarity' glass application for interior elements.
Comfort and convenience are enhanced with Parking Assistant Plus system and the inclusion of advanced driver assistance systems, including Person Warning with City Braking Function, Lane Departure Warning, Blind Spot Detection and Crossing-traffic warning rear. The sports coupe also boasts a fully digital instrument cluster with BMW Live Cockpit Professional, the latest technology that further elevates safety and ensures the ultimate in driving pleasure.

Read more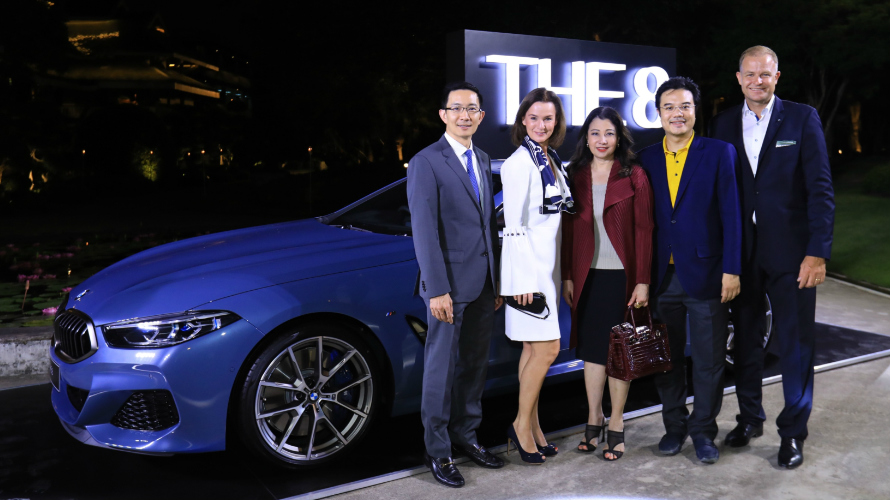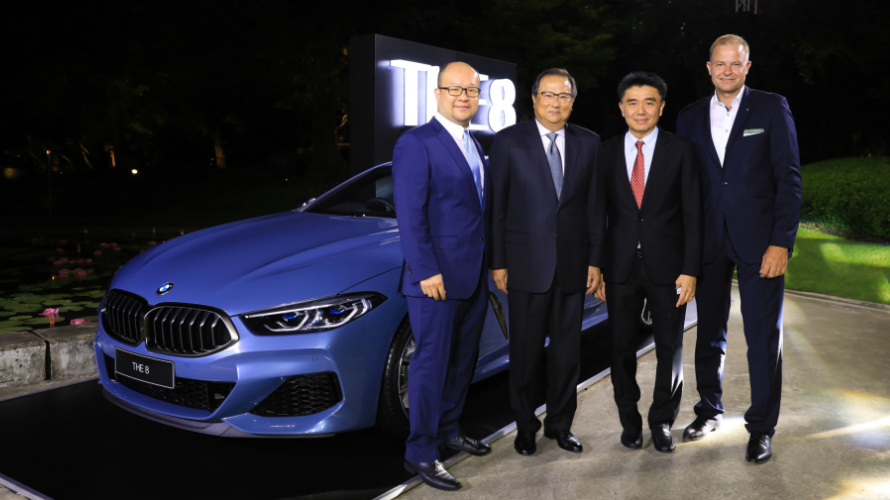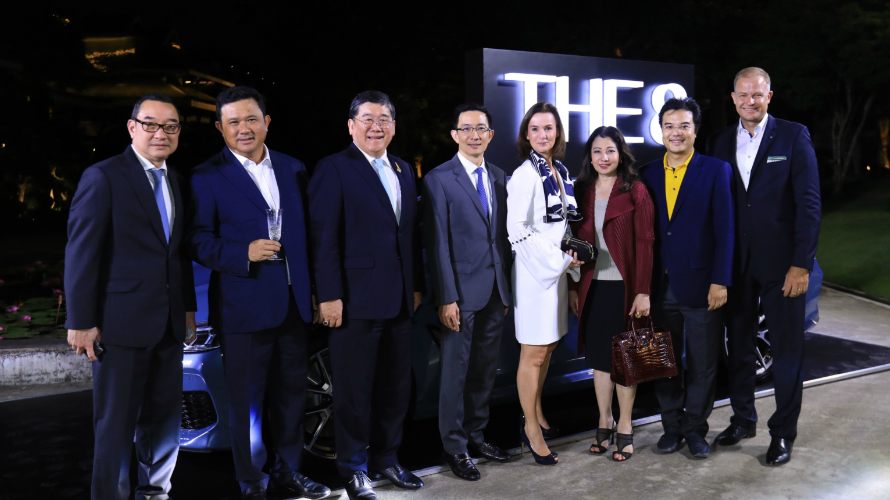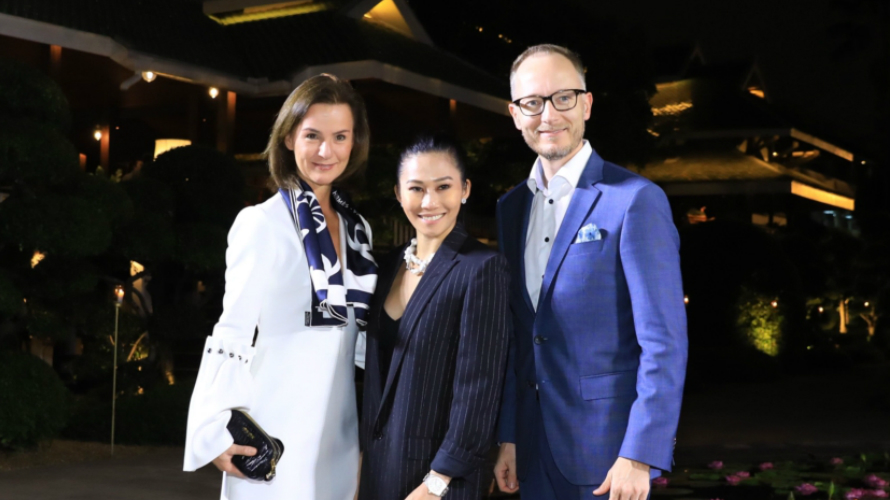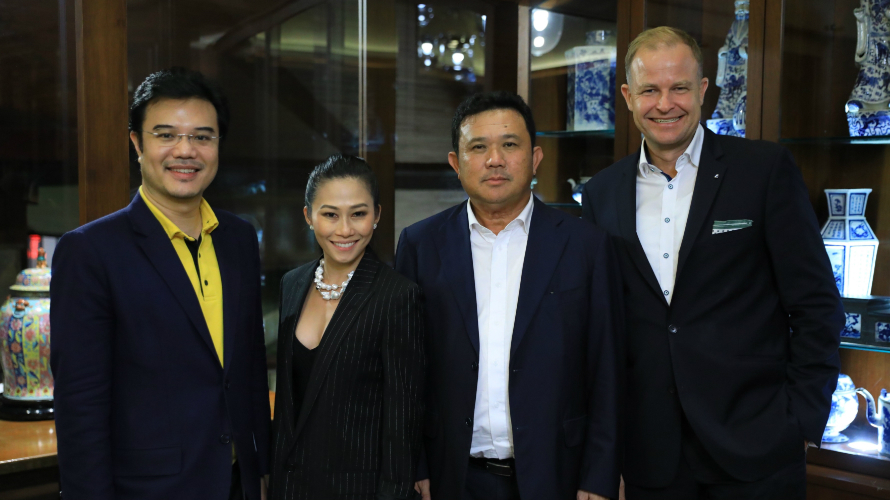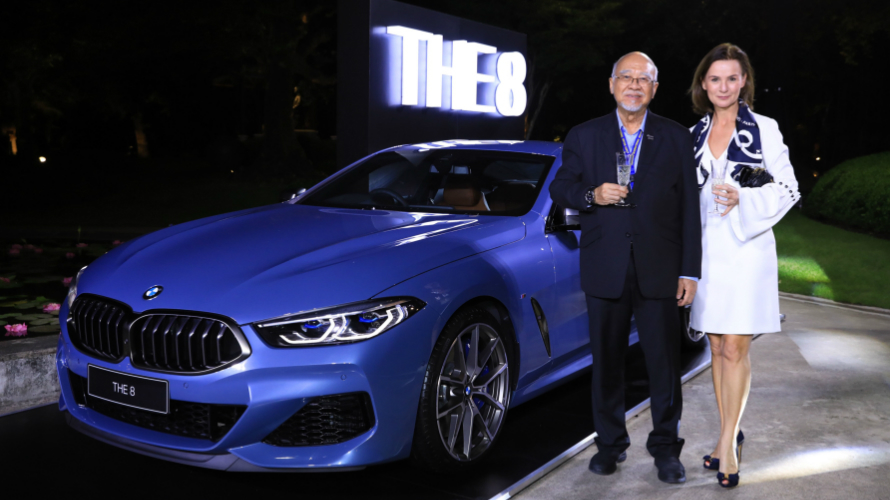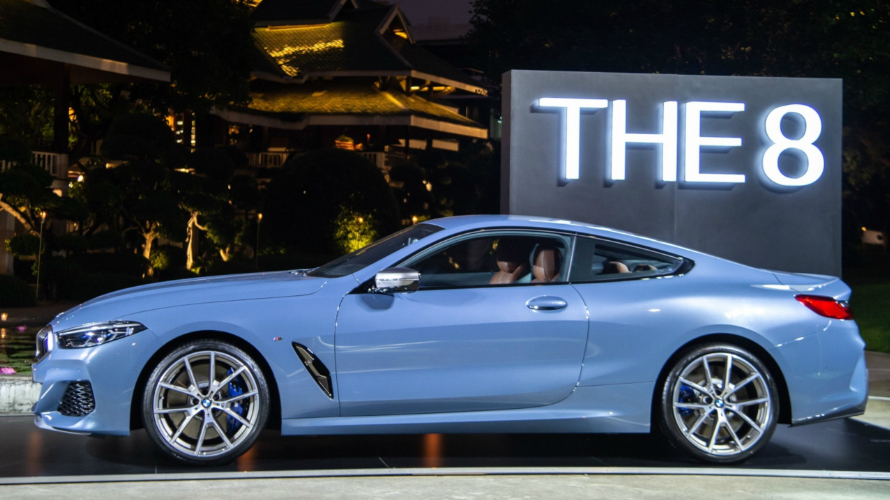 The BMW Group
With its four brands BMW, MINI, Rolls-Royce and BMW Motorrad, the BMW Group is the world's leading premium manufacturer of automobiles and motorcycles and also provides premium financial and mobility services. The BMW Group production network comprises 30 production and assembly facilities in 14 countries; the company has a global sales network in more than 140 countries.
In 2017, the BMW Group sold over 2,463,500 passenger vehicles and more than 164,000 motorcycles worldwide. As of 31 December 2016, the BMW Group had a workforce of 124,729 employees.
The success of the BMW Group has always been based on long-term thinking and responsible action. The company has therefore established ecological and social sustainability throughout the value chain, comprehensive product responsibility and a clear commitment to conserving resources as an integral part of its strategy.
BMW Group Thailand
BMW Group Thailand, a subsidiary of BMW AG, Germany, was established on the 3rd October 1998. The three entities of BMW Group Thailand include BMW (Thailand) Co., Ltd. with responsibility for wholesales & marketing of BMW Group products, BMW Manufacturing (Thailand) Co., Ltd. with responsibility for BMW and BMW Motorrad local production, and BMW Leasing (Thailand) Co., Ltd. with responsibility for financial services offerings to both wholesale and retail customers.
Within the first 10 months of 2018, BMW Group Thailand achieved a historic sales record with 9,842 BMW and MINI vehicles delivered to customers, an increase of 18% year-on-year. For BMW plug-in hybrid vehicles, consisting BMW 330e, BMW 530e, BMW X5 xDrive40e, BMW 740Le, BMW i8 Coupe & Roadster, record breaking sales growth in the first 10 months was at 122% year-on-year. BMW Motorrad Thailand also enjoyed strong year-to-date performance with 1,573 motorcycles delivered for an increase of 5% year-on-year. On the production side, the BMW Group Manufacturing Thailand plant was founded on BMW Group's strong belief in the growth potential of Asian markets and Thailand in particular with its unique location, strong manufacturing base, and ready supply of skilled automotive labor, being an automotive hub for ASEAN.
On-going investment has been put into the expansion of plant Rayong in terms of assembling processes, aiming to meet growing customer demand. In addition, with approximately 4 billion Thai Baht representing the amount of annual purchasing in Thailand, the BMW Global Purchasing office has been established in Thailand. This is to source various components from local suppliers in Thailand and the broader ASEAN region, in order to supply the entire BMW production network of 30 production and assembly facilities, located in 14 countries worldwide.
As of November 2018, BMW Group Manufacturing Thailand produces the following 13 models: BMW 3 Series, BMW 3 Series Gran Turismo, BMW 5 Series, BMW 7 Series, BMW X1, and BMW X3. For BMW Motorrad, the BMW F 750 GS, BMW F 850 GS, BMW R 1200 GS, BMW R 1200 GS Adventure, BMW S 1000 R, BMW S 1000 RR and BMW S 1000 XR are also locally assembled at the plant. In addition, BMW Group Manufacturing Thailand now assembles three BMW plug-in hybrid models; BMW 330e, BMW 530e, and BMW 740Le.
For further information, please contact:
BMW Group Thailand
1-800-269-269
www.bmw.co.th
www.mini.co.th
www.bmw-motorrad.co.th
Media Contacts:
Carl Byoir & Associates
Suthatip Boonsaeng (08-7685-1695 or0-2627-3501 ext.102)
Thornthawat Thongnab (08-3225-4567 or 0-2627-3501 ext.206)
Pichanan Toonkamthornchai (08-5157-7557 or 0-2627-3501 ext.101)
Nalinuth Sirisombut (08-6977-7881 or 0-2627-3501 ext.155)
sboonsaeng@carlbyoir.com, tthongnab@carlbyoir.com, ptoonkamthornchai@carlbyoir.com, nsirisombut@carlbyoir.com

Read more