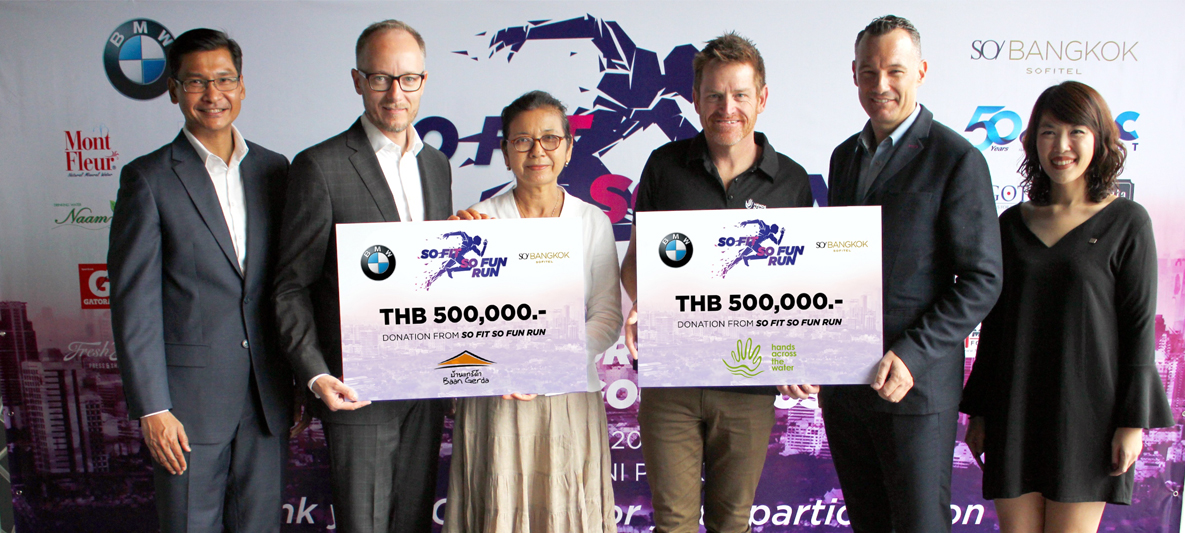 Photo Release | 2018.07.26
BMW Group Thailand and SO Sofitel Bangkok present a donation from SO FIT SO Fun Run to Baan Gerda and Hands Across the Waters
Bangkok. - BMW Group Thailand, led by Mr. Lars Nielsen (2nd left), Sales and Marketing Director, and Mr. Krisda Utamote, Director Corporate Communications, together with SO Sofitel Bangkok, led by Mr. Torsten Richter (5th left), General Manager, and Ms. Nusara Arampienlert (6th left), Director of Talent and Culture, presented a donation of one million baht in funds raised from SO FIT SO Fun Run to Ms. Kwanjai Sarnswang (3rd left), Vice President of Children's Rights Foundation representing Baan Gerda Project, and to Mr. Peter Baines (4th left), the founder of Hands Across the Water. The donation will be used to support HIV infected and affected orphans at Baan Gerda and education for orphaned children at Hands Across the Water.
The charity run was held in May at Lumpini Park and was joined by 1,200 runners. The next So FIT SO Fun Run will be held on 3rd March 2019. Please visit https://www.sofit-sofunrun.com/ for updates and information.
Baan Gerda in Lopburi province is the only children's shelter in Thailand that provides care and treatment for HIV-infected and affected orphans in family-style homes. The shelter plays an enormous role in the recovery and continued well-being of the children – including regular school attendance.
Hand Across the Water is the project which operates social enterprise for fundraising to cover all administrative costs, helping children that have no other option in life, providing them with a place to be loved and an education.
All donations are welcome and appreciated through www.facebook.com/BaanGerda for Baan Gerda, and http://handsgroup.com.au for Hand Across The Water.


Read more
For further information, please contact:
BMW Group Thailand
1-800-269-269
www.bmw.co.th
www.mini.co.th
www.bmw-motorrad.co.th
Media Contacts:
Carl Byoir & Associates
Suthatip Boonsaeng (08-7685-1695 or 0-2627-3501 ext.102)
Thornthawat Thongnab (08-3225-4567 or 0-2627-3501 ext.206)
Pichanan Toonkamthornchai (08-5157-7557 or 0-2627-3501 ext.101)
Nalinuth Sirisombut (08-6977-7881 or 0-2627-3501 ext.155)
sboonsaeng@carlbyoir.com, tthongnab@carlbyoir.com, ptoonkamthornchai@carlbyoir.com, nsirisombut@carlbyoir.com


Read more