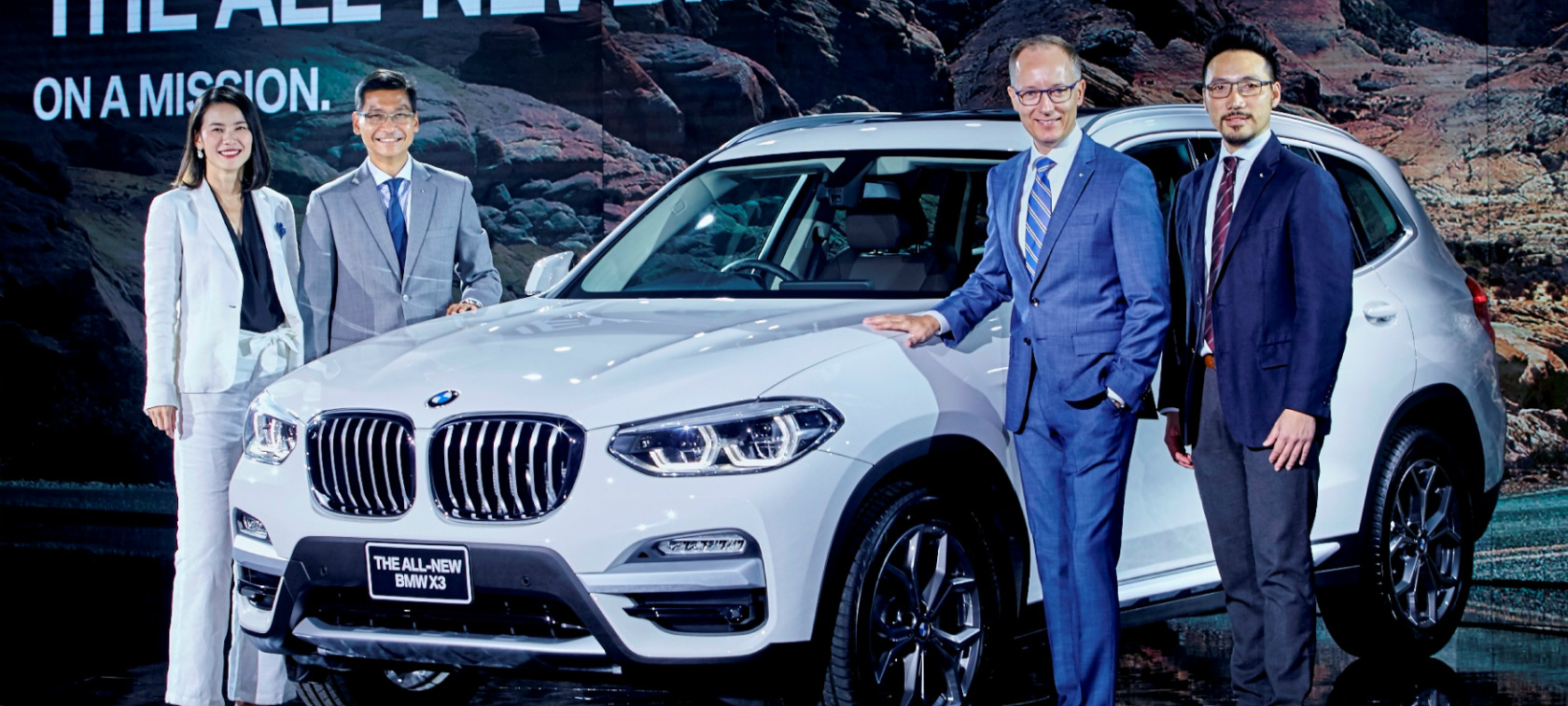 Press Release | 2017.11.16
BMW Group Thailand paves the way to Motor Expo 2017 with forward-looking, cutting-edge new arrivals – led by the powerful but efficient performance of the All-New BMW X3
BMW Group Thailand led by Mr. Lars Nielsen (3rd left), Sales and Marketing Director, BMW Thailand, together with Khun Krisda Utamote (2nd left), Director Corporate Communications, BMW Group Thailand, Khun Sethipong Anutarasoti (right), General Manager Marketing, BMW Thailand, and Khun Prapatsara Aramvongsamut (left), General Manager Sales, BMW Thailand, launched the All-New BMW X3 xDrive20d xLine along with a range of cutting-edge new arrivals to pave the way to the Thailand International Motor Expo 2017.

Bangkok. BMW Group Thailand is revving up for the Thailand International Motor Expo 2017 – the 34th edition of the annual event and taking place from November 30 to December 11, 2017 – with a parade of strikingly innovative vehicles. The new lineup includes the All-New BMW X3 xDrive20d xLine, the third-generation model ready to take on all challenges; a perfect concoction of luxurious comfort and functionality in the All-New BMW 630d GT M Sport; the latest members of BMW's plug-in hybrid range, the BMW 530e M Sport, BMW 530e Luxury, and BMW 330e (Iconic); the captivating performance in the BMW M760Li xDrive and another M equipped package of the BMW 320d GT M Sport.

"The theme for the upcoming Motor Expo 2017, New Age Vehicles, A Distant Dream Come True, is a perfect reflection of BMW's long-standing vision. Innovation has always been at the forefront of our ambition, signifying our very presence in the automobile industry. This statement is proven by our ever-improving product lineup that harmonizes performance, efficiency and comfort," Mr. Stefan Teuchert, President, BMW Group Thailand. "The All-New BMW X3 xDrive20d xLine is a perfect example of this effort. The new model is set to blaze the trail for the next chapter of the BMW X3's success story with an even more striking, dynamic design language, a powerful yet also efficient drive system and luxurious appointments."

BMW Group Thailand also took this occasion to reveal the outstanding achievements recorded throughout the first 10 months of 2017. "To add to our extensive lineup of new models arriving in this impressive last quarter, we are very pleased to announce that BMW Group Thailand has achieved a new record with a total of 8,344 deliveries from January to October 2017, accounting for 28% growth year-on-year. As a matter of fact, the BMW Group Thailand sales record in the first 10 months of 2017 have already exceeded the entire year result of 2016. Our iPerformance models managed to set a record of its own with 852 deliveries, an impressive increase of 234%. BMW Motorrad, meanwhile, managed 1,494 deliveries, 2% higher than the same period last year," Mr. Teuchert added.

Read more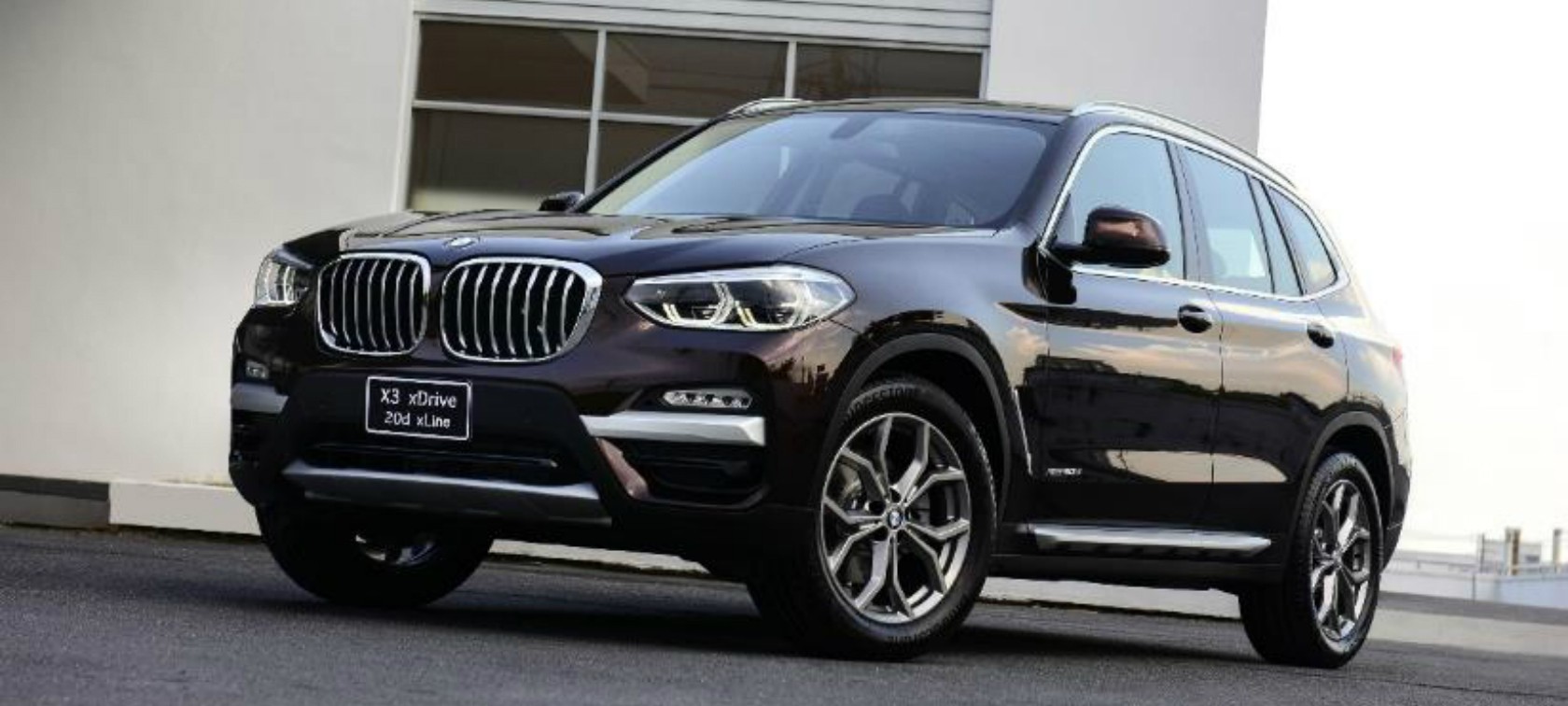 The All-New BMW X3 xDrive20d xLine
Price: THB 3,699,000 (VAT incl. with BSI Standard Package)

Sporty, authoritative and boundlessly innovative

The third generation of the BMW X3 follows in its predecessors' tyre tracks by combining rugged off-road looks with a sporting presence. Its familiar proportions, including very short front and rear overhangs, shine the spotlight on the perfect 50:50 distribution of weight between the front and rear axle. The potent dynamic intent of the All-New BMW X3 xDrive20d xLine is highlighted by a three-dimensional kidney grille and foglamps featuring a hexagonal design for the first time on a BMW X model.

The xLine variant and the range of BMW Individual items allow the appearance of the
All-New BMW X3 xDrive20d xLine to be adapted even more precisely to the customer's individual tastes. The model comes with 19-inch light alloy wheels in Y-spoke style. The interior of the All-New BMW X3 xDrive20d xLine has an unbeatable finish and material quality, and is even classier and more luxurious than its predecessor. Comfort
levels are further elevated by a host of new equipment options including three-zone automatic climate control, Ambient Light in six colors, mechanical roller sunblind for rear side windows, the cargo function of the standard 40:20:40 split/folding rear seat backrests and a panoramic glass roof that brings extra airiness to the interior and further enhances quality. Another new equipment item is the BMW Display Key, which not only locks and unlocks the All-New BMW X3 xDrive20d xLine by radio remote control, but also shows a variety of status information on the car and serves as the control unit for other functions of the vehicle.

More efficient engine and intelligent lightweight design

The All-New BMW X3 xDrive20d xLine also impresses with its economical BMW TwinPower Turbo, 4-cylinder diesel, operating alongside the eight-speed Steptronic transmission. The powerful engine produces 140 kW/190 hp, providing a peak torque of 400 Nm, allowing the All-New BMW X3 xDrive20d xLine to race from 0 to 100 km/h in 8 seconds before hitting a top speed of 213 km/h, with a fuel consumption of 17.6 km/l and combined CO2 emission of 150 g/km.

The rigorously applied BMW EfficientDynamics development strategy for the All-New BMW X3 xDrive20d xLine features both fuel-economy-optimizing powertrains and the extensive application of intelligent lightweight design measures. For example, the increased use of aluminium components in the engine and suspension has reduced the weight of the relevant assemblies.

Amplified driving pleasure and state-of-the-art operating system

The All-New BMW X3 xDrive20d xLine comes with the iDrive Touch Controller and
10.25-inch high-resolution control display. BMW gesture control allows various navigation and infotainment system functions to be operated intuitively using finger and hand gestures. Meanwhile, the Intelligent Voice Control Assistance lets drivers use everyday language to have their requests turned into the appropriate actions instead of having to use set spoken commands.

The All-New BMW 630d GT M Sport
Price: THB 4,739,000 (VAT incl. with BSI Standard Package)

The impressive functionality offered by the Gran Turismo body format and the high standards of driving comfort and spaciousness that provide the ideal setting for a relaxing journey are among the features that defined the character of the model's predecessor – the founder of this vehicle genre. These strengths have now been further honed in the new BMW 6 Series Gran Turismo, whose systematic evolution from the BMW 5 Series Gran Turismo is particularly evident in the new model's sporting elegance, highly advanced equipment features, innovative control and assistance systems, and a leap forward in dynamism and efficiency.

Lighter, sportier, more comfortable and more efficient

A combination of intelligent lightweight engineering and increased use of aluminium and high-strength steel grades for body and chassis components has shaved an average of around 150 kilograms off the weight of the All-New BMW 630d GT M Sport compared to the outgoing model. Combined with the considerable improvement in the car's aerodynamic properties, the increase in power and the superior efficiency of the new engines, this endows the car with a sportier performance while optimizing fuel economy.

The diesel engine at the heart of the All-New BMW 630d GT M Sport features cutting-edge TwinPower Turbo technology, operating alongside the eight-speed Steptronic transmission. The six-cylinder in-line diesel engine produces 195 kW/265 hp and can reach a peak torque of 620 Nm, allowing the All-New BMW 630d GT M Sport to race from 0 to 100 km/h in 6.1 seconds before hitting a top speed of 250 km/h, with a fuel consumption rate of 17.7 km/l and combined CO2 emission of 149 g/km.

Design: dynamic proportions and elegant, flowing lines

The front end of the All-New BMW 630d GT M Sport has a distinctive, powerful appearance, with the lenses of the standard LED headlights extending all the way to the large BMW kidney grille. BMW's signature sporting elegance is particularly evident when the car is viewed in profile, thanks to such familiar features as the long bonnet, set-back positioning of the cabin, doors with frameless windows, and an elongated window outline stretching deep into the rear end. The roofline sweeps down, coupe-style, to merge into a tail section that is now 64 millimeters lower in height. Rear lights with three-dimensional styling add an eye-catching touch. The addition of the M Aerodynamics package also adds a touch of flair to the All-New BMW 630d GT M Sport.

Ideal blend of driving pleasure, long-distance comfort and functionality

The interior has been designed to provide a driver-focused cockpit and an extremely spacious passenger compartment. The raised seating position optimizes the driver's all-round view and together with the faultlessly ergonomic arrangement of the controls, helps to create an imperious sense of driving pleasure. The cabin's lines, materials and precision workmanship imbue it with a highly sophisticated, premium feel. The rear compartment of the All-New BMW 630d GT M Sport comprises three full-size seats offering maximized legroom.

The All-New BMW 630d GT M Sport features a one-piece tailgate that opens and closes electrically as standard. The 40:20:40 split backrest can be folded flat electrically via a button in the boot. The two-piece luggage compartment cover has a rigid structure and can be stowed away in a compartment underneath the boot floor.

Equipped with a display and control system, the All-New BMW 630d GT M Sport offers unrivalled versatility for operating vehicle, navigation, communication and infotainment functions. At the heart of it all is the iDrive system, complete with the Touch Controller on the centre console and the Control Display, now in the form of a freestanding touchscreen. The high-resolution display has a screen diagonal of 10.25 inches; while the new model also offers the convenience of both enhanced Intelligent Voice Control Assistance and BMW gesture control.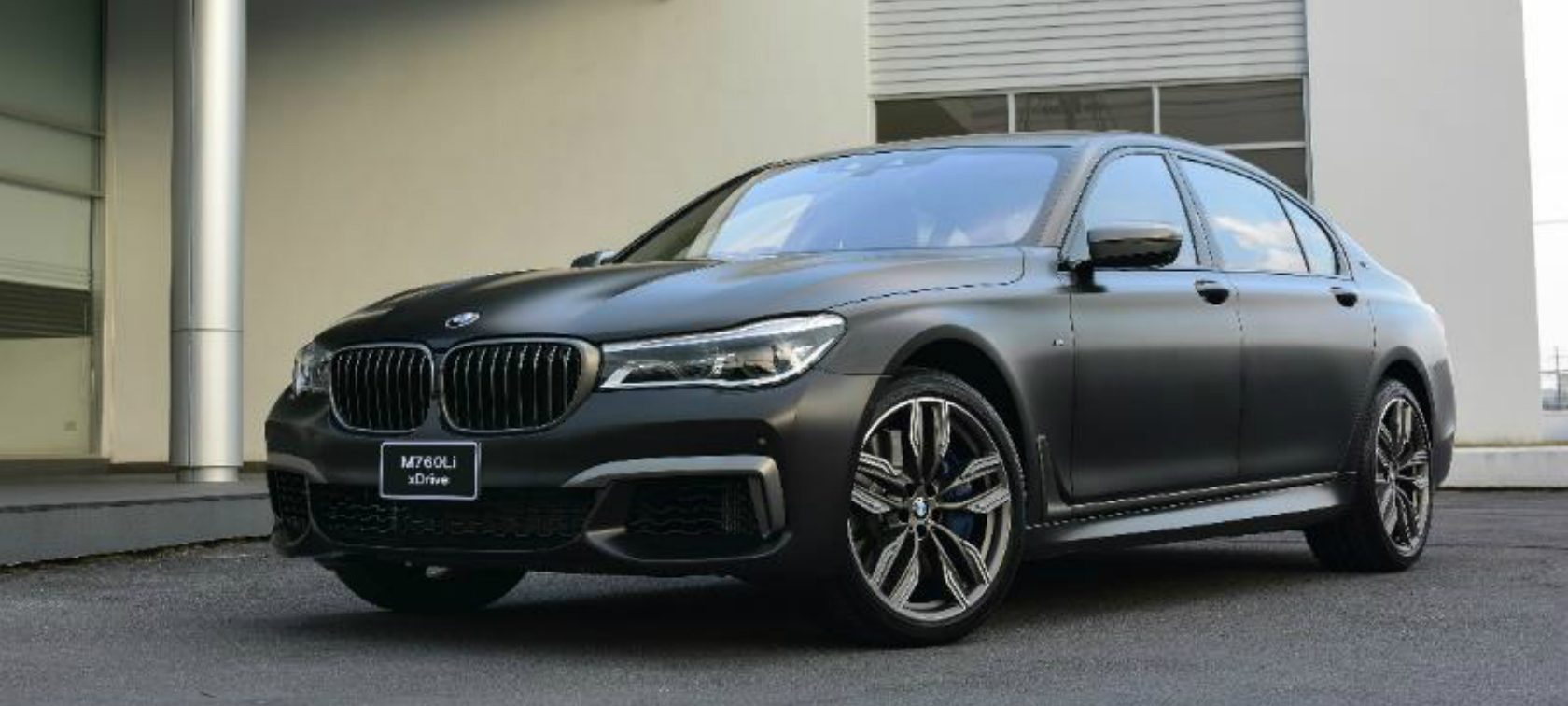 The new BMW M760Li xDrive
Price: THB 13,539,000 (VAT incl. with BSI Standard Package)

The new BMW M760Li xDrive sets a new benchmark in the luxury sedan segment with superior ride comfort and supreme power delivery. Debuting the new M Performance TwinPower Turbo 12-cylinder petrol engine, the new model boasts an output of 448kW / 610hp at 5,500-6,500 rpm and a peak torque of 800 Nm at 1,550-5,000 rpm. The high-performance unit with leading-edge M Performance TwinPower Turbo technology accelerates the BMW M760Li xDrive from 0 to 100 km/h in just 3.7 seconds on the way to top speed of 250 km/h. Power transfer is via the state-of-the-art eight-speed Steptronic Sport transmission working seamlessly with the standard Auto Start Stop function.

Through its exterior appearance alone, the new BMW M760Li xDrive embodies the dynamic mission statement of the BMW M Performance Automobiles with unmistakable clarity. The
M aerodynamics package comes with exclusive 20-inch M light-alloy wheels in double-spoke and M rear spoiler. Other notable exterior features include BMW Laserlight, soft-close function for doors, Sky Lounge Panorama glass roof, Parking Distance Control (PDC), surround-view camera, parking assistant and Remote Control Parking.

The now familiar BMW M Performance character is also present inside the car. The exclusive M leather steering wheel carries the M logo and shift paddles for manual gear changes on the reverse. The electrically adjustable comfort front and rear seats with massage function are in full Merino leather. The area of the centre console around the selector level and iDrive Controller is adorned with a BMW Individual decorative inlay in Piano Finish Black.

As in all variants of the new BMW 7 Series, the monitor of the iDrive operating system in the new range-topping BMW M760Li xDrive comes in a 10.25-inch touch display. The iDrive system also features the BMW gesture control system. Hand movements detected by a 3D sensor control infotainment function in an extremely intuitive and user-friendly fashion. The gestures can be used for a number of other functions, including controlling the volume in audio applications and accepting or rejecting incoming telephone calls. Also joining the fray is the rear-seat entertainment Experience, Bowers & Wilkins Diamond Surround Sound system and telephone wireless charging.

BMW 530e Luxury: THB 3,639,000 (VAT incl. with BSI Standard Package)
The BMW 530e M Sport and BMW 530e Luxury are powered by the new two-litre four-cylinder in-line engine which, with BMW TwinPower Turbo technology, generates a maximum output of 135 kW/ 184 hp and develops a peak torque of 290 Nm. Meanwhile, the electric motor generates power of 83 kW/ 133 hp and peak torque of 250 Nm. When working together, the engine and electric motor can reach the system output of 185 kW/ 252 hp and system torque of 420 Nm. Fuel consumption comes in at 55.6 km/litre with CO2 emissions of 41 g/km. Both models accelerate from 0-100 km/h in 6.2 seconds on its way to a top speed of 235 km/h.


With its SPORT, COMFORT and ECO PRO settings, drivers will also find an eDrive button at their disposal, which lets them tailor the BMW eDrive system's operation even more precisely to the journey ahead through three driving modes: AUTO eDRIVE, MAX eDRIVE and BATTERY CONTROL. The high-voltage battery of the BMW 530e iPerformance can be fully charged in under five hours from a standard domestic power socket and in under three hours if it is hooked up to a BMW i Wallbox (3.7 kW charging capacity).

Parking Assistant, which enables automated parking with the greatest of ease in both parallel parking spaces and perpendicular or angled spaces, also comes with some extra functions. Potential parking spaces now only have to be around 80 centimetres longer than the vehicle itself to be eligible, meaning that the system can manoeuvre the car into even smaller spots than before. The ultrasonic sensors detect suitable parking spaces up to a speed of 35 km/h. The system then takes care of the entire parking procedure, including all necessary steering inputs, gear changes, acceleration and braking. Where parking spaces are perpendicular to or at an angle to the road, the system needs only around 40 centimetres of free space on each side of the car to trigger automated parking.

As in all the other models in the new BMW 5 Series line-up, the navigation, telephone, entertainment and vehicle functions grouped within the optional high-resolution 10.25-inch display can be controlled not only using the iDrive Controller, but also by simply touching the buttons on the display or with the help of the Intelligent Voice Assistant. BMW gesture control, which reacts to simple movements of the hand or fingers, offers users another option when it comes to operating these functions.

BMW 530e M Sport variant boasts its superior agility with 19-inch M light alloy wheels in Double-Spoke, BMW Head-Up Display, electric glass roof, BMW Individual high-gloss Shadow Line, and M Aerodynamics package. The BMW 530e Luxury features 18-inch alloy wheels in W-Spoke style, chrome line exterior, and fine-wood trim 'Fineline' Ridge with highlight trim finisher Pearl Chrome.

Read more
BMW 330e (Iconic)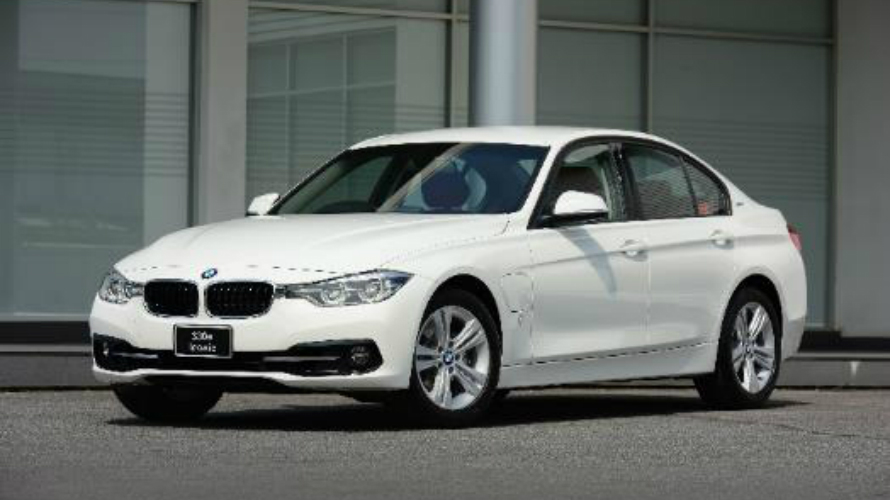 Price: THB 2,259,000 (VAT incl. with BSI Standard Package)

The BMW 330e (Iconic) is the embodiment of a sporty sedan designed for unrivalled driving pleasure with excellent fuel economy through iPerformance technology. Powered by a BMW TwinPower Turbo four-cylinder petrol engine, the car has a maximum power output of 135kW / 184hp and a peak torque of 290Nm. The electric motor delivers 65kW / 89hp in additional power plus up to 250Nm torque through an eight-speed automatic gearbox giving agile power delivery and outstanding responsiveness along with an excellent fuel consumption rate of 55.6 km/l and just 42 grams of CO2 emitted per kilometer. The car can go from 0 to 100 km/h in just 6.1 seconds before hitting a top speed of 225 km/h.

The high-voltage battery in the BMW 330e (Iconic) can be fully recharged from empty in three hours from a conventional domestic power socket using the standard charging cable supplied. Alternatively, the BMW i Wallbox Pure further enhances charging performance in a faster and more convenient way with 3.7 kilowatts (16A/230V) of power for a full recharge time of less than 2-and-a-half hours.

It has a distinctive sporty design and comes equipped with 17-inch Double-Spoke alloy wheels, sports leather steering wheel, an interior trim in aluminium, finely brushed lengthwise, with highlight trim finishers in Pearl Chrome, sports leather seat with electric adjustment and a 6.5-inch control display as well as standard safety systems. Customers can choose a variety of financial offers with distinctive advantages of BMW financial products.

BMW 320d GT M Sport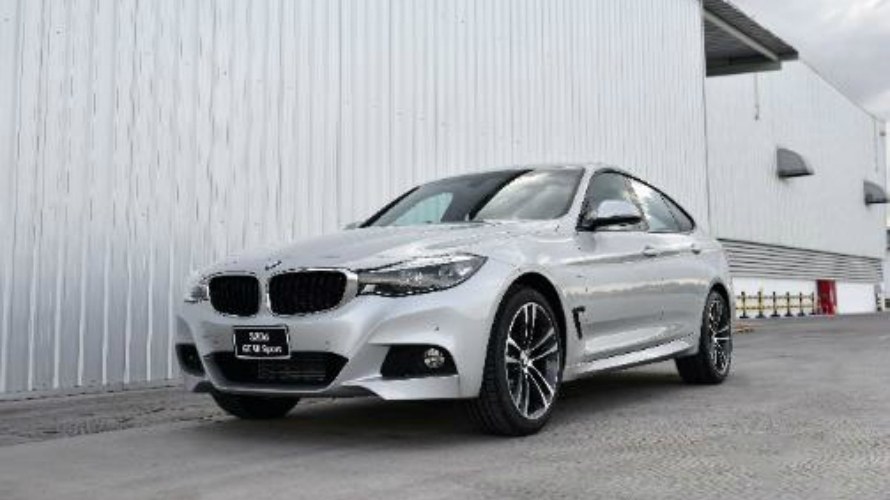 Price: THB 2,999,000 (VAT incl. with BSI Standard Package)

The new BMW 320d GT M Sport perfectly blends the spaciousness of a luxury sedan and the boot capacity of a station wagon. Powered by a BMW TwinPower Turbo four-cylinder diesel engine that produces up to 140 kW / 190 hp, the new BMW 320d GT M sport delivers a peak torque of 400 Nm at 1,750-2,500 rpm and can accelerate from 0 to 100 km/h in 7.7 seconds with a top speed of 226 km/h. Paired with an 8-speed Steptronic gearbox, the engine averages 27.0 km/l in fuel consumption and emits just 99 grams of CO2 per kilometer.

At 4,824 millimeters in length, the BMW 320d GT M Sport is around 200 millimetres longer than the other members of the BMW 3 Series family. Together with a large tailgate, the new BMW 320d GT M Sport opens to reveal a boot offering up to 1,600 litres of load space and allowing extremely varied use. The 19-inch double-spoke M light alloy wheels perfectly complement the addition of BMW Individual high-gloss Shadow Line while the M Aerodynamics package lends the new BMW 320d GT an even more sporty appearance.

The interior of the new BMW 320d GT M Sport has an even more sophisticated feel featuring Aluminium Hexagon trim with Black high-gloss that matches with M leather steering wheel and its gearshift paddles. The combination of 8.8-inch display, latest version of the BMW Navigation System Professional, iDrive Touch Controller and extended smartphone connectivity allow drivers to stay connected with driving comfort and convenience. The new BMW 320d GT M Sport is also fitted with an extensive selection of equipment items as standard, including Servotronic, adaptive LED headlights and various modes of Driving experience control.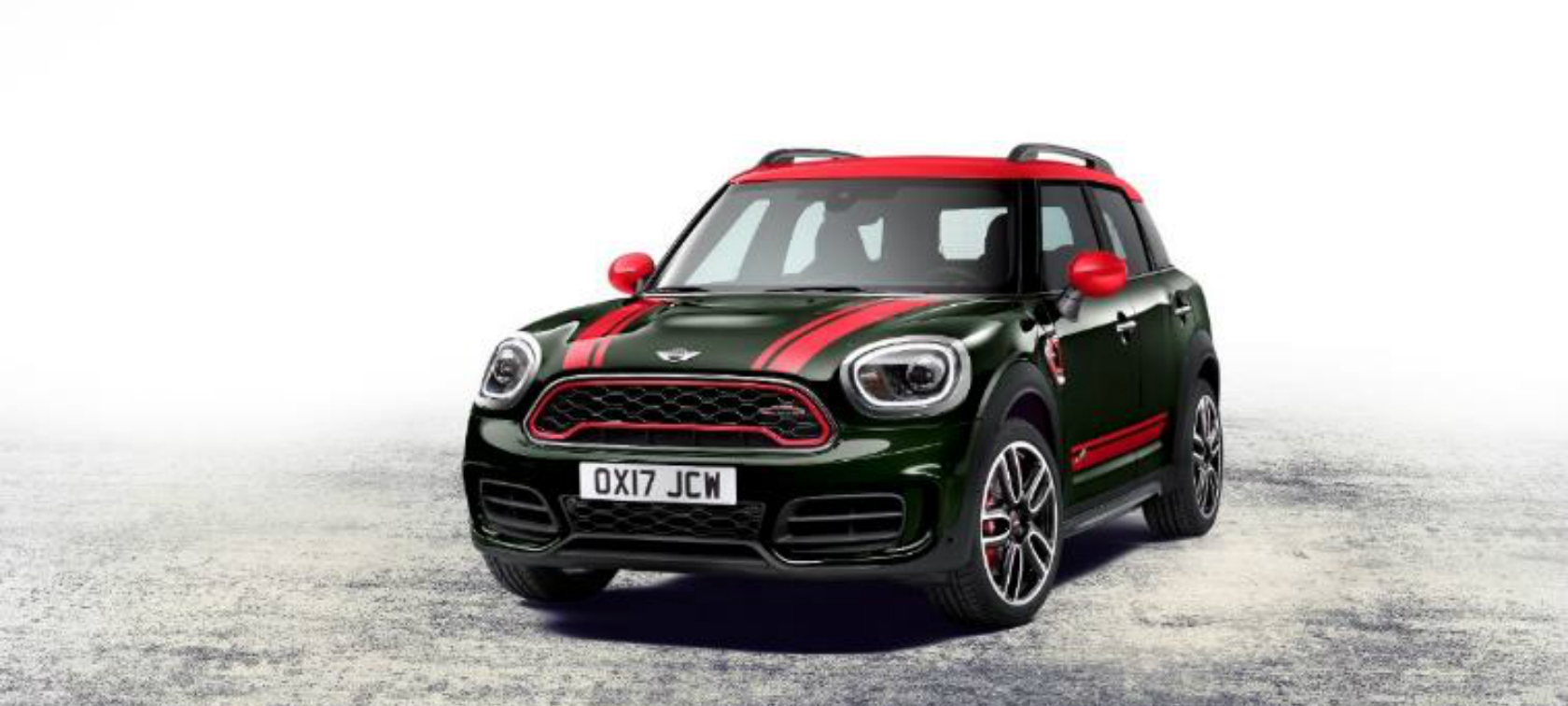 The new MINI John Cooper Works Countryman
Price to be announced

This ultimate Sports Activity Vehicle combines racetrack excitement with MINI's premium styling and ticks all the right boxes as a true go-kart legacy. Engine, suspension and aerodynamics harmonised based on John Cooper Works racing expertise. The new MINI John Cooper Works Countryman boasts the ALL4 all-wheel-drive and the powerful Twin Power Turbo engine with 170 kW / 231 hp, catapulting it from 0 to 100 km/h in 6.5 seconds with the maximum speed of 234 km/h and maximum torque of 350 Nm at 1,450-4,500 rpm. The combined fuel consumption is 14.2 km/liter and the combined CO2 emission is 161 g/km. An 8-speed sport automatic transmission with shifter paddles at the steering wheel offers particularly short shift times making it ready to conquer every challenge on every road surface.

The exterior design of the new MINI John Cooper Works Countryman expresses the model's distinctive combination of extreme athleticism and exceptional versatility. The distinctive red discs and John Cooper Works logo on the fronts behind the 19-inch John Cooper Works Course Spoke alloy wheels on top of the John Cooper Works aerodynamics kit make another big impact on looks and performance.

Inside the new MINI John Cooper Works Countryman, the extraordinary is transformed into the everyday starting with the unique raised seat position and track-style appearance. John Cooper Works leather steering wheel and sport seats offer maximum lateral support on fast bends. MINI head-up display is designed to give a clear view of key driving data without disrupting the view of the road ahead flaunting the exceptional capabilities of the indomitable MINI spirit.

BMW G 310 GS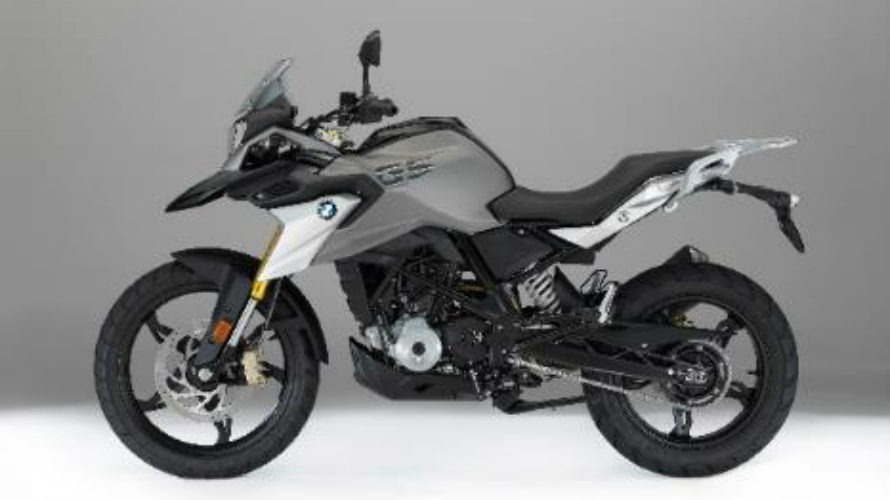 Price: Starting from THB 219,000 (VAT incl.)

The new G 310 GS is powered by the 313 cc liquid-cooled single-cylinder engine known from the G 310 R with four valves and double camshafts together with electronic fuel injection. With an output of 25 kW (34 hp) at 9,500 rpm and a maximum torque of 28 Nm at 7,500 rpm, the engine of the new G 310 GS is the ideal partner for dynamic riding pleasure in everyday adventures.

The BMW G 310 GS can be identified as a genuine GS at first sight. With its characteristic, high front fender, striking flyline and short, high rear, the BMW G 310 GS features classic elements of its big GS sibling models. Its compact proportions with a short wheelbase, a 19-inch front wheel and extended spring travel make for a typical upright posture, promising an agile, nimble riding response.

In terms of its suspension, the new G 310 GS is similar to the G 310 R in using a tubular steel spaceframe with bolt-on rear section that combines torsional rigidity with robust quality. Given its good stiffness balance, this provides the basis for excellent ride stability and a precise steering response. The front wheel suspension is taken care of by a solid upside-down fork while at the rear there is an aluminium swinging arm in conjunction with a spring strut that is mounted on it directly.

The new G 310 GS still upholds BMW Motorrad's carefree motorcycling pleasure with easy-to-access switches and controls as well as high-performance ABS standard. For use over light terrain, the ABS can be conveniently deactivated at the press of a button if required.
The G 310 GS comes in three striking color variants: Racing red, Cosmic black and Pearl white metallic.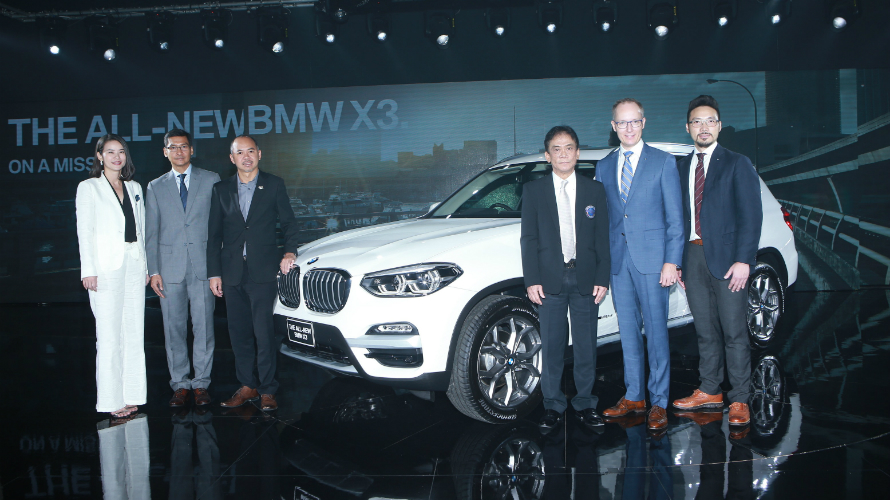 From left,
1. Khun Prapatsara Aramvongsamut, General Manager Sales, BMW Thailand
2. Khun Krisda Utamote, Director Corporate Communications, BMW Group Thailand
3. Khun Chalatchai Paphatphong, Deputy Managing Director, Inter-Media Consultant Co., Ltd
4. Khun Jaturon Komolmitr, Director and Chief Operating Officer, Grand Prix International PCL
5. Mr. Lars Nielsen, Sales and Marketing Director, BMW Thailand
6. Khun Sethipong Anutarasoti, General Manager Marketing, BMW Thailand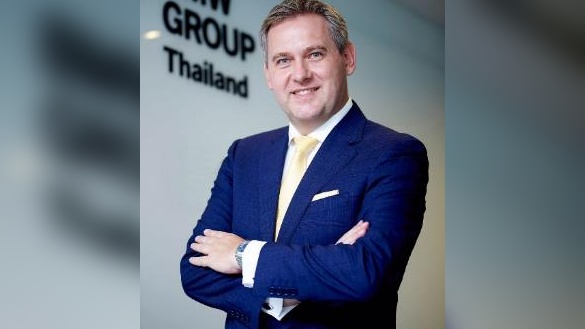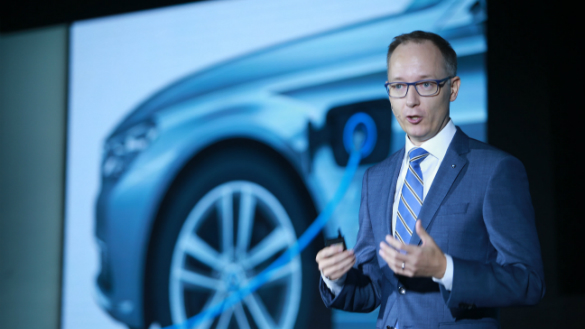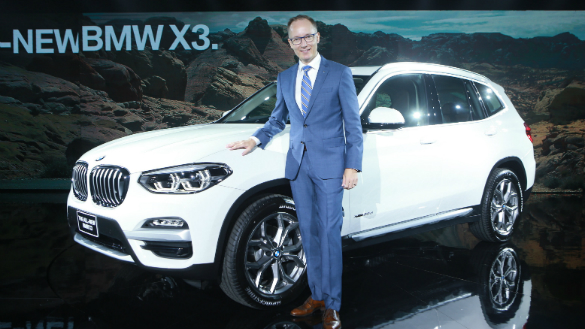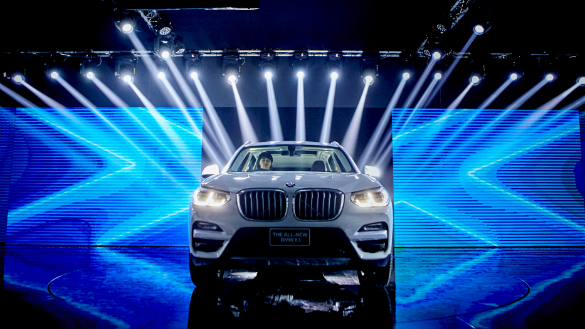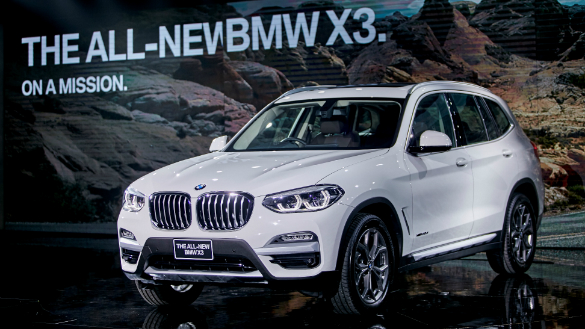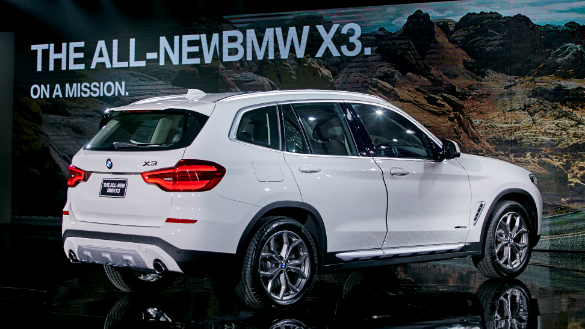 The BMW Group

With its four brands BMW, MINI, Rolls-Royce, and BMW Motorrad, the BMW Group is the world's leading premium manufacturer of automobiles and motorcycles and also provides premium financial and mobility services. As a global company, the BMW Group operates 31 production and assembly facilities in 14 countries and has a global sales network in more than 140 countries.

In 2016, the BMW Group sold approximately 2.367 million cars and 145,000 motorcycles worldwide. As of 31 December 2015, the BMW Group had a workforce of 122,244 employees.

The success of the BMW Group has always been based on long-term thinking and responsible action. The company has therefore established ecological and social sustainability throughout the value chain, comprehensive product responsibility and a clear commitment to conserving resources as an integral part of its strategy.

BMW Group Thailand

BMW Group Thailand, a subsidiary of BMW AG, Germany, was established on the 3rd October 1998. The three entities of BMW Group Thailand include BMW (Thailand) Co., Ltd. with responsibility for wholesales & marketing of BMW Group products, BMW Manufacturing (Thailand) Co., Ltd. with responsibility for BMW, MINI and BMW Motorrad local production, and BMW Leasing (Thailand) Co., Ltd. with responsibility for financial services offerings to both wholesale and retail customers.

In 2016, BMW Group Thailand delivered 7,923 BMW and MINI vehicles to customers. For BMW Motorrad Thailand, a new record was set in 2016 with 1,819 motorcycle deliveries.

In 2017, BMW Group Thailand had the best-ever first 10 months with 8,344 BMW and MINI car deliveries, achieving an impressive +28% growth year-on-year. BMW Motorrad also had the best-ever record with 1,494 motorcycle deliveries during the first 10 months, 2% higher than the same period last year.

On the production side, the BMW Group Manufacturing Thailand plant was founded on BMW Group's strong belief in the growth potential of Asian markets and Thailand in particular with its unique location, strong manufacturing base, and ready supply of skilled automotive labor, being an automotive hub for ASEAN.
An investment of over 4.6 billion Baht year-to-date 2016 has been put into the expansion of plant Rayong in terms of assembling processes, aiming to meet growing customer demand. In addition, with approximately
4 billion Thai Baht representing the amount of annual purchasing in Thailand, the BMW Global Purchasing office has been established in Thailand. This is to source various components from local suppliers in Thailand and the broader ASEAN region, in order to supply the entire BMW production network of 31 production and assembly facilities, located in 14 countries worldwide.

As of 2017, BMW Group Manufacturing Thailand produces the following 17 models: BMW 1 Series, BMW 3 Series, BMW 3 Series Gran Turismo, BMW 5 Series, BMW 7 Series, BMW X1, BMW X3, BMW X4 and BMW X5. For BMW Motorrad the BMW F 800 R, BMW F 800 GS, BMW F 700 GS, BMW R 1200 GS, BMW R 1200 GS Adventure, BMW S 1000 R, BMW S 1000 RR and BMW S 1000 XR are also locally assembled at the plant. In addition, BMW Group Manufacturing Thailand now assembles three BMW plug-in hybrid models; BMW 330e, BMW X5 xDrive40e and BMW 740Le.

Starting from May 2016, BMW Group Manufacturing Thailand's assembly line capability has been expanded for the purpose of exporting the BMW X3 and BMW X5 to China as well.


For further information, please contact:
BMW Group Thailand
1-800-269-269
www.bmw.co.th
www.mini.co.th
www.bmw-motorrad.co.th

Media Contacts:
Carl Byoir & Associates
Suthatip Boonsaeng (08-7685-1695 or0-2627-3501 ext.102)
Thornthawat Thongnab (08-3225-4567 or 0-2627-3501 ext.206)
Pawalisa Thanawajeran (08-6564-4726 or 0-2627-3501 ext.155)
Pichanan Toonkamthornchai (08-5157-7557 or 0-2627-3501 ext.101)
sboonsaeng@carlbyoir.com, tthongnab@carlbyoir.com, ptoonkamthornchai@carlbyoir.com, pthanawajeran@carlbyoir.com

Read more