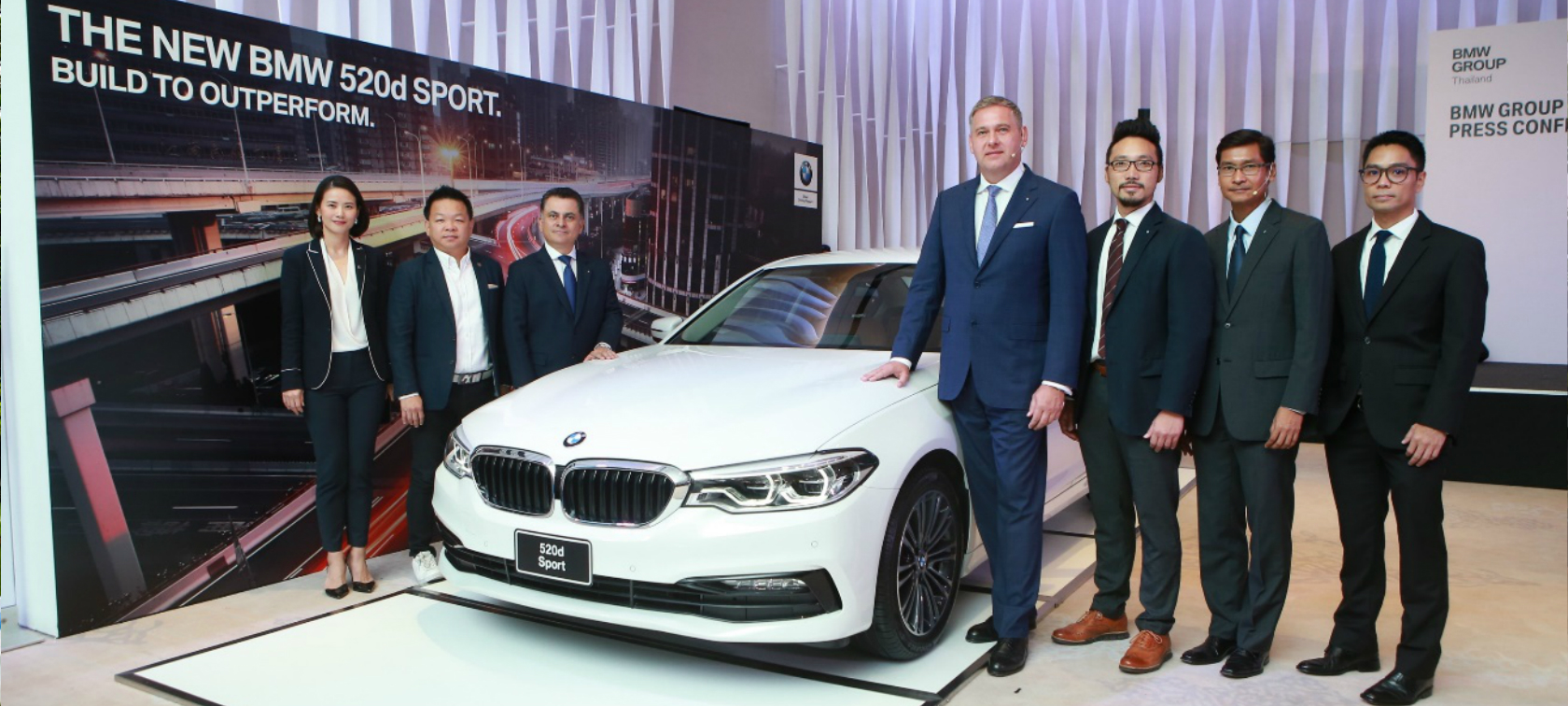 Press Release | 2017.08.01
BMW Group Thailand offers customers unprecedented flexibility with launch of the new BMW 520d Sport and the new BMW and MINI service inclusive packages for customers' own selection
Photograph shows (from left);
1. Khun Prapatsara Aramvongsamut, General Manager Sales, BMW Thailand
2. Khun Preecha Ninatkiattikul, General Manager MINI Thailand
3. Mr. César Badilla, Director Aftersales, BMW Group Thailand
4. Mr. Stefan Teuchert, President, BMW Group Thailand
5. Khun Sethipong Anutarasoti, General Manager Marketing, BMW Thailand
6. Khun Krisda Utamote, Director, Corporate Communications, BMW Group Thailand
7. Khun Jatupon Puttaviboon, General Manager Dealer Development, BMW Group Thailand

Bangkok. BMW Group Thailand is continuing its mission to offer customers the future of mobility on their terms with the launch of a locally-assembled diesel variant of the new BMW 5 Series in the BMW 520d Sport and major revision to its BMW and MINI Service Inclusive program with flexible options to meet the customer's individual needs.

"At BMW Group, we have always placed the individual and unique needs of our customers as our priority," said Mr. Stefan Teuchert, President, BMW Group Thailand. "Our announcements today represent both a statement of commitment to BMW customers and a response to the ever-changing circumstances in the automotive world. From the ability to choose exactly the right BMW and MINI service package for their needs to the perfect powertrain for everyday driving pleasure, we are empowering current and prospective BMW and MINI owners to bring to life their very own vision of an ideal driving experience.

"Furthermore, the new BMW 520d Sport marks yet another addition to the expansive range of BMW Group automobiles assembled here in Thailand at our exceptionally capable plant in Rayong, making the 'business athlete' mobility of the new BMW 5 Series more easily accessible for Thai motorists."

Read more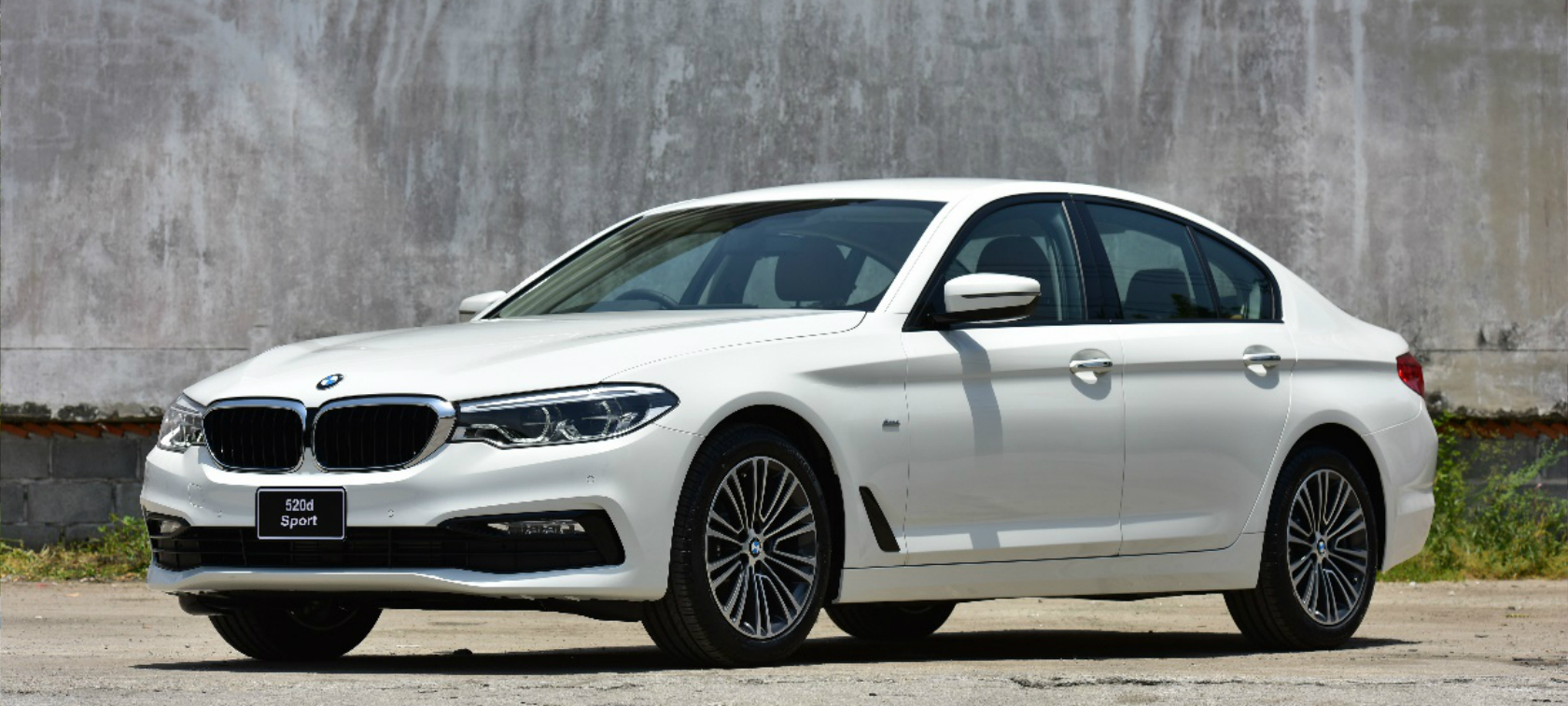 BMW 520d Sport: Where elegance meets energy
Price: THB 3,439,000

The fourth variant of the new BMW 5 Series to become available to Thai motorists and the first to be assembled locally, the new BMW 520d Sport brings together the trademark elegance of the 5 Series range, a dynamic yet efficient diesel powertrain, and a sportier character throughout.

The new 520d Sport still retains the elegant character of its 5 Series stablemates with 18-inch double-spoke light alloy wheels, which perfectly complement the addition of BMW Individual high-gloss Shadow Line, while follow-me-home and welcome lighting give the vehicle a sense of care and personality both at the start and end of your travels.

The sedan's interior features a driver-oriented cockpit and stylish fine-wood trim in poplar grain grey with Pearl Chrome highlight trim finisher to go with the leather steering wheel and sport seats. The gesture control function, which premiered in the BMW 7 Series before making its way to the 5 Series earlier this year, is joined by a 10.25-inch touch control display to provide easy and intuitive ways to operate commonly used infotainment systems and telephone functions.

Powered by a two-litre, four-cylinder BMW TwinPower Turbo diesel engine that produces up to 140 kW/190 hp, the new BMW 520d Sport delivers a satisfying burst of acceleration with a peak torque of 400 Nm, which lets it accelerate to 100 km/h from a standstill in just 7.5 seconds and reach a top speed of 235 km/h. Paired with an 8-speed Steptronic gearbox, the engine averages 20.0 km/l in fuel consumption and emits just 132 grams of CO2 per kilometer.

New BMW and MINI Service Inclusive packages: Your choice of premium services
In the first major revision to its BMW and MINI Service Inclusive program, BMW Group Thailand is offering customers an unprecedented degree of flexibility in choosing the right level of maintenance services for their individual driving needs. The past terms of BSI coverage, with up to 5 years / 100,000 kilometres of maintenance and 5-year / unlimited mileage warranty, has been updated to provide an expanded range of service and warranty packages at varying prices for each and every model from BMW and MINI to ensure peace of mind on the customer's own choices.

Read more
Price for 1, 2, 3, 4 series, X1, X3, X4

Price for 5, 6, 7, M series, X5, X6, i8

Package: BSI / MSI Standard

Maintanance: 3 years / 60,000 km

Warranty: 3 years / unlimited mileage

Maintanance: 5 years / 100,000 km

Warranty: 3 years / unlimited mileage

Maintanance: 3 years / 60,000 km

Warranty: 5 years / unlimited mileage

Package: BSI / MSI Ultimate

Maintanance: 3 years / 60,000 km

Warranty: 3 years / unlimited mileage
Apart from the flexible service package alternatives, the BSI/ MSI packages accommodate a wide range of maintenance services; including oil change, internal air filter and spark plug replacement, brake pads and disc brake replacement, vehicle inspection services, as well as the repair and replacement of original parts from BMW and MINI. Mobility service for all packages is provided up to 5 years / unlimited mileage.

"The Service Inclusive program has always been one of the cornerstones of the BMW and MINI ownership experience," added Mr. Teuchert. "With the addition of these new service tiers, we are making our entire range of vehicles even more flexible to Thai customers than ever before with up to 4 optional packages, providing ample coverage for worry-free driving pleasure."

The BMW Group

With its four brands BMW, MINI, Rolls-Royce, and BMW Motorrad, the BMW Group is the world's leading premium manufacturer of automobiles and motorcycles and also provides premium financial and mobility services. As a global company, the BMW Group operates 31 production and assembly facilities in 14 countries and has a global sales network in more than 140 countries.

In 2016, the BMW Group sold approximately 2.367 million cars and 145,000 motorcycles worldwide. As of 31 December 2015, the BMW Group had a workforce of 122,244 employees.

The success of the BMW Group has always been based on long-term thinking and responsible action. The company has therefore established ecological and social sustainability throughout the value chain, comprehensive product responsibility and a clear commitment to conserving resources as an integral part of its strategy.

BMW Group Thailand

BMW Group Thailand, a subsidiary of BMW AG, Germany, was established on the 3rd October 1998. The three entities of BMW Group Thailand include BMW (Thailand) Co., Ltd. with responsibility for wholesales & marketing of BMW Group products, BMW Manufacturing (Thailand) Co., Ltd. with responsibility for BMW, MINI and BMW Motorrad local production, and BMW Leasing (Thailand) Co., Ltd. with responsibility for financial services offerings to both wholesale and retail customers.

In 2016, BMW Group Thailand delivered 7,923 BMW and MINI vehicles to the customers. For BMW Motorrad Thailand, new record has been set in 2016 with 1,819 motorcycle deliveries.

In 2017, BMW Group Thailand has begun the new year with the best-ever start to the year with 745 BMW and MINI car deliveries, achieving an impressive +22% growth year-on-year. For BMW Motorrad Thailand, the growth of +22% in January 2017 compared to the same month last year set a new record high after its achievement as the third fastest growing market for BMW Motorrad worldwide in 2016.

On the production side, the BMW Group Manufacturing Thailand plant was founded on BMW Group's strong belief in the growth potential of Asian markets and Thailand in particular, with its unique location, strong manufacturing base, and ready supply of skilled automotive labor, being an automotive hub for ASEAN.
An investment of over 4.6 billion Baht year-to-date 2016 has been invested into expansion of plant Rayong in terms of assembling processes, aiming to meet growing customer demand. In addition, with approximately
4 billion Thai Baht representing the amount of annual purchasing in Thailand, the BMW Global Purchasing office has been established in Thailand. This is to source various components from local suppliers in Thailand and the broader ASEAN region, in order to supply the entire BMW production network of 31 production and assembly facilities, located in 14 countries worldwide.

As of 2016, BMW Group Manufacturing Thailand produces the following 19 models: BMW 1 Series, BMW 3 Series, BMW 3 Series Gran Turismo, BMW 5 Series, BMW 7 Series, BMW X1, BMW X3, BMW X4, BMW X5, and MINI Countryman. For BMW Motorrad the BMW F 800 R, BMW F 800 GS, BMW F 700 GS, BMW R 1200 GS, BMW R 1200 GS Adventure, BMW F 800 GT, BMW S 1000 R, BMW S 1000 RR and BMW S 1000 XR are also locally assembled at the plant. In addition, BMW Group Manufacturing Thailand now assembles two BMW plug-in hybrid models; BMW 330e and BMW X5 xDrive40e.
Starting from May 2016, BMW Group Manufacturing Thailand's assembly line capability has been expanded for the purpose of exporting the BMW X3 and BMW X5 to China as well.

For further information, please contact:
BMW Group Thailand
1-800-269-269
www.bmw.co.th
www.mini.co.th
www.bmw-motorrad.co.th

Media Contacts:
Carl Byoir & Associates
Suthatip Boonsaeng (08-7685-1695 or0-2627-3501 ext.102)
Thornthawat Thongnab (08-3225-4567 or 0-2627-3501 ext.206)
Pawalisa Thanawajeran (08-6564-4726 or 0-2627-3501 ext.155)
sboonsaeng@carlbyoir.com, tthongnab@carlbyoir.com, pthanawajeran@carlbyoir.com

Read more