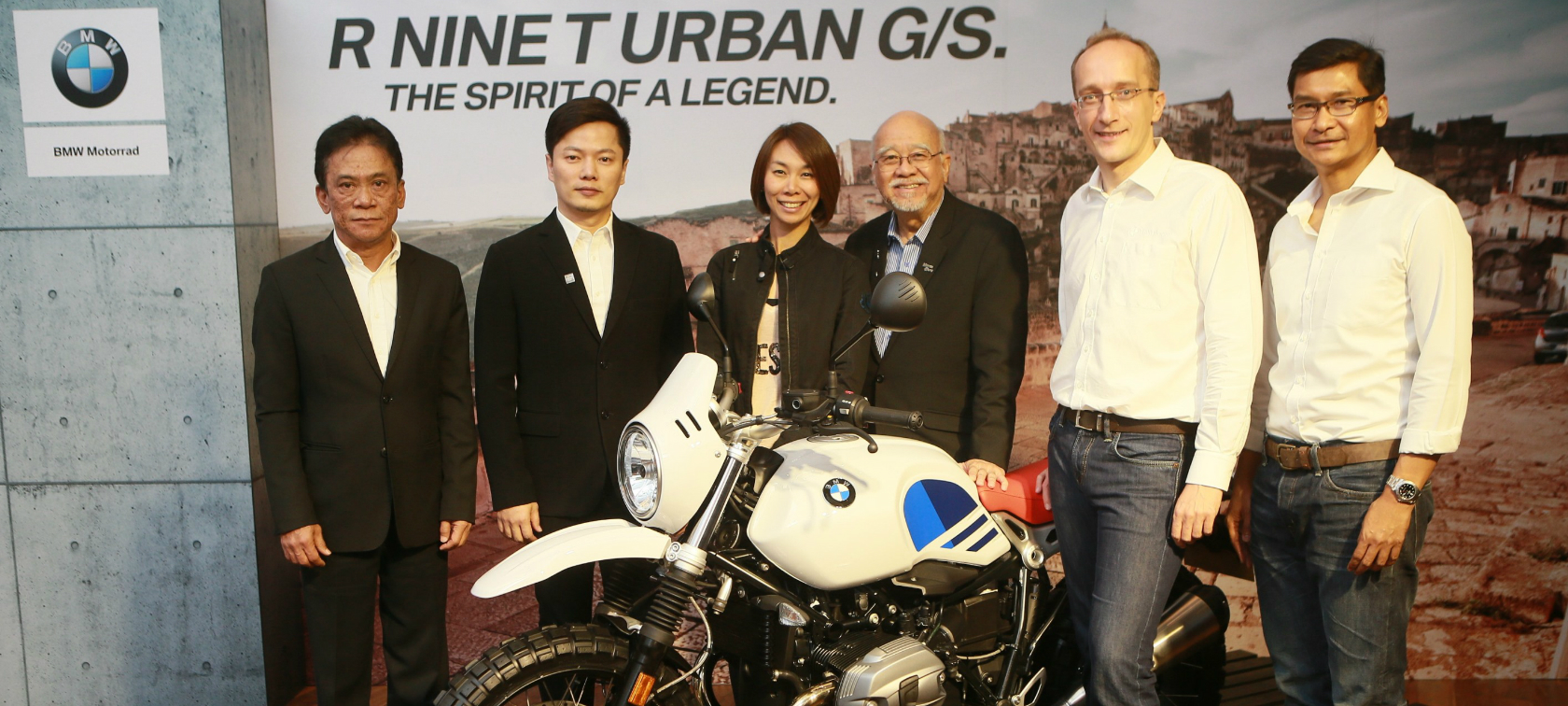 Press Release | 2017.06.27
BMW MOTORRAD THAILAND UNVEILS BMW R NINET URBAN G/S AND THE ANNOUNCEMENT OF GS TROPHY SOUTHEAST ASIA QUALIFIER 2017
(From left)

1. Khun Jaturont Komolmis, Director and Chief Operating Officer, Grand Prix International PCL
2. Khun Jatuporn Kunmanee, Vice President, Motoring Square Group Co., Ltd.
3. Khun Chamaiporn Paphatphong, Assistant Marketing Director,
Inter-Media Consultant Co., Ltd.
4. Khun Kwanchai Paphatphong, President, Inter-Media Consultant Co., Ltd.
5. Mr. Markus Glaeser, Head of BMW Motorrad Thailand
6. Khun Krisda Utamote, Director Corporate Communications, BMW Group Thailand


Bangkok. BMW Motorrad Thailand has unveiled the BMW R nineT Urban G/S, a roadster bike that combines classic motorcycle design with modern technology and sophisticated craftsmanship, in an exclusive launch event held at the House on Sathorn, W Hotel Bangkok. The event also saw the announcement of GS Trophy Southeast Asia Qualifier 2017, a competition that will seek out top enduro riders from all over Southeast Asia to challenge for victory in the International GS Trophy 2018 in Mongolia.
Mr. Markus Glaeser, Head of BMW Motorrad Thailand, said, "The BMW R nineT Urban G/S is a model that is unique in style yet classic in character. It is a perfect combination of modern technology and classic looks, which makes the bike a special tribute to its G/S predecessors. This newest model in the R nineT family captures the off-road spirit of the past while also showing equal respect for the present with its modern technology."
"BMW Motorrad Thailand is also very excited to announce the GS Trophy Southeast Asia Qualifier 2017. This preliminary competition will pick out one winning Thai rider to join the Southeast Asia team for the International GS Trophy 2018 in Mongolia. This top-class motorcycle competition is not only an adventurous contest of speed, but also of riding skills, teamwork, and physical and mental strength."
The International GS Trophy is a world-class enduro motorcycle competition held once every two years. Competitors are tasked with overcoming a wide variety of challenges on BMW GS bikes as they tackle tough terrain and tests of teamwork. The regional qualifiers held throughout 2017 will pave way to the International GS Trophy 2018. Thailand's qualifier round which are limited for only100 GS riders will be held on 1-2 September 2017 at Kirimaya Resort in Khao Yai.. The only one qualifier representing Thailand will join Team Southeast Asia in the International GS Trophy 2018 in Mongolia; where they will explore spectacular landscapes and take on several thrilling enduro challenges.
Further information and online application can be found at www.bmw-motorrad.co.th/gstrophy2017, Line ID: @gstrophy2017, or call 097-202-7239 (available from Monday to Friday from 09:00 – 18:00, except national holidays).
Read more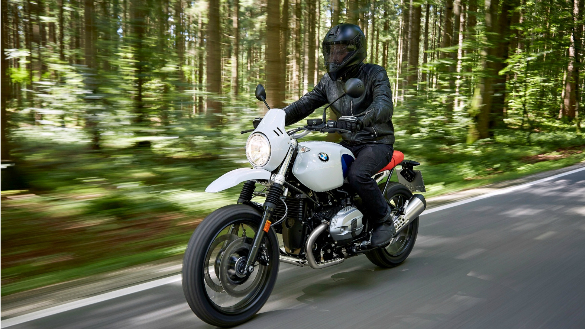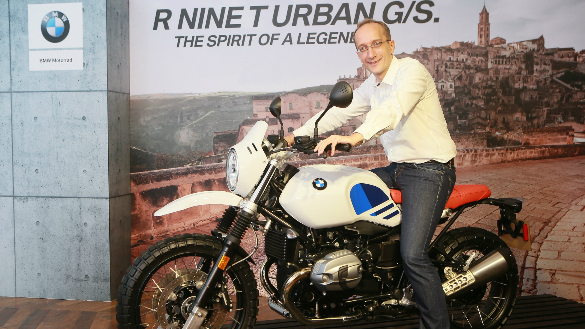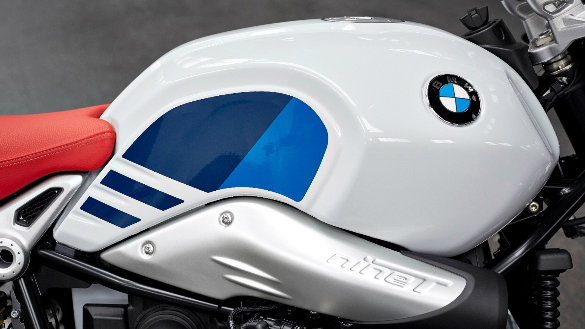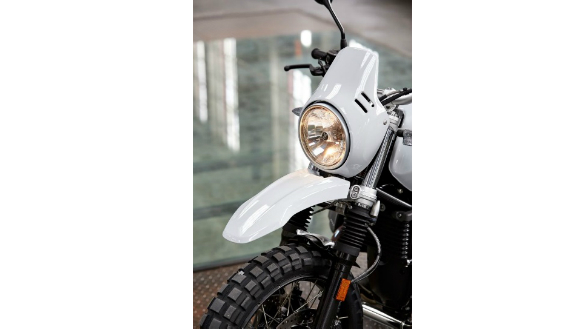 R nineT Urban G/S: traditional colouring and styling in the style of the first BMW R 80 G/S.

A look at the R nineT Urban G/S reveals it to be the spitting image of its ancestor, and it even reproduces the latter's colour concept virtually without alteration. Just like more than 35 years ago, the fuel tank and the high-positioned front mudguard are finished in striking Lightwhite non-metallic, with a matching headlamp mask whose styling is geared entirely towards the BMW G/S style of that era. As before, the R nineT Urban G/S features fuel tank decor in two tones of blue and a two-man seat in bright red – a colour combination that interprets the BMW Motorsport colours of former years. This echoing of past times is supported by a frame finished in black.

Harmoniously matching the headlamp mask, the instrument cluster consists of a speedometer designed as an analog circular instrument, indicator lamps and a two-line LCD screen. High-end details also characterise the R nineT Urban G/S. These include the numerous aluminium forged parts such as fork bridges, the clamp for the aluminium double-butted tubular handlebars and much more besides.

Customizing almost without limits.
Whether you want off-road looks or a retro vibe, the possibilities are almost endless. The R nineT Urban G/S can be quickly converted into a one-seater thanks to the removable pillion frame. There's also a tailored range of Original BMW Motorrad accessories to choose from. Options include a crash bar, engine guard or protective headlamp grille.
BMW R nineT Urban G/S is priced at 975,000 THB and now available at all BMW Motorrad authorized dealers nationwide.


The BMW Group
With its four brands BMW, MINI, Rolls-Royce, and BMW Motorrad, the BMW Group is the world's leading premium manufacturer of automobiles and motorcycles and also provides premium financial and mobility services. As a global company, the BMW Group operates 31 production and assembly facilities in 14 countries and has a global sales network in more than 140 countries.


In 2016, the BMW Group sold approximately 2.367 million cars and 145,000 motorcycles worldwide. As of 31 December 2015, the BMW Group had a workforce of 122,244 employees.

The success of the BMW Group has always been based on long-term thinking and responsible action. The company has therefore established ecological and social sustainability throughout the value chain, comprehensive product responsibility and a clear commitment to conserving resources as an integral part of its strategy.


BMW Group Thailand
BMW Group Thailand, a subsidiary of BMW AG, Germany, was established on the 3rd October 1998. The three entities of BMW Group Thailand include BMW (Thailand) Co., Ltd. with responsibility for wholesales & marketing of BMW Group products, BMW Manufacturing (Thailand) Co., Ltd. with responsibility for BMW, MINI and BMW Motorrad local production, and BMW Leasing (Thailand) Co., Ltd. with responsibility for financial services offerings to both wholesale and retail customers.


In 2016, BMW Group Thailand delivered 7,923 BMW and MINI vehicles to the customers. For BMW Motorrad Thailand, new record has been set in 2016 with 1,819 motorcycle deliveries.


In 2017, BMW Group Thailand has begun the new year with the best-ever start to the year with 745 BMW and MINI car deliveries, achieving an impressive +22% growth year-on-year. For BMW Motorrad Thailand, the growth of +22% in January 2017 compared to the same month last year set a new record high after its achievement as the third fastest growing market for BMW Motorrad worldwide in 2016.


On the production side, the BMW Group Manufacturing Thailand plant was founded on BMW Group's strong belief in the growth potential of Asian markets and Thailand in particular, with its unique location, strong manufacturing base, and ready supply of skilled automotive labor, being an automotive hub for ASEAN.An investment of over 4.6 billion Baht year-to-date 2016 has been invested into expansion of plant Rayong in terms of assembling processes, aiming to meet growing customer demand.


In addition, with approximately 4 billion Thai Baht representing the amount of annual purchasing in Thailand, the BMW Global Purchasing office has been established in Thailand. This is to source various components from local suppliers in Thailand and the broader ASEAN region, in order to supply the entire BMW production network of 31 production and assembly facilities, located in 14 countries worldwide.

As of 2016, BMW Group Manufacturing Thailand produces the following 19 models: BMW 1 Series, BMW 3 Series, BMW 3 Series Gran Turismo, BMW 5 Series, BMW 7 Series, BMW X1, BMW X3, BMW X4, BMW X5, and MINI Countryman. For BMW Motorrad the BMW F 800 R, BMW F 800 GS, BMW F 700 GS, BMW R 1200 GS, BMW R 1200 GS Adventure, BMW F 800 GT, BMW S 1000 R, BMW S 1000 RR and BMW S 1000 XR are also locally assembled at the plant. In addition, BMW Group Manufacturing Thailand now assembles two BMW plug-in hybrid models; BMW 330e and BMW X5 xDrive40e.

Starting from May 2016, BMW Group Manufacturing Thailand's assembly line capability has been expanded for the purpose of exporting the BMW X3 and BMW X5 to China as well.

For further information, please contact:
BMW Group Thailand
1-800-269-269
www.bmw.co.th
www.mini.co.th
www.bmw-motorrad.co.th

Media Contacts:
Carl Byoir & Associates
Suthatip Boonsaeng (08-7685-1695 or0-2627-3501 ext.102)
Thornthawat Thongnab (08-3225-4567 or 0-2627-3501 ext.206)
Sawarot Thawinwongrak (08-9888-9799 or 0-2627-3501 ext.223)
sboonsaeng@carlbyoir.com, tthongnab@carlbyoir.com, sthawinwongrak@carlbyoir.com