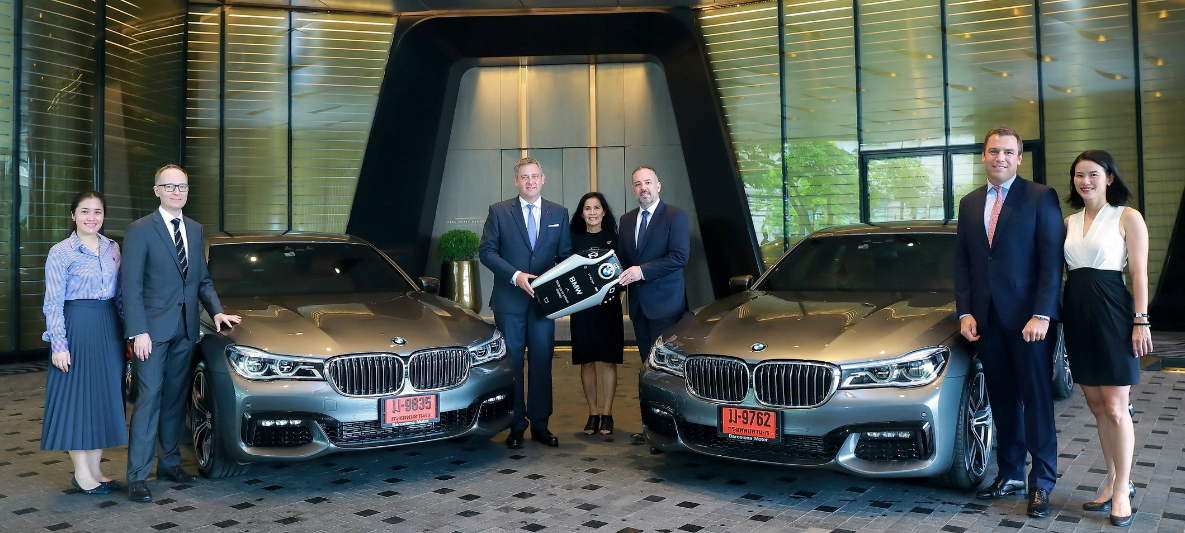 Press Release | 2017.05.29
BMW THAILAND HOLDS BMW GOLF CUP INTERNATIONAL QUALIFYING 2017 TO SEEK OUT TOP AMATEUR GOLFERS FOR NATIONAL FINALS
Photograph shows From left to right.
1. Khun Yadanand Bunnag, Diplomatic & Special Sales, BMW Thailand
2. Mr. Lars Nielsen, Director Sales & Marketing, BMW Thailand
3. Mr. Stefan Teuchert, President, BMW Group Thailand
4. Khun Panjavilai Song-im, Managing Director, The Oriental Trans and Car Service Co., Ltd.
5. Mr. Michael Golden, General Manager, Park Hyatt Bangkok
6. Mr. Björn Antonsson, Chief Executive Officer of BMW Financial Services Thailand
7. Khun Prapatsara Aramvongsamut, General Manager Sales, BMW Thailand


Bangkok. BMW Thailand recently celebrated the delivery of BMW 730Ld M Sport and BMW X5 xDrive40e M Sport limousines to Park Hyatt Bangkok via the Oriental Trans and Car Service Company Limited, best-in-class premium limousine services to offer hotel guests and further reinforce the hotel's reputation as world-class accommodation provider and the leader in hospitality innovation.
The BMW 730Ld M Sport's refined appearance evokes a sporty sense of luxury while still presenting convenience and comfort of passengers. It comes with air suspension with automatic self-levelling and Dynamic Damper Control and matched with sporty design with dashing headlights, BMW Individual High-Gloss Shadow Line, and BMW M aerodynamics package. The expansive interior is designed to deliver the ultimate on-the-road experience for drivers and passengers with new soundproof materials added to reduce undesirable noises.
The back seat comes equipped with a new design and comfort package, including massage function in the backrest, Harman-Kardon surround sound system with 16 speakers and Sky Lounge Panorama glass roof, a unique and exclusive offering in the luxury sedan segment. At night, light emitted from side-mounted LED modules is directed evenly onto the glass roof, illuminating an atmospheric motif mimicking a starry sky.
The new entertainment system includes a 9.2-inch display and iDrive controller on the armrest, which is further enhanced by the new BMW gesture control which provides passengers with full control of various vehicle systems and infotainment functions. Additionally, BMW Touch Command function allows passengers in any seat to control comfort functions such as seat adjustment, air conditioning, as well as infotainment and navigation through a removable tablet with a screen diagonal of 7 inches.
The BMW X5 xDrive40e M Sport delivers genuine excellence and comfort for drivers and passengers alike with its 2.0-litre four-cylinder petrol engine – a three-time winner of the coveted "International Engine of the Year" award – which generates a maximum output of 180 kW/245 hp and 350 Nm (258 lb-ft) of peak torque. The electric motor puts an output of 83 kW/113 hp on tap, while its maximum torque of 250 Nm (184 lb-ft) The BMW X5 xDrive40e M Sport completes the 0 to 100 km/h sprint in just 6.8 seconds and has an electronically limited top speed of 210 km/h. The intelligently controlled interaction between the combustion engine and the electric drive, which together generate a system output of 230 kW/313 hp, endows the BMW X5 xDrive40e M Sport with exceptionally dynamic acceleration while also substantially cutting fuel consumption and emissions in everyday driving. It returns a combined fuel consumption of 31.3 km/l and CO2 emissions at 76 g/km.
The plug-in hybrid technology in the BMW X5 xDrive40e M Sport capably harnesses the potential of an electric motor setup to reduce fuel consumption and enable zero-emission suitable for urban driving. The cars come equipped with batteries that can be topped up via household power outlets with the charging cable stored in the rear boot. Once fully drained, BMW X5 xDrive40e M Sport can be fully recharged at home in approximately three hours and fifty minutes, or recharged with BMW i Wallbox Pure in 2 hours 45 minutes.
The BMW Group

With its four brands BMW, MINI, Rolls-Royce, and BMW Motorrad, the BMW Group is the world's leading premium manufacturer of automobiles and motorcycles and also provides premium financial and mobility services. As a global company, the BMW Group operates 31 production and assembly facilities in 14 countries and has a global sales network in more than 140 countries.

In 2016, the BMW Group sold approximately 2.367 million cars and 145,000 motorcycles worldwide. As of 31 December 2015, the BMW Group had a workforce of 122,244 employees.

The success of the BMW Group has always been based on long-term thinking and responsible action. The company has therefore established ecological and social sustainability throughout the value chain, comprehensive product responsibility and a clear commitment to conserving resources as an integral part of its strategy.
BMW Group Thailand
BMW Group Thailand, a subsidiary of BMW AG, Germany, was established on the 3rd October 1998. The three entities of BMW Group Thailand include BMW (Thailand) Co., Ltd. with responsibility for wholesales & marketing of BMW Group products, BMW Manufacturing (Thailand) Co., Ltd. with responsibility for BMW, MINI and BMW Motorrad local production, and BMW Leasing (Thailand) Co., Ltd. with responsibility for financial services offerings to both wholesale and retail customers.
In 2016, BMW Group Thailand delivered 7,923 BMW and MINI vehicles to the customers.
For BMW Motorrad Thailand, new record has been set in 2016 with 1,819 motorcycle deliveries.
In 2017, BMW Group Thailand has begun the new year with the best-ever start to the year with 745 BMW and MINI car deliveries, achieving an impressive +22% growth year-on-year. For BMW Motorrad Thailand, the growth of +22% in January 2017 compared to the same month last year set a new record high after its achievement as the third fastest growing market for BMW Motorrad worldwide in 2016.
On the production side, the BMW Group Manufacturing Thailand plant was founded on BMW Group's strong belief in the growth potential of Asian markets and Thailand in particular, with its unique location, strong manufacturing base, and ready supply of skilled automotive labor, being an automotive hub for ASEAN.
An investment of over 4.6 billion Baht year-to-date 2016 has been invested into expansion of plant Rayong in terms of assembling processes, aiming to meet growing customer demand. In addition, with approximately 4 billion Thai Baht representing the amount of annual purchasing in Thailand, the BMW Global Purchasing office has been established in Thailand. This is to source various components from local suppliers in Thailand and the broader ASEAN region, in order to supply the entire BMW production network of 31 production and assembly facilities, located in 14 countries worldwide.
As of 2016, BMW Group Manufacturing Thailand produces the following 19 models: BMW 1 Series, BMW 3 Series, BMW 3 Series Gran Turismo, BMW 5 Series, BMW 7 Series, BMW X1, BMW X3, BMW X4, BMW X5, and MINI Countryman. For BMW Motorrad the BMW F 800 R, BMW F 800 GS, BMW F 700 GS, BMW R 1200 GS, BMW R 1200 GS Adventure, BMW F 800 GT, BMW S 1000 R, BMW S 1000 RR and BMW S 1000 XR are also locally assembled at the plant. In addition, BMW Group Manufacturing Thailand now assembles two BMW plug-in hybrid models; BMW 330e and BMW X5 xDrive40e.
Starting from May 2016, BMW Group Manufacturing Thailand's assembly line capability has been expanded for the purpose of exporting the BMW X3 and BMW X5 to China as well.


For further information, please contact:
BMW Group Thailand

1-800-269-269

www.bmw.co.th
www.mini.co.th
www.bmw-motorrad.co.th
Media Contacts:

Carl Byoir & Associates
Suthatip Boonsaeng (08-7685-1695 or0-2627-3501 ext.102)
Thornthawat Thongnab (08-3225-4567 or 0-2627-3501 ext.206)
Sawarot Thawinwongrak (08-9888-9799 or 0-2627-3501 ext.223)
sboonsaeng@carlbyoir.com, tthongnab@carlbyoir.com, sthawinwongrak@carlbyoir.com
Read more