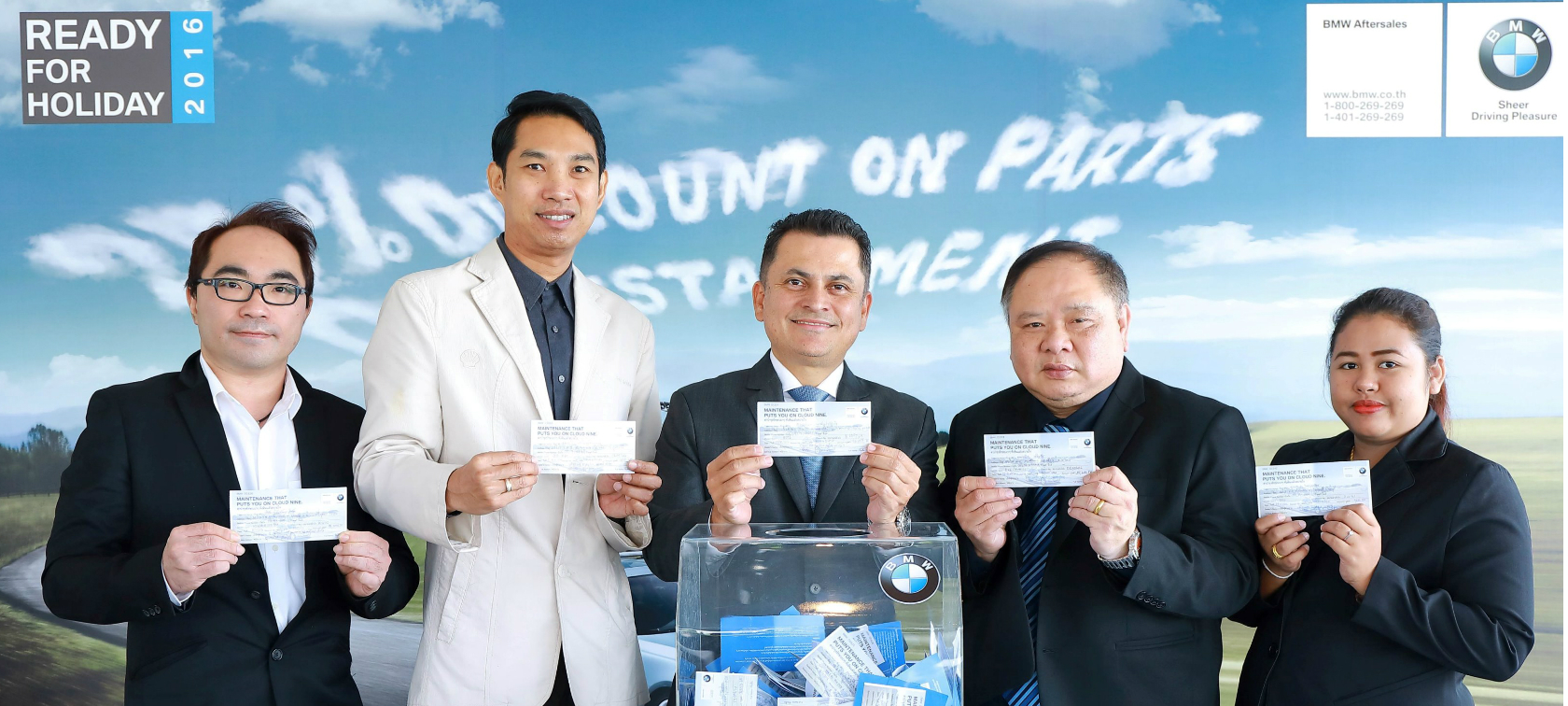 Photo Release | 2017.03.10
BMW GROUP THAILAND PRESENTS 100 PRIZES TO BMW AND MINI CUSTOMERS IN "2016 READY FOR HOLIDAY" CAMPAIGN
Pathumthani. BMW Group Thailand – led by Mr. César Badilla (center), Director Aftersales – held a special lucky draw to determine winning BMW and MINI customers from the "2016 Ready for Holiday" campaign, which saw lucky customers receive a total of 100 prizes, including Shell fuel cards valued at 10,000 baht and vouchers for a stay at the Sheraton Hua Hin Resort & Spa. The draw was held at the BMW Group Thailand Training Center and was witnessed by Ms. Paphawee Hanuman (right), Assistant District Chief Officer of Pathumthani, and Mr. Mongkoltat Chavalakul (4th left), Senior Manager, Parts & Logistics, BMW Group Thailand, as well as Shell Thailand executives Mr. Kristsada Subhap (2nd left), Sales General Manager Automotive OEMs Business, and Mr. Somsak Suriyakriangkrai (left), Lubricants Sales Manager Automotive OEMs Business Lube.
The "2016 Ready for Holiday" campaign was offered exclusively to BMW and MINI customers who spent 8,000 baht or more on parts and accessories purchases and received an oil change or purchased genuine lubricants from BMW. Winners from the campaign will be announced on www.bmw.co.th, on March 15th, 2017.


The BMW Group

With its three brands BMW, MINI and Rolls-Royce, the BMW Group is the world's leading premium manufacturer of automobiles and motorcycles and also provides premium financial and mobility services. As a global company, the BMW Group operates 31 production and assembly facilities in 14 countries and has a global sales network in more than 140 countries.

In 2016, the BMW Group sold approximately 2.367 million cars and 145,000 motorcycles worldwide. As of 31 December 2015, the BMW Group had a workforce of 122,244 employees.
The success of the BMW Group has always been based on long-term thinking and responsible action. The company has therefore established ecological and social sustainability throughout the value chain, comprehensive product responsibility and a clear commitment to conserving resources as an integral part of its strategy.
For further information, please contact:
BMW Group Thailand
1-800-269-269

www.bmw.co.th
www.mini.co.th
www.bmw-motorrad.co.th
Media Contacts:

Carl Byoir & Associates
Suthatip Boonsaeng (08-7685-1695 or0-2627-3501 ext.102)
Thornthawat Thongnab (08-3225-4567 or 0-2627-3501 ext.206)
Sawarot Thawinwongrak (08-9888-9799 or 0-2627-3501 ext.223)

sboonsaeng@carlbyoir.com, tthongnab@carlbyoir.com, sthawinwongrak@carlbyoir.com
Read more