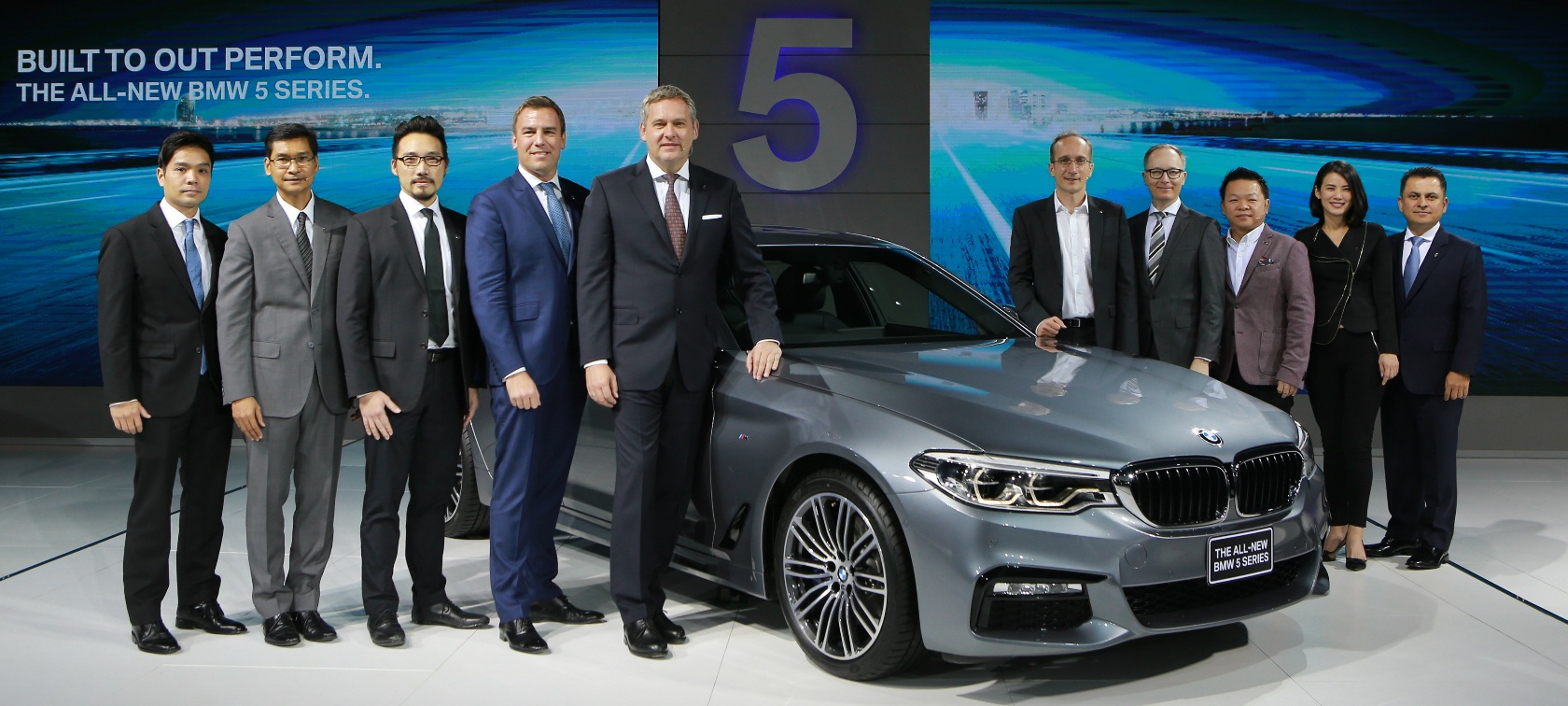 Press Release | 2017.02.27
BMW GROUP THAILAND ACHIEVED THE BEST-EVER START TO THE YEAR, UNVEILS NEW ADDITIONS TO CAR AND MOTORCYCLE LINEUP ACROSS ALL THREE BRANDS
From left to right
1. Khun Jatupon Puttaviboon, General Manager Dealer Development, BMW Group Thailand

2. Khun Krisda Utamote, Director Corporate Communications, BMW Group Thailand

3. Khun Sethipong Anutarasoti, General Manager Marketing, BMW Thailand

4. Mr. Björn Antonsson, Chief Executive Officer, BMW Financial Services Thailand

5. Mr. Stefan Teuchert, President, BMW Group Thailand

6. Mr. Markus Glaeser, Head of BMW Motorrad Thailand

7. Mr. Lars Nielsen, Sales and Marketing Director, BMW Thailand

8. Khun Preecha Ninatkiattikul, General Manager MINI Thailand
9. Khun Prapatsara Aramvongsamut, General Manager Sales, BMW Thailand
10. Mr. César Badilla, Director Aftersales, BMW Group Thailand
• BMW Group Thailand achieved the best-ever January with 745 BMWs and MINIs, +22% growth year-on-year.

• BMW Motorrad Thailand sets a new record high over 3 digits in January for the first time with 110 deliveries, +22% growth year-on-year.

• The all-new BMW 5 Series, the all-new MINI Countryman and the new BMW R nineT Racer and BMW R nineT Pure spearhead a lineup of premium automotive innovations coming to the Thai market in 2017.
Bangkok. BMW Group Thailand has begun the new year with the best-ever start to the year with 745 BMW and MINI car deliveries, achieving an impressive +22% growth year-on-year. For BMW Motorrad Thailand, the growth of +22% in January 2017 compared to the same month last year lifted the total deliveries over 3 digits for the first time in January to deliver 110 motorcycles, a new record high after its achievement as the third fastest growing market for BMW Motorrad worldwide in 2016. Meanwhile, the BMW Group worldwide achieved the best-ever start to the year with January figures showing increased deliveries in all world regions.
Mr. Stefan Teuchert, President, BMW Group Thailand said, "BMW Group is building upon the successes of 2016 with the best-ever sales figure in January 2017 with 163,288 deliveries for the BMW Group – an increase of 6.8% from the previous year. In Thailand, we have also started the year superbly with the best-ever record for January. A good start to the year 2017 gives us a clear indication of robust market demand for our products across the ranges."
"BMW's growth in Thailand reflects the exceptional level of demand and trust that our vehicles enjoy among Thai consumers. We will continue to build on our success with a continued commitment to create world-class, premium automotive innovations in the years to come. For the rest of 2017, more than 20 new models will be launched during the year. We are certain that this year will be another remarkable year of success for BMW Group Thailand and worldwide".
A key highlight for BMW this year is the launch of the all-new BMW 5 Series in Thailand. With the BMW EfficientLightweight design and engineering concept, which calls for the increased use of aluminum and high-strength steel, the all-new BMW 5 Series has shed 100 kilograms of its predecessor's curb weight and now offers exceptional torsional stiffness to combine with a wonderfully dynamic driving experience and the long-distance comfort for which the BMW 5 Series is renowned.
MINI Thailand is set to unveil the all-new MINI Countryman, for the first time in Thailand during the Bangkok International Motor Show 2017, while BMW Motorrad will be presenting the two variants of the BMW R nineT – including the BMW R nineT Racer and BMW R nineT Pure – in March.
BMW Financial Services Thailand
Mr. Björn Antonsson, Chief Executive Officer of BMW Financial Services Thailand commented, "Strong collaboration between BMW Group Thailand and our BMW, MINI and BMW Motorrad dealer network allows us to fully integrate our financial products and processes to successfully support our dealers in their business growth as well as to support our private and corporate customers with an extensive product portfolio."
"We are happy to announce that BMW Financial Services Thailand had another record year in 2016, in which we celebrated our 15th anniversary in Thailand. BMW Financial Services Thailand has grown up to an overall portfolio of 35.9 billion Baht in 2016 and we expect to continue this strong growth also in 2017."
"Our target is to take care of customers and to make ownership of a BMW, MINI or BMW Motorrad as convenient as possible via tailor-made products and on-going campaigns in response to the needs of new and existing customers. BMW Financial Services Thailand will continue to launch a variety of programs to support the customer loyalty."

"In order to further deliver benchmark services, BMW Financial Services Thailand has substantially invested in information technology in the past years, supporting processes with close collaboration between our Customer Interaction Centre (CIC) and our dealers, therefore enabling us to support our customers effectively."
New vehicle highlights arriving in 2017
The all-new BMW 5 Series sedan: BMW 530i M Sport and BMW 520d Luxury
In addition to being 100 kilograms lighter than its predecessor, the all-new BMW 5 Series sedan features a low center of gravity, BMW's hallmark even weight distribution and lowest drag coefficient in its class, offering superior driving pleasure and extensive comfort for passengers.
The all-new BMW 5 Series also features the latest-generation iDrive system, displaying navigation, telephone, entertainment features, and vehicle functions on a high-resolution 10.25-inch screen. The system can be operated using the iDrive Controller, by voice command or gestures, or by touching the display controls directly.
Headlights of The all-new BMW 5 Series comes with Adaptive LED Headlights with variable light distribution including adaptive roundabout lights and BMW Selective Beam anti-dazzle high beam with a range of up to 500 meters.
Maximizing the levels of on-board comfort are extended storage options and greater legroom for rear-seat passengers. Special Synergy Thermoacoustic Capsule (SYNTAK) engine encapsulation technology bring about another noticeable reduction in noise levels inside the car.
The petrol-powered BMW 530i M Sport packs a two-liter, four-cylinder engine that develops a peak torque of 350 Nm (258 lb-ft) and generates a maximum output of 185 kW/252 hp. Its fuel consumption comes in at 17.5 km/liter with CO2 emissions of 129 g/km – down more than 11 per cent on its predecessor's figures. The BMW 530i accelerates from 0 100 km/h in 6.2 seconds on its way to a top speed of 250 km/h.
BMW 530i M Sport: THB 4,399,000 (VAT incl.)
The two-litre four-cylinder diesel engine powering BMW 520d Luxury develops 140 kW/190 hp and a peak torque of 400 Nm. With the 8-speed Steptronic gearbox specified, its fuel consumption is 20.0 km/liter and CO2 emissions is 132 g/km. The sedan accelerates from 0 100 km/h in 7.5 seconds and top speed is 235 km/h.
BMW 520d Luxury: THB 3,899,000 (VAT incl.)
Read more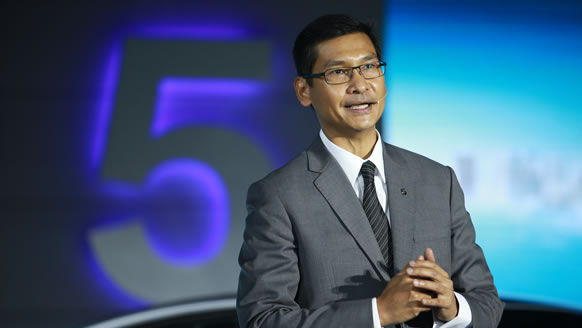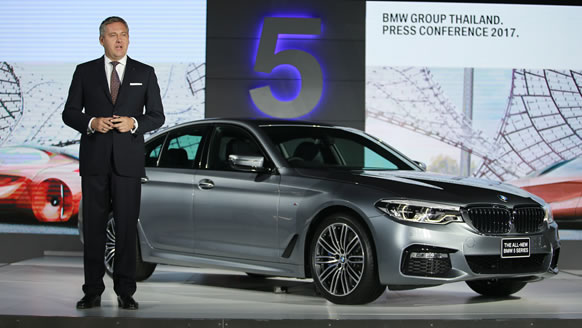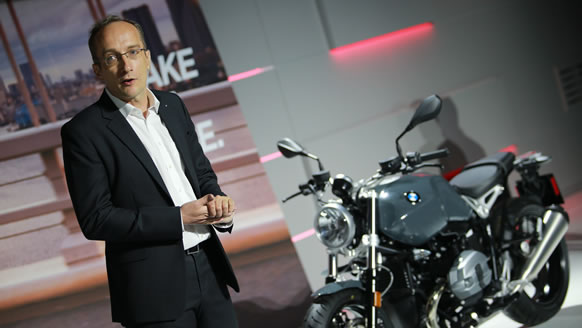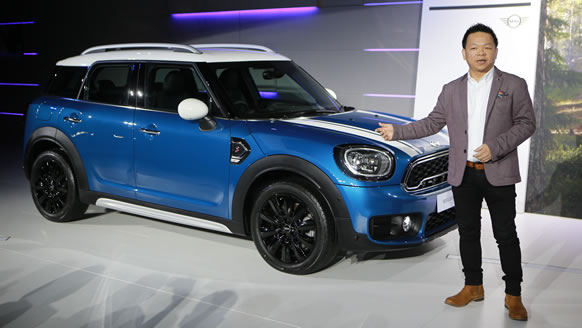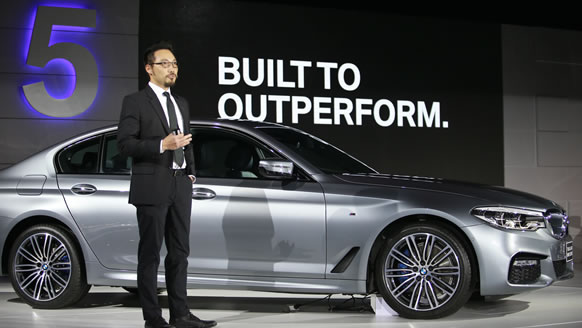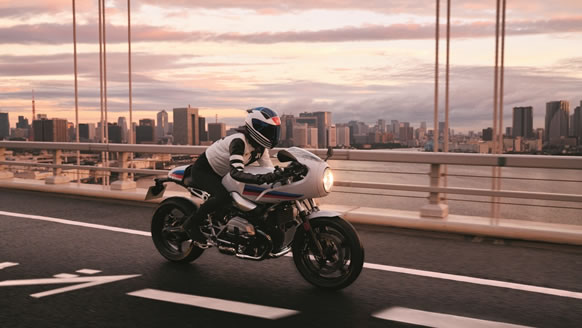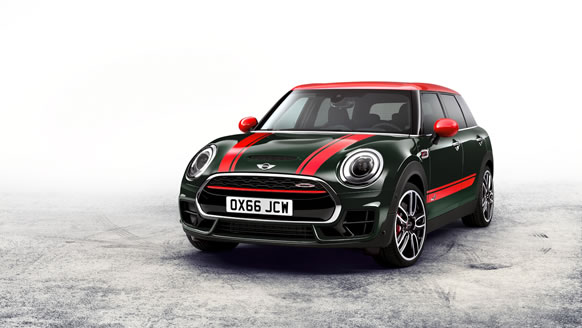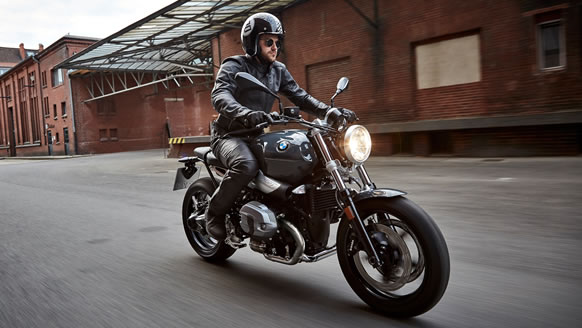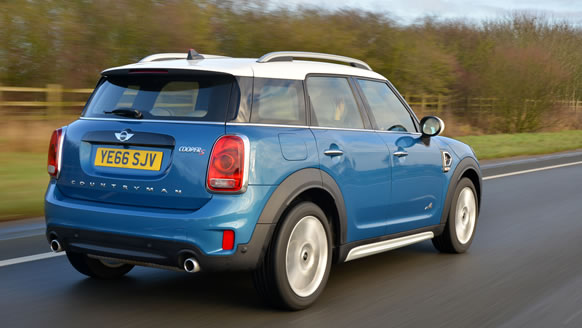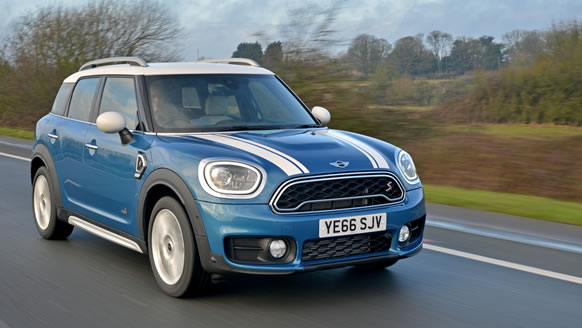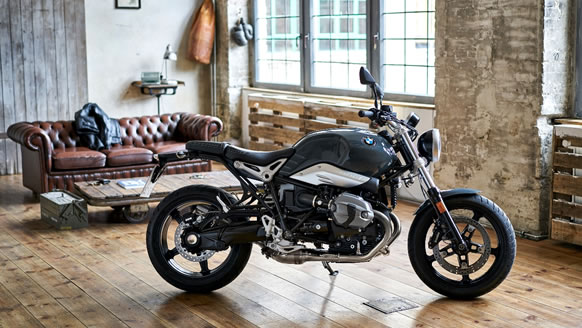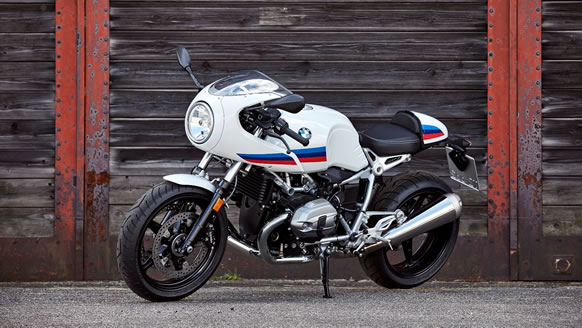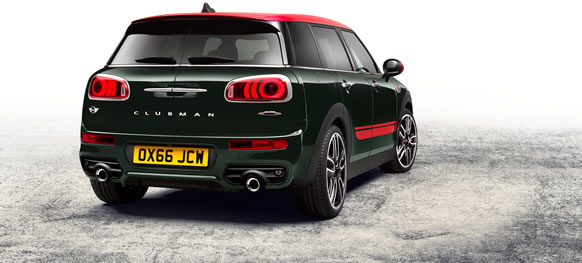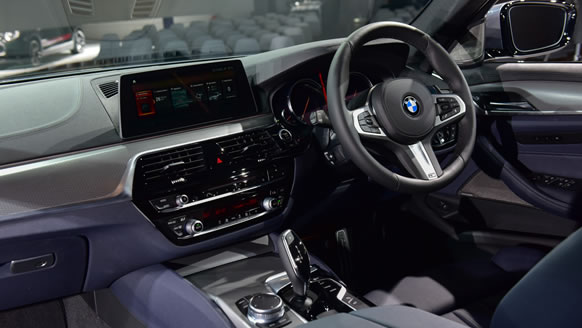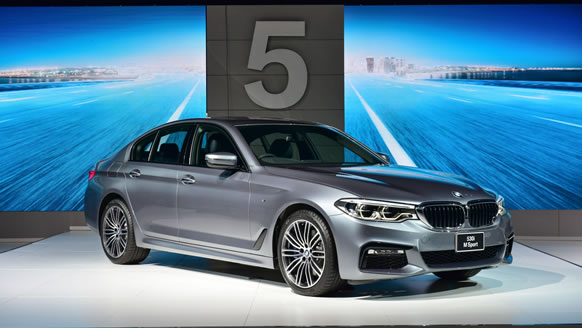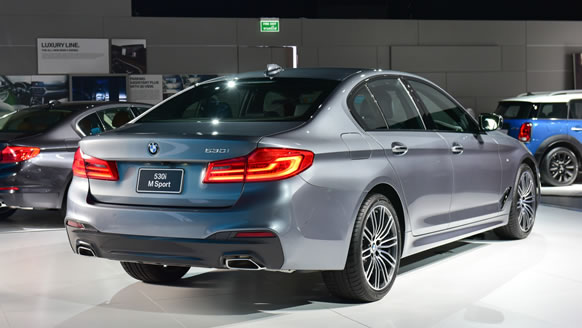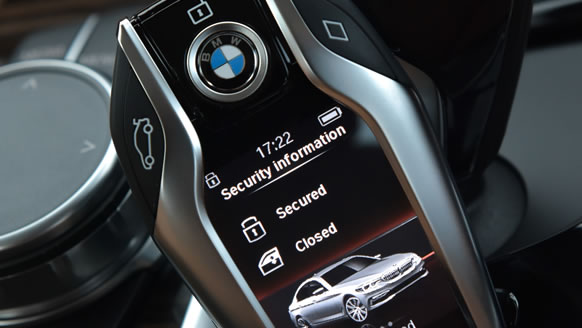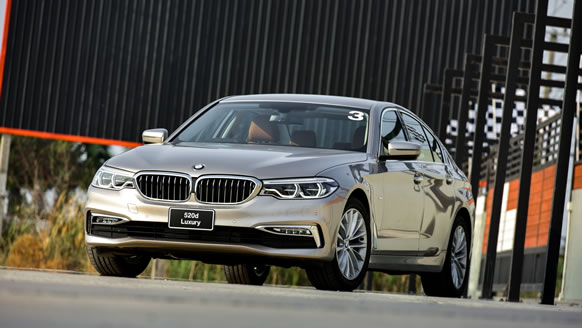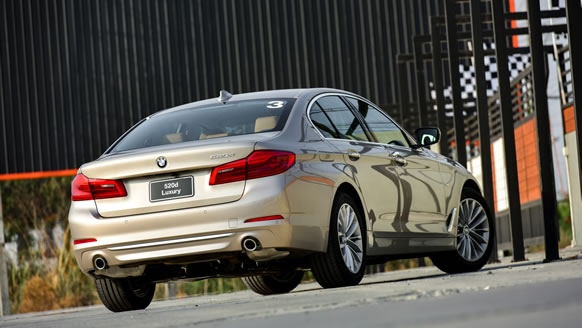 The all-new MINI Countryman
The second-generation MINI Countryman will officially arrive in Thailand during the Bangkok International Motor Show 2017 with three models available – including the MINI Cooper Countryman, MINI Cooper S Countryman and MINI Cooper S Countryman Hightrim, each with the powerful and efficient MINI TwinPower Turbo technology. The all-new MINI Countryman goes even further in terms of the model's versatility, functionality, agility and premium character.
The all-new MINI Countryman is some 20 centimeters longer than its predecessor and approximately 3 centimeters wider. Its wheelbase has been extended by 7.5 centimeters. This growth results in significantly increased space on five fully-fledged seats as well as a definite increase in storage volume and luggage transport versatility for the greater comfort of passengers. One unique option is the MINI Picnic Bench, which can be folded out of the luggage compartment and provides comfortable seat for outdoor use. Additionally, the vehicle features electrical tailgate control, offering the option of touchless operation – which requires the key holder to simply put a foot close to the underside of the rear bumper – and remote-controlled opening paired with a closing button on the tailgate itself.
The all-new MINI Countryman's central instrument panel now includes 8.8 inch touchscreen functionality for the first time and supports features such as MINI Country Timer, which times your runs over demanding terrain, MINI Connected, a personal assistant that supports you on the road, incl. off-board route planning, event setting during route, last mile navigation, and traffic radar all of which work in tandem with the onboard computer and a smartphone.
The all-new MINI Countryman: Price is not yet announced
The new MINI John Cooper Works Clubman
The new MINI John Cooper Works (JCW) Clubman combines genuine racetrack excitement with the premium stylings of MINI in the latest generation of this premium compact car, which boasts an eye-catching yet classically distinctive design on top of performance that rivals serious racing cars.
The new MINI JCW Clubman combines 2.0-litre petro engine with the new generation of the ALL4 all-wheel-drive system. The four-cylinder engine with MINI TwinPower Turbo Technology, delivers a peak output of 170 kW/231 hp and a maximum torque of 350 Nm, acceleration from zero to 100 km/h in 6.3 seconds with 8-speed Steptronic sports transmission to ensure exceptional agility on the road. This new engine takes the mantle of the most powerful engine ever in a MINI.
Additionally, the new MINI JCW Clubman comes equipped with a number of exclusive features, including an aerodynamics kit, 19" inch John Cooper Works Course Spoke two-tone light alloy wheels, John Cooper Works exterior and interior trims, leather steering wheel with multifunction controls, John Cooper Works sports seats, Head-up display, and 8.8-inch color touch screen in the central instrument panel.
The new MINI John Cooper Works Clubman: THB 3,588,000 (VAT incl.)

The new BMW R nineT: Individual classic style in two exciting new facets
A true heritage big bike, the BMW R nineT stands out with distinctive looks inspired by the legendary BMW R32. Today, BMW Motorrad is launching two new takes on the R nineT with purer, more contemporary designs.
The BMW R nineT Pure embodies the essence of the purist, classic roadster with design draws on a blend of both classic and modern stylistic elements perfect for riding pleasure on country roads. Compact motorcycle construction is combined with high-end details such as footrests and fork bridges in forged aluminum. The fuel tank and front mudguard of the BMW R nineT Pure are finished in Catalano Grey non-metallic in combination with black for the suspension and drivetrain, which emphasizes the classical and powerful character of the R nineT Pure as genuine heritage bike.
The BMW R nineT Racer deliberately arouses memories of the sports motorcycles popular in the early 1970s. Crouched, compact and elongated, it conveys a sense of old-school sporty aspiration with its strikingly short half-fairing, hump seat, stub handlebars and set-back footrests. The frame finished in Aluminium Silver prominently presents an architectural contrast with the black drivetrain, underscoring the standing of the R nineT Racer as an old-school sports motorcycle designed for dynamic riding fun on winding roads.
The new BMW R nineT Racer and R nineT Pure: Prices are not yet announced
Moving toward the future of sustainability with the expansion of BMW i pure Wallbox charging station and the start of PHEV Assembly
BMW Group Thailand is demonstrating its leadership in sustainable technology by expanding the BMW i pure Wallbox charging station network to the three five-star hotels including the Mandarin Oriental Hotel, the Peninsula Bangkok and the Banyan Tree Bangkok to provide free charging services for all BMW iPerformance plug-in hybrid vehicles owned by customers of BMW Group Thailand's authorized dealers. The BMW i Wallbox Pure station at the three hotels joins the 2 existing stations for BMW official owners at Central World and now at All Seasons Place with further expansion to offer 2 units of BMW i pure Wallbox. Currently, there are 6 BMW i pure Wallbox public charging stations available in Thailand.
Additionally, BMW Group Manufacturing Thailand is now capable of assembling plug-in hybrid vehicles in Thailand, starting with the BMW 330e and BMW X5 xDrive40e both of which combine the advantages of a combustion engine and an electric motor to enhance fuel consumption and open up the possibility of emission-free urban mobility. This reaffirms the success of BMW Group Thailand as a leader in sustainable automotive technology and innovations, reflecting its vision for the future of sustainability.
World-class services expanded to southern region with Millennium Auto Phuket and Siam Motorrad showrooms and service facilities
BMW Group Thailand has expanded its showroom and service facility network into the southern region with the launch of Millennium Auto Phuket – a full-fledged showroom and service center for BMW and MINI vehicles and customers in the Andaman market, which covers the three key economic provinces of Phuket, Krabi, and Phang Nga. Meanwhile, Siam Motorrad has launched its first showroom in the lower southern region to further strengthen BMW Motorrad's presence in the big bike market and offer world-class services to BMW Motorrad customers in the area.
The Millennium Auto Phuket showroom and service center offers a total capacity of 38 display units – including 8 BMWs and 6 MINIs as well as 24 certified used cars from BMW Premium Selection and MINI NEXT – and 10 mechanical work bays. Siam Motorrad's Phuket facility covers over 800 square meters in total floor area and provides a display space for every motorcycle model available in the Thai market.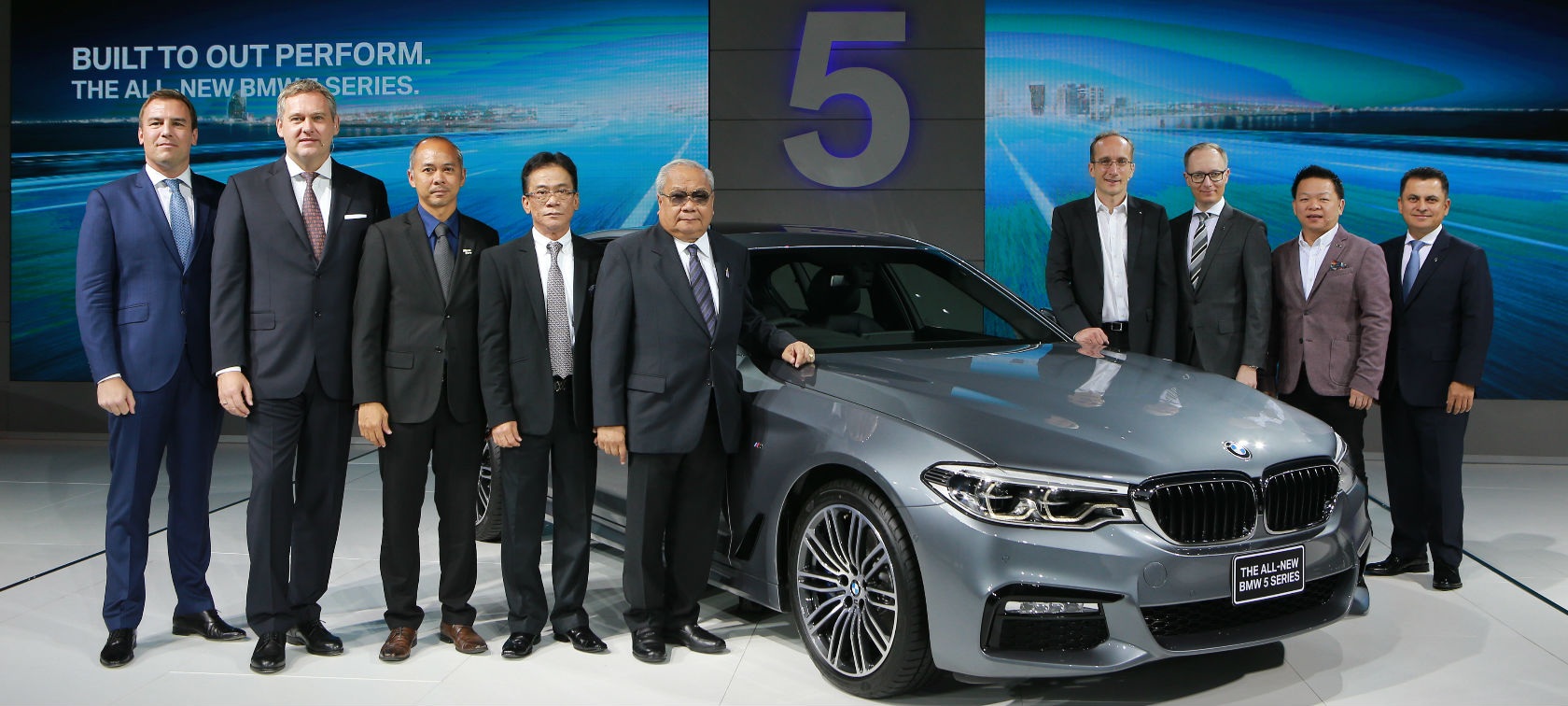 From left to right
1. Mr. Björn Antonsson, Chief Executive Officer, BMW Financial Services Thailand

2. Mr. Stefan Teuchert, President, BMW Group Thailand

3. Khun Chalatchai Paphatphong, Deputy Managing Director, Inter-Media Consultant Co., Ltd

4. Khun Jaturon Komolmitr, Director and Chief Operating Officer, Grand Prix International PCL

5. Dr. Prachin Eamlumnow, Founder and President, Grand Prix International PCL

6. Mr. Markus Glaeser, Head of BMW Motorrad Thailand
7. Mr. Lars Nielsen, Sales and Marketing Director, BMW Thailand
8. Khun PreechaNinatkiattikul, General Manager, MINI Thailand
9. Mr. César Badilla, Director Aftersales, BMW Group Thailand

The BMW Group

With its three brands BMW, MINI and Rolls-Royce, the BMW Group is the world's leading premium manufacturer of automobiles and motorcycles and also provides premium financial and mobility services. As a global company, the BMW Group operates 31
production and assembly facilities in 14 countries and has a global sales network in more than 140 countries.
In 2016, the BMW Group sold approximately 2.367 million cars and 145,000 motorcycles worldwide. As of 31 December 2015, the BMW Group had a workforce of 122,244 employees.
The success of the BMW Group has always been based on long-term thinking and responsible action. The company has therefore established ecological and social sustainability throughout the value chain, comprehensive product responsibility and a clear commitment to conserving resources as an integral part of its strategy.
For further information, please contact:
BMW Group Thailand
1-800-269-269

www.bmw.co.th
www.mini.co.th
www.bmw-motorrad.co.th

Media Contacts:
Carl Byoir & Associates
Suthatip Boonsaeng (08-7685-1695 or0-2627-3501 ext.102)
Thornthawat Thongnab (08-3225-4567 or 0-2627-3501 ext.206)
Sawarot Thawinwongrak (08-9888-9799 or 0-2627-3501 ext.223)

sboonsaeng@carlbyoir.com, tthongnab@carlbyoir.com, sthawinwongrak@carlbyoir.com


Read more