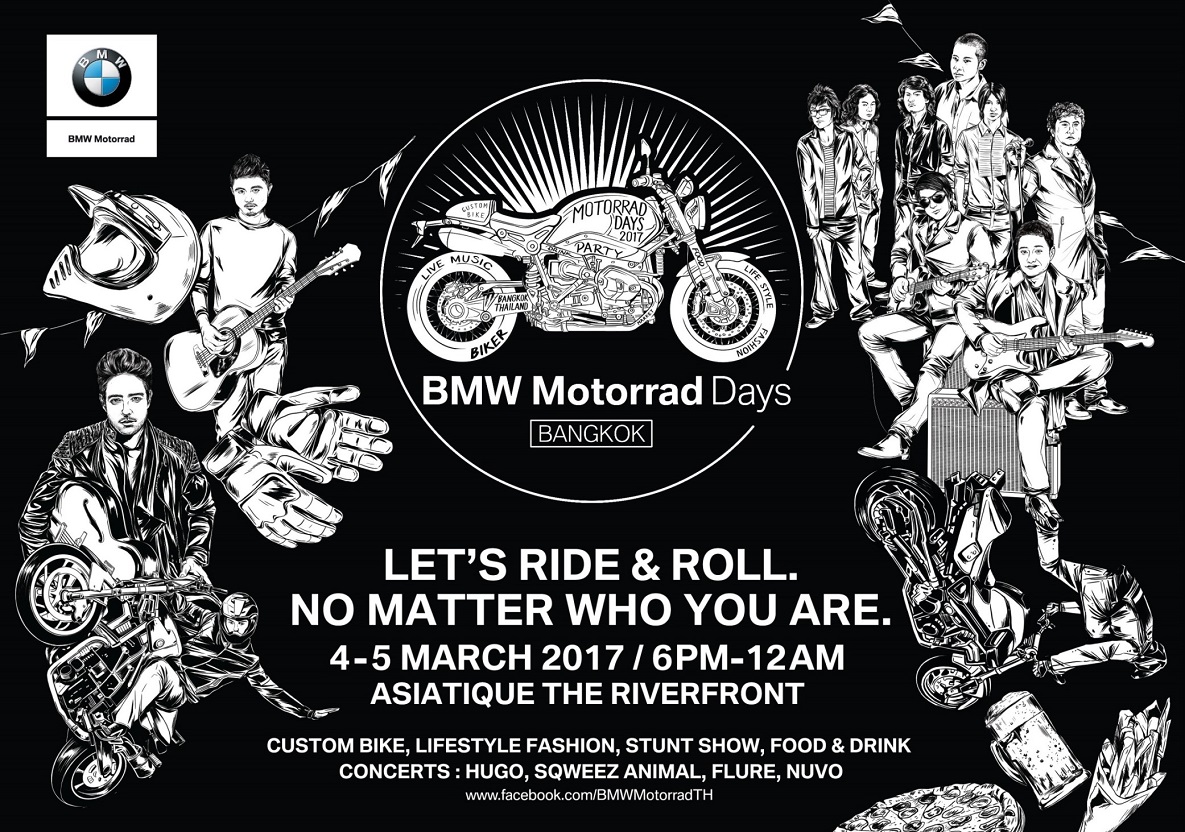 Press Release | 2017.03.13
BIG BIKE FANS DELIGHT IN SPLENDID EXPERIENCES AT BMW MOTORRAD DAYS 2017
BMW Motorrad Thailand recently held 'BMW Motorrad Days 2017', an annual bash for all big-bike maniacs, at Asiatique the Riverfront. On top of the first public appearance for the new BMW R nineT Pure and BMW R nineT Racer, the bikers also enjoyed test rides on various BMW motorcycles as well as plenty of motorbike accessories, apparel, and an exclusive collection of BMW Motorrad Days merchandise. The event also featured a spectacular show by world-renowned French stunt-rider Big Jim and live music from top acts like Nuvo, Hugo, Flure, and Win Sqweez Animal.
Check out more highlights and stay tuned for more fun activities from us at www.facebook.com/BMWMotorradTH.



The BMW Group

With its three brands BMW, MINI and Rolls-Royce, the BMW Group is the world's leading premium manufacturer of automobiles and motorcycles and also provides premium financial and mobility services. As a global company, the BMW Group operates 31 production and assembly facilities in 14 countries and has a global sales network in more than 140 countries.

In 2016, the BMW Group sold approximately 2.367 million cars and 145,000 motorcycles worldwide. As of 31 December 2015, the BMW Group had a workforce of 122,244 employees.
The success of the BMW Group has always been based on long-term thinking and responsible action. The company has therefore established ecological and social sustainability throughout the value chain, comprehensive product responsibility and a clear commitment to conserving resorces as an integral part of its strategy.
For further information, please contact:
BMW Group Thailand
1-800-269-269

www.bmw.co.th
www.mini.co.th
www.bmw-motorrad.co.th
Media Contacts:

Carl Byoir & Associates
Suthatip Boonsaeng (08-7685-1695 or0-2627-3501 ext.102)
Thornthawat Thongnab (08-3225-4567 or 0-2627-3501 ext.206)
Sawarot Thawinwongrak (08-9888-9799 or 0-2627-3501 ext.223)

sboonsaeng@carlbyoir.com, tthongnab@carlbyoir.com, sthawinwongrak@carlbyoir.com
Read more