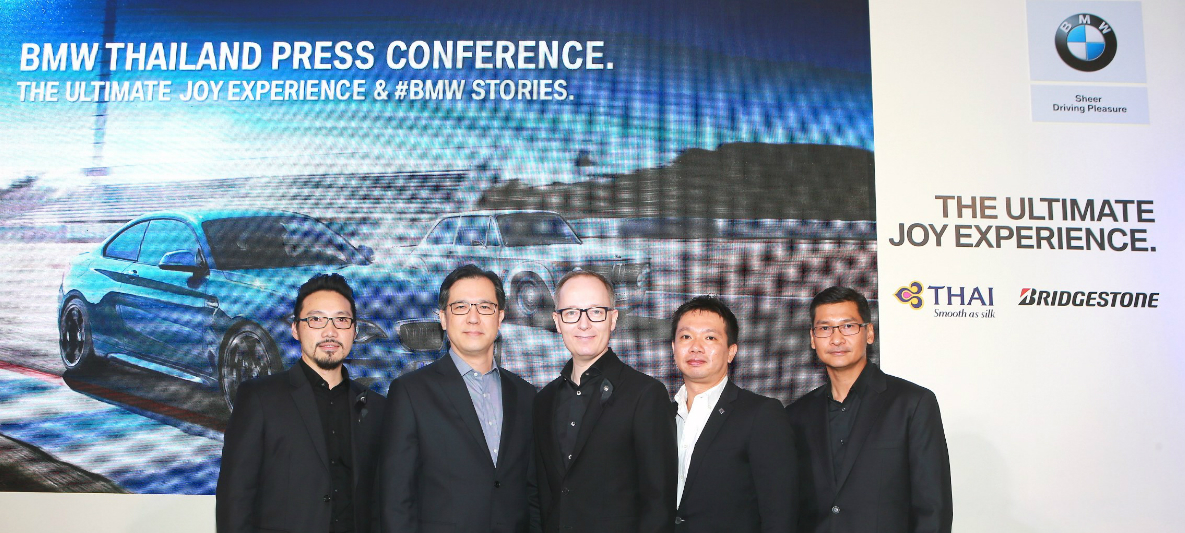 Press Release | 2017.02.03
BMW Thailand announces "The Ultimate JOY Experience" program in partnership with Thai Airways and Bridgestone
Program to offer the best in lifestyle experiences with a distinctive BMW touch for all owners
Photograph shows the unveiling of the exclusive "The Ultimate JOY Experience" program led by BMW Thailand's Sales and Marketing Director Mr. Lars Nielsen (center), joined by Mr. Korakot Chatasingha (2nd left), Director, Thailand Regional Sales Department, Thai Airways International PCL; Mr. Shinya Hisada (2nd right), Consumer Business Group Director, Bridgestone Sales (Thailand) Co., Ltd., together with Mr. Sethipong Anutarasoti (far left), General Manager Marketing, BMW Thailand and Mr. Krisda Utamote (far right), Director Corporate Communications, BMW Group Thailand
Bangkok. BMW Thailand has unveiled the exclusive "The Ultimate JOY Experience" program to offer customers stunning lifestyle experiences in Thailand and at captivating destinations around the globe – all curated specifically for BMW owners.
Mr. Lars Nielsen, Sales and Marketing Director, BMW Thailand, said, "Our 'The Ultimate JOY Experience' program reflects a dedication to offer not just Sheer Driving Pleasure but also unmatched lifestyle activities for BMW owners – including experiences in travel, sports, entertainment, wellness, shopping, or even dining."
The first key highlight in "The Ultimate JOY Experience" will see BMW Thailand and Thai Airways partner up to offer BMW owners a challenging driving experience on snow and ice surfaces in the BMW Alpine xDrive* activity, which will be held at the Southern Hemisphere Proving Ground – located on the peak of Mount Cardrona in New Zealand on August 3-8, 2017. Trip participants will be able to test the full capability of the BMW's intelligent xDrive all-wheel-drive system in challenging driving conditions under the guidance of experienced professionals before going on to enjoy adventurous rides at the Dart River Wilderness Safari and breathtaking sights at other destinations. Valued at 180,000 baht, the package is offered to BMW owners registered in "The Ultimate JOY Experience" at just half the price.
Mr. Korakot Chatasingha, Director, Thailand Regional Sales Department, Thai Airways International PCL, said, "As Thailand's national carrier, Thai Airways is very proud to be part of this exclusive program to offer true joy to BMW owners in the form of a pleasant, comfortable journey with premium-quality services that live up to our slogan-Smooth as Silk. In addition to bringing exclusive experiences to our customers, our collaboration with BMW is just the start of a partnership that will continue into the future."
BMW Thailand is also teaming up with Bridgestone to arrange the BMW Driving Experience safe driving skills training activity at the Thai Bridgestone Proving Ground in Saraburi. Customers who own any BMW vehicle can look forward to further Ultimate JOY experiences tailored to match a wide range of lifestyle interests with support from BMW Thailand's business partners.
Mr. Shinya Hisada, Consumer Business Group Director, Bridgestone Sales (Thailand) Co., Ltd., added, "Bridgestone is delighted to play a role in offering joyful experiences to BMW owners through an exciting activity on the road that also sharpens each driver's safe driving skills. The training activity is the first step on our journey together to engage BMW customers in truly special experiences."
"For BMW fans who are also golf enthusiasts, we are offering a chance to tee off in the BMW Golf Cup International – the world's largest international tournament series for amateur golfers – through 20 qualifying rounds that will be held throughout Thailand this year. Additionally, we are also organizing the BMW Golf Cup – Special Edition exhibition tournament, which will take golfers on a journey to the Emirates Golf Club in Dubai, United Arab Emirates in parallel with the World Final round of the BMW Golf Cup International. Meanwhile, marathon runners will be able to take in the atmosphere of a world-class race in the BMW Berlin Marathon," added Mr. Lars Nielsen.
In addition to the exciting lifestyle experiences on offer, BMW customers registering for "The Ultimate JOY Experience" before May 15, 2017 stand a chance to win a BMW 118i M Sport in an exclusive sweepstake. Customers can also double their chances of winning by joining the trip to New Zealand.
To discover more information and take advantage of offers under "The Ultimate JOY Experience," BMW customers can sign up for The Ultimate JOY Lounge – the destination for all BMW enthusiasts – at www.BMWultimateJOY.com.

Read more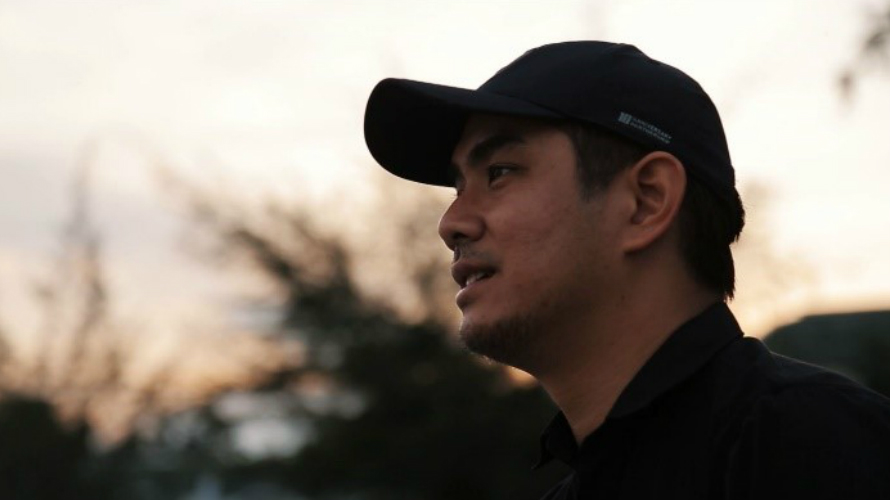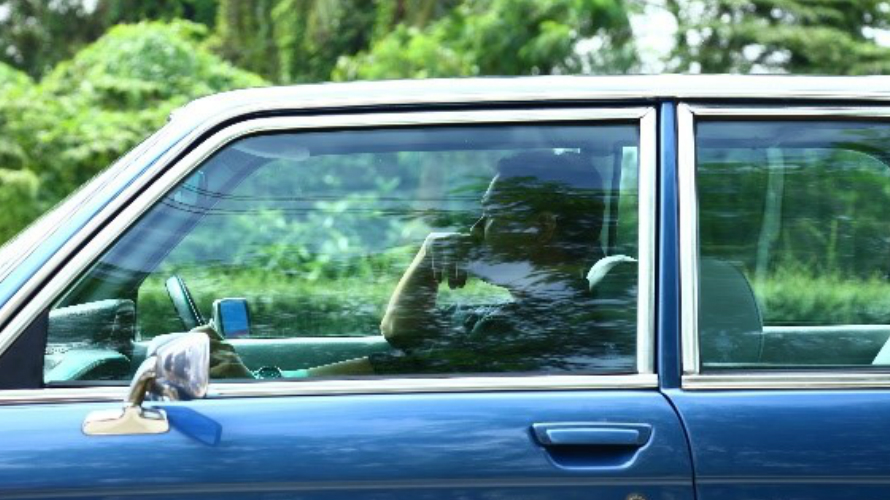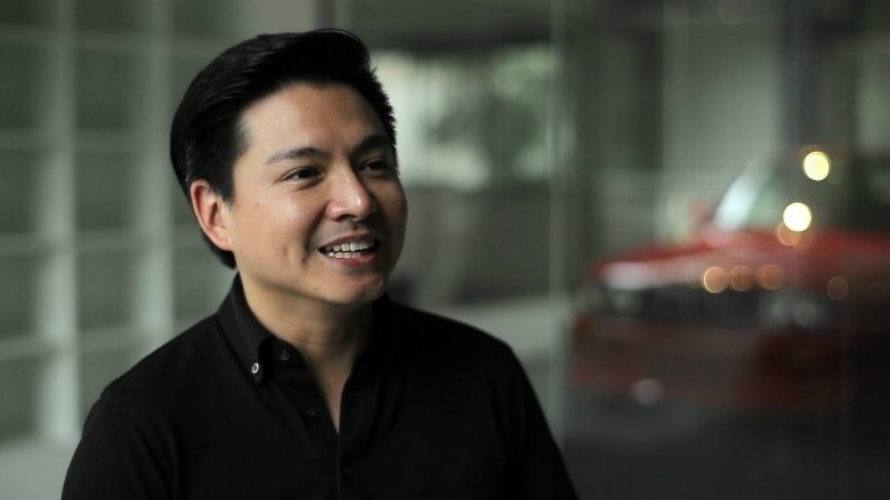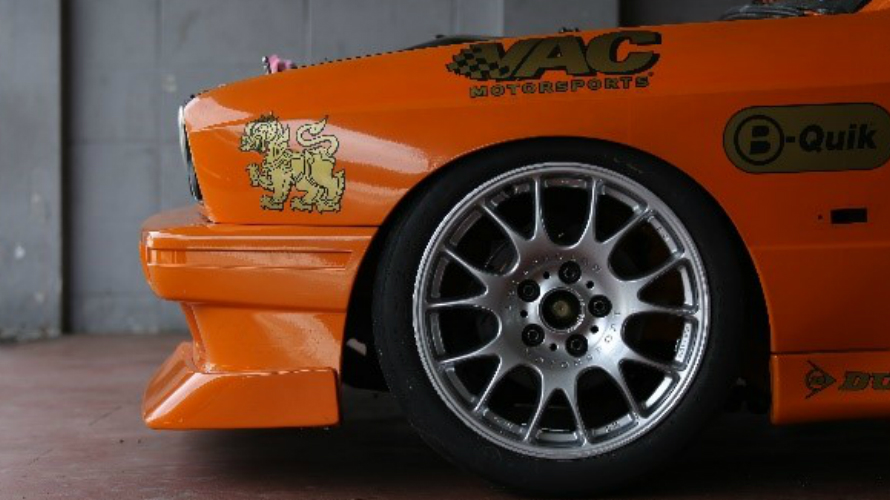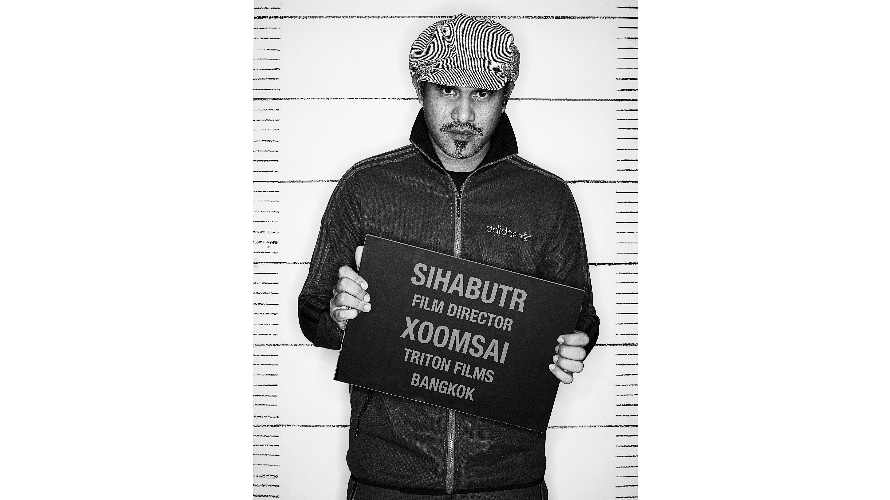 Reveal your passion for BMW in #BMWstories short films

BMW Thailand is also continuing its #BMWstories activity to tell the story of BMW enthusiasts from around the world. Two new short films based on the lives of two genuine BMW fans will soon be released, featuring Naputt "Ou" Assakul's love for the sheer speed and classic charms of the BMW M3 E30 (https://youtu.be/FHToFVdzTS0) and Thanit "George" Ruangswadipong's close relationship with his father – told through the BMW 3 Series E21 (https://youtu.be/mlLMZxj2maU).
BMW owners and fans across Thailand can tell the world of their passion for BMW by submitting their stories to the BMW Thailand Facebook fan page at https://www.facebook.com/BMW.Thailand/ from February 11 to March 11, 2017. The winning submission will be adapted into a short film under a collaboration with Sihabutr Xoomsai Na Ayudthaya, top short film director of production company Triton Film, and Plan B.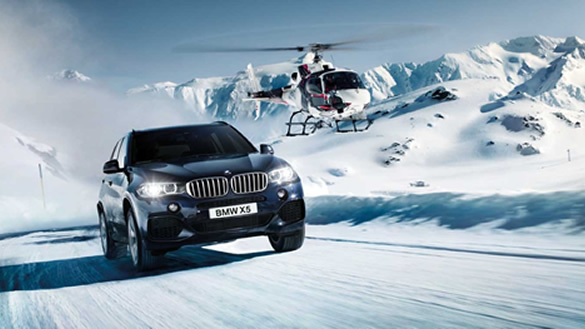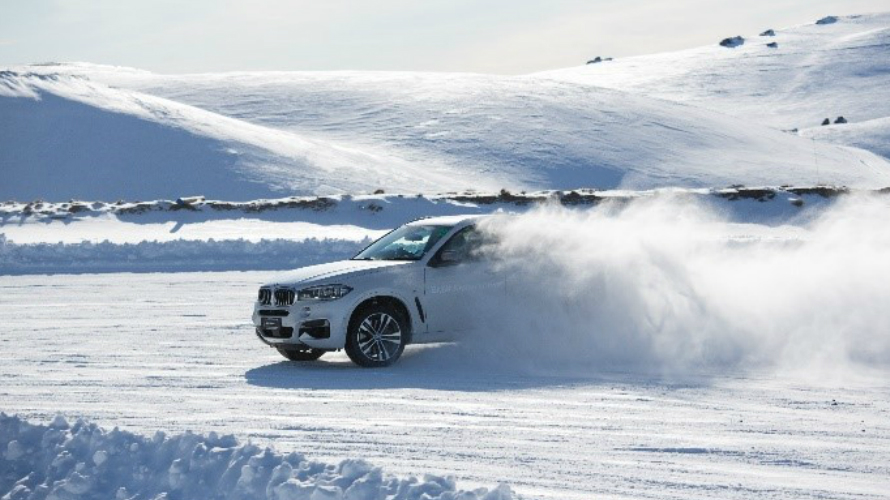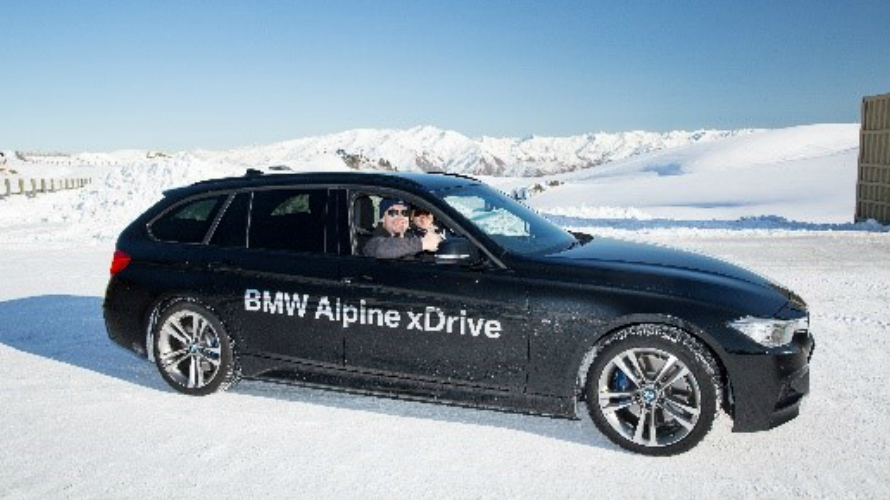 *The BMW Alpine xDrive activity will be held at the Southern Hemisphere Proving Ground on the peak of Mount Cardrona in New Zealand.
In addition to a thrilling drive on snowy and icy surfaces, participants joining the trip will also be visiting a number of truly special destinations under the following itinerary:

• August 4: Departure to Sydney, Australia.
• August 5: Arrival in Queenstown – Arrowtown, New Zealand. Check-in at the five-star Millbrook Resort, followed by initial briefing for the BMW Alpine xDrive activity.
• August 6: Travel to Cardrona Valley and the peak of Mount Cardrona by helicopter to take part in the BMW Alpine xDrive activity. Customers opting out of the drive can head to Lake Wanaka to see the wonders of the Puzzling World, embark on a classic steamship cruise on board the TSS Earnslaw to admire the scenery around Lake Wakatipu, and visit the Walter Peak sheep farm.
• August 7: Travel by gondola lift to Bob's Peak, where customers can enjoy luge rides.
• August 8: Experience a World Heritage Site at the Mount Aspiring National Park, whose millennia-old forests were used as a location for several scenes in "The Lord of the Rings" trilogy of films. Enjoy a high-speed ride along the wild waters of the Dart River on board the Wilderness Jet.
• August 9: Return journey to Bangkok.
• The total package is priced at 180,000 baht. BMW owners registered in "The Ultimate JOY Experience" will have BMW bearing half of the total price.