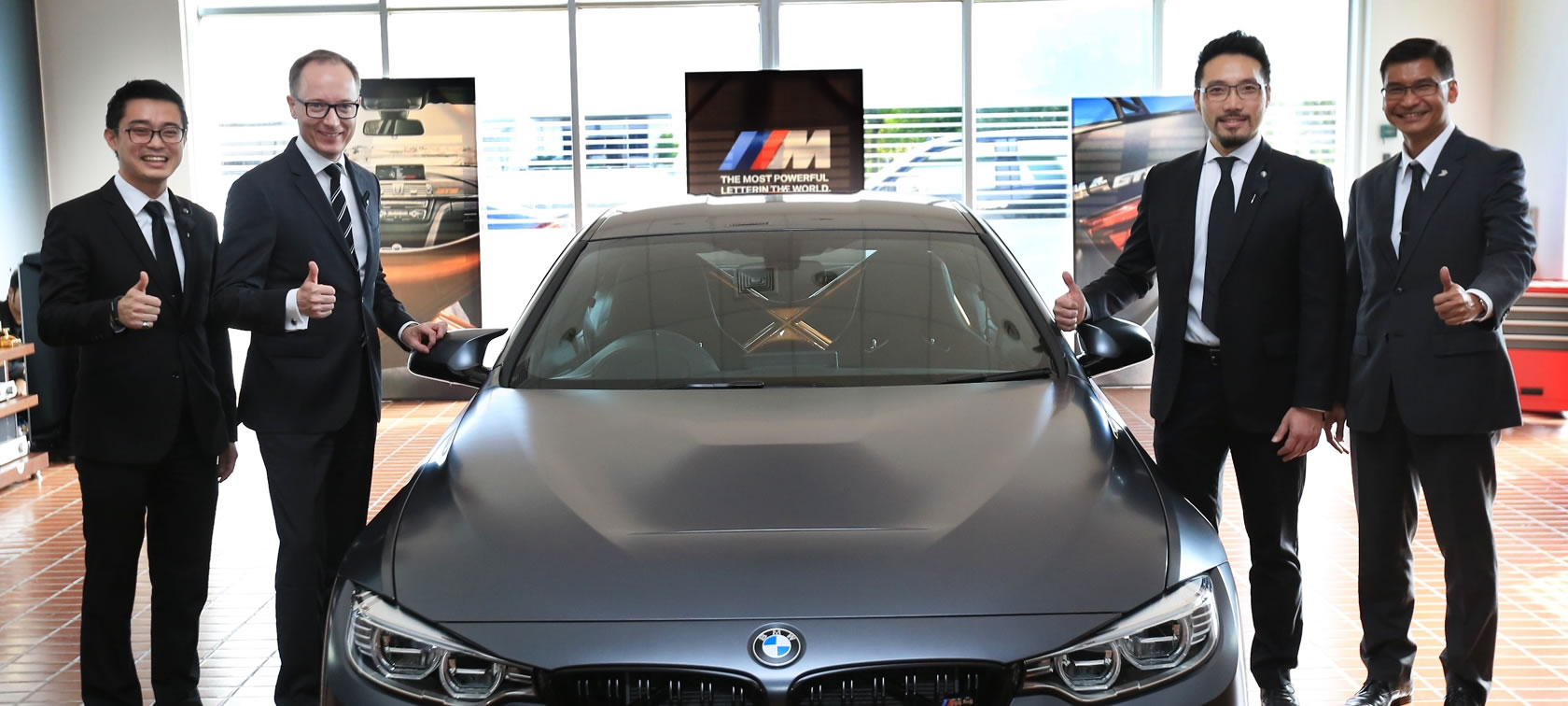 All News | 2016.11.18
BMW GROUP THAILAND HEADS TO 2016 MOTOR EXPO WITH THE LATEST IN AUTOMOTIVE INNOVATIONS – LED BY THE PINNACLE OF ROAD-LEGAL PERFORMANCE IN THE BMW M4 GTS – AND EXCLUSIVE OFFERS
In the photo (2th-1st from left to right)
1. Mr. Lars Nielsen ,Sales and Marketing Director
2. Khun Opas Noppornpitak, Specialist Product Management
In the photo (2th-1st from right to left)
1. Khun Sethipong Anutarasoti, General Manager Marketing
2. Khun Krisda Utamote, Director of Corporate Communications
BMW Group Thailand reinforces its leadership in premium automotive technology by introducing cutting-edge automobile innovations and exclusive promotions for the upcoming Thailand International Motor Expo 2016.
Bangkok. BMW Group Thailand is leading a parade of cutting-edge automotive innovations and exclusive offers from BMW, MINI, and BMW Motorrad to the Thailand International Motor Expo 2016 – the event's 33rd annual edition – on 1-12 December 2016. The lineup is led by highlights such as the BMW M4 GTS, the pinnacle of road-legal performance powered by world-class racing technology; a dashing new look for the plug-in hybrid sports car of the future in the BMW i8 Protonic Red Edition; local-assembly plug-in hybrid model debuts in the BMW 330e Luxury and BMW X5 xDrive40e M Sport; the special MINI Cooper S Seven Edition; and new, better-equipped HP Line versions of the BMW S 1000 RR and S 1000 XR.
"This year's Motor Expo is based on the concept of 'Connect the World, Connect People: Smart Vehicles' – a notion that is very much in line with BMW Group's vision to create premium mobility technologies for the future with all the distinctive appeals of BMW, MINI, and BMW Motorrad," said Mr. Stefan Teuchert, President, BMW Group Thailand. "Our highlights for the Expo, such as the BMW M4 GTS and iPerformance plug-in hybrid models, all reflect this commitment."
BMW M4 GTS
Price: THB 13,999,000 (VAT incl.)
A special edition vehicle developed to elevate the potential of the BMW M4 Coupe to an impressive new level, the BMW M4 GTS is ready to tackle every driving challenge on the road as well as on the track with its powerful, motorsport-inspired looks and high-performance technology.
In addition to being the fastest and most powerful BMW road car ever made, the BMW M4 GTS is also a limited-run vehicle with only 700 units built worldwide to commemorate the 30th anniversary of the legendary BMW M3's launch in 1986.
The BMW M4 GTS uses the 3.0-litre, six-cylinder turbo engine found in the BMW M3 and M4 but adds innovative water injection technology to achieve a significant performance boost. Having powered Marco Wittmann's BMW M4 DTM to victory in the Deutsche Tourenwagen Masters (DTM) racing competition in 2014 and 2016, the technology enhances the M4 GTS' engine output to 368kW / 500hp with up to 600 Nm of torque. The car now races from a standstill to 100 km/h in just 3.8 seconds and hits a limited top speed of 305 km/h while still maintaining the same fuel consumption rate as the BMW M4 Coupe.
The BMW M4 GTS complements its powerful engine with superbly responsive handling thanks to intelligent lightweight construction. Its outstanding weight-to-power ratio of 3.0 kg/hp is testament to extensive weight-saving measures throughout the car – including the use of carbon-fiber-reinforced plastic (CFRP) to build the bonnet, roof, adjustable front splitter and rear wing, while the interior achieves a sporty, premium feel with a similar focus on lightweight materials. The car's M DCT (M Double Clutch Transmission) 7-speed gearbox ensures an uninterrupted flow of power to the four M light-alloy wheels in star-spoke 666 M Styling with Acid Orange trims, which combine with the M coilover suspension and carbon ceramic brakes to achieve unparalleled assuredness on every drive.
The innovative OLED rear lights technology (BMW Organic Light), is making its series-production debut in the BMW M4 GTS. OLEDs (organic light-emitting diodes) are a new kind of light source that light up over their full surface with a very homogeneous effect – unlike LED units, which emit their light in the form of points. The flat design, made possible by OLED's use of razor-thin semi-conductive materials, gives the M4 GTS' rear lights a unique look unlike anything that came before.
BMW 330e Luxury with Plug-in Hybrid technology – local assembly model
Price: THB 2,599,000 (VAT incl.)
The BMW 330e Luxury offers customers another innovative route to Sheer Driving Pleasure. Excellent fuel economy is achieved through the iPerformance technology – powered by a four-cylinder, 2.0-liter BMW TwinPower Turbo engine that that has already won the International Engine of the Year Award, with a maximum power output of 135kW / 184hp and peak torque of 290Nm. This engine works in tandem with an electric motor, which delivers 65kW / 89hp in additional power plus up to 250Nm torque through an eight-speed automatic gearbox to give the BMW 330e Luxury the snappy and joyful response of an electric vehicle. The car is capable of operating in all-electric mode with a top speed of 120 km/h, while hybrid mode allows the BMW 330e Luxury to reach 100 km/h from a standstill in just 6.1 seconds before hitting a top speed of 225 km/h.
The engine and electric motor combined can produce up to 185kW / 252hp for a blaze of powerful acceleration along with an excellent fuel consumption rate of 41.7 km/l and just 57 grams of CO2 emitted per kilometer.
The BMW 330e Luxury's plug-in hybrid technology capably harnesses the potential of an electric motor setup to reduce fuel consumption and enable zero-emission urban driving range of around 40 km. The car comes equipped with a 7.6kWh battery that can be topped up via household power outlets with the charging cable stored in the rear boot, Once fully drained, the battery can be fully recharged at home in approximately three hours. Alternatively, the BMW i Wallbox Pure further enhances charging performance in a safe and convenient way with 3.7 kilowatts (16A/230V) of power for a full recharge time of just 2 hours and 12 minutes.
The BMW 330e Luxury achieves its premium look both on the outside and inside thanks to its 18" alloy wheel multi-spoke style 416, distinctive Fineline woodtrim, LED headlights, and sport leather steering wheel. The interior is draped in anthracite with finisher Pearl Chrome and features countless intricate design details including Leather Dakota seats, Navigation system professional and Hi-Fi loudspeaker.
BMW i8 Protonic Red Edition
Price: THB 11,899,000 (VAT incl.)
Available only for a limited period, the BMW i8 Protonic Red Edition is a 2+2-seater sports car with a carbon-fiber-reinforced plastic (CFRP) passenger cell and efficient BMW eDrive technology. It sports a Protonic Red paint finish with accents in Frozen Grey metallic. The color scheme is complemented by BMW W-spoke 470 light-alloy wheels painted in Orbit Grey metallic and mixed-size tires. Inside the inaugural special-edition i8, red double-stitching and applications in high-grade carbon fiber and ceramic provide indications of its exceptional sporting character.
Featuring the BMW eDrive powertrain, which is seen as the 'sports car powertrain of the future', the BMW i8's plug-in hybrid system comprises a 170 kW / 231 hp, 320 Nm three-cylinder petrol engine with BMW TwinPower Turbo technology and a 96 kW / 131 hp, 250 Nm hybrid synchronous electric motor. The BMW eDrive system also includes a lithium-ion high-voltage battery and intelligent energy management that uses the combined output of 266 kW/362 hp to provide breathtaking performance and maximum efficiency.
In zero-emission all-electric mode, the BMW i8 has a top speed of 120 km/h and a range of 37 kilometers. Depending on whether the plug-in hybrid sports car's lithium-ion battery is recharged at a household power socket or a BMW i Wallbox, charging times range from less than two up to three hours. In Sport mode the BMW i8 offers acceleration from 0–100 km/h sprint time of 4.4 seconds. The BMW i8 also offers every-day fuel economy substantially better than all conventional sports car concepts, delivering average fuel consumption of 47.6 km/liter and emitting CO2 at a rate of just 49 g/km.
Among the distinctions amassed by the BMW i8 are an International Engine of the Year award for both its TwinPower Turbo three-cylinder engine and overall hybrid drivetrain. The BMW i8 was also voted World Green Car of the Year and Green Luxury Car. And it received the Paul Pietsch Award presented by German motoring magazine "auto motor und sport" in recognition of the most innovative technical concept. No other vehicle has ever picked up such a large number of awards in such an array of different disciplines.
BMW X3 xDrive20d M Sport
Price: THB 3,499,000 (VAT incl.)
The BMW X3 xDrive20d M Sport is available with output at 140kW / 190 hp from state-of-the-art BMW TwinPower Turbo diesel technology, which guarantees outstanding performance combined with low fuel consumption at 17.9 km / liter and CO2 emissions of 149 g/km. The BMW X3 xDrive20d M Sport therefore sets the benchmark in its class
New features of the BMW X3 xDrive20d M Sport includes the Panorama glass roof, Performance Control, 19" alloy wheels Double-Spoke style 622 M with mixed tires, and M aerodynamic package consisting of M Leather steering wheel, BMW Individual high-gloss Shadow Line, BMW Individual headliner anthracite and M aerodynamic package. BMW Head-Up Display, rear view camera, navigation system professional, Hi-Fi loudspeaker and comfort access are all inclusive.
BMW X5 xDrive40e M Sport – local assembly model
Price: THB 4,699,000 (VAT incl.)
The BMW X5 xDrive40e M Sport is the first plug-in hybrid production car from the BMW core brand. It expertly combines the versatility and luxurious ambience of a large SAV model with the superb traction offered by the BMW xDrive intelligent all-wheel-drive system as well as BMW EfficientDynamics eDrive technology for exemplary efficiency.
The 2.0-litre internal combustion engine fitted in the BMW X5 xDrive40e M Sport has already won the coveted title of "International Engine of the Year" three times and features a TwinScroll turbocharger, High Precision Injection and VALVETRONIC. The most powerful four-cylinder petrol unit in the BMW Group's engine portfolio stands out for its eager power delivery, delightfully free-revving performance and highly refined running characteristics. It generates a maximum output of 180 kW / 245 hp and 350 Newton metres (258 lb-ft) of peak torque.
The electric motor puts an output of 83 kW / 113 hp on tap, while its maximum torque of 250 Nm (184 lb-ft) is available from the word go in typical electric drive fashion. This has the effect of boosting the engine's output for thrilling, instantaneous responsiveness and power build-up with absolutely no delay when accelerating from stationary. The BMW X5 xDrive40e M Sport completes the 0 to 100 km/h sprint in just 6.8 seconds and has a top speed of 210 km/h. In all-electric drive mode, meanwhile, the vehicle is capable of a top speed of 120 km/h.
The intelligently controlled interaction between the combustion engine and the electric drive, which together generate a system output of 230 kW / 313 hp, endows the BMW X5 xDrive40e M Sport with exceptionally dynamic acceleration while also substantially cutting fuel consumption and emissions in everyday driving. It returns a combined fuel consumption of 29.4 km/l and CO2 emissions at 79 g/km.
The plug-in hybrid design of theBMW X5 xDrive40e provides the ideal basis for extensive use of the electricdrive system for highly efficient mobility, even including urban driving withzero tailpipe emissions. Its high-voltage battery offers a gross energycapacity of 9.0 kilowatt hours (kWh) and can be topped up with energy from anydomestic power socket. The standard charging cable can be kept in a compartmentunderneath the luggage compartment floor.
When hooked up to a conventionaldomestic power socket the high-voltage battery can be fully recharged from flatin around 3 hours and 50 minutes. A tailor-made solution for safe, simple andextra-fast battery charging at home is available for the BMW X5 xDrive40e MSport under the umbrella of BMW 360° ELECTRIC. The BMW i Wallbox Pure iscapable of replenishing the high-voltage battery at a charging rate of 3.5 kW(16 A / 230 V). As a result, it takes 2 hours and 45 minutes to fully rechargean empty battery pack.
The new MINI Seven: individual style in two body variants.
Price
MINI Cooper S 3-Door Hatch Seven Edition: THB 2,890,000 (VAT incl.)
MINI Cooper S 5-Door Hatch Seven Edition: THB 2,930,000 (VAT incl.)
The MINI 3 door of the latest model generation now stands side by side with the MINI 5 door for the first time, enhancing the brand's popularity even further. Both models are now available as a MINI Seven in one engine variant of MINI Cooper S.
Instantly fascinating appeal is especially created by means of a body finish in the MINI Yours color Lapisluxury Blue. The roof and exterior mirror caps are finished in Melting Silver. Other exclusive features include the bonnet stripes, likewise in Melting Silver and with a surround in Malt Brown in each outer area, and also 18-inch light alloy wheels in MINI Yours Vanity Spoke design.
The standard trim includes genuine leather sports seats in MINI Yours Leather Lounge design. Individual style is also highlighted by the MINI Seven logo on the central instrument trim panel, as well as interior surfaces in Piano Black high gloss and the Color Line in Carbon Black.
The Seven Edition's MINI TwinPower Turbo petrol engine delivers instinctively snappy throttle responses, characteristically high torque, and excellent power. The MINI Cooper S' 2.0-liter, four-cylinder plant – shared by both the 3-door and 5-door models – delivers 220Nm of torque at 1,250rpm and can boost up to 280Nm at 1,250rpm, producing 141kW / 192hp of power.
The naming of the new design model echoes the premiere of the revolutionary British small car more than five and a half decades ago. The first specimen of the 4-seater known today as the classic Mini came off the production line as the Austin Seven.
MINI Service Inclusive
Every MINI offers its owners longer-lasting satisfaction than ever before with the MINI Service Inclusive (MSI) program, which provides maintenance services covering 5 years or 100,000 kilometers
in mileage, plus five-year warranty with no mileage limit. The benefits of MSI also stay with the MINI even in the event of a sale, ensuring that future MINI owners will enjoy peace of mind in the remaining duration of the program and bolstering the car's sell-on value.
BMW F 800 R Sport
Price: THB 490,000 (VAT incl.)
The new BMW F 800 R Sport takes sportiness to a new level with its new Racing Blue / Black Satin color scheme and additional equipment – including a motor spoiler, Electronic Suspension Adjustment (ESA) system, Tire Pressure Control (RDC) system, and rear LED light.
The BMW F 800 R Sport is powered by a liquid-cooled, four-valve, twin-cylinder engine with 798cc displacement, outputting 90 hp (66 kW) at 8,000 rpm. The bike comes standard with ABS, a suspension system with upside-down forks in the front, and a hydraulic double-disc brake that provides fade-resistant stopping power.
BMW S 1000 R
Price: THB 650,000 (VAT incl.)
The BMW S 1000 R roadster bike is back with a range of new features – including the Gear Shift Assistant for shifting up without using the clutch, Cruise Control functionality, heated grips, engine spoiler, and white LED turn indicators. The S 1000 R packs outstanding performance from its water- and oil-cooled 4-cylinder 4-stroke in-line engine with 999 cc capacity, a compression ratio of 12.0:1, and electronic injection delivering 118kW (160 hp) at 11,000 rpm. Max torque stands at 112 Nm at 9,250 rpm, making for agile power delivery. The riding experience is improved further with Dynamic Traction Control (DTC) and Dynamic Damping Control (DDC) systems, which tune the suspension system to match riding conditions at the touch of a button.
BMW S 1000 RR and S 1000 XR HP Line
Price
BMW S 1000 RR HP Line: THB 1,199,000 (VAT incl.)
BMW S 1000 XR HP Line: THB 930,000 (VAT incl.)
The BMW S 1000 RR continues its revolution of the supersports category with the addition of the dashing HP Package, which comprises a carbon tank cover plus fairing set, engine spoiler plus chain guard, wheel cover set, titanium exhaust system (street version), forged wheel set, footrest system with engine guard, clutch and brake lever set, race cover kit, and high tinted windscreen. This special HP Line edition of the S 1000 RR is offered on a limited run of just 20 units.
The best-in-class sport touring motorcycle, the BMW S 1000 XR, is also getting its own HP Line edition with a front footrest system, clutch and brake lever set, carbon front wheel and fuel cap cover, sport seat, high tinted windscreen, and rear handle. The HP Line edition of the S 1000 XR is available only in white.
Special offers at Thailand International Motor Expo 2016
BMW customers will enjoy fantastic value with the following special offers in the 2016 Motor Expo:
• One-year extension to the BMW Service Inclusive (BSI) program for a total maintenance coverage of 6 years / 120,000 kilometers plus six-year warranty with no mileage limit*
• Customers purchasing the BMW M4 Competition Package and the BMW M4 GTS within 31 December 2016 will be able to join a five-day, four-night trip to Germany to take part in the BMW M Driver Training program. The package covers air fares, accommodation, and a guided tour of Munich for one person.
* Exclusive offer for customers booking a vehicle in the Motor Expo 2016 event with delivery due by 31 December 2016. Participating models only. Please contact authorized BMW dealers for more information.
Customers deciding upon a MINI purchase during the Motor Expo period with delivery due by 31 December 2016 will be able to take advantage of these exclusive offers:
• Complimentary 128GB iPhone 7
• MINI Services Inclusive maintenance program, covering 5 years /100,000 kilometers in mileage plus five-year warranty with no mileage limit
• 0% interest offer for the MINI Countryman
The BMW Group
With its three brands BMW, MINI and Rolls-Royce, the BMW Group is the world's leading premium manufacturer of automobiles and motorcycles and also provides premium financial and mobility services. As a global company, the BMW Group operates 31 production and assembly facilities in 14 countries and has a global sales network in more than 140 countries.
In 2015, the BMW Group sold approximately 2.247 million cars and nearly 137,000 motorcycles worldwide. As of 31 December 2015, the BMW Group had a workforce of 122,244 employees.
The success of the BMW Group has always been based on long-term thinking and responsible action. The company has therefore established ecological and social sustainability throughout the value chain, comprehensive product responsibility and a clear commitment to conserving resources as an integral part of its strategy.
BMW Group Thailand
BMW Group Thailand, a subsidiary of BMW AG, Germany, was established on the 3rd October 1998. The three entities of BMW Group Thailand include BMW (Thailand) Co., Ltd. with responsibility for wholesales & marketing of BMW Group products, BMW Manufacturing (Thailand) Co., Ltd. with responsibility for BMW, MINI and BMW Motorrad local production, and BMW Leasing (Thailand) Co.,Ltd. with responsibility for financial services offerings to both wholesale and retail customers.
In 2015, BMW Group Thailand continued its record of success in the country after posting its best year yet in sales. Throughout 2015, the Group's three marques managed to exceed 10,000 units in total sales with BMW and MINI moving 8,768 cars – up 5% year-on-year – and BMW Motorrad scoring an impressive 83% jump to 1,280 motorcycles sold. The combined total of 10,048 vehicles delivered represents the highest sales figure yet in the history of BMW Group Thailand, as well as record breaking achievement for each brand, BMW, MINI and BMW Motorrad individually.
The BMW Group Manufacturing Thailand plant was founded on BMW Group's strong belief in the growth potential of Asian markets and Thailand in particular, with its unique location, strong manufacturing base, and ready supply of skilled automotive labor, being an automotive hub for ASEAN. In 2016, another 488 million Thai Baht investment is going into further expansion of plant Rayong in terms of assembling processes, aiming to meet growing customer demand and building on an investment of over 3.7 billion Baht year-to-date 2015. In addition, with approximately 4 billion Thai Baht representing the amount of annual purchasing in Thailand, the BMW Global Purchasing office will be established in Thailand. This is to source various components from local suppliers in Thailand and the broader ASEAN region, in order to supply the entire BMW production network of 31 production and assembly facilities, located in 14 countries worldwide.
Since 2012, BMW Group Thailand together with the founding partner companies brought the dual vocation concept to Thailand in cooperation with the German-Thai Chamber of Commerce (GTCC) and the German International Co-operation (GIZ). The collaborative program, known as the German-Thai Dual Excellence Education (GTDEE), is an educational platform for the BMW Service Apprentice program, which provides all participating students with fundamental training at the college, BMW theory and practical training at the BMW Training Center, and on-the-job training and support from BMW certified technicians at authorized BMW dealerships. Since its inception, the partnership has helped develop young students and enabled them to become skilled workers in the automotive industry, while also reinforcing Thailand's potential to serve as a global automotive production hub.
For further information, please contact:
BMW Group Thailand
1-800-269-269
www.bmw.co.th
www.mini.co.th
www.bmw-motorrad.co.th
Media Contacts:
Carl Byoir & Associates
Suthatip Boonsaeng (08-7685-1695 or0-2627-3501 ext.102)
Thornthawat Thongnab (08-3225-4567 or 0-2627-3501 ext.206)
Sawarot Thawinwongrak (08-9888-9799 or 0-2627-3501 ext.223)
sboonsaeng@carlbyoir.com, tthongnab@carlbyoir.com, sthawinwongrak@carlbyoir.com
Read more