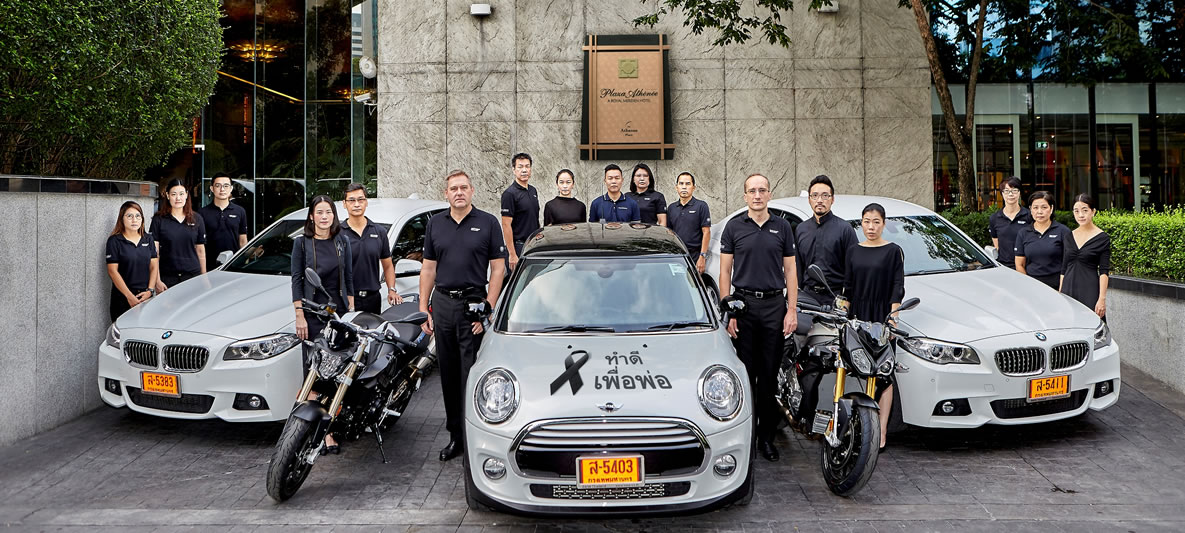 All News | 2016.11.08
BMW GROUP THAILAND PROVIDES SHUTTLE VEHICLE SERVICE FOR MOURNERS PAYING TRIBUTE TO HIS MAJESTY THE KING.
In the photo (4th-6th from left to right)
1. Ms. Prapatsara Aramvongsamut, General Manager Sales, BMW Thailand
2. Mr. Krisda Utamote, Director Corporate Communications, BMW Group Thailand
3. Mr. Stefan Teuchert, President, BMW Group Thailand
In the photo (6th-4th from right to left)
4. Mr. Markus Glaeser, Head of BMW Motorrad Thailand
5. Mr. Sethipong Anutarasoti, General Manager Marketing, BMW Thailand
6. Ms. Jariya Koonlinthip, Chief Operations Officer, BMW Financial Services Thailand
Bangkok. BMW Group
Thailand, in remembrance of His Majesty the King's contributions to the nation, has vowed to follow his royal footsteps through the "Good Deeds for the King" program, which kicked off with the placement of building wrap poster on the Bangkok skyline at Baiyoke Tower 2. To further underline BMW Group Thailand's commitment to carry out "Good Deeds for the King", the company has set up the BMW, MINI and BMW Motorrad shuttle services for the convenience of mourners seeking to pay homage to the late King Bhumibol Adulyadej on Fridays, Saturdays, and Sundays from 11 November to 25 December 2016.
Mr. Stefan Teuchert, President, BMW Group Thailand said, "As we mourn the passing of His Majesty the King, BMW Group Thailand would like to join the people of Thailand in remembering his tireless and invaluable contributions to Thailand's development for the betterment of all Thais."
"In addition to the "Good Deeds for the King" motivational message on Baiyoke Tower 2, which serves as our pledge to make contributions to society and uphold His Majesty's lifelong principles, we are also providing aid to mourners through a shuttle service with over 30 BMW, MINI, and BMW Motorrad vehicles – all operated by our very own volunteer employees – to facilitate easier access to the Grand Palace for mourners looking to pay respects to the King. The shuttle service is free of charge and open to the public by making a reservation in advance via our Call Center."
Read more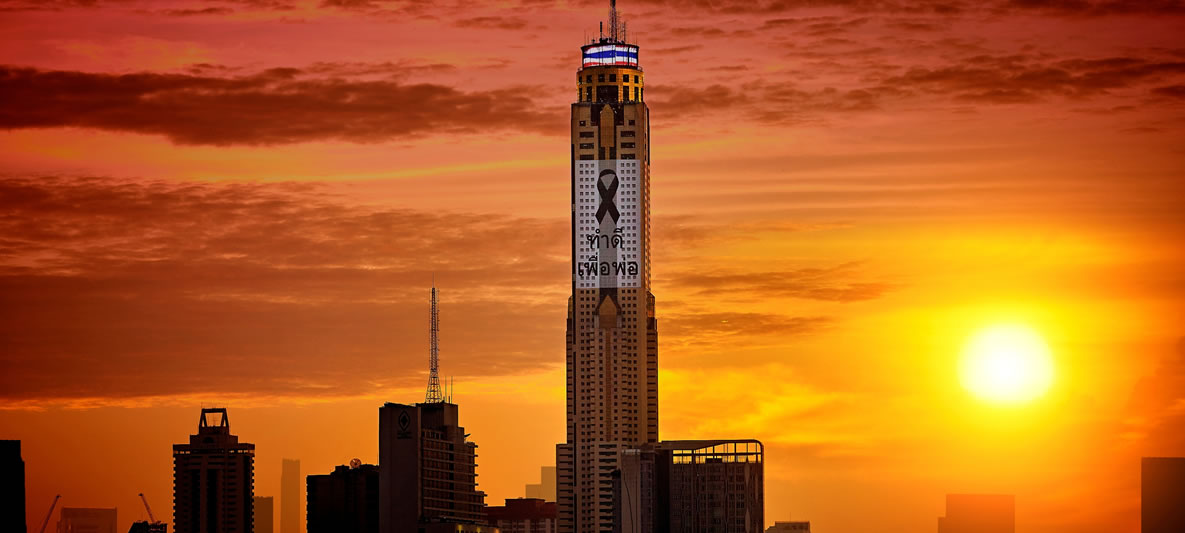 The service route begins at All Seasons Place on Wireless Road, where passengers can board BMW and MINI vehicles and head to the transfer point on Phra Sumeru Road to continue on to the grand palace on motorcycles from BMW Motorrad as well as other volunteer groups operating in the area. The shuttle service is available every hour from 7:00 to 15:00 on Fridays, Saturdays, and Sundays during 11 November to 25 December 2016. Interested parties are advised to make reservations at least one day ahead of time by calling 02-305-4999 from Monday to Friday between 8:30-17:30. An ID card is required on-site on the day of service to confirm your reservation status.
The BMW Group
With its three brands BMW, MINI and Rolls-Royce, the BMW Group is the world's leading premium manufacturer of automobiles and motorcycles and also provides premium financial and mobility services. As a global company, the BMW Group operates 31 production and assembly facilities in 14 countries and has a global sales network in more than 140 countries.
In 2015, the BMW Group sold approximately 2.247 million cars and nearly 137,000 motorcycles worldwide. As of 31 December 2015, the BMW Group had a workforce of 122,244 employees.
The success of the BMW Group has always been based on long-term thinking and responsible action. The company has therefore established ecological and social sustainability throughout the value chain, comprehensive product responsibility and a clear commitment to conserving resources as an integral part of its strategy.
BMW Group Thailand
BMW Group Thailand, a subsidiary of BMW AG, Germany, was established on the 3rd October 1998. The three entities of BMW Group Thailand include BMW (Thailand) Co., Ltd. with responsibility for wholesales & marketing of BMW Group products, BMW Manufacturing (Thailand) Co., Ltd. with responsibility for BMW, MINI and BMW Motorrad local production, and BMW Leasing (Thailand) Co.,Ltd. with responsibility for financial services offerings to both wholesale and retail customers.
In 2015, BMW Group Thailand continued its record of success in the country after posting its best year yet in sales. Throughout 2015, the Group's three marques managed to exceed 10,000 units in total sales with BMW and MINI moving 8,768 cars – up 5% year-on-year – and BMW Motorrad scoring an impressive 83% jump to 1,280 motorcycles sold. The combined total of 10,048 vehicles delivered represents the highest sales figure yet in the history of BMW Group Thailand, as well as record breaking achievement for each brand, BMW, MINI and BMW Motorrad individually.
The BMW Group Manufacturing Thailand plant was founded on BMW Group's strong belief in the growth potential of Asian markets and Thailand in particular, with its unique location, strong manufacturing base, and ready supply of skilled automotive labor, being an automotive hub for ASEAN. In 2016, another 488 million Thai Baht investment is going into further expansion of plant Rayong in terms of assembling processes, aiming to meet growing customer demand and building on an investment of over 3.7 billion Baht year-to-date 2015. In addition, with approximately 4 billion Thai Baht representing the amount of annual purchasing in Thailand, the BMW Global Purchasing office will be established in Thailand. This is to source various components from local suppliers in Thailand and the broader ASEAN region, in order to supply the entire BMW production network of 31 production and assembly facilities, located in 14 countries worldwide.
Since 2012, BMW Group Thailand together with the founding partner companies brought the dual vocation concept to Thailand in cooperation with the German-Thai Chamber of Commerce (GTCC) and the German International Co-operation (GIZ). The collaborative program, known as the German-Thai Dual Excellence Education (GTDEE), is an educational platform for the BMW Service Apprentice program, which provides all participating students with fundamental training at the college, BMW theory and practical training at the BMW Training Center, and on-the-job training and support from BMW certified technicians at authorized BMW dealerships. Since its inception, the partnership has helped develop young students and enabled them to become skilled workers in the automotive industry, while also reinforcing Thailand's potential to serve as a global automotive production hub.
For further information, please contact:
BMW Group Thailand
1-800-269-269
www.bmw.co.th
www.mini.co.th
www.bmw-motorrad.co.th
Media Contacts:
Carl Byoir & Associates
Suthatip Boonsaeng (08-7685-1695 or0-2627-3501 ext.102)
Thornthawat Thongnab (08-3225-4567 or 0-2627-3501 ext.206)
Sawarot Thawinwongrak (08-9888-9799 or 0-2627-3501 ext.223)
sboonsaeng@carlbyoir.com, tthongnab@carlbyoir.com, sthawinwongrak@carlbyoir.com