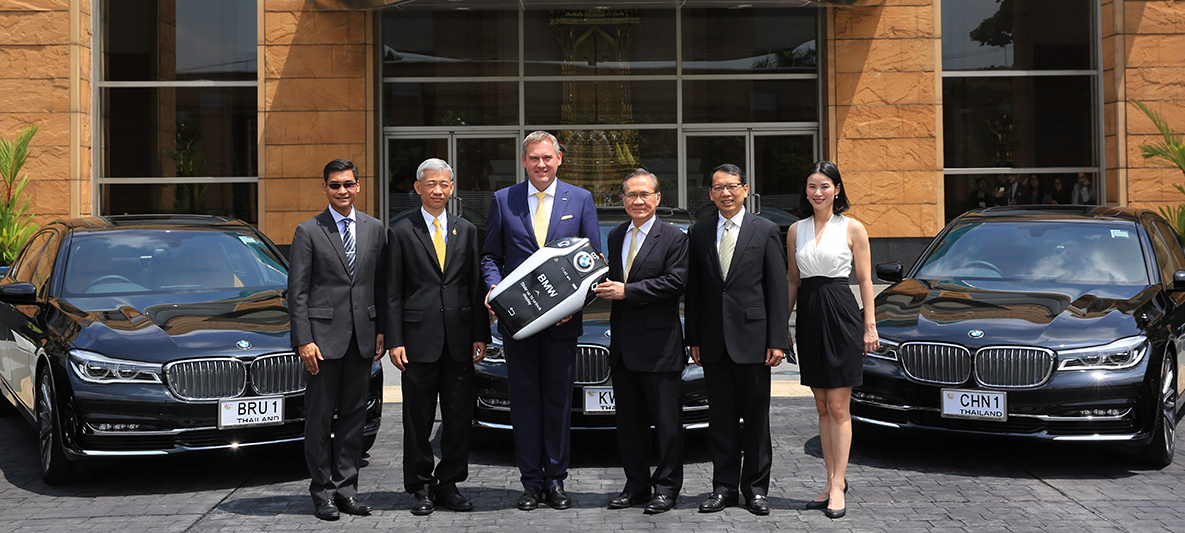 All_News | 2016.10.06
BMW THAILAND SUPPORTS THE MINISTRY OF FOREIGN AFFAIRS TO WELCOME HEADS OF STATES AND GOVERNMENTS IN THE 2ND ACD SUMMIT WITH BMW 5 SERIES AND BMW 7 SERIES
In the photo (from left to right)
1. Mr. Krisda Utamote, Director Corporate Communications, BMW Group Thailand
2. Mr. Panyarak Poolthup, Deputy Permanent Secretary
3. Mr. Stefan Teuchert, President, BMW Group Thailand
4. Mr. Don Pramudwinai, Minister of Foreign Affairs
5. Mr. Piriya Khempon, Deputy Permanent Secretary
6. Ms. Prapatsara Aramvongsamut, General Manager Marketing, BMW Thailand
Bangkok. BMW Thailand recently presented a fleet of BMW 5-Series and BMW 7-Series vehicles to the Ministry of Foreign Affairs for the transportation of senior state officials visiting Thailand for the 2nd Asia Cooperation Dialogue (ACD) Summit, which is set to take place on October 8-10. The fleet will provide visiting Heads of States and their delegations with comfort and convenience from cutting-edge technologies as well as outstanding performance and safety features complementing Thailand's strengths in the international community as the host of the summit in this historic event.
The Asia Cooperation Dialogue is an Asian regional cooperation framework initiated by Thailand and founded in 2002 to act as an international platform to bring together all Asian sub-regions to discuss regional challenges. The 2nd Asia Cooperation Dialogue Summit will be held in Bangkok on 10 October 2016 under the theme "One Asia, Diverse Strengths" and will be attended by many Heads of States and Governments. For the first time, Thailand as host to this event aims to discuss how to mobilize Asia's strengths and resources to reignite and drive the next phase of global economic growth.
BMW Group Thailand
BMW Group Thailand, a subsidiary of BMW AG, Germany, was established on the 3rd October 1998. The three entities of BMW Group Thailand include BMW (Thailand) Co., Ltd. with responsibility for wholesales & marketing of BMW Group products, BMW Manufacturing (Thailand) Co., Ltd. with responsibility for BMW, MINI and BMW Motorrad local production, and BMW Leasing (Thailand) Co., Ltd. with responsibility for financial services offerings to both wholesale and retail customers.
In 2015, BMW Group Thailand continued its record of success in the country after posting its best year yet in sales. Throughout 2015, the Group's three marques managed to exceed 10,000 units in total sales with BMW and MINI moving 8,768 cars – up 5% year-on-year – and BMW Motorrad scoring an impressive 83% jump to 1,280 motorcycles sold. The combined total of 10,048 vehicles delivered represents the highest sales figure yet in the history of BMW Group Thailand, as well as record breaking achievement for each brand, BMW, MINI and BMW Motorrad individually.
The BMW Group Manufacturing Thailand plant was founded on BMW Group's strong belief in the growth potential of Asian markets and Thailand in particular, with its unique location, strong manufacturing base, and ready supply of skilled automotive labor, being an automotive hub for ASEAN. In 2016, another 488 million Thai Baht investment is going into further expansion of plant Rayong in terms of assembling processes, aiming to meet growing customer demand and building on an investment of over 3.7 billion Baht year-to-date 2015. In addition, with approximately 4 billion Thai Baht representing the amount of annual purchasing in Thailand, the BMW Global Purchasing office will be established in Thailand. This is to source various components from local suppliers in Thailand and the broader ASEAN region, in order to supply the entire BMW production network of 31 production and assembly facilities, located in 14 countries worldwide.
Since 2012, BMW Group Thailand together with the founding partner companies brought the dual vocation concept to Thailand in cooperation with the German-Thai Chamber of Commerce (GTCC) and the German International Co-operation (GIZ). The collaborative program, known as the German-Thai Dual Excellence Education (GTDEE), is an educational platform for the BMW Service Apprentice program, which provides all participating students with fundamental training at the college, BMW theory and practical training at the BMW Training Center, and on-the-job training and support from BMW certified technicians at authorized BMW dealerships. Since its inception, the partnership has helped develop young students and enabled them to become skilled workers in the automotive industry, while also reinforcing Thailand's potential to serve as a global automotive production hub.
For further information, please contact: BMW Group Thailand 1-800-269-269
www.bmw.co.th
www.mini.co.th
www.bmw-motorrad.co.th
Media Contacts:
Carl Byoir & Associates
Suthatip Boonsaeng (08-7685-1695 or0-2627-3501 ext.102)
Thornthawat Thongnab (08-3225-4567 or 0-2627-3501 ext.206)
Sawarot Thawinwongrak (08-9888-9799 or 0-2627-3501 ext.223)
sboonsaeng@carlbyoir.com, tthongnab@carlbyoir.com, sthawinwongrak@carlbyoir.com
Read more