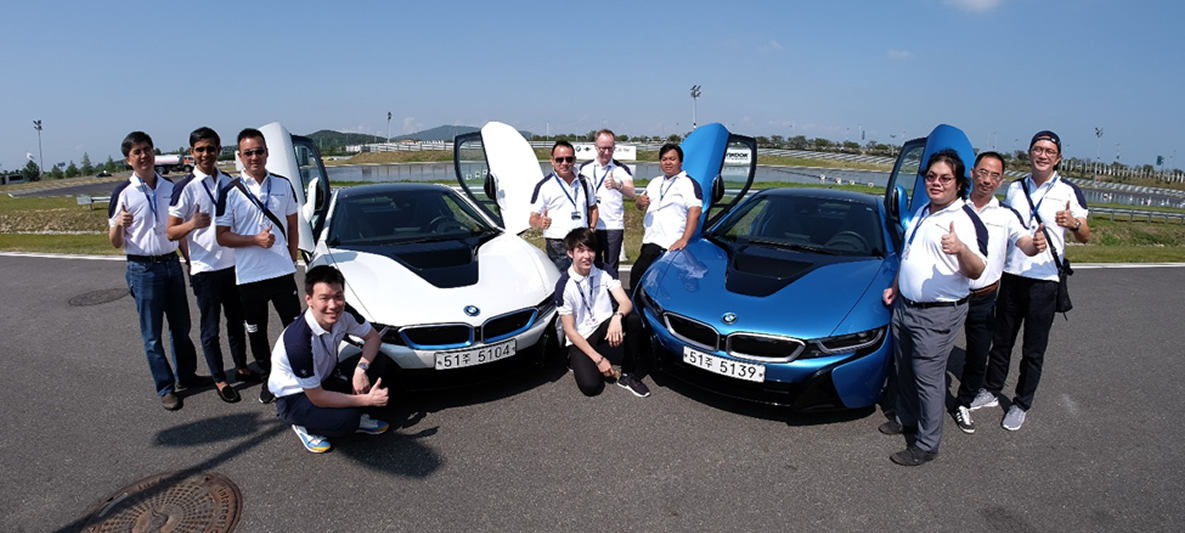 2016.07.21
BMW GROUP THAILAND BRINGS CUSTOMERS TO SOUTH KOREA FOR FIRST-HAND EXPERIENCE THE BMW i8, THE SPORTS CAR OF THE FUTURE.
Bangkok. BMW Group Thailand further cemented its status as the leader in plug-in hybrid technology by taking select customers on an exclusive trip to South Korea to experience the joy of driving in the BMW i8, a futuristic sports car that brings together the exhilarating power of a high-performance vehicle and the extraordinary efficiency of electric motors through eDrive technology.
To allow customers to fully experience the BMW i8's exceptional performance and dynamic handling, BMW opened up the tracks at the BMW Driving Center in Incheon to offer a wide variety of driving experiences on 10,000 square meters of tarmac.
The BMW i8 is an unprecedented combination of a sports car's power, agility, and design with an efficient plug-in hybrid drivetrain that harnesses the power of both electricity and petrol in a seamless manner. With electric motors and a 3-cylinder BMW TwinPower Turbo engine working in tandem to produce up to 362hp, the i8 can reach 100 km/h from a standstill in just 4.4 seconds and hit a top speed of 250 kilometers per hour while keeping carbon dioxide emissions as low as 49 g/km – the lowest figure among passenger cars available in Thailand. The i8 also boasts outstanding efficiency with a fuel economy score of 47.6 km/l. In the all-electric, zero-emission eDRIVE mode, the BMW i8 offers a maximum range of 37 kilometers
In addition to the BMW i8, participating customers were able to experience other vehicles in BMW's lineup – including the BMW i3, which fulfills urban mobility needs with its compact, lightweight body and an eDrive powertrain developed for long-distance, all-electric driving, and the BMW X5, a Sport Activity Vehicle that packs power, utility, and an intelligent energy management system that ensures maximum efficiency on every journey.


Read more