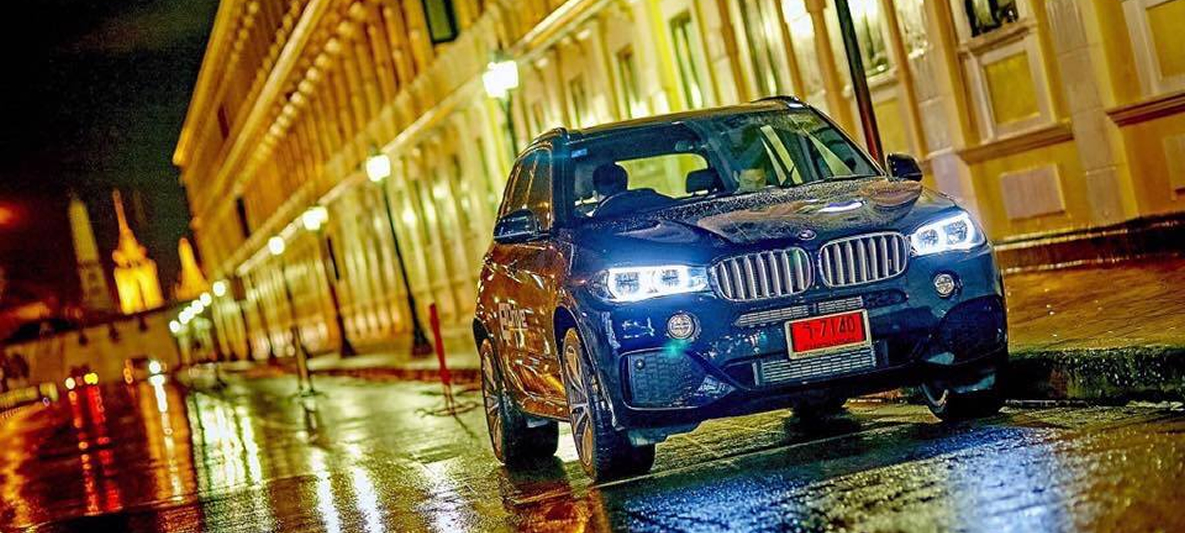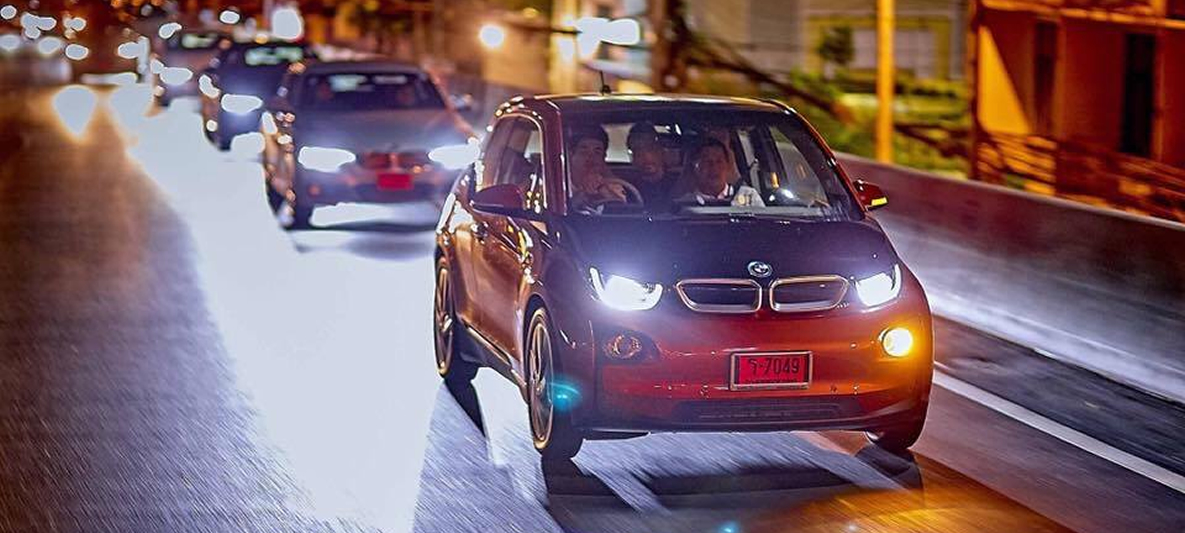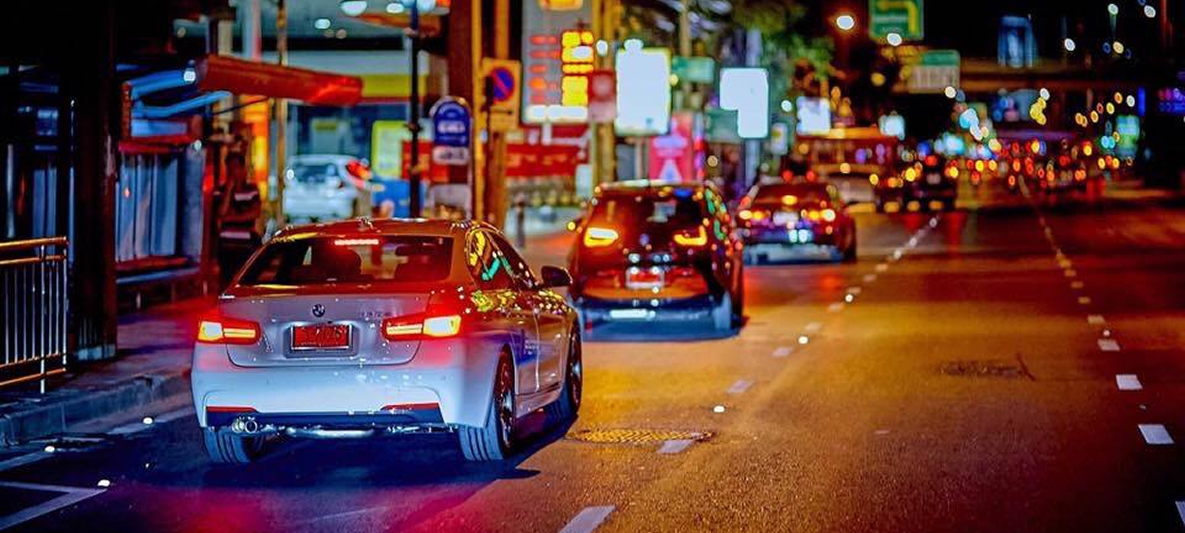 2016.06.02
BMW GROUP THAILAND DEMONSTRATES SUPERIOR DRIVING EXPERIENCE WITH PLUG-IN HYBRID TECHNOLOGY IN URBAN NIGHT DRIVE WITH BMW iPERFORMANCE.
Bangkok. BMW Group Thailand organised the Urban Night Drive with BMW iPerformance test drive activity to offer the motoring press contingent hands-on experience with the exceptional performance and efficiency of plug-in hybrid technology found in the BMW xDrive40e M Sport and BMW 330e M Sport. The drive covered an urban route with a relaxing night-time atmosphere that afforded drivers with the opportunity to fully savour the colours of Bangkok nightlife.
The Urban Night Drive with BMW iPerformance started at Mandarin Oriental Hotel, taking drivers to the Royal Thai Navy Convention Centre as well as Suvarnabhumi Airport before heading back towards the Chao Phraya River and into Charoen Krung district at Asiatique The Riverfront.
Mr. Matthias Pfalz, President of BMW Group Thailand, said, "BMW's growth in Thailand reflects the rapid rise in both demand and trust in our vehicles among Thai consumers – a direct result of our high-technology innovations and distinctive design characteristics. To build further upon our successes in technological advancement and environmental sustainability, BMW Group Thailand is ready to move ahead with local assembly of two BMW iPerformance vehicles – the BMW X5 xDrive 40e and BMW 330e plug-in hybrids – at our local assembly plant from the second half of 2016 onward. This announcement represents a continuation of the commitment that began with the 2014 introduction of plug-in hybrid technology in the BMW i8 as we strive to introduce eco-friendly innovations to the streets of Thailand."
Powered by BMW iPerformance technology, the BMW X5 xDrive40e M Sport delivers genuine excellence and comfort with its 2.0-litre engine – a three-time winner of the coveted "International Engine of the Year" award and the most powerful four-cylinder petrol unit yet in BMW Group's engine portfolio. It generates a maximum output of 180 kW/245 hp and 350 Nm (258 lb-ft) of peak torque. The electric motor puts an output of 83 kW/113 hp on tap, while its maximum torque of 250 Nm (184 lb-ft) is available from the word go in typical electric drive fashion. This has the effect of boosting the engine's output for thrilling, instantaneous response with no delay in acceleration.
The BMW X5 xDrive40e M Sport completes the 0 to 100 km/h sprint in just 6.8 seconds and has an electronically limited top speed of 210 km/h. In all-electric drive mode, meanwhile, the vehicle is capable of a top speed of 120 km/h, again electronically limited. The intelligently controlled interaction between the combustion engine and the electric drive, which together generate a system output of 230 kW/313 hp, endows the BMW X5 xDrive40e M Sport with exceptionally dynamic acceleration while also substantially cutting fuel consumption and emissions in everyday driving. It returns a combined fuel consumption of 31.3 km/l and CO2 emissions at 76 g/km.
In addition to the BMW X5 xDrive40e M Sport, members of the press also experienced the extraordinary functionality and luxury of the BMW 330e M Sport – a plug-in hybrid vehicle that arrived in Thailand hot on the heels of the BMW i8. Designed to maximise harmony on the road, the BMW 330e M Sport delivers stunning fuel efficiency through iPerformance technology. Its four-cylinder, 2.0-litre BMW TwinPower Turbo engine, winner of two International Engine of the Year Awards, produces a maximum power output of 135kW / 184hp and peak torque of 290Nm.
The engine works in tandem with an electric motor, which delivers 65kW / 88hp in additional power plus up to 250Nm torque through an eight-speed automatic gearbox to give the BMW 330e M Sport the snappy and joyful response of an electric vehicle, allowing the car to reach 100 km/h from a standstill in just 6.1 seconds before hitting a top speed of 225 km/h.
Additionally, BMW 330e M Sport is capable of operating in all-electric mode with a top speed of 120 km/h. The engine and electric motor combined can produce up to 185kW / 252hp for a blaze of powerful acceleration along with an excellent fuel consumption rate of 40.8 km/l. The all-new BMW 330e M Sport has the lowest CO2 emission level in Thailand's sedan category at 57g/km and is ranked second only to the BMW i8's 49g/km in an all-category comparison – including eco cars.
The plug-in hybrid technology in the BMW X5 xDrive40e M Sport and BMW 330e M Sport capably harnesses the potential of an electric motor setup to reduce fuel consumption and enable zero-emission suitable for urban driving. The cars come equipped with batteries that can be topped up via household power outlets with the charging cable stored in the rear boot. Once fully drained, BMW X5 xDrive40e M Sport can be fully recharged at home in approximately three hours and fifty minutes, while the BMW 330e M Sport can take approximately three hours to reach a full charge.
BMW Group Thailand has also partnered with Mandarin Oriental Bangkok in installing the BMW i pure Wallbox charging station to provide charging services for BMW i and BMW iPerformance vehicles free of charge. Also available in the special parking areas at Central World Plaza and All Seasons Place to serve vehicles purchased from authorized BMW dealers, the BMW i pure Wallbox can fully charge the BMW X5 xDrive40e M Sport within two hour and forty minutes and the BMW 330e M Sport in two hours and twelve minutes.


Read more 2016.07.26
บีเอ็มดับเบิลยู กรุ๊ป แมนูแฟคเจอริ่ง ประเทศไทย ฉลองความสำเร็จประกอบยนตรกรรมหรู บีเอ็มดับเบิลยู มินิ และมอเตอร์ราดครบ 70,000
หลังจากเปิดจากโรงงานนับแต่ปี 2543 นับเป็น 16 ปี ที่ทำให้ บีเอ็มดับเบิลยู กรุ๊ป แมนูแฟคเจอริ่ง ประเทศไทย เฉลิมฉลองการประกอบรถยนต์และรถมอเตอร์ไซค์หรู ครบ 70,000 คัน ระยอง. เมื่อเร็วๆ นี้ บีเอ็มดับเบิลยู กรุ๊ป แมนูแฟคเจอริ่ง ประเทศไทย มีโอกาสฉลองความสำเร็จอีกครั้งในการประกอบยนตรกรรมหรู บีเอ็มดับเบิลยู มินิ และ บีเอ็มดับเบิลยู มอเตอร์ราดครบ 70,000 คัน โดยมีคุณธัชพิชญ์ โสดาบรรลุ (ที่ 5 จากซ้าย) ผู้อำนวยการ สำนักงานนิคมอุตสาหกรรมอมตะซิตี้ และ คุณมณฑิรา เชิดชู (ที่ 4 จากขวา) หัวหน้าสำนักงานศุลกากรมาตาพุด ร่วมแสดงความยินดีในความสำเร็จครั้งนี้
คันบีเอ็มดับเบิลยู กรุ๊ป แมนนูแฟคเจอริ่ง ประเทศไทย มีการพัฒนากระบวนการผลิต และบุคคลากรอย่างต่อเนื่องตลอดระยะเวลา 16 ปี ทำให้มีศักยภาพในการประกอบรถยนต์ และมอเตอร์ไซค์ที่แตกต่างกันถึง 19 รุ่น ของ บีเอ็มดับเบิลยู, มินิ และ บีเอ็มดับเบิลยู มอเตอร์ราด ด้วยคุณภาพของยนตกรรมหรู และเป็นมาตรฐานเดียวกันทั่วโลกเพื่อตอบสนองความต้องการของกลุ่มลูกค้าระดับพรีเมี่ยมทั้งในประเทศ และต่างประเทศ
บีเอ็มดับเบิลยู กรุ๊ป แมนูแฟคเจอริ่ง ประเทศไทย มีการลงทุนอย่างต่อเนื่องโดยเฉพาะในปี พ.ศ.2559 นี้มีการลงทุนกว่า 488 ล้านบาท เพื่อใช้ประเทศไทยเป็นฐานการผลิตเพื่อการส่งออกสำหรับ บีเอ็มดับเบิลยู เอ็กซ์3 และ บีเอ็มดับเบิลยู เอ็กซ์5 สู่ประเทศจีน และเพิ่มการจ้างงานกว่า 400 ตำแหน่งงานในปีนี้ นอกจากนั้นโรงงานของบีเอ็มดับเบิลยูจะเริ่มทำการประกอบรถยนต์ปลั๊กอินไฮบริดอีก 2 รุ่นในช่วงครึ่งปีหลังนี้
มร. เจฟฟรีย์ กอดิอาโน ประธานกรรมการบริหาร บีเอ็มดับเบิลยู กรุ๊ป แมนูแฟคเจอริ่ง ประเทศไทย กล่าวว่า"ตลอดเวลา 2 ปีที่ผ่านมา เรามีวาระที่พร้อมจะเฉลิมฉลองมากมาย เมื่อปี พ.ศ 2558 เราเฉลิมฉลองการครบรอบ 15 ปี ของบีเอ็มดับเบิลยู กรุ๊ป แมนูแฟคเจอริ่ง ประเทศไทย เดือนเมษายน พ.ศ. 2559 ที่ผ่านมา เราประสบความสำเร็จในเริ่มการส่งออก บีเอ็มดับเบิลยู เอ็กซ์3 และ บีเอ็มดับเบิลยู เอ็กซ์5 ไปยังประเทศจีน และอีกเหตุการณ์แห่งความทรงจำที่เพิ่งจะเกิดขึ้นเร็วๆนี้ นั่นคือในเดือนพฤศจิกายน พ.ศ. 2557 เราประสบความสำเร็จจากการประกอบรถยนต์ บีเอ็มดับเบิลยู และ มินิ ครบ 50,000 คัน และอีกเพียงปีครึ่งต่อมา ผมรู้สึกเป็นเกียรติอย่างมากที่ได้มาอยู่ที่นี่ ในการเฉลิมฉลองการผลิตครบ 70,000 คัน
ความสำเร็จของบีเอ็มดับเบิลยู กรุ๊ป แมนูแฟคเจอริ่ง ประเทศไทย ในวันนี้แสดงให้เห็นอย่างชัดเจนว่าความยืนหยุ่นสูงทั้งในด้านกระบวนการผลิต ห่วงโซ่อุปทาน และการพัฒนาบุคคลากรอย่างต่อเนื่องนั้น เป็นสิ่งจำเป็นอย่างมากสำหรับอุตสาหกรรมการผลิตยนตรกรรมหรู และเพื่อรองรับเทคโนโลยีการผลิตใหม่ๆ เช่น รถยนต์ปลั๊กอินไฮบริด เป็นต้น
มร.กอดิอาโน กล่าวชื่นชมในความทุ่มเท่ และความใส่ใจของพนักงานทุกคนว่า "ผมรู้สึกขอบคุณในความพยายามที่เพื่อนพนักงานได้แสดงออกถึงความตั้งใจในการทำงาน ตลอดจนถึงความใส่ใจในรายละเอียด และพร้อมที่จะพัฒนาตนเองไปอย่างสม่ำเสมอ นอกจากนี้พนักงานของบีเอ็มดับเบิลยูยังให้ความสำคัญกับกิจกรรมเพื่อสังคมมากมาย ผมภูมิใจมากกับความตั้งใจของเรา ทั้งนี้ด้วยทักษะ ประสบการณ์และฝีมือของพนักงานของเรา ผมมั่นใจว่ารถยนต์ และรถมอเตอร์ไซค์ทุกคันเป็นผลงานจากการอุทิศตนเพื่อคุณภาพของพนักงานในโรงงานแห่งนี้"
# # #
 
บีเอ็มดับเบิลยู กรุ๊ป
บีเอ็มดับเบิลยู กรุ๊ป เป็นหนึ่งในผู้ผลิตรถยนต์และมอเตอร์ไซค์ที่ประสบความสำเร็จที่สุดในโลก เราผลิตและจำหน่ายรถยนต์ภายใต้แบรนด์บีเอ็มดับเบิลยู, มินิ และโรลส์-รอยซ์ และมอเตอร์ไซค์บีเอ็มดับเบิลยู โดยมีเครือข่ายการผลิต 31 แห่งใน 14 ประเทศ อีกทั้งยังมีเครือข่ายผู้จำหน่ายและบริการมากกว่า 140 ประเทศทั่วโลก
ในปีพ.ศ. 2558 บีเอ็มดับเบิลยู กรุ๊ป มียอดขายรถยนต์ 2.247 ล้านคัน และมอเตอร์ไซค์กว่า 137,000 คันทั่วโลก ณ วันที่ 31 ธันวาคม 2558 บีเอ็มดับเบิลยู กรุ๊ป มีพนักงานทั้งหมด 122,244 คนทั่วโลก
ความสำเร็จของบีเอ็มดับเบิลยู กรุ๊ปได้รับการขับเคลื่อนจากพลังแห่งวิสัยทัศน์และความมุ่งมั่นในการพัฒนาเทคโนโลยี สร้างผลิตภัณฑ์ที่ยอดเยี่ยม และให้บริการกับลูกค้าอย่างดีที่สุด นอกจากนี้เรายังให้ความสำคัญกับการสร้างอนาคตที่ยั่งยืน โดยการคำนึงถึงการใช้พลังงานอย่างมีประสิทธิภาพและการอนุรักษ์สิ่งแวดล้อม ในทุกผลิตภัณฑ์และในทุกขั้นตอนการผลิตอีกด้วย
สอบถามข้อมูลเพิ่มเติม:
บีเอ็มดับเบิลยู กรุ๊ป ประเทศไทย
1-800-269-269
www.bmw.co.th
www.mini.co.th
www.bmw-motorrad.co.th
สื่อมวลชนติดต่อ
บริษัท คาร์ลบายร์ แอนด์ แอสโซซิเอทส์
สุธาทิพย์ บุญแสง (08-7685-1695 หรือ 0-2627-3501 ต่อ 102)
ธรธวัช ทองแนบ (08-3225-4567 หรือ 0-2627-3501 ต่อ 206)
สวรส ถวิลวงศ์รักษ์ (08-9888-9799 หรือ 0-2627-3501 ต่อ 223)
sboonsaeng@carlbyoir.com, tthongnab@carlbyoir.com, sthawinwongrak@carlbyoir.com
Read more