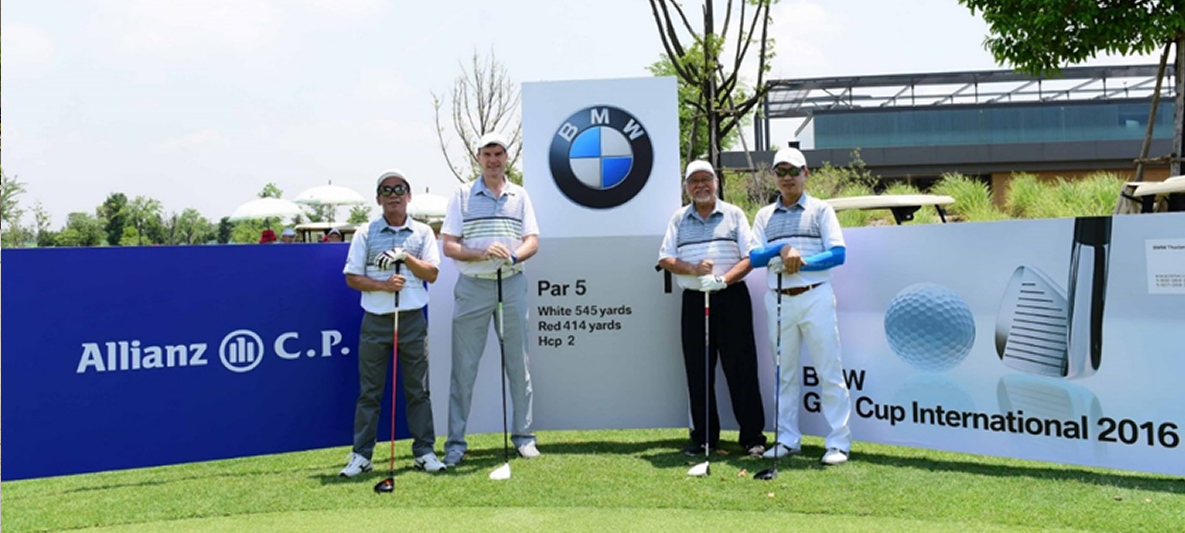 2016.05.23
BMW THAILAND HOLDS BMW GOLF CUP INTERNATIONAL 2016 QUALIFIERS TO SEEK TOP AMATEUR GOLFERS FOR NATIONAL FINALS.
Bangkok. BMW Thailand – led by Mr. Matthias Pfalz, President – recently staged the qualifying round of the BMW Golf Cup International 2016 tournament at Nikanti Golf Club, Nakhon Pathom province on 17 May 2016. This qualification round will see 126 amateur golfers out of 2,800 participants nationwide progress to the national finals, which will conclude with the selection of three winning players to represent Thailand at the World Final round.


BMW Golf Cup International is regarded as the largest international tournaments for amateur golfers. First organized in England in 1982, the tournament has been held annually for 34 years and has now grown into a truly global event. So far, the competition has welcomed over 100,000 amateur golfers from 50 countries worldwide. In 2013 and 2014, the tournament saw Thai representatives make history as Category A winners for two consecutive years.


Read more 2016.07.26
บีเอ็มดับเบิลยู กรุ๊ป แมนูแฟคเจอริ่ง ประเทศไทย ฉลองความสำเร็จประกอบยนตรกรรมหรู บีเอ็มดับเบิลยู มินิ และมอเตอร์ราดครบ 70,000
หลังจากเปิดจากโรงงานนับแต่ปี 2543 นับเป็น 16 ปี ที่ทำให้ บีเอ็มดับเบิลยู กรุ๊ป แมนูแฟคเจอริ่ง ประเทศไทย เฉลิมฉลองการประกอบรถยนต์และรถมอเตอร์ไซค์หรู ครบ 70,000 คัน ระยอง. เมื่อเร็วๆ นี้ บีเอ็มดับเบิลยู กรุ๊ป แมนูแฟคเจอริ่ง ประเทศไทย มีโอกาสฉลองความสำเร็จอีกครั้งในการประกอบยนตรกรรมหรู บีเอ็มดับเบิลยู มินิ และ บีเอ็มดับเบิลยู มอเตอร์ราดครบ 70,000 คัน โดยมีคุณธัชพิชญ์ โสดาบรรลุ (ที่ 5 จากซ้าย) ผู้อำนวยการ สำนักงานนิคมอุตสาหกรรมอมตะซิตี้ และ คุณมณฑิรา เชิดชู (ที่ 4 จากขวา) หัวหน้าสำนักงานศุลกากรมาตาพุด ร่วมแสดงความยินดีในความสำเร็จครั้งนี้
คันบีเอ็มดับเบิลยู กรุ๊ป แมนนูแฟคเจอริ่ง ประเทศไทย มีการพัฒนากระบวนการผลิต และบุคคลากรอย่างต่อเนื่องตลอดระยะเวลา 16 ปี ทำให้มีศักยภาพในการประกอบรถยนต์ และมอเตอร์ไซค์ที่แตกต่างกันถึง 19 รุ่น ของ บีเอ็มดับเบิลยู, มินิ และ บีเอ็มดับเบิลยู มอเตอร์ราด ด้วยคุณภาพของยนตกรรมหรู และเป็นมาตรฐานเดียวกันทั่วโลกเพื่อตอบสนองความต้องการของกลุ่มลูกค้าระดับพรีเมี่ยมทั้งในประเทศ และต่างประเทศ
บีเอ็มดับเบิลยู กรุ๊ป แมนูแฟคเจอริ่ง ประเทศไทย มีการลงทุนอย่างต่อเนื่องโดยเฉพาะในปี พ.ศ.2559 นี้มีการลงทุนกว่า 488 ล้านบาท เพื่อใช้ประเทศไทยเป็นฐานการผลิตเพื่อการส่งออกสำหรับ บีเอ็มดับเบิลยู เอ็กซ์3 และ บีเอ็มดับเบิลยู เอ็กซ์5 สู่ประเทศจีน และเพิ่มการจ้างงานกว่า 400 ตำแหน่งงานในปีนี้ นอกจากนั้นโรงงานของบีเอ็มดับเบิลยูจะเริ่มทำการประกอบรถยนต์ปลั๊กอินไฮบริดอีก 2 รุ่นในช่วงครึ่งปีหลังนี้
มร. เจฟฟรีย์ กอดิอาโน ประธานกรรมการบริหาร บีเอ็มดับเบิลยู กรุ๊ป แมนูแฟคเจอริ่ง ประเทศไทย กล่าวว่า"ตลอดเวลา 2 ปีที่ผ่านมา เรามีวาระที่พร้อมจะเฉลิมฉลองมากมาย เมื่อปี พ.ศ 2558 เราเฉลิมฉลองการครบรอบ 15 ปี ของบีเอ็มดับเบิลยู กรุ๊ป แมนูแฟคเจอริ่ง ประเทศไทย เดือนเมษายน พ.ศ. 2559 ที่ผ่านมา เราประสบความสำเร็จในเริ่มการส่งออก บีเอ็มดับเบิลยู เอ็กซ์3 และ บีเอ็มดับเบิลยู เอ็กซ์5 ไปยังประเทศจีน และอีกเหตุการณ์แห่งความทรงจำที่เพิ่งจะเกิดขึ้นเร็วๆนี้ นั่นคือในเดือนพฤศจิกายน พ.ศ. 2557 เราประสบความสำเร็จจากการประกอบรถยนต์ บีเอ็มดับเบิลยู และ มินิ ครบ 50,000 คัน และอีกเพียงปีครึ่งต่อมา ผมรู้สึกเป็นเกียรติอย่างมากที่ได้มาอยู่ที่นี่ ในการเฉลิมฉลองการผลิตครบ 70,000 คัน
ความสำเร็จของบีเอ็มดับเบิลยู กรุ๊ป แมนูแฟคเจอริ่ง ประเทศไทย ในวันนี้แสดงให้เห็นอย่างชัดเจนว่าความยืนหยุ่นสูงทั้งในด้านกระบวนการผลิต ห่วงโซ่อุปทาน และการพัฒนาบุคคลากรอย่างต่อเนื่องนั้น เป็นสิ่งจำเป็นอย่างมากสำหรับอุตสาหกรรมการผลิตยนตรกรรมหรู และเพื่อรองรับเทคโนโลยีการผลิตใหม่ๆ เช่น รถยนต์ปลั๊กอินไฮบริด เป็นต้น
มร.กอดิอาโน กล่าวชื่นชมในความทุ่มเท่ และความใส่ใจของพนักงานทุกคนว่า "ผมรู้สึกขอบคุณในความพยายามที่เพื่อนพนักงานได้แสดงออกถึงความตั้งใจในการทำงาน ตลอดจนถึงความใส่ใจในรายละเอียด และพร้อมที่จะพัฒนาตนเองไปอย่างสม่ำเสมอ นอกจากนี้พนักงานของบีเอ็มดับเบิลยูยังให้ความสำคัญกับกิจกรรมเพื่อสังคมมากมาย ผมภูมิใจมากกับความตั้งใจของเรา ทั้งนี้ด้วยทักษะ ประสบการณ์และฝีมือของพนักงานของเรา ผมมั่นใจว่ารถยนต์ และรถมอเตอร์ไซค์ทุกคันเป็นผลงานจากการอุทิศตนเพื่อคุณภาพของพนักงานในโรงงานแห่งนี้"
# # #
 
บีเอ็มดับเบิลยู กรุ๊ป
บีเอ็มดับเบิลยู กรุ๊ป เป็นหนึ่งในผู้ผลิตรถยนต์และมอเตอร์ไซค์ที่ประสบความสำเร็จที่สุดในโลก เราผลิตและจำหน่ายรถยนต์ภายใต้แบรนด์บีเอ็มดับเบิลยู, มินิ และโรลส์-รอยซ์ และมอเตอร์ไซค์บีเอ็มดับเบิลยู โดยมีเครือข่ายการผลิต 31 แห่งใน 14 ประเทศ อีกทั้งยังมีเครือข่ายผู้จำหน่ายและบริการมากกว่า 140 ประเทศทั่วโลก
ในปีพ.ศ. 2558 บีเอ็มดับเบิลยู กรุ๊ป มียอดขายรถยนต์ 2.247 ล้านคัน และมอเตอร์ไซค์กว่า 137,000 คันทั่วโลก ณ วันที่ 31 ธันวาคม 2558 บีเอ็มดับเบิลยู กรุ๊ป มีพนักงานทั้งหมด 122,244 คนทั่วโลก
ความสำเร็จของบีเอ็มดับเบิลยู กรุ๊ปได้รับการขับเคลื่อนจากพลังแห่งวิสัยทัศน์และความมุ่งมั่นในการพัฒนาเทคโนโลยี สร้างผลิตภัณฑ์ที่ยอดเยี่ยม และให้บริการกับลูกค้าอย่างดีที่สุด นอกจากนี้เรายังให้ความสำคัญกับการสร้างอนาคตที่ยั่งยืน โดยการคำนึงถึงการใช้พลังงานอย่างมีประสิทธิภาพและการอนุรักษ์สิ่งแวดล้อม ในทุกผลิตภัณฑ์และในทุกขั้นตอนการผลิตอีกด้วย
สอบถามข้อมูลเพิ่มเติม:
บีเอ็มดับเบิลยู กรุ๊ป ประเทศไทย
1-800-269-269
www.bmw.co.th
www.mini.co.th
www.bmw-motorrad.co.th
สื่อมวลชนติดต่อ
บริษัท คาร์ลบายร์ แอนด์ แอสโซซิเอทส์
สุธาทิพย์ บุญแสง (08-7685-1695 หรือ 0-2627-3501 ต่อ 102)
ธรธวัช ทองแนบ (08-3225-4567 หรือ 0-2627-3501 ต่อ 206)
สวรส ถวิลวงศ์รักษ์ (08-9888-9799 หรือ 0-2627-3501 ต่อ 223)
sboonsaeng@carlbyoir.com, tthongnab@carlbyoir.com, sthawinwongrak@carlbyoir.com
Read more